Just an hour and a bit from Brisbane and the Gold Coast, the Scenic Rim region of South East Queensland is a brilliant area for gravel riding. Using Boonah as a base, Cyclist sets off on a 100km loop that takes in plenty of dirt.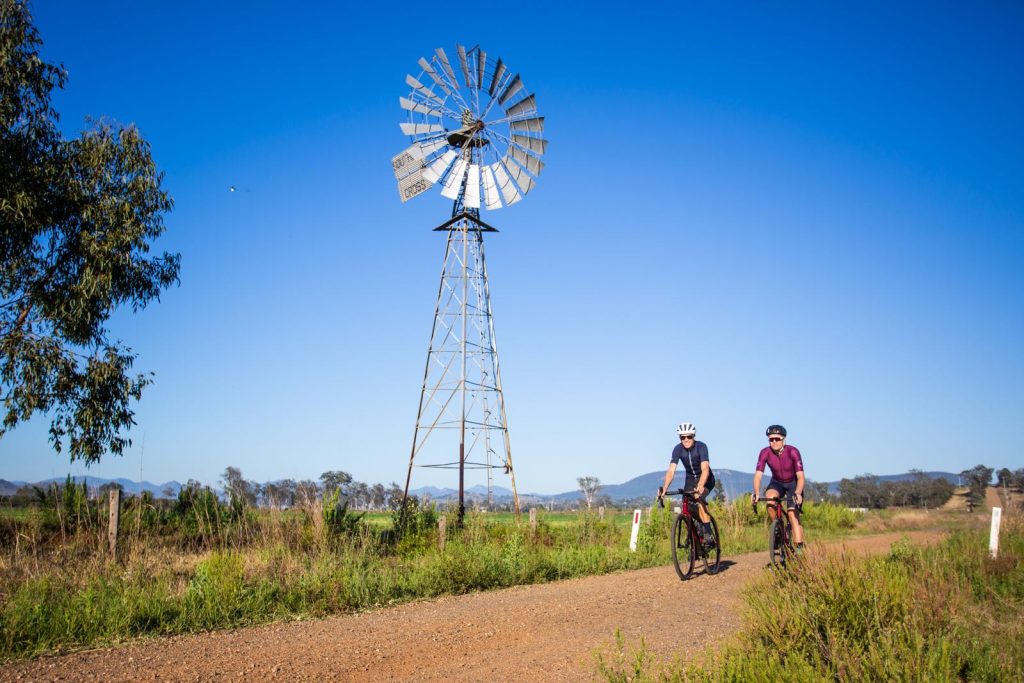 Words Mike Blewitt
Photography Gerard Laganà
The collar of my blue jersey couldn't feel any more white as I zip it up. We've parked at the Boonah Memorial Park, just off the main road through this small country town in the Scenic Rim Region, about an hour's drive south of Brisbane. A number of vehicles rumble along the street behind us, slowly, as my ride companion Matt and I get set for the route ahead. It's as if each driver and their working dog in the tray stare in synchronised movement – a skill developed by years of working the land. Or just from years of perfecting their country look for the tourists who flock to the region.
Boonah and surrounds sit within Yuggera Ugarapul country on the western side of the Scenic Rim, and it's an area well-known for natural beauty. The soil is rich due to the remnant volcanos in the area, which has made it a mecca for dairy farms, agriculture and horticulture since European settlement. The region's rainforests also attracted timber getters thanks to the stands of hoop pine and red cedar, both required for the demands of growing cities. You'd be hard-pressed to find an older house in South East Queensland that didn't have hoop pine floors. Remnant trees rise tall above paddocks and through the creek lines in the valleys.
The natural beauty of the area led to a tourism boom from the mid 20th century, especially around Lamington National Park right on the Queensland and New South Wales border. The Scenic Rim  name came from Arthur Groom around this time, as he described the mountain chain between Tamborine in the south and Brisbane in the north. Tourists have been visiting ever since. The peaks are popular challenges for hikers and climbers, farmstays are booked by families, and wineries are filled for weddings – but the gravel roads are yet to become crowded by cyclists.
While fertile soil and volcanic topography in a wide valley certainly make for excellent agricultural conditions, the benefits for modern-day adventurers on gravel bikes are twofold. Firstly, you get a challenging ride with nice climbs and descents. But, more importantly, plot sizes are far smaller than an outback cattle station, and therefore there's a huge network of country roads to explore and navigate. And that's why Matt and I have ventured south from home in Brisbane on this warm October day. I've been here once before, in the peak of summer, which isn't advisable. Matt, for his part, has climbed most of the peaks in the area on foot and has done the majority of long-distance hiking routes too, but he's yet to ride here. I had promised him a catch-up ride, and 100km of rolling gravel in the Queensland springtime seems like the perfect way to do it.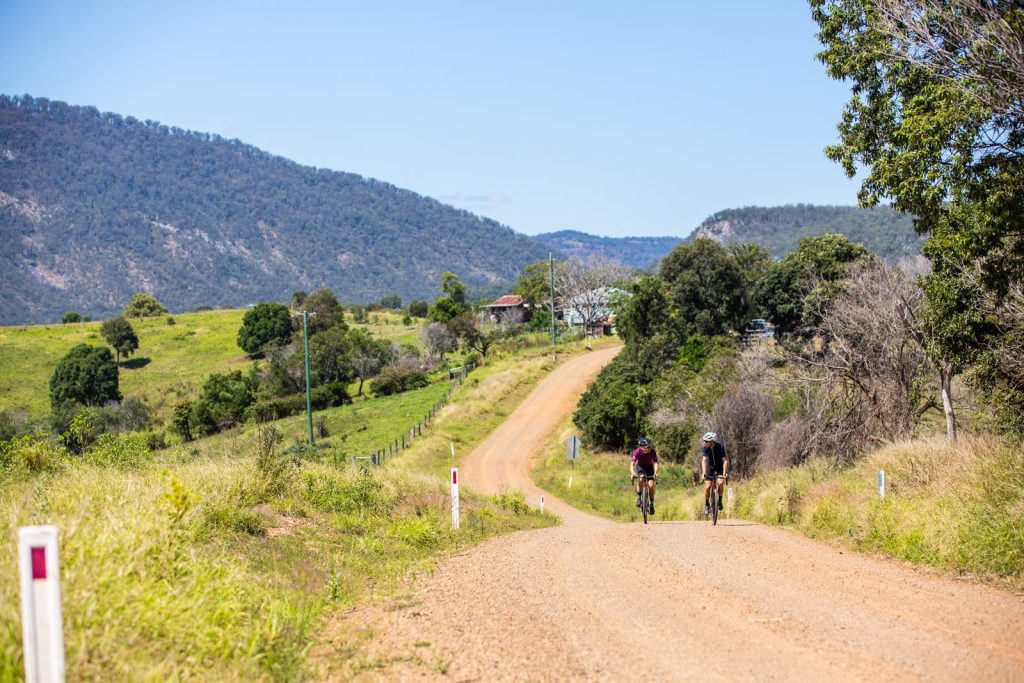 Riding the rim
Our GPS files uploaded to our Wahoo Elemnt Bolt computers, we're ready to begin. We prepare our carbon bikes with electronic gears – I'm riding the new Trek Checkpoint SL 6 eTap and I'm excited to see how it fares – fill our pockets and frame bags with snacks and sun cream, and adjust our form-fitting lycra. 'Shall we get moving?' Matt asks as I lock the car. I nod in agreement, and we clip in and roll past the bakery cafe, riding north to start our route before the sun climbs too high in the sky.
While the riding in the Scenic Rim may not be crowded, it's still popular. The route I picked is very similar to the Dirty Boonah rides, which are three distances put together by Audax Australia. They have 50km, 100km and 150km distances. There are a number of variations floating around on the ride planning sites, and this 100km option sticks to some nice roads without any add-ons to take in more gravel. I've ridden a 120km variant before, but in my mind the additional 20km offered little to the ride, so I sold Matt on this as a nice 100km loop.
As we leave town, we turn right past the cemetery and then quickly onto a narrow country road. As if on cue, a number of kangaroos clear the paddock fence and bound across the road into the scrub – a timely reminder to look ahead.
The early fog has lifted with just remnants hanging in some pockets as we pedal along the country roads. We zigzag along the route, slowly gaining elevation as we pass a range of rural properties. From the pasture down near the creek we climb a little higher, and the five-strand barbed wire is replaced by horse fencing before moving back to wire strands and steeper paddocks.
The humidity is building as Queensland works its way towards summer, and both Matt and I reach for the low gears on our bikes as we ride up Cannon Creek Road. This is one of the first times I've used a SRAM AXS eTap groupset, and I'm impressed by the speed of the shift. I've often viewed 1x groupsets for road or gravel bikes as a little bit limited, but so far the 10-44 range on the SRAM XPLR 12-speed cassette is proving me wrong. We crest the first main high point of the day, and pause to take in the view.
'I'm pretty sure that one's Mount Barney,' I tell Matt, pointing at a rocky peak to the west.
'Yeah, it could be. I've climbed it, but I couldn't be sure which one it is,' Matt confesses.
Matt is a long-time cyclist and outdoors person, but his recent escapades have moved to two feet. He's coming off the back of a break post-marathon training, we're both grateful for any breaks to stop and take in the views. While I didn't train up to run a marathon, I've certainly found the last 18 months have been more about riding for fun than purpose. We stop to admire what may or may not be Mount Barney before pressing on.
Descending Cannon Creek Road, we pass a stand of hoop pine and find ourselves alongside a herd of curious Brahman cows. We're now on a narrow dirt road, which is akin to hero dirt after a spattering of overnight rain. Matt and I ride two abreast along the ribbon as it winds through the farmland under tree cover.
Soon enough we're climbing again, the views to the range filling the horizon. The ridgeline ahead more or less traces the border to the south; to the west, the main range runs northward. As we stick to the ridgeline on Cannon Creek Road, the reason for the name 'Scenic Rim' has never been more apparent. Thankfully, our ride doesn't tackle any of the mountains, but instead stays in the valleys while going over a number of passes and low ridges, avoiding the ridiculously steep options that can plague some gravel routes that venture onto management trails in the forest. We pause and Matt points at a peak to our left.
'Wait, maybe that one's Mount Barney?'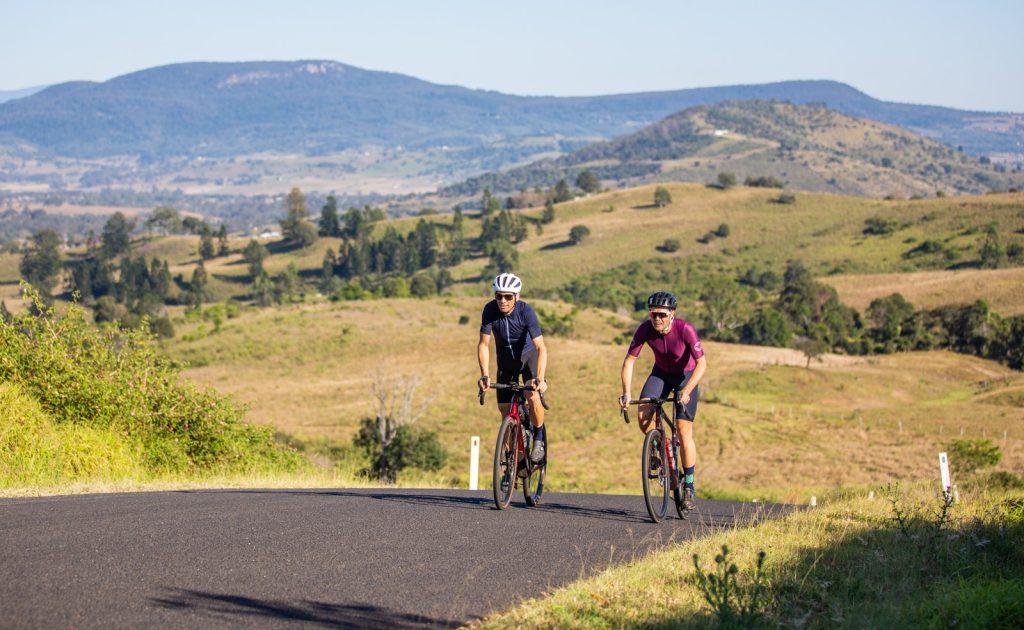 Confrontingly country
For me, one of the joys of riding through picturesque countryside is imagining yourself living there. Given the boom in rural real estate value of late, and my curious obsession with finding a dream property I couldn't afford even if I stubbed my toe on gold bullion many times over, I'm quick to point out places to Matt. It's a habit my wife has dubbed 'Rural Watch'.
'That one's got a great dam – no wonder considering the catchment size,' I enthuse. 'That place needs some fencing work, but it's probably a great property. I reckon it would have good stock numbers.
'That's a handy stand of Ironbark up the back there.It would be really useful for fencing in 20 years.'
Matt nods to keep me quiet, and soon we descend off the ridge, towards Boonah Rathdowney Road. We take a right and pull into the Maroon School of Arts soon after, topping up our bidons from the tank at the back.
'So, what does your rural paradise look like then?' Matt asks. It's a good question, and something to think about as we clip back in and pedal up the road.
We take Newman Road and then pedal past Lake Maroon towards Burnett Creek and Fletcher Road. I have my answer for Matt. There's stock on the road at some points, and remnant rainforest along the creek lines. Parts of the escarpment are shaded dark green where rainforest species tumble down, growing out of the water course. Fletcher Road climbs upwards and there are deep gullies either side, with some old cattle yards near the road and forested slopes that rise to the ridges.
'Something like this,' I tell Matt. 'Somewhere to revegetate old paddocks, run low stock numbers, and have some accommodation for people coming to the area.' It's a dream I've been holding in mind, and each ride brings up new options. The aim is to stay away from anywhere 'confrontingly country', as my wife would put it. And the Scenic Rim is anything but that.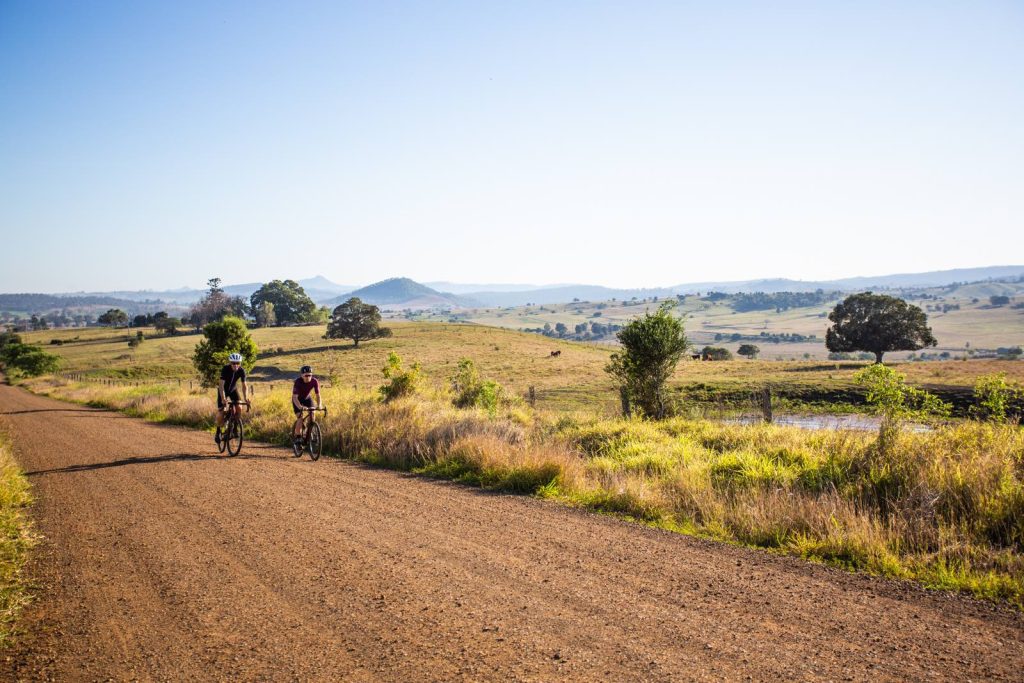 The art of gravel
As we reach Carneys Creek Road, we have a huge view in front of us again, with a perfect ribbon of gravel road ahead. We descend with the Main Range off to our left, Mount Barney on one side or another, and the majority of the climbing done for the day. The road becomes sealed and we roll easy turns before turning left onto Croftby Road, which soon turns to gravel.
'There need to be more routes like this,' Matt says as we pedal. 'I sold my GMX as it was too much bike for a route like this, but my road bike just wouldn't be any fun.' I've also been known to say that my cross-country hardtail is an ideal gravel bike – but I'd be lagging if I was on it today.
So, we agree that this might be the best gravel route we have ridden recently, thanks to moderate gradients that rarely nudge over 15%, and conditions that are gravel and not mountain bike terrain. It's probably the ability to maintain free-flowing banter that proves we're on the right kind of route. We wave at a guy in a big hat raising big poles for a new shed, and then push on to our next target – Mount Alford, where the Scenic Rim Brewery awaits.
Mount Alford is a tiny town with a pub on one side of the road and the quaint brewery on the other. Despite all tables being reserved, we manage to get a tasting paddle with six of their seven beers, promising to be gone in 15 minutes before the booked guests arrive.
With under 15km to go from Mount Alford, we pass wineries and function centres, all signs leading to Boonah. Compared to the last time I tackled this ride, I feel amazing. The Trek Checkpoint is way more forgiving than my cyclocross bike, and the cooler temperatures out of the peak of summer are also a bonus. We trace a mix of country roads back, with a short burst on Mount Alford Road before taking Old Mount Alford Road – where the lights go out.
There's nothing like a couple of small beers to fast track a hunger flat, and we make it back to Boonah Memorial Park ready to inhale anything placed in front of us. We get changed and roll down to the Bakery Cafe on High Street, finding the perfect place to sit back, refuel and reflect on a good day out.
We're tailed in by a bloke holding brochures, and while I fear the worst, he instead tells us about more the various rides in the area, pointing us towards the Boonah Visitor Information Centre should we want to find out more. Maybe we'll try a new route next time and finally pick out Mount Barney.
Mike Blewitt is a cycling journalist and editor who, after googling Mount Barney, is still not 100% sure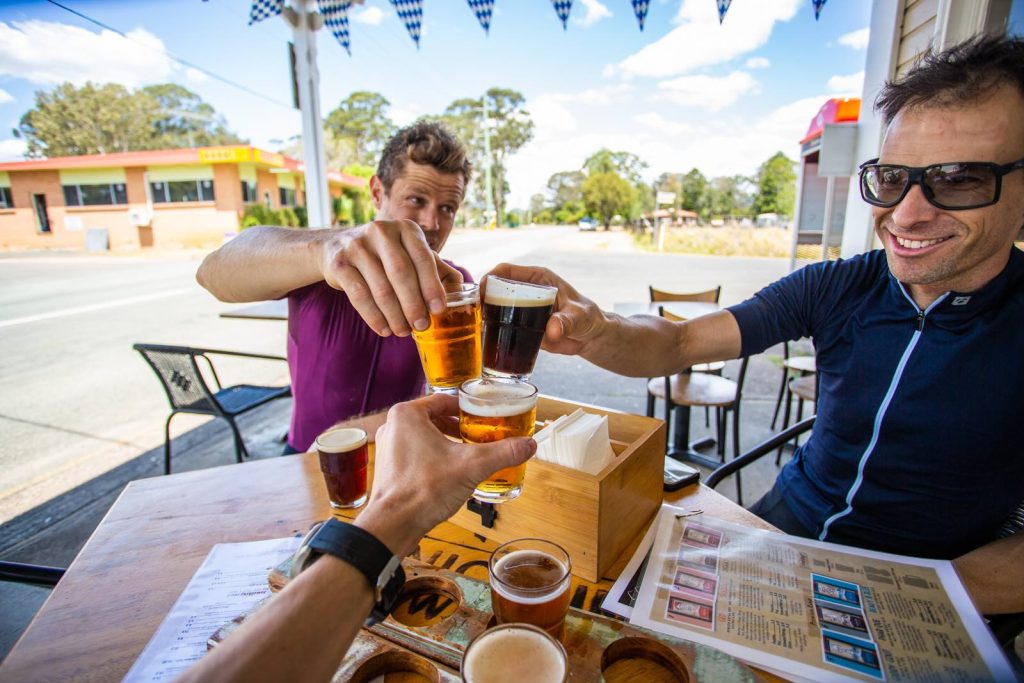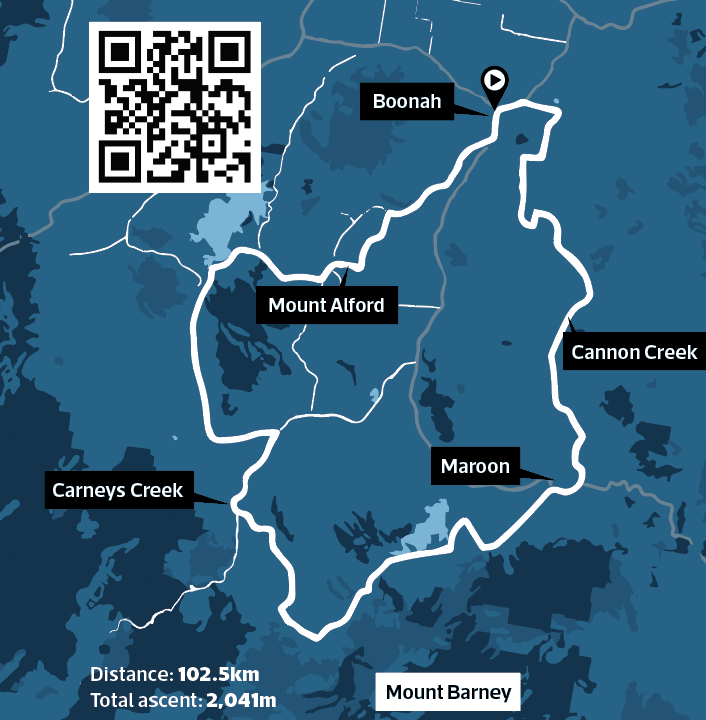 The route we took
To see this route on Strava, scan the QR Code. Ride north out of Boonah towards Brisbane, then turn right just after the cemetery, and left onto Gorkow Road to get to Old Rifle Range Road. Crossing Teviot Brook, use Allendale Road to then go left and uphill onto Spletter Road. Take Milford, Brigalow and then Evans Road, before turning right onto Milton Middle Road. Follow this to Sugarloaf Road as it winds upwards, and then take a right onto Cannon Creek Road, following it along and down before it turns to gravel in the gully. Climb the ridgeline and descend to the main road to turn right. You can stop at the Maroon School of Arts – there's a tap out the back off a tank if you're low on water. Take a left up Newmans Road and follow it on to Burnett Creek Road before going right at Fletcher Road. Once atop Carneys Creek Road, descend until you take a left onto Croftby Road, and follow the signs to Mount Alford. Make sure you take F. M. Bells Road out of Mount Alford to avoid the main road, and then take the back roads back to Boonah.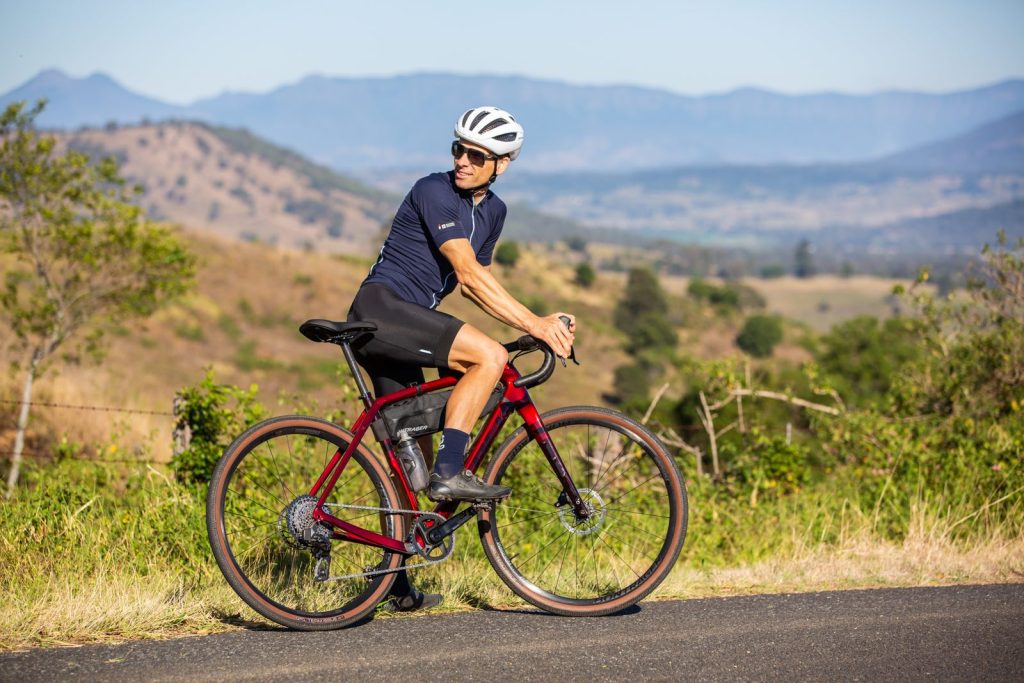 The writer's ride
Trek Checkpoint SL 6 eTap, $5,299, trekbikes.com/au
Mike had a 2022 Trek Checkpoint SL 6 for this ride. It's an updated design with a longer reach (in amongst other geometry changes) that provides stability on gravel roads, matched with immense tyre clearance and mounts for just about anything you could imagine. While the frame has nifty in-tube storage, we also used two Bontrager frame bags to carry spares, snacks, sun cream – and even a sports towel just in case we came across the right creek for a dip. We could have fit five bottles onto the bike but opted for two. The SRAM Rival AXS 12-speed groupset worked a treat, with a 440% gear range offering plenty of options whether it was spinning up a climb or rolling turns on the flat. The Bontrager tubeless 40mm tyres and low-profile rims were real winners, providing a supple and sure-footed ride across chattery terrain and working with the IsoSpeed decoupler in the frame to help you feel less battered and broken than expected. Given the mix of high-quality 2WD dirt roads and rolling climbs without alpine ascents, the Trek Checkpoint was a great match for this ride, for both comfort and performance.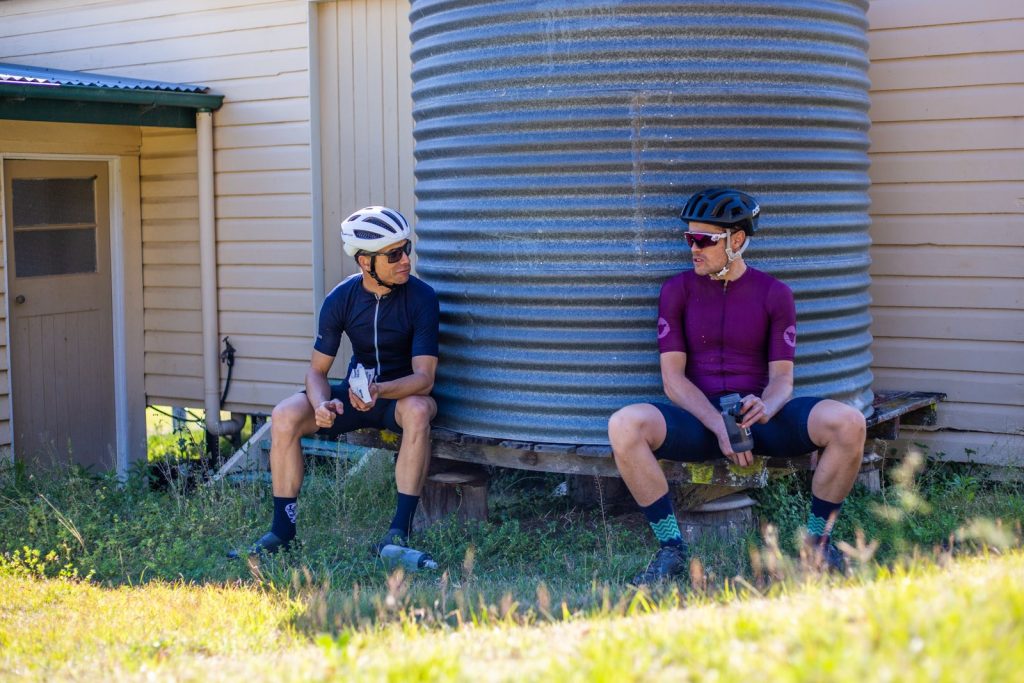 How we did it
Travel
We started and finished in Boonah, which is just over an hour from the centre of Brisbane, but closer to 90 minutes from the Gold Coast. 
Accommodation
Cyclist drove up for the day, but there are loads of options for farmstays and Airbnbs in the Scenic Rim region. There are a couple of hotels right in Boonah, and you could even stay in rooms right above the front bar at the Australian Hotel for the full experience.
Food and Drink
Don't bank on a whole lot on the route, but there are cafes and a supermarket in Boonah, plus a campground near Lake Maroon where you can choose bait or ice cream. Otherwise, make tracks for Scenic Rim Brewery in Mount Alford, which has a range of cafe snacks and European-inspired meals. Book ahead as it's a popular spot.
Thanks
A huge thanks to Trek Australia for the Trek Checkpoint SL 6 eTap – it was an ideal bike for the jaunt. The Bontrager kit and bags were also hugely appreciated. Thanks also to Mitch from Ransome Low Range for lending us his Isuzu D-MAX for our photographer Gerard to drive in air-conditioned comfort all day long.