In the rain shadow of the Snowy Mountains, the Monaro boasts some of the best cycling roads in Australia, and is all set to host Drops + Hoods – a brand-new multi-day, multi-surface event on 2-5 December 2021. Cyclist sets out to explore one leg of the Drops + Hoods itinerary, taking in the gravel roads around Berridale, Dalgety, and the impressive Boco Rock Wind Farm
Words Gary Pearson
Photography Mandy Lamont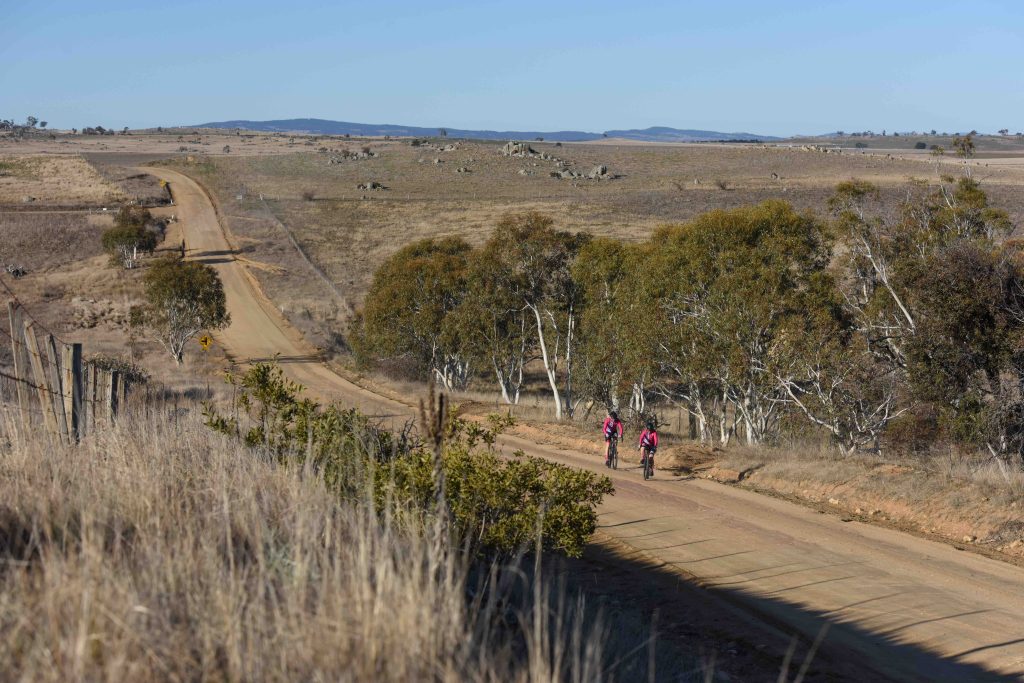 As we settle in for a brunch briefing over a cheese platter and wines by the fireplace at Berridale's Shut the Gate Cellar Door, the anticipation for the next day's adventure grows. Our mission for this edition of the Big Ride is to tackle one leg of the exciting new event, Drops + Hoods, which will take place on 2-5 December 2021 and which is organised by the same folks who brought you L'Étape Australia by Tour de France.
It's early winter, and the snow has already begun to fall in the nearby Snowy Mountains, leaving skiing and snowboarding types salivating at the prospects of the season ahead. When the summer rolls around, those roads high up in the mountains become some of the best cycling roads in Australia, and will feature prominently on the multi-day, multi-distance, multi-surface Drops + Hoods itinerary. For now, though, those roads are best left to snow chains and ski racks rather than chainrings and bike racks.
But further down, on the Monaro plateau, even the depths of winter cannot freeze out the wonderful riding on offer. Our planned route explores the roads around Berridale and Dalgety, and it also happens to be one of the key routes of Drops + Hoods. The organisers call it 'The Expedition', a 126.6km belter with 1,649 metres ascent that takes in bitumen and gravel roads alike, not to mention some of the region's best scenery.
It's tempting to overdose on cheese at Shut the Door, but we play it smart and retire for the evening for a good night's sleep before the day ahead exploring the road less travelled on the beautiful Snowy Monaro.

Rare riding
The next morning begins with brekky, coffee and some juices at Jindabyne's Birchwood Cafe before we make the 20-minute drive to Berridale, where our Big Ride begins. We roll out from Berridale along the smooth bitumen of Dalgety Road – the first of six bitumen sections along The Expedition, ranging in length from 300 metres to 8km, though the route is 80% gravel. Berridale is situated halfway between Cooma and Jindabyne and has good roads, both sealed and gravel, in all directions. It's the epicentre of gravel riding in the Snowy Monaro region.
Legs warmed up, we finish the first section of bitumen and hang a left onto Bobundara Road. After about 5km, the bitumen ends and we find ourselves on creamy, decomposed granite roads – a sure sign we're now in the heartland of the dry, elevated plateau known as the Monaro. Thanks to its location east of the Snowy Mountains, the Monaro sits in a 'rain shadow', where the westerly winds deposit rain and snow on the mountains, leaving the plateau relatively dry. This is sheep country, where some of the world's finest Merino wool is grown. There's a chance we'll encounter a travelling flock of sheep at some point in the ride, but it's usually not too hard to navigate that particular bunch.
Sheep like to follow behind each other, carving out a trail that allows them to avoid steep inclines and obstacles, and riding through the Monaro feels much the same. Many fine gravel roads criss-cross the region, as though cyclists are following a trail of their own. These roads just seem to flow over the Monaro, and although there won't be any especially large climbs on our Big Ride today, we'll steadily rise and fall along the mostly treeless environment for a total elevation of almost 1,650 metres.
Twenty-one kilometres in we reach the locality of Bobundara. At this point, we turn right onto Maffra Road and travel the aforementioned 300 metres of bitumen before a left onto Bobundara Lane. Maffra Road is a favourite of the local Jindabyne and Cooma Cycling Clubs – it's a quieter alternative to the busier highway between Cooma and Jindabyne – and we find ourselves soaking in the lack of traffic today. Not a single car has passed us in either direction so far, and we haven't even reached the quieter roads yet.
Over the course of a day's riding, it's not uncommon to be able to count the number of cars on one hand. 'Rare Riding' is how the local cyclists refer to it, and indeed it feels like we're riding in rare air at an elevation of around 800 to 1,000 metres. Barely a pothole, either – perfect conditions.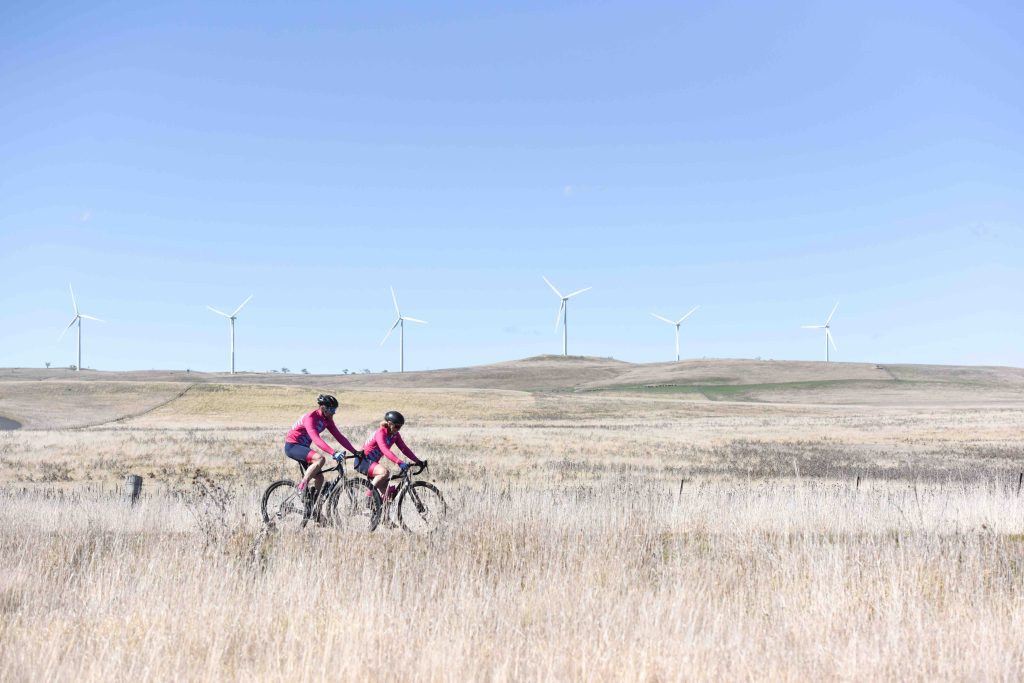 Click go the shears
Despite these perfect conditions, the gravel roads around here don't see too many riders, as there's an abundance of fine bitumen roads in the region that are more well-known. Gravel is starting to gain momentum, but there remains a real sense of adventure out on the Monaro. All roads are well-maintained to cope with winter ski traffic from June till September, and are left to us cyclists in the other three seasons.
In fact, if you go back 110 years, you'd have seen way more cyclists on these roads. It's a little-known fact that bicycles were the preferred mode of transport for shearers, as it was impossible to own a car and the costs of a horse was prohibitive – not just to buy, but also to keep fed. It's fun to imagine the shearers of the early 1900s riding from property to property on their trusted treadles on the very same roads we're now zipping along.
We push ahead for another 15km on Bobundara Lane. The road ebbs and flows through a moonscape-like environment. TV shows like SAS Australia have been filmed here. If you're riding this route in your own time, don't forget to bring water – while Drops + Hoods will have food zones, there are no roadside stops on an average weekend, and very few flowing creeks along the way. If you're game, you can try your luck filling up at the famed Snowy River about 70km into the ride – but we're not there yet.
At the end of Bobundara Lane, we make a right onto Springfield Road, where it gets a bit busier – and by busier, we mean that we see two cars over the 5.5km length. Along this section you can spot ephemeral lakes,
which are dry most of the time, and we also catch a glimpse of the peaks of the Australian Alps, including Mount Kosciuszko, the highest peak in Australia.
For the riders of Jindabyne Cycling Club, this is their backyard, with some of the best riding in Australia. Jindabyne is at the base of the Snowy Mountains and the edge of the Monaro. Hundreds of kays of cycling await, including some of the highest roads in Australia – places like Dead Horse Gap, Charlotte Pass, Thredbo and Perisher to name a few, and no end of scenic country roads beyond. There's also no better place to stay than Jindabyne (aka Jindy), with a huge amount of accommodation and over 30 cafes, restaurants and eateries. It's no surprise so many cycling groups use Jindy as a base for riding excursions.
Our time on 'busy' Springfield Road is short-lived when, after about 5km, we turn left onto Avon Lake Road. It feels like this road was made for gravel riding, and yet very few Aussie cyclists have found their way to these parts. Rolling along this stunning 7km stretch, you cannot miss the massive Boco Rock Wind Farm to the left. The wind turbines make us feel incredibly small as the massive blades turn above our heads.
Avon Lake Road soon meets up with the Snowy River Way, and we turn left for another short stint of bitumen before making a right onto Bungarby Road – more bitumen, very flat and in excellent condition. It's here that we reach the southernmost point of the The Expedition route as we turn right onto Ironmungie Road. This is where things start to get very interesting; the road narrows, and a few climbs and descents work their way into the picture.
The roadside vegetation changes, and we spot more bushland and taller trees along the way. If you look closely, you might even spy a wedge-tail eagle nesting in the large eucalypts to the south-west. Towards the end of Ironmungie, the road meets up with the Snowy River, and as mentioned earlier, if you're game you can fill your bidons here. The iconic Snowy River starts all the way up at Mount Kosciuszko and flows down through Jindabyne, Dalgety and past our point on Ironmungie Road before heading off through to Orbost in Victoria and, eventually, the Tasman Sea. On a hot day, you could take a dip to cool off, but we're riding in the depths of the Australian winter – it may be dry out on the Monaro, but it's also pretty darn chilly. Maybe once the spring hits.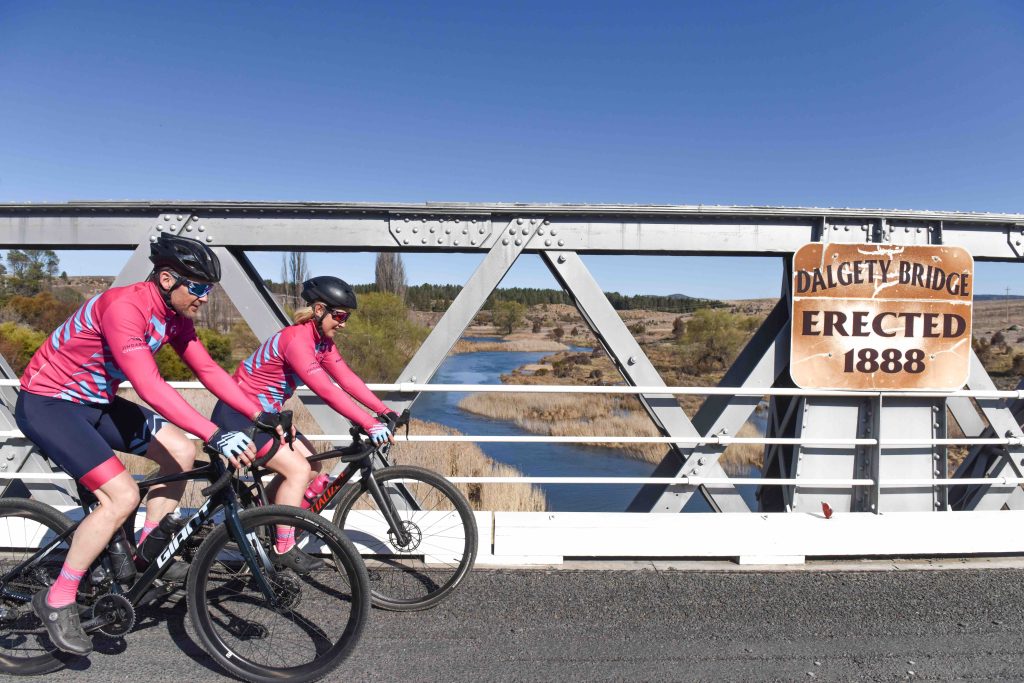 The capital that wasn't
Ironmungie Road continues for 19km, and in the last 5km we're confronted by our largest climb of the day, from the Snowy River to the Ironmungie Nature Reserve and back onto the Snowy River Way for about 10km before heading down, across Bobundara Creek, and up over the other side. The scenery here is wonderful, the extraordinary colours of the Monaro now visible in all their glory. Ahead of us, we can spot the roads winding for kilometres into the distance, all the way to Dalgety where we'll be having dinner in the evening at the Buckley's Crossing Hotel – another favourite of the Jindabyne Cycling Club, who set out on many rides from here and return at lunch or dinner for a great meal on the verandah overlooking the Dalgety Bridge and Snowy River.
Dalgety is famous for a few reasons, but it's perhaps most famous for what didn't happen to it. In 1903, a Federal Royal Commission named Dalgety as the location for Australia's national capital, due to various reasons including its ideal climate, food supply, land ownership and ability to support major industries. However, the Parliament of New South Wales argued that it was too close to Melbourne and too far from Sydney; additionally, the location was too far from the Sydney-Melbourne railway, so an expensive spur would have had to be built. For these reasons, the honour instead went to Canberra, and the rest, of course, is history. Had Dalgety have won out, it would be a very different experience today sitting at the Buckley's Crossing Hotel, and you can't help but appreciate that turn of events as you soak in the serenity.
However, Dalgety will have to wait until this evening – our Drops + Hoods route sees us take a right onto Black Range Road, and the toughest section of our journey today. This road is the most intense so far, with a steady climb and a long descent featuring loose gravel sections back onto Bobundara Road. If you find a moment or two to look up, you'll enjoy some of the best views of the Snowy Mountains in the region. We're in no hurry, so we stop for a rest and a bite to eat looking out towards the snow-capped peaks in the distance. Mount Kosciuszko is about 50km west as the crow flies, and to the east the views over the Monaro extend for about 40km out towards the Nimmitabel (or is that 'inimitable'?) region.
Having safely negotiated Black Range Road, we make a left back onto Bobundara Road. It's then another 8km and a left onto Arable Road, which begins what is without a doubt one of the most pleasurable sections of the ride. We swing a left onto Dalgety Road and enjoy a section of the famous L'Étape Australia course, which brought thousands of riders to the region from 2016 to 2019. After 3km of bitumen, we take a right onto Bulgundra Road, which travels for a little over 5km more with excellent views of the Snowy River between Jindy and Dalgety.
At the end of Bulgundra Road, we're faced with a conundrum – go right and push back to our starting point at Berridale, or straight for a few extra kays to arrive at one of the best tourist venues in the Snowy Mountains region: the Snowy Vineyard & Microbrewery. Alas, we must push on, or else the microbrewery is doubtless where our day will end.
The Expedition ends back where we began at Berridale, another 13km away, so we push on along Rockwell Road to wrap up the 126.6km route before hopping in the car to drive back to the microbrewery. There's no better place to dekit and debrief as we hook into a Ploughman's platter with a couple of well-earned beverages as we analyse the day's adventure – a sensational route with excellent gravel roads and phenomenal scenery to boot. We'll be keeping that weekend in December free to do it all over again.
Drops + Hoods takes place on 2-5 December 2021. For more information, visit dropsandhoods.com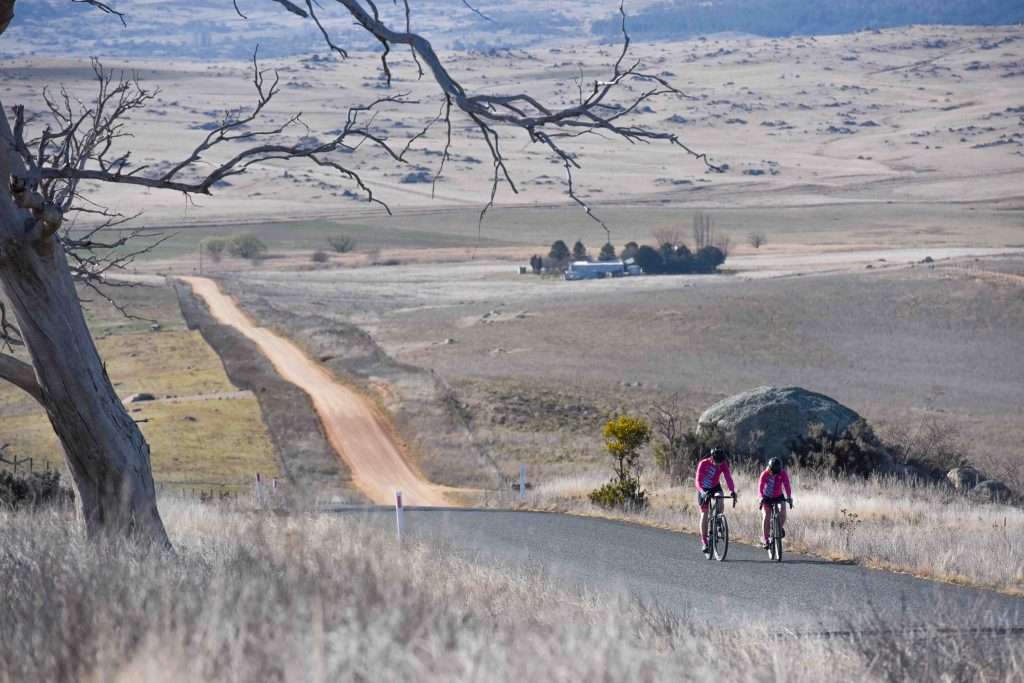 The Expedition begins
Cyclist checks out one leg of the Drops + Hoods itinerary
Click here to see this route at the Drops + Hoods website, or scan the QR code. Start in Berridale, rolling south along Dalgety Road before going left onto Bobundara Road just out of town. Continue along Bobundara Road for about 19km until you hit Maffra Road. Take a right and follow the bitumen for about 300 metres before taking another left, this time onto Bobundara Lane. After 17km you'll hit Springfield Road. Take a right. Roll along for 5km until you hit Avon Lake Road. Follow this for 7km – you can't miss the imposing Boco Rock Wind Farm turbines on your left – until you reach Snowy River Way. Turn left, go another 2km and then make a right on Bungarby Road. After 7km, you'll reach the southernmost point of the route. Turn right onto Ironmungie Road, and here's where a few descents and climbs enter the fray. Ironmungie Road eventually meets up with the Snowy River itself, and then after 19km you're back on Snowy River Way. After about 9km of bitumen, turn right onto Black Range Road for another climb and a tricky gravel descent before getting back onto Bobundara Road, where you were earlier. Follow Bobundara Road back to Berridale, but halfway back, go left onto Arable Road, left again on Dalgety Road, right on Bulgundara Road and then finally right on Rockwell Road, which takes you all the way back to Berridale.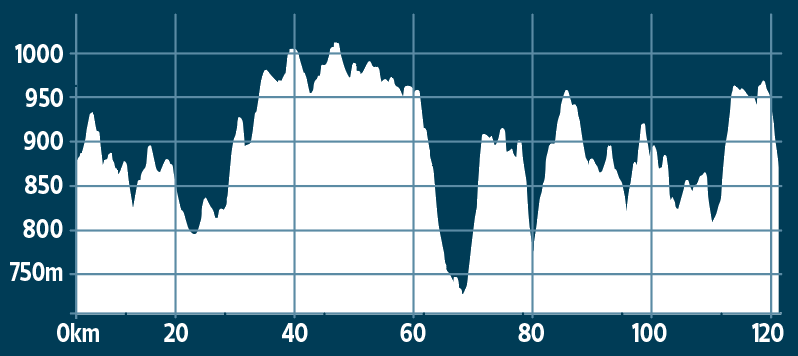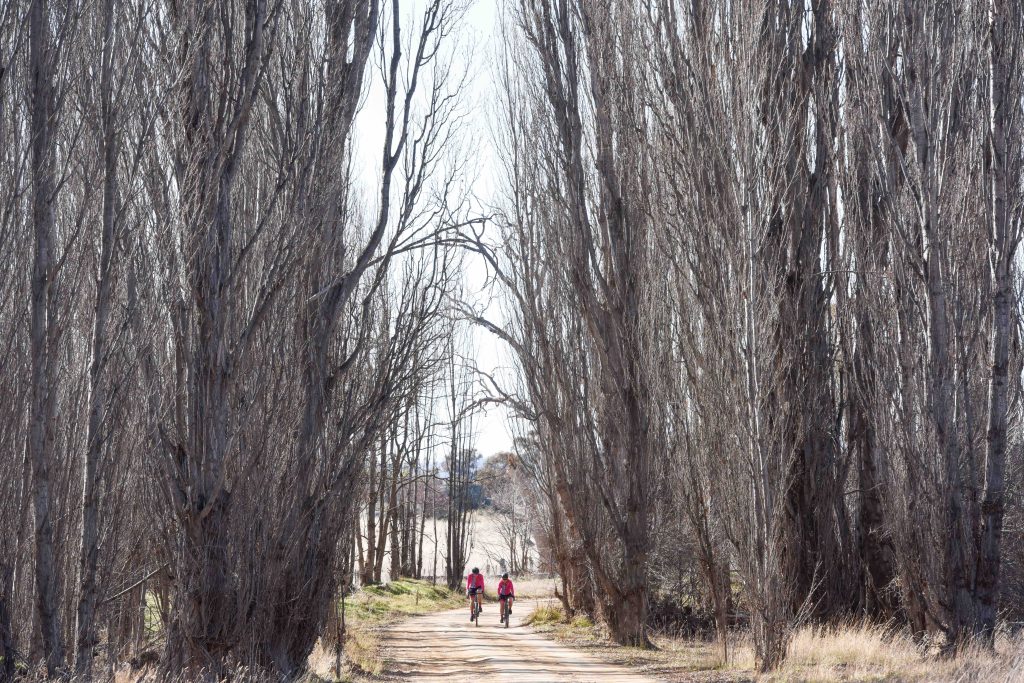 By the numbers
The math from Snowy River
126.6
Length in kays of our Big Ride, known as 'The Expedition' in Drops + Hoods
80/20
Percentage of gravel to bitumen surfaces along the route
5
Cars spotted over the course of the day's ride. Didn't even need our other hand
276
Length in kilometres of The Ultra – the longest route offered during Drops + Hoods
1903
The year Dalgety almost became our nation's capital
1
Ploughman's Platter demolished at the Snowy Vineyard & Microbrewery