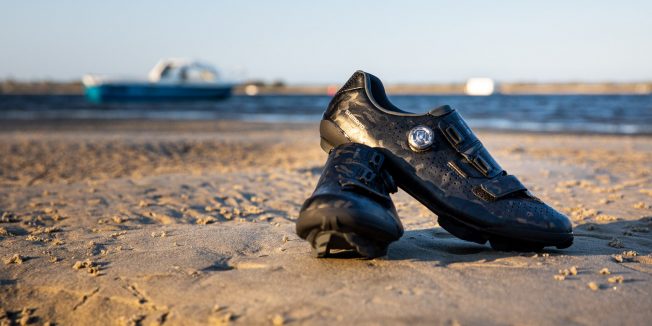 Shimano RX8 Shoes: Ultralight and ready to gravel race
The Shimano RX8 is dubbed an ultralight gravel racing shoe. You heard right, gravel now has its own line of marginal gains equipment but is the Shimano RX8 really just a burly road shoe, a stripped down pair for cross country mountain biking boots or the real gravel deal? Cyclist slides into a pair to find out.
Gravel shoes, like gravel bikes, sit in a weird place in the hierarchy of cycling gear. They aren't quite road shoes, yet they also aren't XC MTB shoes. They seem to take a little from both while also attempting to offer something special. Gravel shoes need to be light and stiff, but you also need to be able to walk around in them without looking like a penguin. They also need to take a fair bit of abuse that comes with the non-penguin walking and hike-a-biking. But not too much. Still with us?
The Shimano RX8 is the brand's latest attempt at this category of franken-shoe. From the top they are indistinguishable from a road shoe but flip them upside down and you'll see a cross country shoe, with  a little less meat. Tipping our scales at 622g (size 45) for the pair, they are more feather-like than a lot of mid-range road kicks like the Rapha Classic and are 100g lighter than the Shimano XC9 in the same size.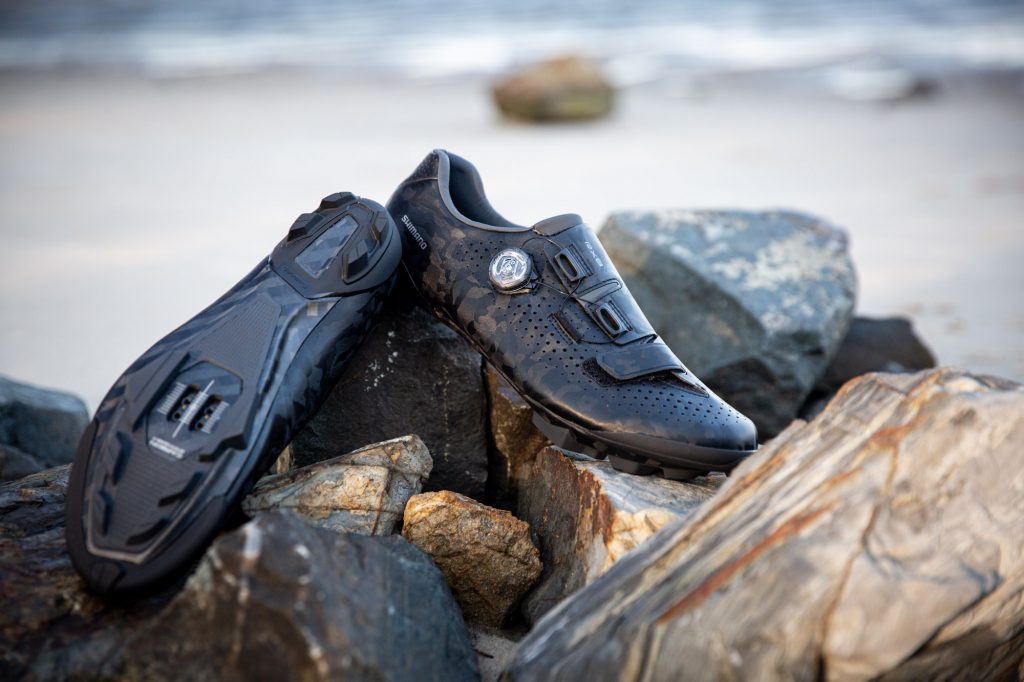 Wrapped and ready to go
The Shimano RX8 feature a one-piece perforated upper that wraps your foot up like a burrito, and is controlled by a single BOA at the top and a velcro strap across the forefoot. At first glance, my test RX8's look like a standard black shoe, but on closer inspection, they have a brushed camouflage finish. It's understated but gives these shoes a bit of flair. I'm a fan.
It's clear from the moment you pull them on the upper puts a premium on support. If you've worn Shimano road or MTB shoes, the RX8 will feel familiar. Tapered through the heel and arch with a roomy toe box to leave your little piggies some breathing room. They also come in a wide fit for those who need a bit of extra breathing space. Once you have the BOA reeled in, your foot is stable in the shoe and there is not a whiff of undue movement or heel slip. While the heel doesn't use the external plastic cup like that found on the XC9, it feels reminiscent to the Shimano RP9. There's a sizable lip lined with suede-esk fabric making for a suction cup like fit.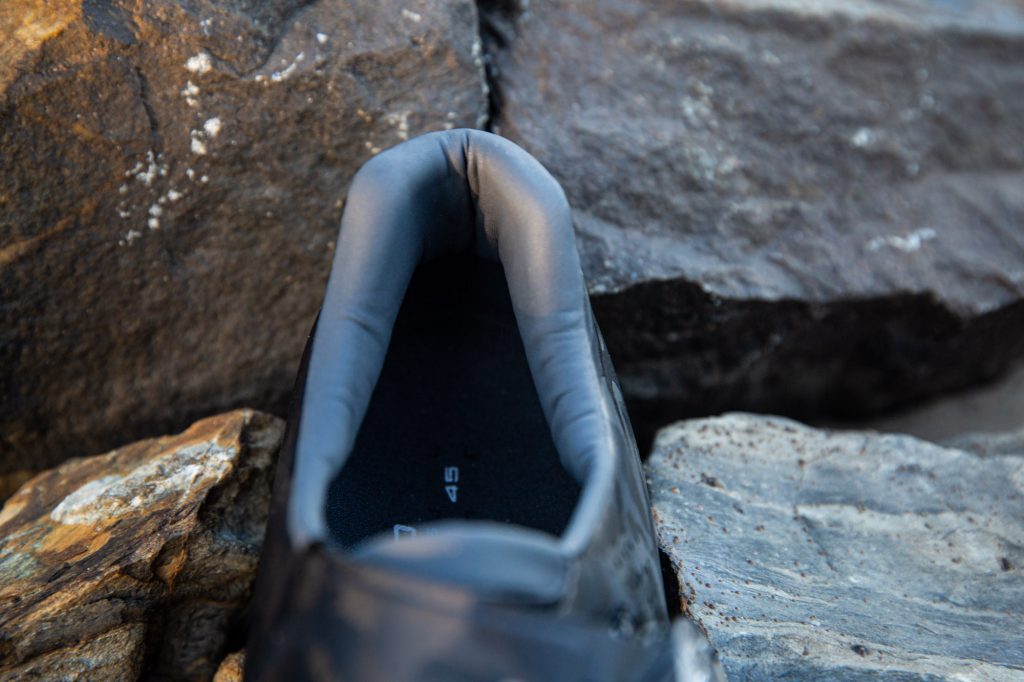 The right amount of race
The built-in support provides a stable pedalling platform, but this comes at the expense of ventilation. There is some airflow, and the shoes do breathe, but in the Queensland heat, they were a bit toasty.
The RX8 aren't Shimano's first gravel shoes, and a few years ago the brand introduced the XC5 lace-ups. The XC5 was targeted at the gravel adventure crowd and featured a nylon sole and open heel design. The RX8 on the other hand, are a full blast watt-crushing race clog. The sole is carbon fibre and rated 10 of 11 on Shimano's stiffness scale. As you pedal along, there is not an inkling of deflection. Up front near the cleat plate however, there's a built-in a flex zone. The flex has just enough give to make walking feel a bit less like you have a 2×4 strapped to the bottom of your foot. That said don't expect to throw your bike on your back and hike the Heysen Trail in the RX8.
Power and protection
In my opinion, more isn't always better when it comes to shoe stiffness and the Shimano RX8 dials back the stiffness just a touch. Too stiff and the sole will do little to dampen the vibration coming up through the bike into your foot. If you've ever worn a pair of Bont or Sidi road shoes riding over chip seal or gravel, you'll know this feeling well. Even though the RX8 are near the top end of Shimano's stiffness ratings, they dampen just enough of the high-frequency buzz to take the sting out.
There is a bit of 'micro armour' on the heel and toe, and the lugs on the bottom are minimal and concentrated around the middle of the sole. Shimano has also traded the holes for toe studs for a singular nub, so you don't scuff up the toe when you put your foot down — it works as advertised. The tread provides just enough purchase to climb up an over a log or boulder or walk up that section of fire road that's steep enough to give a CanAm buggy pause. I'm happy to see that Shimano hasn't left the midsection of the sole bare, as this not only protects the carbon plate as you walk but also provides some purchase when you miss or slip a pedal descending into dropper-post worthy terrain.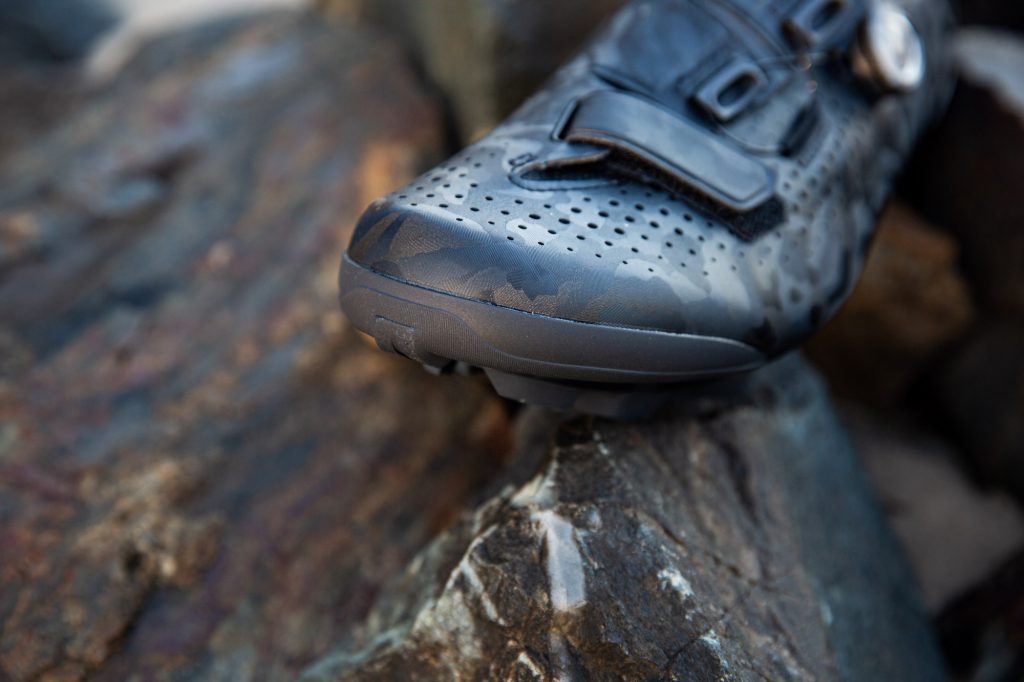 Pack light
Shimano decided against using the ultra tacky Michelin rubber seen on most of its high-end mountain bike shoes, instead choosing TPU for the tread saying it will last longer. I've only been riding in these shoes a few months, so I can't really say how the lugs will stand up after a year or more of use, but for now, they still look brand new — though they aren't replaceable.
Shimano's previous attempt at a gravel shoe was the XC5, which were more targeted at the adventure/bikepacking crowd. They were great for just trundling along and commuting but left me wanting when it was time to put the power down to makeover an obstacle or chase onto a wheel. And because of this, I have opted to use XC shoes (specifically the Giro Empire) for the additional performance on offer. But, for pure gravel riding XC shoes are overkill, and the armour needed for protection from rock strikes and provisions for toe spikes are nothing more than unnecessary weight.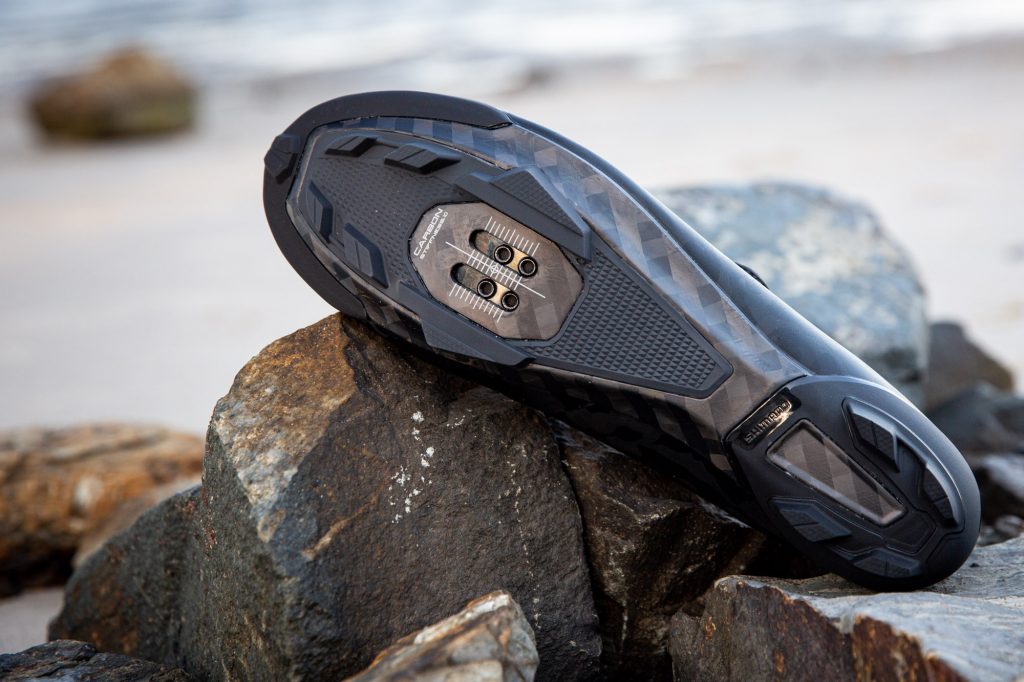 RX8 final thoughts
The RX8 give you everything you need for gravel riding and nothing that you don't; The result is a lightweight race shoe that's plenty stiff enough to get through gravel rip or the newly announced Grinduro Australia. They are a little bit lacking in the ventilation department, so if you suffer from fire feet, the RX8 may be a bit too warm. Make no mistake these are race shoes, and in the same way that a race bike isn't the best tool for a leisurely ride through the countryside, the RX8 may prove to be a bit too competition-focused for those heading out on an adventure where speed isn't the top priority.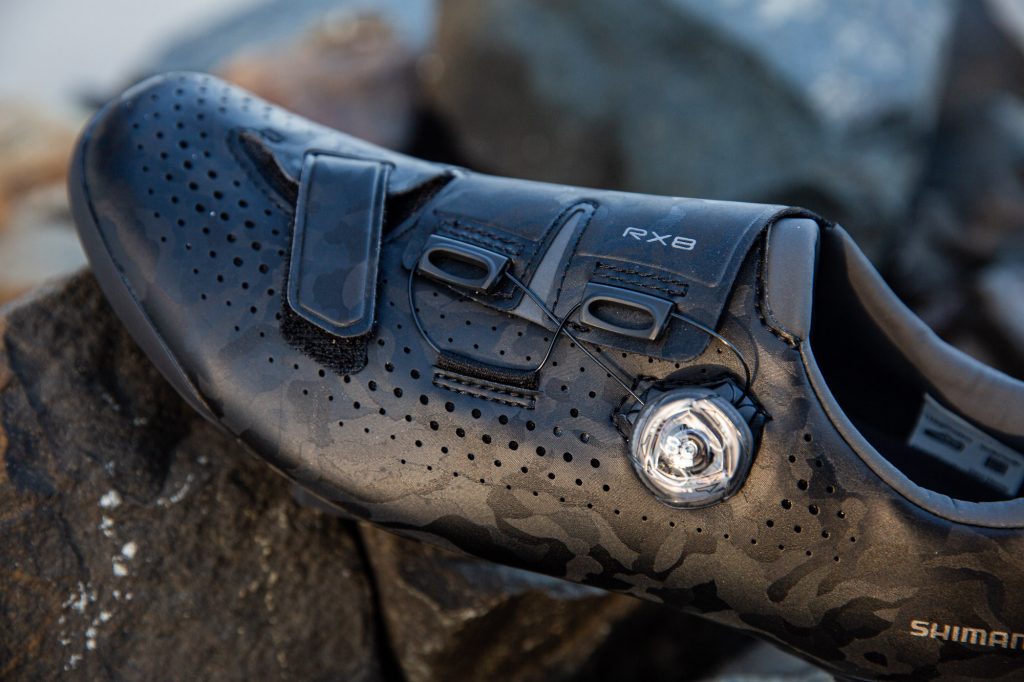 Shimano RX8 details
Weight: 622, Size 45
Closure: BOA IP1 and Velcro
Cleat type: SPD 2-hole
Stiffness: 10/11
Sizes: Standard 38-50, Wide: 38-48
Price: $359
More info: bike.shimano.com/en-AU