For years I've been riding a BMC Teammachine SLR01, and through the hundreds of test bikes that have rolled through my door, I still maintain it is the snappiest and most engaging bike out there strictly for riding on tarmac. The arrival of the BMC Roadmachine 01 Three however, has put me to the ultimate test as I race towards a quieter ride.
The thing is, rarely do I pin on a number nowadays, and as my gaze has shifted away from smooth tarmac to woolly gravel routes. My once comfortable, aggressive and stretched out position may have delivered laser-guided handling and the ultimate in power transfer however, these days I'm searching for fewer marginal gains.
The Endurance bike category, where the BMC Roadmachine 01 Three firmly fits, has come a long way from its lumbering, slow and downright boring ancestors. BMC arguably led this revolution back in 2016 when it unveiled the original Roadmachine.
Looking to the make dull and overly stable endurance roadie a thing of yesteryear, the Roadmachine brings the speed. That original model was based around a faster riding style that chopped a few stories of the skyscraper like headtube of the BMC GF01, while also adding a heap of integration — namely the BMC Integrated Cockpit stem. BMC pitched it as a One Bike Collection.
To borrow terminology from our knobby-tyre cousins, the Roadmachine is supposed to be like a trail bike. It's a bike that is meant to do everything well, just as comfortable on an all-day epic or an afternoon in the bike park yet fast and agile enough to pin on a number. It's a big job for one bike. So, the question I'm here to answer is: Can the Roadmachine be the trail bike of the road?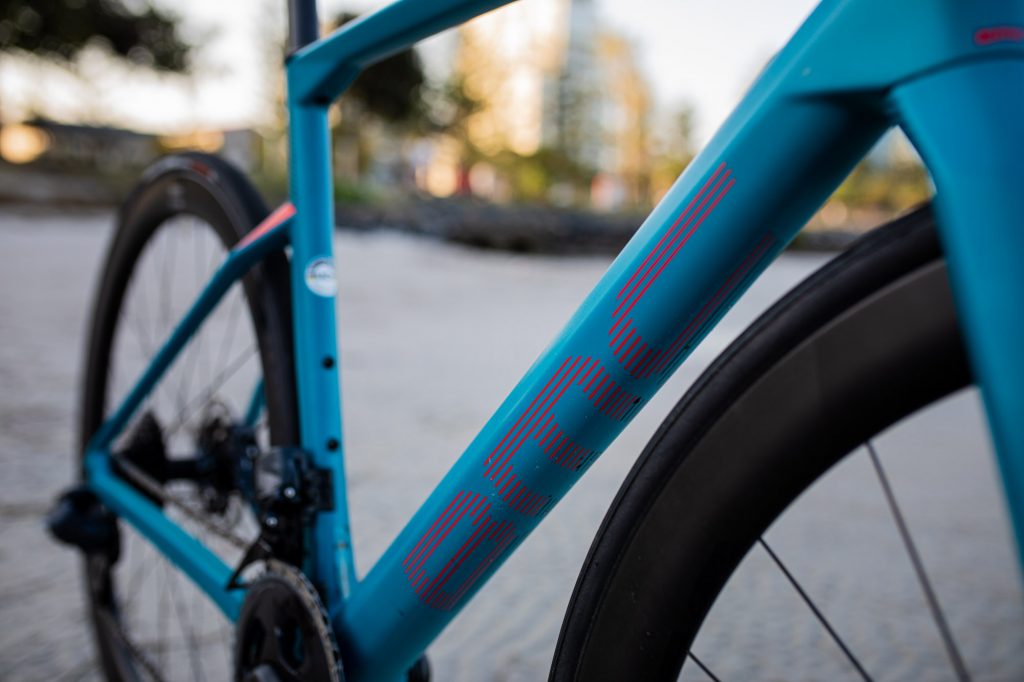 A tool for every job
At first glance, the all-new Roadmachine and the latest Teammachine are almost indistinguishable. Minimal branding, low slung seat stays and the same TCC and aero tube profiles delivering a similar aesthetic across both models.
But as you do a double-take, the differences become apparent. It should be no surprise the angles are a bit slacker on the Roadmachine, the stack taller and reach shorter. My size 54 on test has a reach of 386mm and a stack of 562mm – putting it about halfway between what the GF01 was and where the Teammachine clocks in. It's also 2mm higher and 1mm shorter than the 2016 Roadmachine in the same size.
Of course, the 2020 Roadmachine abides by the bike industries Daft Punk theory of innovation. It's faster, lighter, stiffer, stronger and tips my scale at 8.02kg.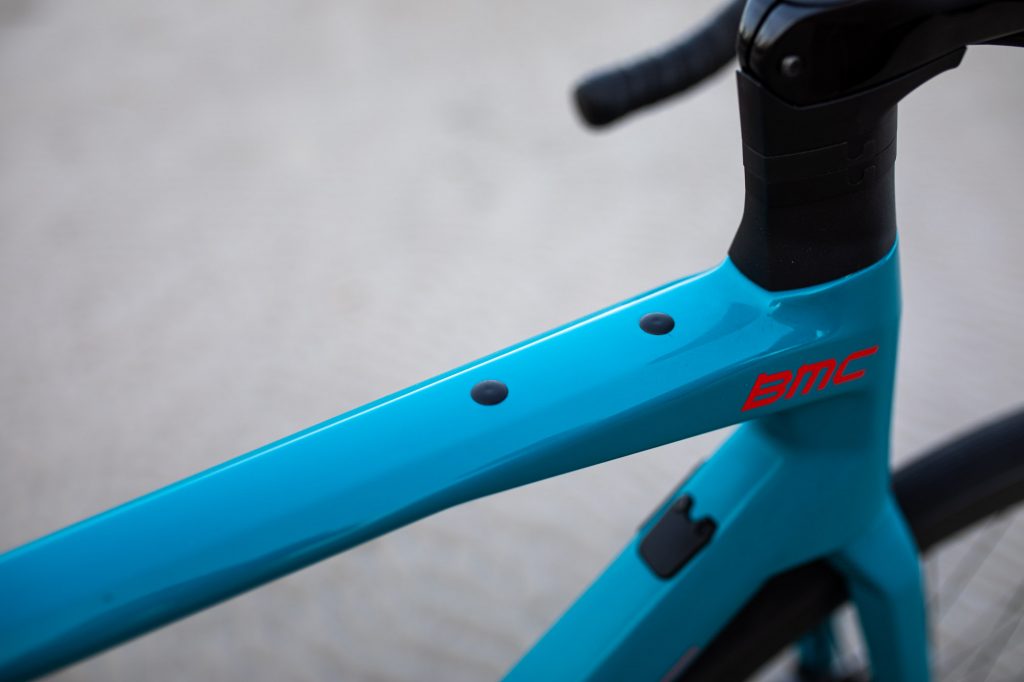 Wider (rubber and gearing) is better
The frame has room for 33m rubber, and the bike came out of the box with 28mm Vittoria Corsa Control tyres which are wrapped around DT Swiss ERC 1400 Spline DB 47 wheels. While the stock tyres aren't tubeless, the rims are and DT throws a set of valves into the box. In addition to the extra tyre clearance, there are mounts for a bento – we prefer 'fuel' – box on the top tube furthering the one bike quiver pitch. Because to go long, you need plenty of snacks.
Cycling through the gears is a brand spanking new SRAM Force eTap AXS drivetrain with a 46/33T 2x front chainring and a 33-10T 12speed cassette, giving you a one-to-one granny gear for when the road points to the sky.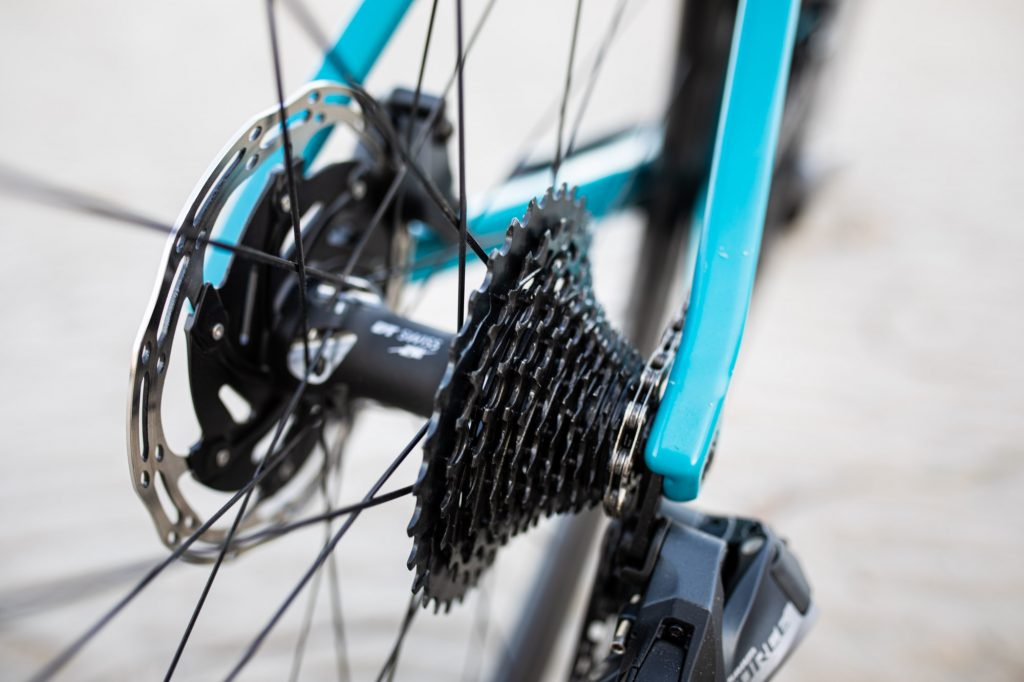 Touch points
Paired with the ICS stem is a set of BMC RCB01 Carbon handlebars. Instead of internally routing the cables like the 3T bars bolted on the previous version, BMC has instead opted for deep grooves that guide the cables from the levers into the stem. This is a significant improvement because those 3T bars required a human sacrifice before you could snake a brake hose or cable housing through.
The ergo bend on the bars is comfortable, and the reach and drop are well suited to the dimensions of the bike however, the shaping from the grooves has some stipulations. The proprietary stem forces you into using BMC's faceplate and computer/camera mounts – a common theme these days. These work well enough provided you use a Garmin computer, and your light has a GoPro mount but sorry Wahooligans, you're out of luck with the stock inclusions. That said, there are aftermarket mounts available, and there is no reason you couldn't swap in a different set of bars to carry your chosen GPS and lighting configuration.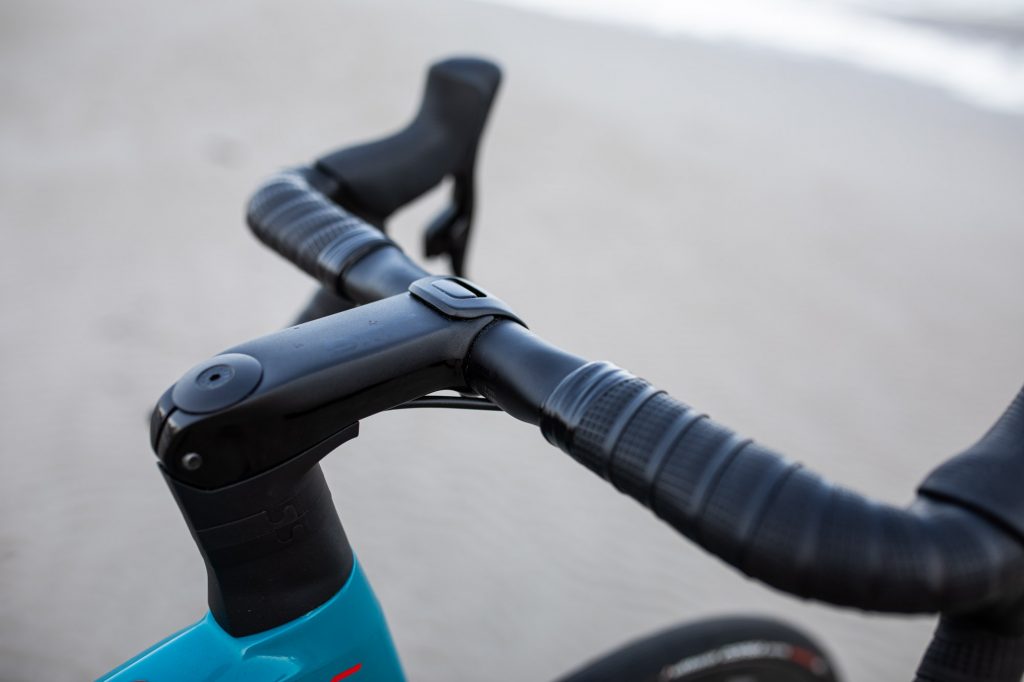 At the back, BMC has spec'd a proprietary D-Shaped seat post with a hidden seat wedge. It's a fiddly system and mine requires a lot of carbon paste to keep the seat-post from slipping. While the hidden clamp makes for a svelte profile, I much prefer a standard seat clamp and to not need carbon paste. The additional compliance in d-shaped posts – you'll find them on the Focus Izalco Max, Cervelo R-Series and others too – can take a little extra attention to get right during the fitting stage.
Speaking of the seat-post, it comes in a 0mm offset and 15mm offset version. Our was the later and topped with a Fizik Aliante saddle.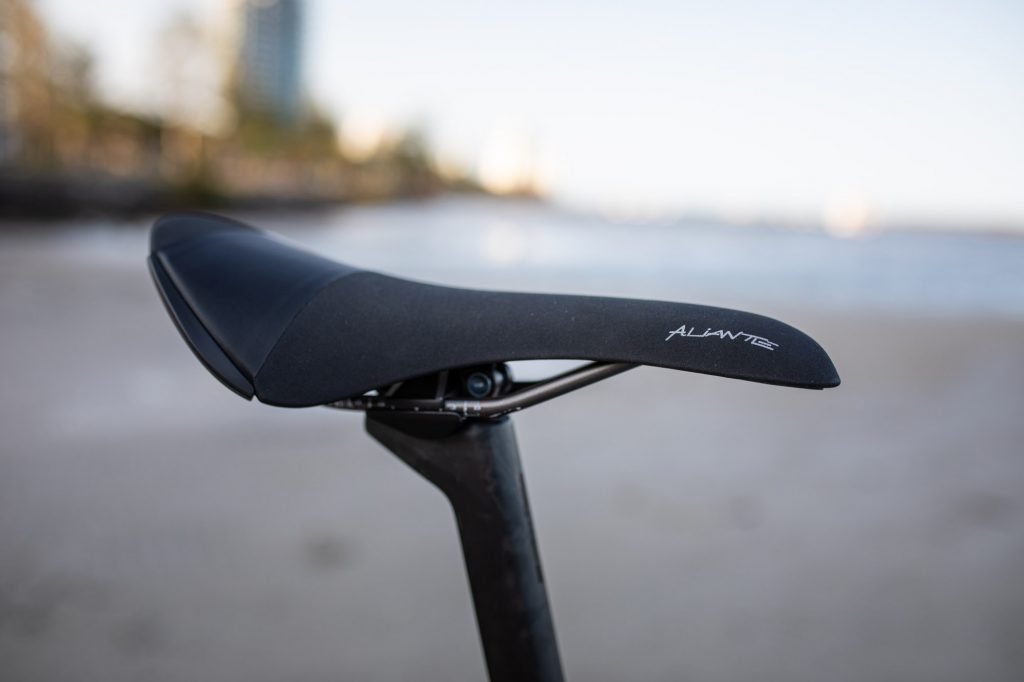 On the road
Swinging a leg over the Roadmachine, my inaugural Gold Coast outing was around my favourite lunch ride test loop. In about 30km this route combines everything from silky smooth blacktop, chip seal – eroded by Tweed River king tides – and even a 4km gravel sector. Right off the bat, this shows me how a bike of this category handles over a variety of riding surfaces.
There is no doubt this bike is stiff and when you put the pedal to the metal, there is no delay in the reaction of the bike as you can get with some endurance offerings. It doesn't quite send your eyeballs through the back of your skull like a race bike offers, but it also doesn't have the nervous handling that often comes with the territory. It's a welcome feeling, especially when the terrain gets a bit spicy. That said, the steering is light, and mid-corner changes don't require brute force.
The Roadmachine is truly a bike that someone who's used to rolling into a corner three-wide at high speed, and someone decidedly less experienced will leave said turn with a smile on their face.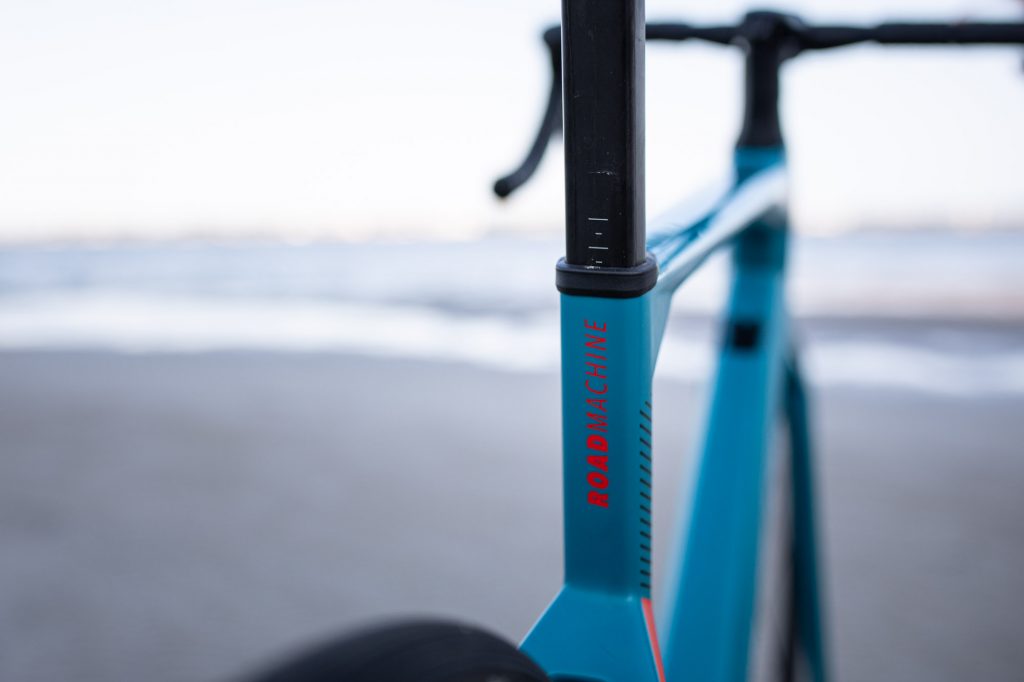 BMC buzz kill
BMC has also found the right balance in vibration dampening and compliance. As you roll along the bike cuts out the nasty high-frequency stuff, but leaves enough to communicate whats going on beneath you. You won't mistake if for a race bike that translates every minuscule detail of the road texture, but it doesn't leave you feeling like you've just left the octagon when you finish you ride.
Credit where credit is due, some of this can be attributed to the plush 28mm Vittoria rubber and the DT Swiss wheels which aren't so stiff they rattle the fillings out of your teeth. After chopping and changing the wheel and tyre combos over the test period, it's apparent the BMC's endurance specific carbon layup is still carrying the bulk of the vibration damping weight.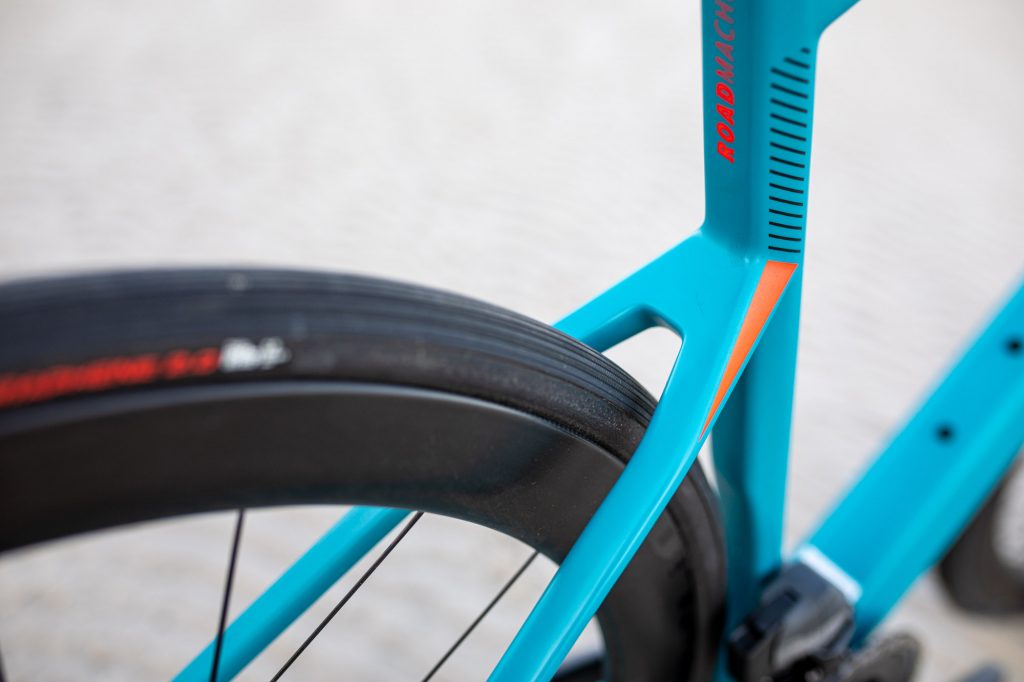 Overall the position falls in the middle of the road, as you'd expect with this type of performance endurance geometry. The cockpit can be set up with a high (32mm) and low (7.2mm) headset top cap, and the split-in-the-middle headset spacers mean you can lower your bars without having to re-cable the bike. Out of the box, the bars were supported by the high top cap and two spacers creating a very upright position. I rode around like this for about a week and then ditched the spacers and swapped to the low top cap. As can be expected with more weight over the front wheel, the handling was a bit sharper, but even in the high position, the steering was more than manageable.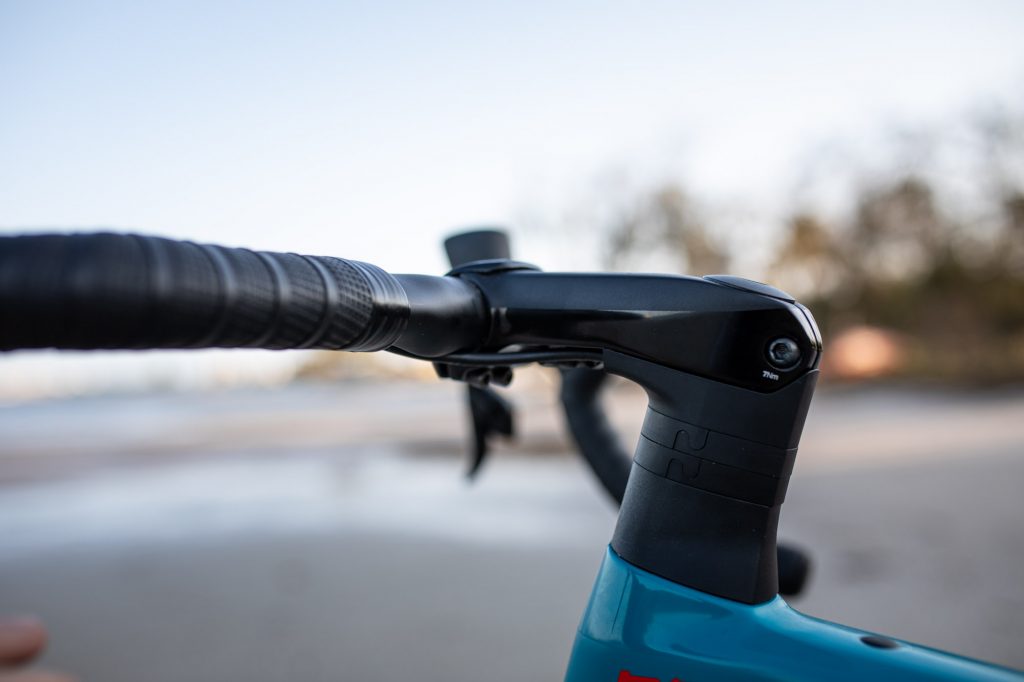 SRAM AXS
This was my first go-around with SRAM's new Force eTap AXS 12-speed groupset. For a significantly reduced price tag you get the brand's latest wireless shifting and hydraulic disc brakes, but miss out on a bit of carbon fibre and ceramic bearings that tack on an additional 300 grams.
It takes a few mis-shifts on a new groupsets before getting the neurons firing in the correct order, especially going directly from a SRAM mechanical groupset to eTap but once out of the way, AXS is tough to critique. While it's hard to honestly evaluate a groupset's total performance after only a month of riding, in that time the Force AXS was flawless and in my opinion performs just as well in the real world as its more expensive Red eTAP AXS cousin.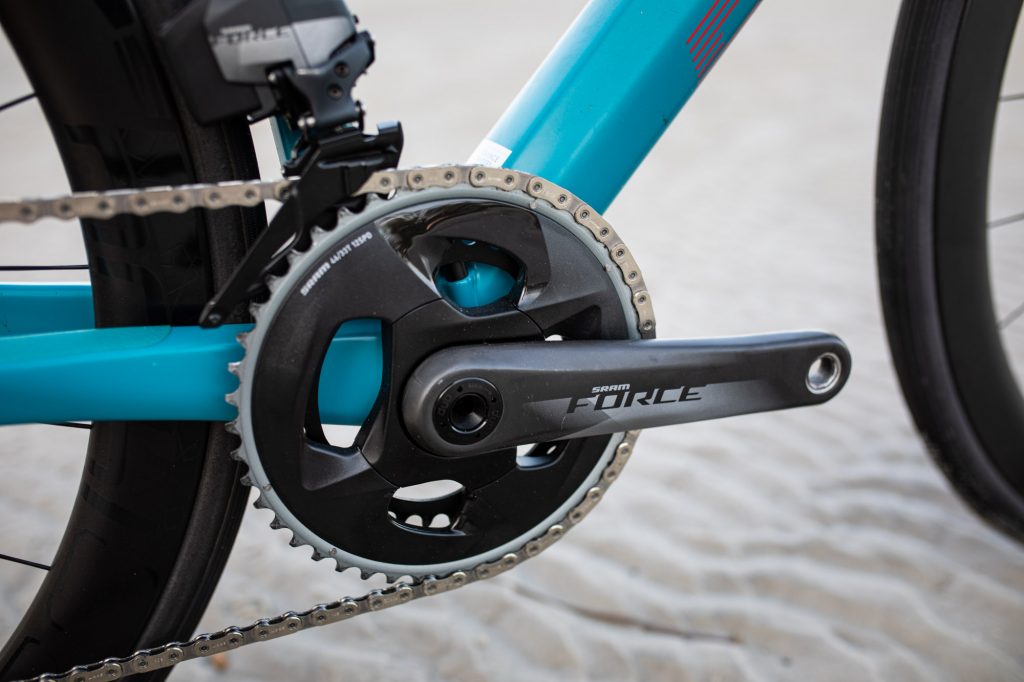 Given that this was a new groupset, the first thing I did was brake every sacred rule of shifting — shifting under load, cross chaining and shifting between front chainrings while in the biggest cog at the back. You name it, I tried it and was unable to coax the chain off its course at any stage. Both derailleurs are crisp and quiet, changing gears instantly. Etap's wireless shifting is still a novelty – for me – and I was most impressed with the Orbit fluid damper found in the rear derailleur. This maintains composure, holding the chain taught even over washboard gravel. My test bike didn't come with the spider-based Quarq power meter, but the upgrade is available so you don't have to send your crank away when you wear out a chainring.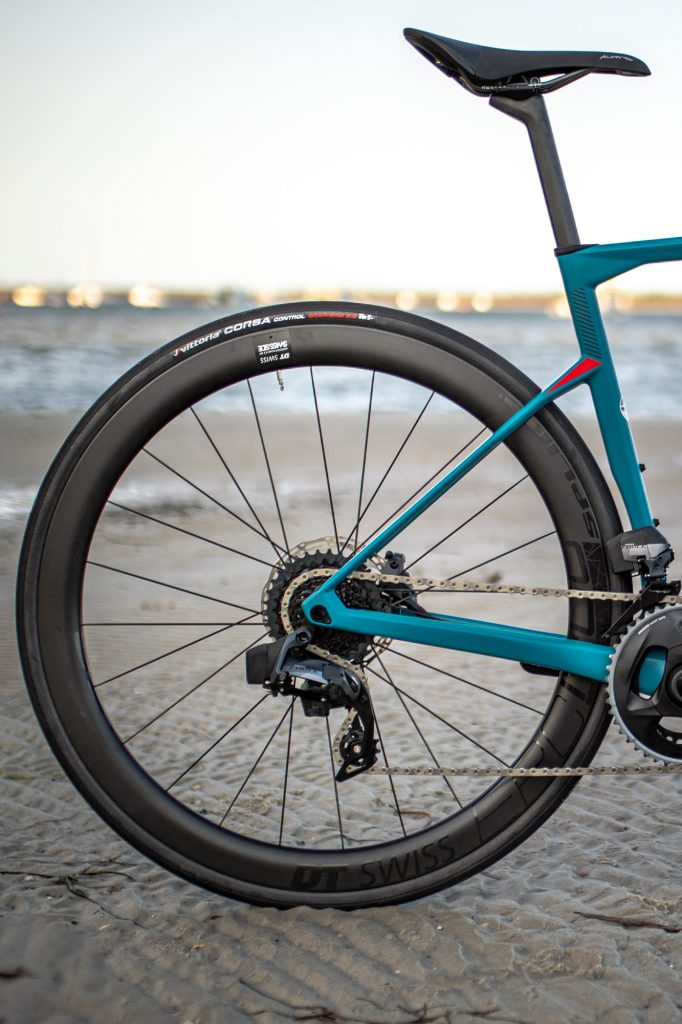 They see me rolling
Out of the box, the Roadmachine comes with some pretty schmick DT Swiss ERC 1400 Spline DB 47 wheels. Sans rotors and cassette they tipped the scale a 1,542g. Dancing up, along and down the road, these wheels accelerate promptly – adding some kick to any attack. As they spin up to speed, there's also a real sense of that slippery aero feeling as you reach about ~28km/h. At 47mm tall, they are well behaved in heavy side winds, and when they do buffet, it's predictable. Combined with the stable connection of the thru-axles, there is no lateral flex to be found here. Even when you do a 'flex test', the bars give a few millimetres before the front end of the bike does.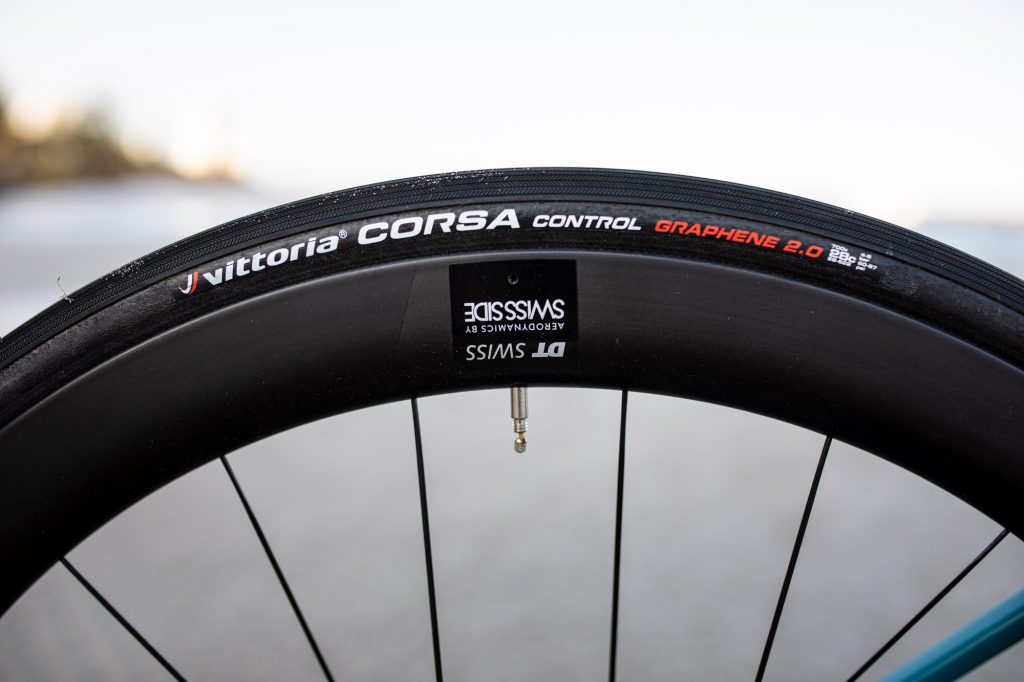 Roadmachine Final thoughts
The latest Roadmachine is quite similar in ride quality to its predecessor. It's hard to say if it's stiffer and more compliant not having both bikes on hand for a back-to-back test, but I'll give BMC the benefit of the doubt here and say there are probably minor improvements in this realm. It's a bike that will satisfy a wide variety of riders and support even more riding positions. If you pull out a bunch of the spacers and use the low top cap, you can get aero, but, on the other hand, those with less flexibility can take advantage of the additional stack height and not loose handling precision.
So, is the Roadmachine like a trail bike? I think so! Minus all the suspension and dropper posts. It's a bike that holds its own no matter the riding situation and most importantly it looks good muddy. After spending a month of miles with the Roadmachine 01 Three, I would absolutely buy one — if I could afford it.
The only real mark I can put against the Roadmachine is the $9,999 price tag. That bit I mentioned about Force eTap AXS being significantly less than Red holds true but we are still talking nearly five-figures for a bike spec'd with a second-tier groupset. Yes, it does have carbon wheels, finishing kit and it's the top-tier frame but when you look at similar offerings from other brands — even on the boutique end, Force eTap AXS will cost you about a grand more compared to those from Cannondale or Focus with carbon hoops.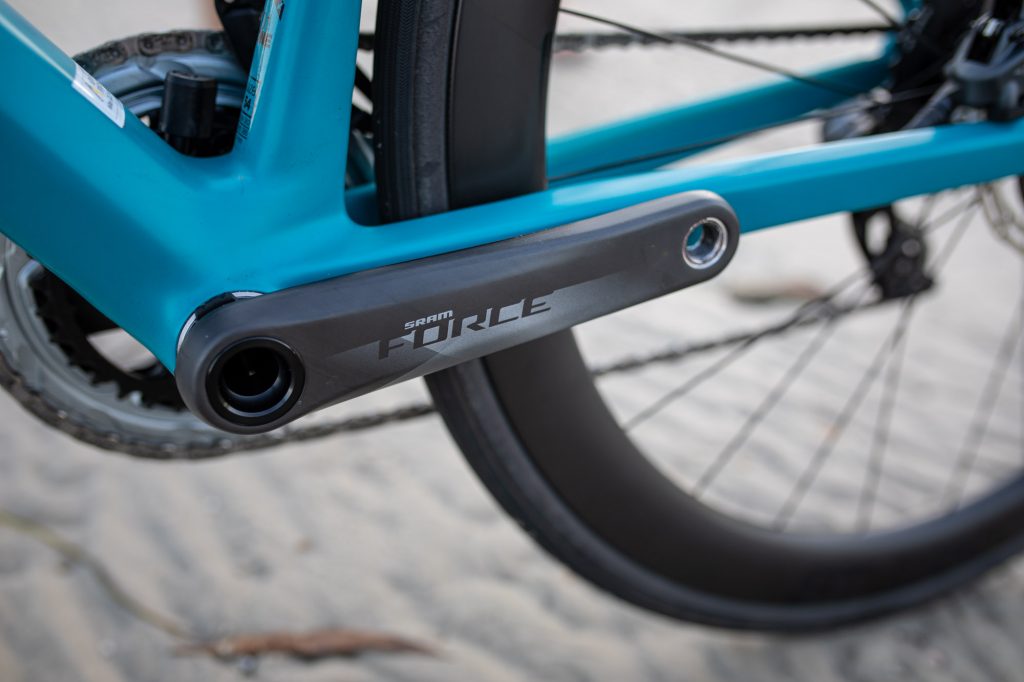 BMC Roadmachine 01 Three: Spec
Roadmachine, PF86 bottom bracket, Flat Mount, 12x142mm thru-axle
Frame: Premium Carbon, TCC Endurance
Fork: Roadmachine Premium Carbon, TCC Endurance, Integrated Cockpit, Flat Mount, 12x100mm thru-axle
Crankset: SRAM FORCE AXS 46/33T
Cassette: SRAM FORCE XG-1270, 10-33T
Chain: SRAM FORCE 12 speed
Front Derailleur: SRAM FORCE eTap AXS
Rear Derailleur: SRAM FORCE eTap AXS
Shifters: SRAM FORCE eTap AXS HRD
Brakes: SRAM FORCE eTap AXS HRD, Centerline XR Rotors (160/160)
Handlebar: BMC RCB01 Carbon, ergo top shape, compact bend
Stem: BMC ICS 01 – Integrated Cockpit Design, w/ computer and camera mount
Seatpost: Roadmachine D-Shape Carbon, 15mm offset
Saddle: Fizik Aliante R5 Kium
Wheelset: Dt Swiss ERC 1400 Spline db 47 Carbon
Tyres: Vittoria Corsa Control, 28mm
Weight: 8.03kg