In a first for Cyclist in Australia, we took a couple of brand-spankin' new e-bikes – courtesy of Specialized – and dirtied them up on an off-road adventure between Adaminaby and Canberra.
Words: Tam Allenby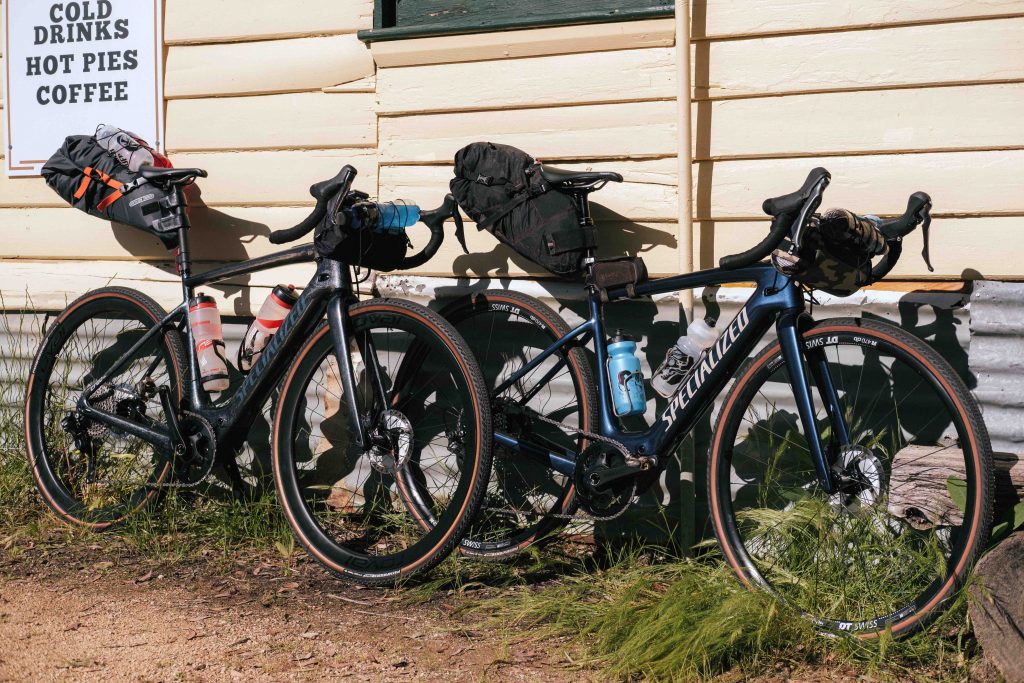 Not all rides go according to plan.
I found myself reflecting on this fact halfway up a remote mountain fire trail, ski-slope steep, pushing more than 20kg of bike and cargo up a punishing 35% gradient. Moments previously, we'd been intercepted by a friendly park ranger, who'd let us know our planned ride, and the road ahead, was closed due to the bushfires that ripped through the area almost a year ago. We'd have to adjust our route and go back the way we came before diverting over a different part of the range; a hefty fine was on the cards for going out of bounds, so there was nothing else to do but turn around and follow the ranger's instructions.
Our relief at avoiding personal bankruptcy did little to lessen the toil of the Sisyphean task we were now facing, but after 10 or 15 minutes of sweaty grunting up the 'hill', we reached the top. 'That's the last time I ever trust the Strava heat map,' Jim, my ride partner and photographer for the day, told me. When planning a route for an off-road adventure, it's wise to dig a little deeper into the topographic maps, and boy were we learning the hard way.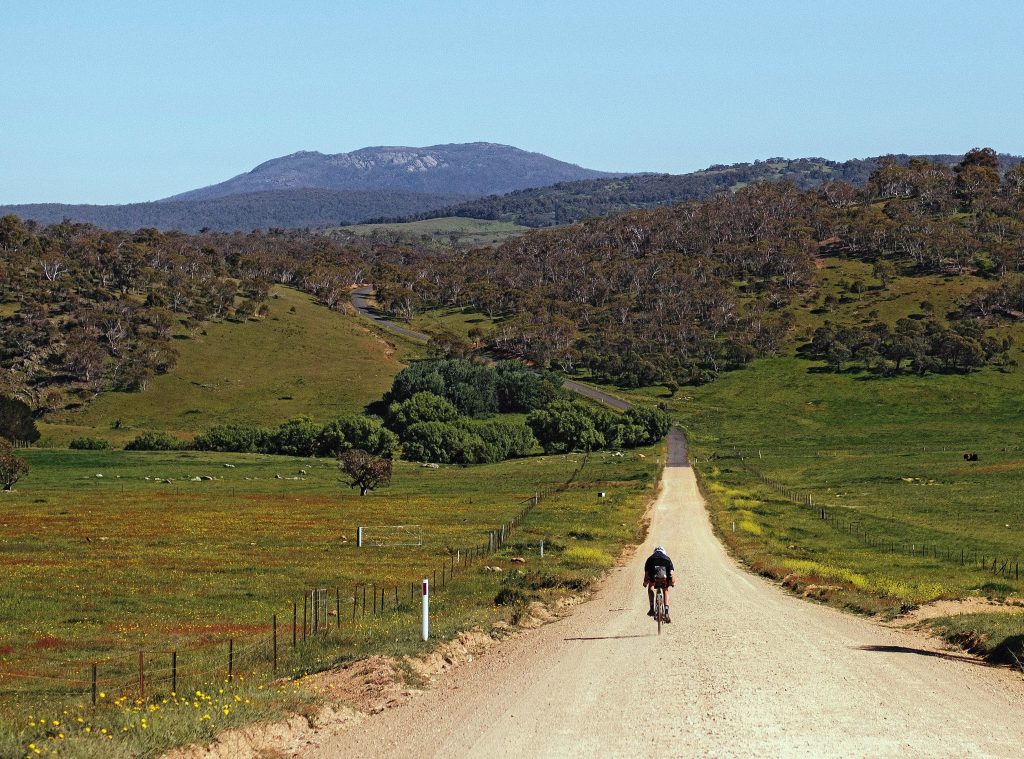 We'd started our ride around four hours earlier in Tharwa, a small village on the outskirts of Tuggeranong in the ACT. Full of beans, we were rather excited to test out the capabilities of the Specialized Turbo Creo SL gravel e-bikes we'd borrowed for the weekend. There was a time I'd have sneered at the idea of putting a battery in a bike (isn't that cheating?), but with my fitness not what it used to be, and 3,000 metres of climbing on the cards for day one of a two-day trip, my mind is more open and I was itching to get out there.
It had all started innocuously enough, but after pushing on through some increasingly remote and rugged terrain in the first few hours – much of it, thankfully, rather beautiful – here we were: two cyclists in the middle of nowhere, calves screaming from a quarter-hour of hike-a-bike, and our Wahoos sending us further along an increasingly disintegrating trail. But with the area we'd just left now out of bounds, the only thing to do was keep going up.
The task at hand
After day one's slight misadventure, I wake up the next morning drier than an old sultana. Seven hours of off-road adventuring – with more walking than I would have liked – has clearly taken its toll, even with the help of the Creo's Little Motor That Could.
Briefly snoozing my 5:20am alarm, I think back on the second half of yesterday's ride, which got a whole lot better once we'd trudged back up to the top of the hill. Mountain huts, clear running streams, alpine meadows, a rip-roaring descent (where I'd nearly gone over the bars after getting a little too much air off a waterbar), smoother-than-butter gravel in the stunning Yaouk Valley, and regular evidence of last year's devastating bushfires, the black-as-a-matchstick trees standing in contrast to the bright green regrowth. It had been quite the adventure.
Our task for day two is to pedal just over 100km from Adaminaby – where we'd stayed the night at the charming Snow Goose Hotel – back to where the car is parked in Tharwa. I eventually emerge from under the covers and make my way downstairs to the breakfast room, where Jim is already waiting; a full English is on the way, so I get to work on the coffees. After the brutal elevation of yesterday's ride, I'm looking forward to the more relaxed, downhill profile of today's, which Jim assures me through a mouthful of toast will not be going over any crazy mountains or sketchy areas.
Bellies full and suitably caffeinated, there's nothing left to do but retrieve the bikes from the laundry where they've been charging, strap on our bags, fill up our bottles (four litres each to be safe) and get pedalling. The more we can get done before the sun gets too intense, the better.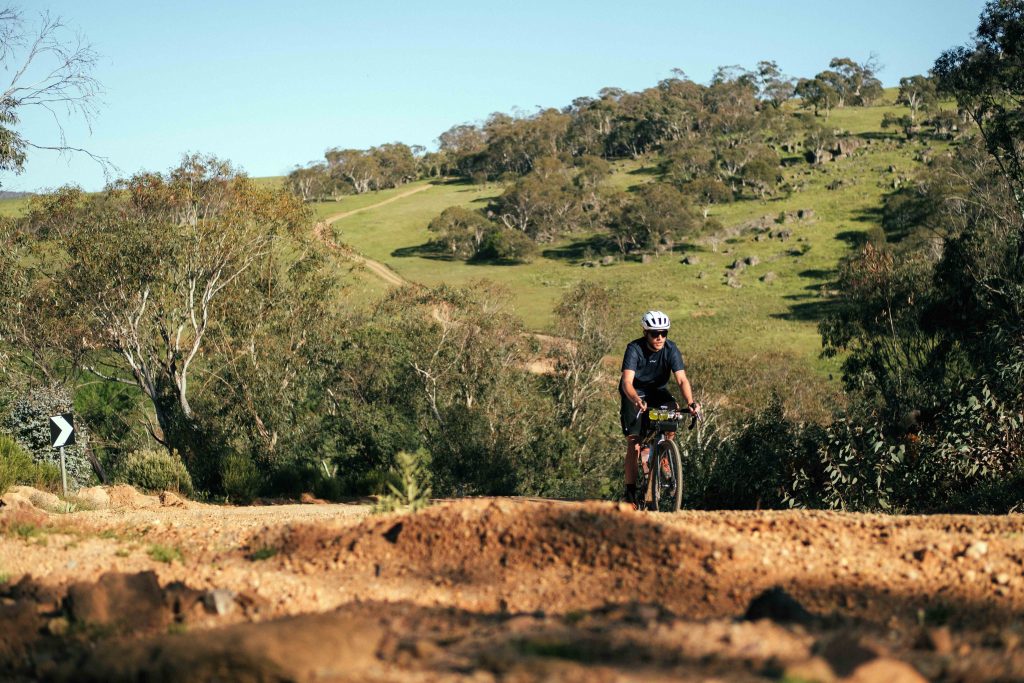 The plan of attack
We roll out of Adaminaby just before 7am, catching the tail end of the early morning light as we make our way along a paved and pan-flat country lane. The farmland around us is extremely green – as green as we have ever seen it in this part of Australia – and we pass by a few herds of cattle getting a morning feed. The air is crisp. While we've layered up with long-sleeve Attaquer tech tee, winter base layer and gloves, once the road pitches up for the first time around 10km in – at which point we hit gravel as well – we're quick to start peeling off any extraneous bits of clothing.
Yesterday had been a mission, but one thing we'd nailed was using the e-bike battery – specifically, figuring out how not to drain it too fast – and we apply those lessons today. On flats and downhills, let it idle; on any uphill, chuck it in the lowest setting of the three; on steeper climbs, flick up to the middle setting and power over the crest until you pick up speed again; the highest setting we decide to reserve for when the end is in sight.
As we hit a particularly corrugated section of road, I wind off the Creo's Future Shock 2.0 suspension system to enjoy a cushier ride; having used it on a previous Big Ride, I'm well-versed in its benefits, and really rate the extra bit of cushioning it provides on the rough stuff.
After a super-quick paved descent, the bikes picking up speed very quickly thanks to the extra weight of the battery as well as our bike bags, we turn off the 'busy' Boboyan Road (by busy, I mean we had been passed only by a couple of farmers in their utes in the 45 minutes we've been here) and onto a lovely and smooth gravel lane through an open field. Soon we're on a quick little gravel descent, passing over a small creek with a very picturesque river gorge peeking through on our right-hand side. It's super scenic cycling, and I'm really enjoying being out of the city.
Around 20km in, we hit what looks like – according to the elevation profile on my Wahoo – one of the longest sustained climbs of the day. It turns out to be about 3km long but at a reasonably steep gradient, with a great view of the Snowy Mountains far away in the distance off to our right about halfway up. It's pretty cool to see the remnants of the season's snowfall on such a warm mid-November day. In contrast to yesterday's mountainous terrain, I'm anticipating most of the climbing today will be on shortish rollers like this one, and as we turn left onto Shannons Flat Road nearing the 30km mark, we've already ticked off 500 metres of elevation for the ride. So far, so good.

Risk it for the biscuit
The next 10 or 15km pass without incident, though Jim has a slightly hairy moment when he tries to snap a photo one-handed while descending a fast gravel section at around 70kmh. Don't try this at home and all of that, but you've got to respect his guts – the man lives and dies for the #content. We get our average speed back up as well, enjoying the smooth and wide Strade Bianche-esque roads while passing an old quarry at speed. There has been a fair amount of flat so far, and the batteries of our Creos are still 90% full, boding well for later.
We often chat about how cool it'd be for there to be a proper US-style gravel racing scene here Down Under, and we mutually decide that this area would be perfect for it: the scenery is great, the gravel is in good condition, and there are plenty of options for loops of different lengths starting and finishing in Adaminaby – or perhaps nearby Cooma due to its larger size and the extra amenities on offer. Won't somebody please make it happen? Although, admittedly, we'd have to put away the e-bikes for that…
The day is already starting to heat up, and having gotten through nearly a litre of water each in a bit over an hour, the water tank at the Shannons Flat Community Hall has our names all over it. We didn't bring any water purification tablets, but decide to take the risk: the water looks pretty clear, and despite a couple of floaters, tastes fine, and it's good for our peace of mind to set off for the remaining 60km – which we anticipate to be the hardest section, in the heat of the day– with full bottles.
We saddle up again, and within moments hit a pretty long gravel climb of around 2km. By now it's starting to get quite hot, and as I sweat into the inside of my sunnies, I'm really grateful we stopped to top up our water supply. After 10 minutes of climbing, the sounds of our exertion masking the low hum of the e-bike motor – a constant companion on the climbs – we bomb down a descent and pass back into Namadgi National Park and the ACT.
After a quick stop-off at the historic Brayshaws Homestead, an old farm dwelling from the mid-1800s, we make a right-hand turn at the signs for Mount Clear Campground to find the Naas Valley trailhead. Judging by the number of cars with ACT plates in the carpark, it looks like a pretty popular area for bushwalking, and I can see why: the scenery ahead of us looks gorgeous.

Very Naas
After spending most of the day so far on gravel, the Naas River Firetrail marks a change in conditions; while cars aren't allowed in here, the rutted and often loose surface would only be suitable for a proper 4WD, and at times we're struggling for traction. After ticking off a few of the steep rollers that we expect will be the trail's main feature, we cool off at a creek crossing. The mountain water is clear and cold, and it's a real delight to bring the body temperature down a bit and wash the sweat out of our eyes.
The scenery is excellent, mountains on each side, and here at the top of the valley, we can see the direction we'll be heading for the next couple of hours. Here at the start of the trail, the bushland doesn't seem to have been hit too hard by last summer's fires, but the bright green regrowth on the trees in the distance indicates that might be about to change. It looks really rugged, but with three-quarters of the e-bike battery remaining, I'm also really keen to rip in.
The first 10km of up-down, up-down are great, and we settle into a nice rhythm: push on (with a little assistance) up and over a steep climb, pick up speed on the descent, and try to carry that into the base of the next climb. Rounding one particularly loose and sketchy corner, I almost run over a large goanna, who has clearly decided the middle of the trail is a great spot to warm his cold-blooded veins in the sun. Luckily, I'm able to skid my way out of danger, and with reptile avoided, we freewheel into an open meadow and find ourselves at Horse Gully Hut, where we stop for tuna sandwiches and a lie-down.
From the hut, the trail gets a little rougher and the scenery changes too, the area clearly still affected by the fires earlier in the year. Many of the trees have been burnt so badly they look like old matchsticks, and though the bright green regrowth indicates life is returning at ground level, the countryside looks scarred. We push on, the rollercoaster-style road and loose surfaces making for some exciting yet pretty exhausting riding. With around 5km of trail remaining, we reach an area that looks like it managed to avoid the wrath of the fires, and after navigating the last of many crossings back and forth over the Naas River, we pass through a gate that marks the end of Namadgi National Park.

Bringing it home
Once out of the National Park, we cross back over the river again via what looks to be a newly constructed weir, and join Top Naas Road at Caloola Farm. Even though we're not too far from Canberra now, the area feels really remote, and judging by some of the trails we spot on nearby mountains, seems ripe for future two-wheeled exploration.
We spend the final 20km in relative silence, battling a pretty decent headwind that seems to have picked up when we were on the more protected, slower-going fire trail. At the intersection with Naas Road, gravel turns to tarmac again, and I realise we've been on the dirt non-stop for over 70km. Not a bad ratio! I've still got about 30% battery remaining on the Creo so decide to really drain it on the sealed road back to Tharwa, enjoying the fastest 'Turbo' setting up a few short rises, which, at 240 watts assist, makes short work of the remaining kilometres.
Soon enough we're back at Tharwa, and make a beeline for the Tharwa Country Store for some refreshments. Even with the assistance of the e-bikes, it has been a pretty hard but rewarding adventure. While the extra wattage takes the sting out of some of the really steep climbs, it's not like you're on a motorbike – how fast you go is still dependent on effort – and Jim and I are both pretty wrecked after what has been a long and hot day in the sun.
With plenty more to explore in the area, I reckon we will be back one day, e-bikes or no e-bikes. We'll just do a little more research next time.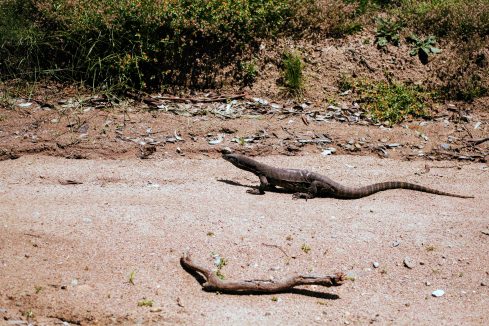 The route we took
To download this route, go to strava.com/routes/2764067449239368574.
Starting at the Big Trout in Adaminaby (you can't miss it), head east on the Snowy Mountains Highway for a bit over a kilometre, then turn left onto Boboyan Road. Continue on Boboyan Road (it turns to gravel after around 10km) until you reach the fork with Jones Plain Road; follow it south-east for 10km until you hit the intersection at Shannons Flat Road, where you turn left. This will carry you around 15km until you hit Boboyan Road again at the small settlement of Shannons Flat (where we filled our bottles at the community hall). Boboyan Road will take you up and over a climb back to Namadgi National Park and the ACT; soon after crossing the border, take a right at the sign for Mount Clear Campground. From here, you're looking at 30-plus kilometres of uninterrupted rollers on the Naas River Firetrail, before it turns into Top Naas Road at Caloola Farm. Gravel turns to bitumen again at the 90km mark when you hit Naas Road; turn right and pedal the remaining 10km back to Tharwa.
Note: A second (and potentially more scenic) option would be to roll out via Yaouk Road, taking in the beautiful Yaouk Valley, before meeting Boboyan Road at Shannons Flat and continuing as above. We'd covered this section on our first day, and can highly recommend it (that route is here: strava.com/routes/2764693651437943634).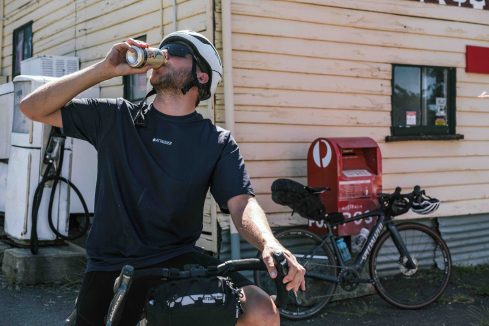 The riders' rides
Specialized Turbo Creo SL EVO Expert, $13,000;
SL EVO Comp Carbon, $10,200
specialized.com.au
Both writer and photographer rode Specialized Turbo Creo SL e-bikes, which Specialized calls 'the future of performance' and the start of 'a whole new sport.' Grand claims, but hard to argue – the Creo is undoubtedly a beast. Weighing in at a little over 12kg (depending on exact specs in terms of wheels and groupset, etc.), it's certainly extremely light for a bike with a motor in it (which itself weighs in at a featherweight 1.95kg). Although, this was offset a little by our bike bags and the amount of liquid we had to port to stay hydrated. The internal battery has three settings: Eco, Sport and Turbo, corresponding roughly to 70 watts, 150 watts, and 240 watts respectively, and a claimed range of 130km. We simply loved the Creo's ability to provide a little extra push over the hills, and give us a bit more grunt into any stiff headwind. And unlike many lesser e-bikes, the bottom bracket and crank 'feel' is pretty close to normal, unlike some more primitive systems that have a noticeably sluggish pedalling action when the motor is off or idling. The Creo also features Specialized's excellent Future Shock 2.0 suspension system, which you can easily turn on and off with a twist of the headset cap – a real gift from the gods on what was a very bumpy ride.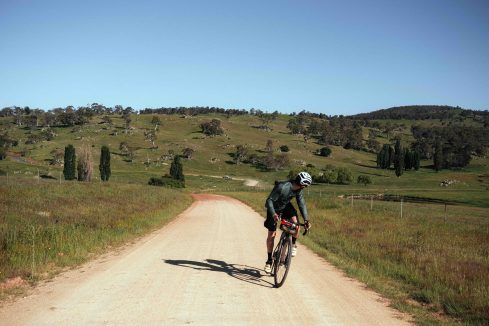 How we got there
Travel
Jim and I are both based in Sydney, so we simply hopped in the car and zoomed the three hours down the Hume (and eventually the Federal Highway) to Canberra. Sydney's new M8 tunnel helps you avoid the airport tunnel and makes getting out of the city so much easier, particularly if you leave on a Friday arvo as we did. It's a further 40-minute drive from the Canberra city centre to where we started in Tharwa on day one, and just under two hours to Adaminaby where we started day two.
Accommodation
If you're spending the night before your ride in Canberra, there's a range of options. We stayed at the Madison Capital Executive Apartments, right near the trendy Lonsdale Street in Braddon, but somewhere in Tuggeranong would probably be better for convenience's sake, being a little closer to the mountains. In Adaminaby, we rested our weary heads at the Snow Goose Hotel, which has everything a bikepacker needs: a locked laundry area for our bikes (and for this ride in particular, a place for them to charge), nice hot showers, comfy beds, delicious food, and most importantly of all, cold beer. 
Food
The night before our ride in Canberra, we carb-loaded with some truly delicious Detroit-style pizzas at Grease Monkey in Braddon, and put away a few carb-based nutritional beverages (beers) just around the corner at the Bentspoke Brewpub. Mid-ride food stops are nonexistent, so out on the trail it was all about bars and gels. In Adaminaby, we had dinner at the Snow Goose bistro, where the schnitties were just what the doctor ordered after a long day subsisting on sugary ride food. The next morning, the Goose's included cooked breakfast (the kitchen opens at 5:30AM, ideal for early risers) kept us going all day long, though the nearby bakery is another option if you want something less heavy.
Thanks
Firstly, a big shout-out to Specialized for lending us a couple of their excellent Creo e-bikes, which easily handled all the rocky and rutted abuse to which we subjected them. Also a special thanks to Attaquer, who provided us with a few key pieces from their new Adventure Collection, aimed at exactly this type of off-piste wandering. We loved the sturdy and functional handlebar bar, the Adventure bib shorts (with a handy and very stretchy cargo pocket on the leg), and the loose-fitting and breathable Adventure Tech Tee which kept us cool and had us looking a little more casual.