As the mercury nudges 40 in the Sunshine State, Cyclist takes the word 'heatmap' a little too literally on a part tarmac, part gravel adventure around D'Aguilar National Park in the ranges of South East Queensland.
Words and photography Colin Levitch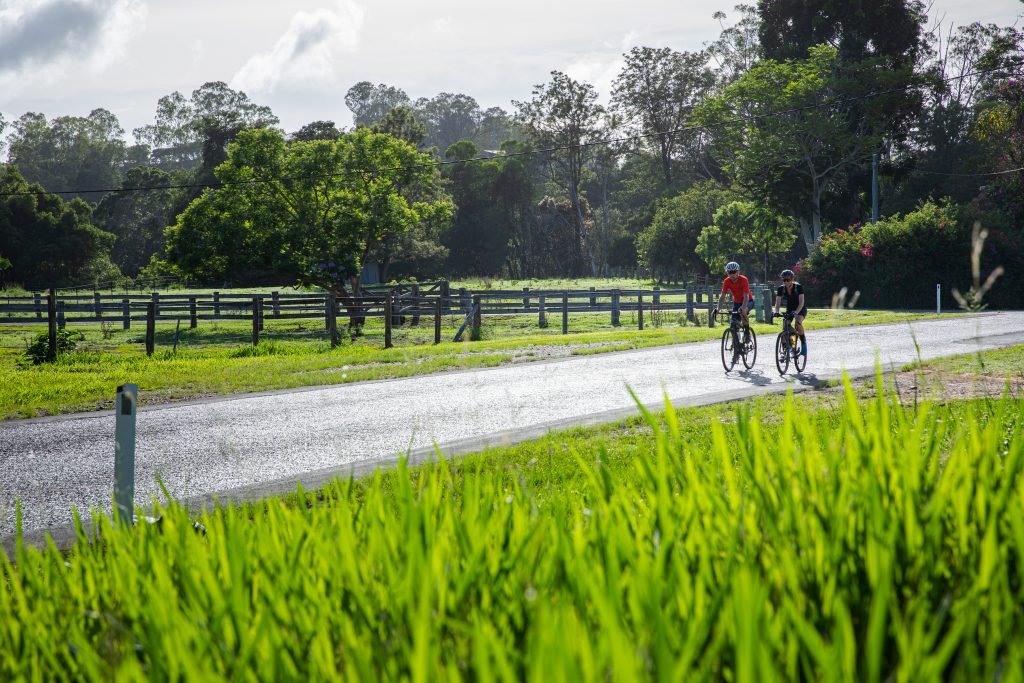 You alright, mate?' he calls from inside his air-conditioned ute.
Draped over my bars in between laboured breaths, I reply, 'All good. Just suffering a bit.'
'You got enough water? It's bloody hot already.'
'About four litres,' I gasp.
'Good luck, mate. Try to have fun,' he says as he pulls away in a cloud of dust.
I look down at my Garmin and the temp is reading 33°C; and then at my watch. 7:22am.
I push off and clip in; the heat hits me like a pulsating wave. Jersey flapping in the wind, sweat dripping from everywhere, my face throbbing – my body has entered into the dire-straits 'you need to cool me down right now' phase, and we're only an hour in.
I can just see my riding companions disappearing around the bend, with a 14% ramp between them and me. This is going to be a doozy.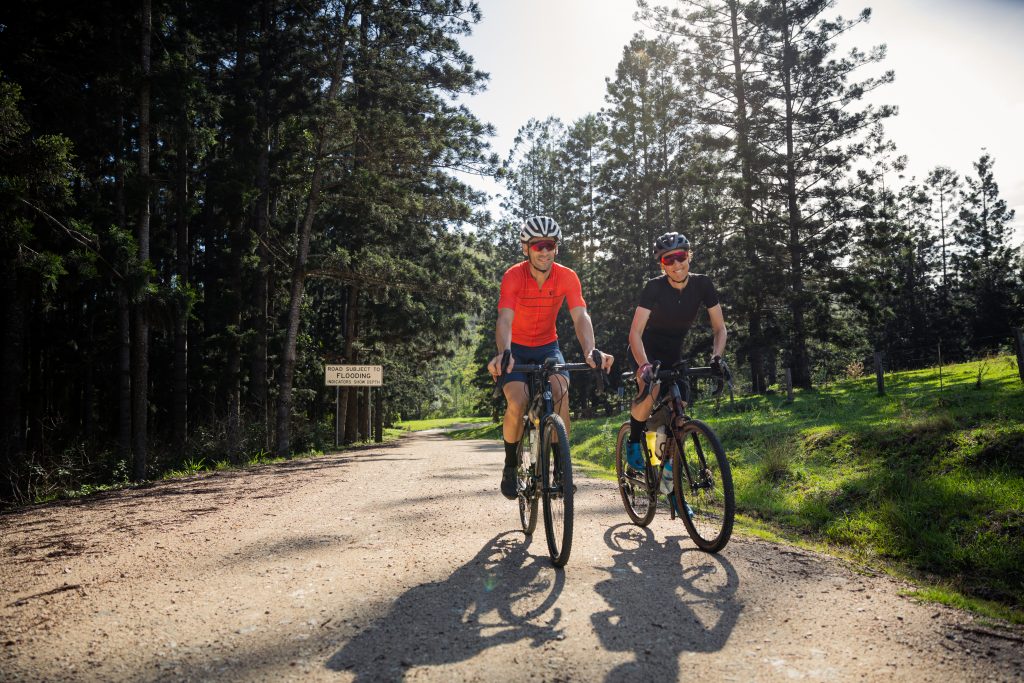 The plan had started with a set of wheels. Mike Blewitt, whom you may know as the man at the helm of Australian Mountain Bike mag, had organised a wheelset for my new 29er and had them waiting for me at his home in Samford, Queensland. Rather than just drive up from where I live on the Gold Coast to pick up the wheels, we decided to make a day of it and head out for a gravel ride.
The route took us from the sleepy rural town of Dayboro, which is about 25km from Samford and 50km north-west of the Brisbane CBD. Over a route of mostly gravel, the plan was to ride from the valley up to the prominence of the D'Aguilar Range and follow the ridgeline over to Mount Mee, finishing off with rolling descent back into Dayboro for a cafe feed. While our planned route was on the shorter side of the average Big Ride, the 1,378m of climbing along the way meant most of the ascents would have average grades north of 10% over tricky, dusty fire roads. Nothing to sneeze at.
There was one major unknown as we uploaded our bikes: Mike had ridden the vast majority of this route, but never all stitched together as one, and only on a hardtail mountain bike. Between the steep climbs and rough descents, he worried we might encounter the upper limit of what a gravel bike can handle.

Terrors in the south-east
Dayboro wasn't always called Dayboro. In fact, it was initially named Hamilton, for farmer Hugh Hamilton who was appointed 'Receiving Officer for Mail' in 1875. Seventeen years later, in 1892, it was renamed Terrors Creek, for the small river that flows through the town. Twenty-five years later the Postmaster General decided Terrors Creek was too similar to Torrens Creek, another town in rural Queensland, located about 400km north-east of Longreach. So, the name changed for the third and final time, to Dayboro, this time honouring another early settler, William Henry Day, the 'Clerk of Petty Sessions' who later became Police Magistrate in Brisbane. Day came to his namesake settlement in the 1860s to grow sugarcane.
As we roll through Dayboro early, the quiet town has yet to wake up, but it's already warm. Really warm. We turn onto Laceys Creek Road, and civilisation quickly disappears; in a matter of minutes, suburbia is a foreign concept. With each consecutive farm and property we pass, a parade of blue cattle dogs offer enthusiastic greetings, running the fence lines like fighter jet escorts yelling words of encouragement – or at least that's how I assume the barking translates.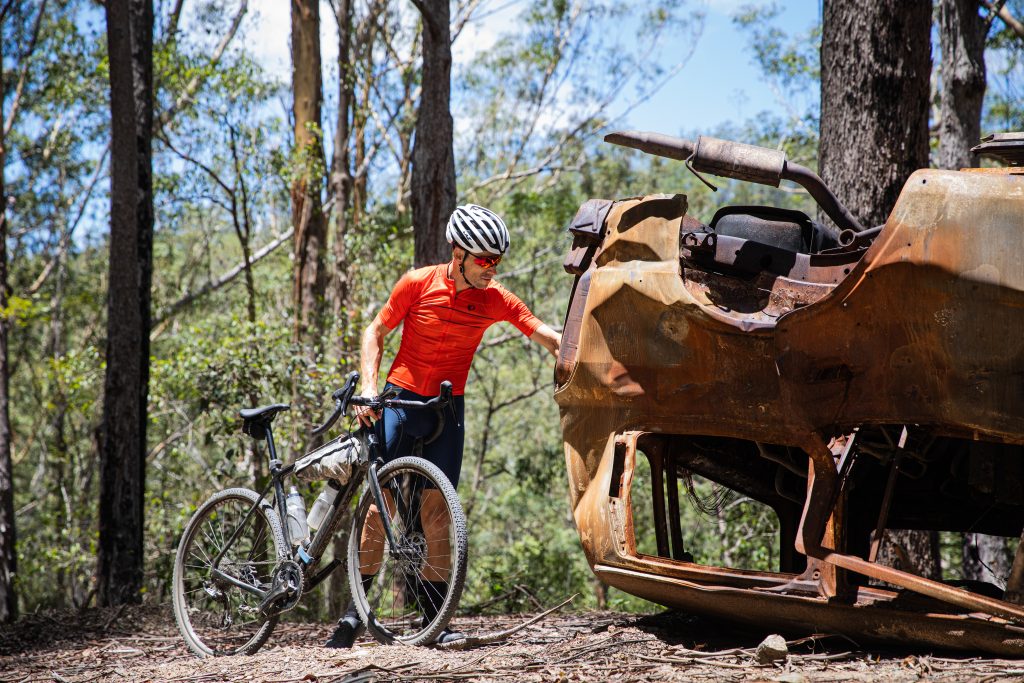 Mike's wife Imogen joins us for the first section out of Dayboro; however, she leaves us shortly after we hit Laceys Creek to head up and over Mount Glorious and back to Samford. Rolling along at a solid clip, the hum of knobby tires spinning on the tarmac cuts through the morning stillness. Not a breath of wind, or a car in earshot.
The tarmac criss-crosses the creek for which it's named and we're swimming upstream, but the paved liaison is short-lived as the blacktop changes to well-graded gravel after about 15km. Our pace is casual but quick, and for the first hour, this is shaping up to be a pleasant ride. But waiting in the wings of this idyllic countryside is D'Aguilar National Park.
Formerly known as Brisbane State Forest, D'Aguilar National Park covers 35,000 hectares of bushland. The reserve houses everything from rocky outcrops and wet and dry sclerophyll forests to subtropical rainforest and eucalypt woodland. D'Aguilar also plays home to rare critters like a carnivorous marsupial called the spot-tailed quoll, and the Mount Glorious spiny crayfish, only found in a single creek system in the park.
By the time we reach the national park we've been steadily climbing for a few kilometres, but once we pass the Mount Mee Section sign the road shoots towards the sky, jumping from 5% to 15% in an instant. The lower slopes of our first real berg trace a ridgeline up the Range Road Break looping around the backside of the unnamed peak.
The lower part of the Mount Mee section of the park is covered in open scribbly gum forest. The canopy offers little to no protection from the sun. When I lived in Grafton for a few months, the local mountain bike trails traversed through similar foliage in Bom Bom State Forest. I swear these forests act as heat sinks because it always feels like riding through an oven set to 200°C. This climb has been baking all morning and grinding up at just a handful of km/h offers no relief from the muggy air.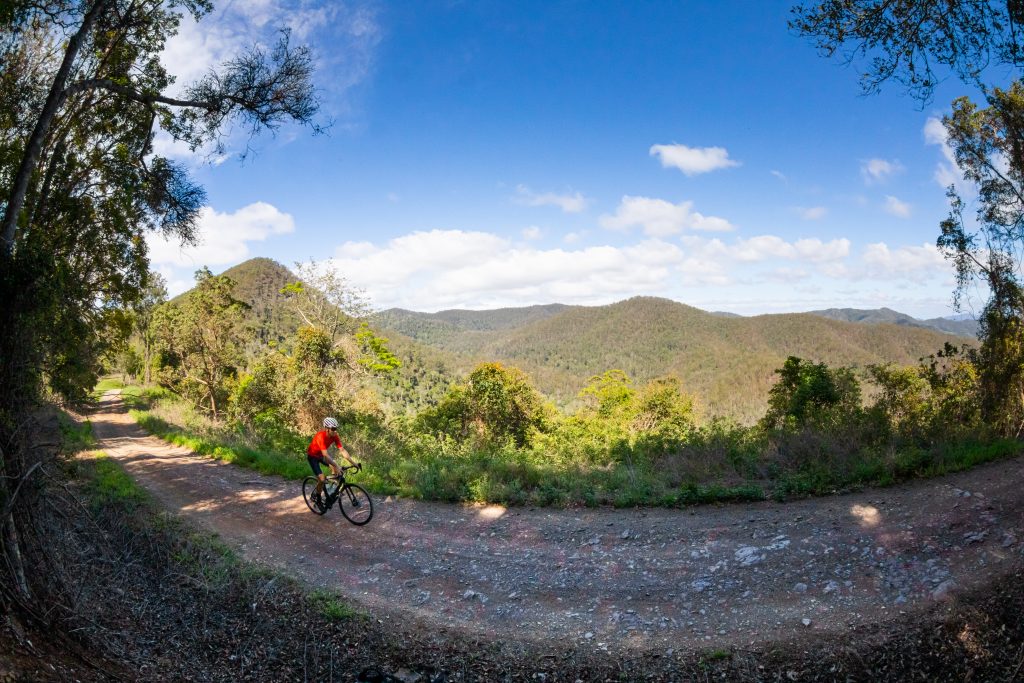 Hidden among the open scribbly gum is a downhill trail, and every few minutes riders in full faces and body armour emerge from the trees for a split second before hammering a berm and disappearing back into the scrub. I take little notice because I'm busy exploring the depths of my own personal pain cave. Mike and Imogen had dropped me early in the climb on account of my camera bag, which weighs roughly the same as a small child. It's me, the climb and the heat.
'Pull through your heel. Glide forward. Don't stomp,' I repeat in my head. Whenever my father, an ex-WorldTour pro, talks about climbing, he always comes back to these three mantras. If they could get him through a three-week grand tour running bottles and food to whomever the boss of the day was with a six-speed cassette and downtube shifters, it should get me up a tough gravel climb with a 42t cog on the back, right?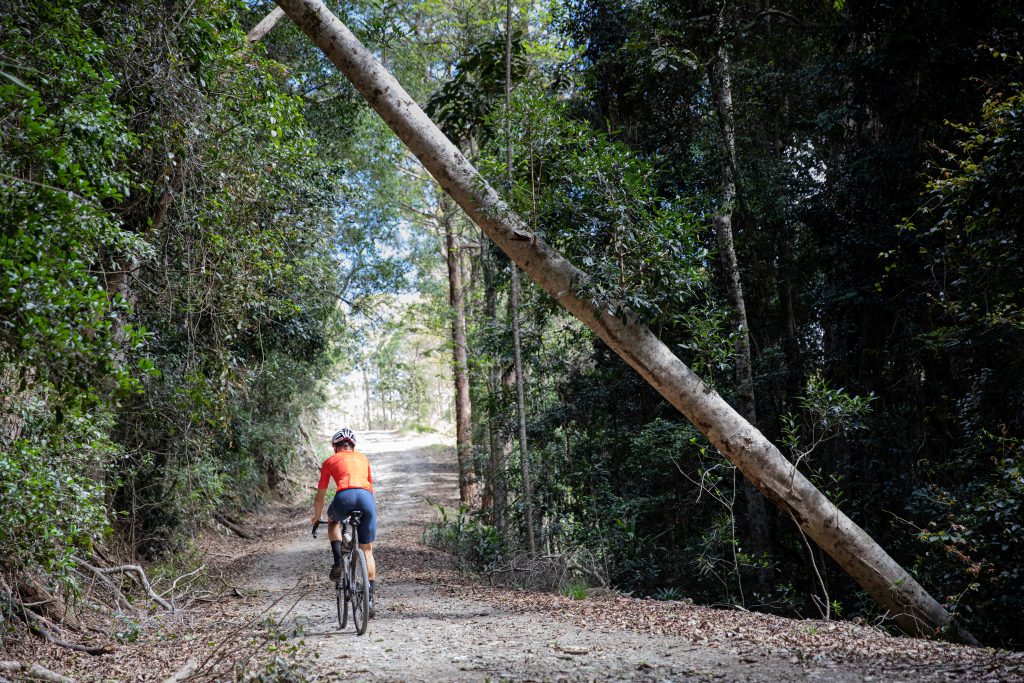 The heat is on
The sweat on top of my forearms starts to form droplets that aren't dripping off but, instead, just sit there. Two utes shuttle the mountain bikers to the top of the downhill trail and pass me a handful of times as I mutter to myself trying to keep the cranks turning over. As I keep grinding, we meet at a narrow spot, so I pull off to the side to be polite (read: catch my breath). The driver of the lead shuttle pulls up and rolls down his window.
'You alright mate?' he asks. My eyes lock onto the frosty can of Coke held by the bloke in the passenger seat. At that moment, there is nothing I want more. A bit cross-eyed and flush in the face, sweat pouring from my helmet, I thank him for his concern, and we part ways. I'd have killed to sit in the cab with the AC on full bore for five minutes.
Mike is waiting for me in a shady spot around the next bend and paces me up to the ridge where we stop to refuel, and so I can pour some water over my head. The junction at the end of Laceys Creek Road is where Imogen left us to head back towards Samford, while Mike and I continue up the Range Road break towards Kluvers Lookout, the KOM of this ride at 672 metres above sea level. The next 5km are nothing but jagged undulations, a short sharp incline, followed by a short false flat. Short sharp climb, false flat, short sharp climb, false flat.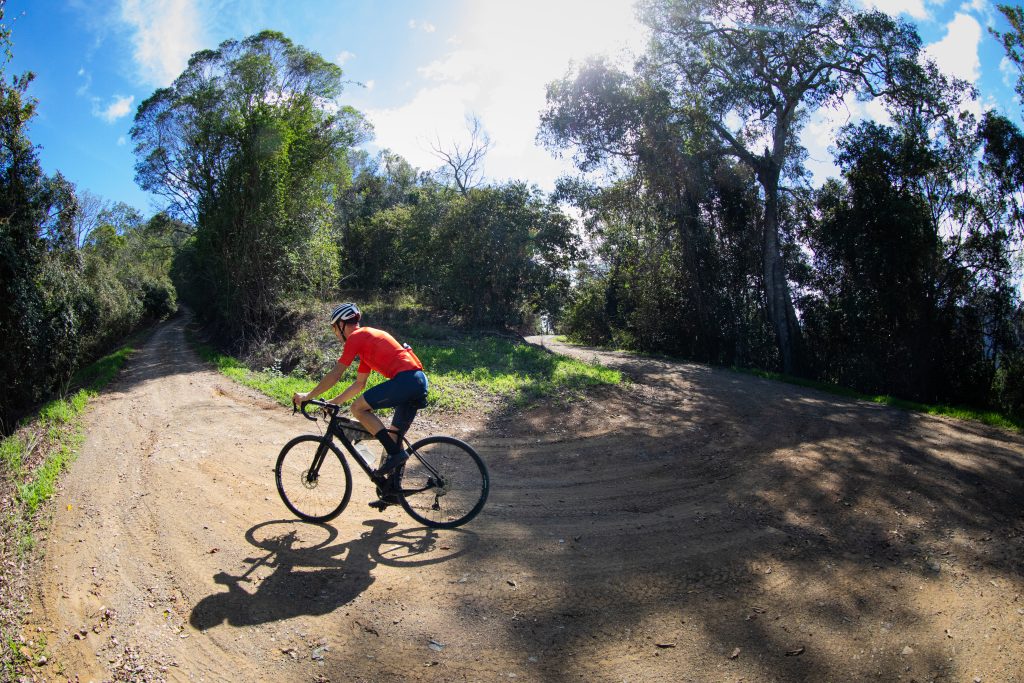 On the bright side, being on the backside of the range, we're now protected from the sun. The further we ascend, the denser the canopy becomes, transitioning from open forest to thick subtropical rainforest. Every few kilometres double track and fire roads shoot off down ridgelines on either side of the range. Mike laughs that he has spent so much time combing through satellite imagery and maps of this park online to figure out what might be rideable that he thinks ASIO may one day come a-knockin' with some questions.
Grinding up towards Kluvers Lookout, the road emerges from the dense canopy to reveal the valley below. We stop again to take on some calories and so I can pour more water over my head. The evening prior when we were prepping bikes, Imogen laughed as I filled my top tube bag with power bars, saying she hadn't seen one since the 90s. At this point, I'm on my third of the day – banana flavour – with a handful of party mix for the chaser.
Bellies full once again, and after a few minutes spent sitting in the shade, we continue on to  the first meaningful descent of the day. When Mike and I were discussing routes, this is where we began to worry – the week before Queensland had experienced some of the wettest weather in recent memory. The storm had washed out a few paved roads in South East Queensland, so what chance did gravel have? We had no idea if we were in for kilometres of ruts and rock rolls or a graded dirt road.
Would we survive on drop bar gravel bikes, or should we have opted for hardtails? The bike I'm riding has 650b wheels and tyres and a dropper post with 110mm of travel, so at the very least I should be well set up for a spicy descent. But will it be enough?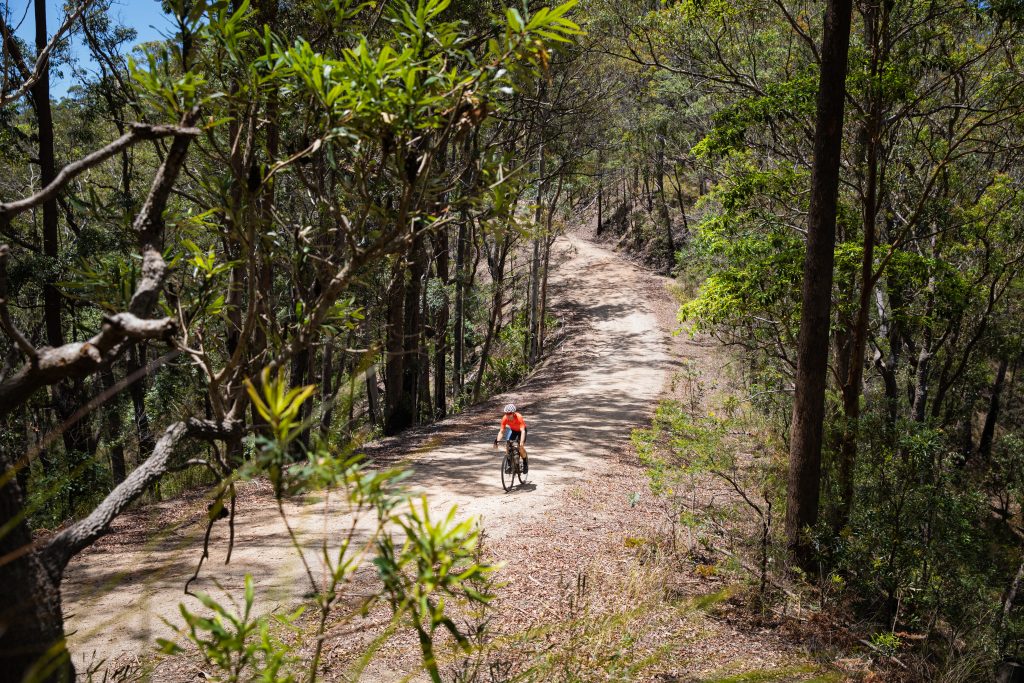 What goes up must come down
Lucky for us, it seems when Range Road was constructed drainage was a priority because it's in pretty good nick. There are hairy segments where running water has cut a trench right below a section of exposed rock, but these wheel traps are easily navigated provided you don't succumb to tunnel vision.
Given that Mike is an elite cross-country mountain bike racer, he's pretty nifty on a bike, especially when things are gravity-fed. He's out in front of me anyway on the descents, so I follow his lines when things become fast and loud. We progressively lose all of that altitude we'd gained through similar undulations after this initial descent, but this time the steep parts are downhills.
At this point, we have a decision to make. Progress has been slow because of regular photo stops, and my body not coping with the heat. We're descending back into the open forest where the trees provide little protection from the sun, and the temperature has adopted a seemingly vertical trajectory. At just after 10am, my Garmin is showing 39°C.
The great thing about this route is that every few kilometres there are woolly offshoots that lead to god-knows-where, but there are also actual roads that descend back towards civilisation. These are gravel roads that would be a real bastard to climb but offer an express route back into the valley below.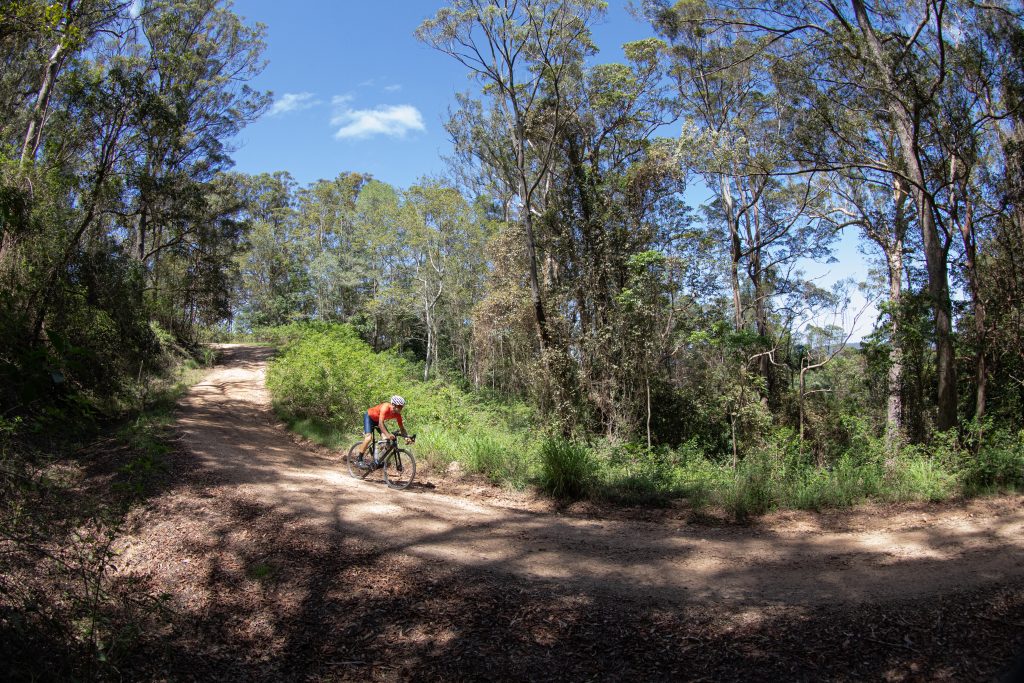 We're only a few kilometres away from Mount Brisbane Road, which comes out of the range and meets back up with Laceys Creek Road to make this loop neat and tidy. After a quick pow-wow over some gels, we decide we're both cooked, and a bailout and an ice-cold drink sounds a lot better than a few extra kilometres in the heat.
Decision made, we take a right and head for the valley floor. Mount Brisbane Road drops nearly 200 vertical metres. The road widens, the gravel is smooth, and you can descend almost like you would on tarmac. Around the next bend, we spot a beekeeper tending to his hives. We stop to watch, and he bring a slide of bees over to us. 'I'm taking the queen out of this one,' he says, pointing out the matriarch of the hive. 'She's not doing anything, and the hive isn't producing so she's getting flogged off.' Soon after we leave him for his buzzy work, hit the tarmac and, fuelled by the prospect of an ice-cold drink, increase our pace.
Aussie Mountain Bike Hall of Famer and master trail builder Glen Jacobs once told me that every trail should end in a descent. His reasoning was that the last thing you want to do at the end of a long ride is take on some death march back to the top to get out. A downhill finish, on the other hand, will leave you with a smile on your face and wanting to do the ride again.
Well, Jacobs must have said the same thing to Mike, because the route he planned leaves the approach back into town in the hands of the gradient. My jersey flaps in the wind and I have a smile on my face as we roll up to one of the local cafes. We order a late brekky and begin hammering out a plan to ride the full loop – but not until it's a tad cooler.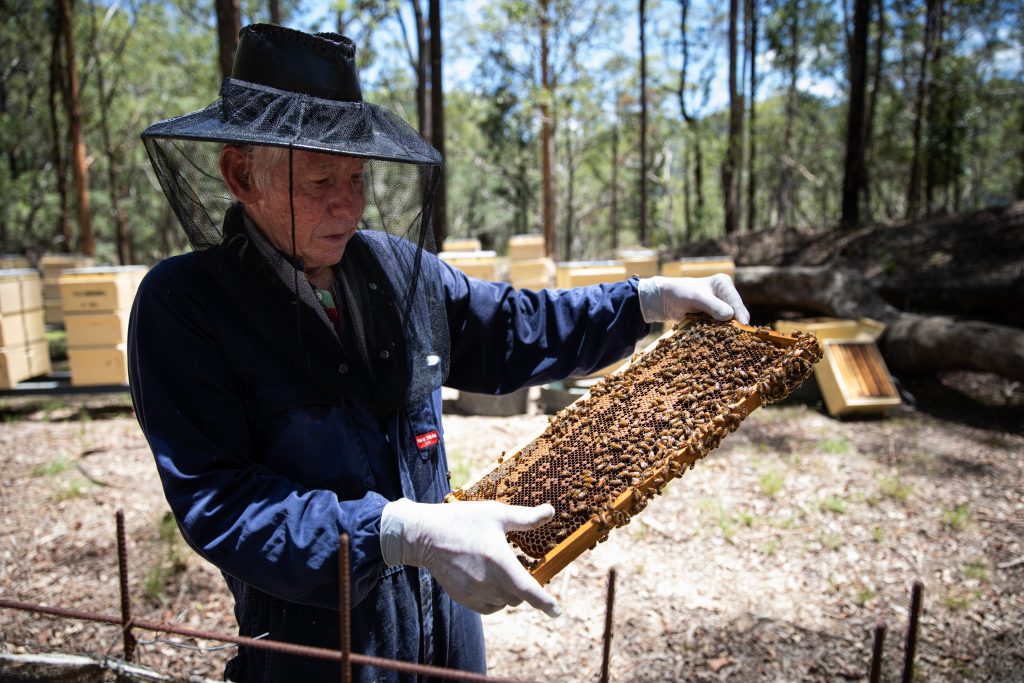 The route we took
Distance 54km
Total ascent 1,378m
We started in the heart of Dayboro on Bradley Street. Heading north, Bradley Street turns into Laceys Creek Road. Stay on that until it ends. By this time, you'll be well past the end of the tarmac and into the National Park. Turn right on Range Road and stick on that until Mount Brisbane Road to ride the same route we took. The beauty of this ride is it can be shortened or extended as your legs see fit. For a quick and dirty version, turn right on May Creek Road; or, for the full loop, take a left off Peggs road, a right on Sellin Road and pedal out to Mount Mee Road and back into Dayboro. As this is a ride through sidecountry, there are no services, so be prepared with more water and food than you think you'll need – you just never know. I had three bottles on my bike and a soft-sided bottle in my backpack, and I used every drop.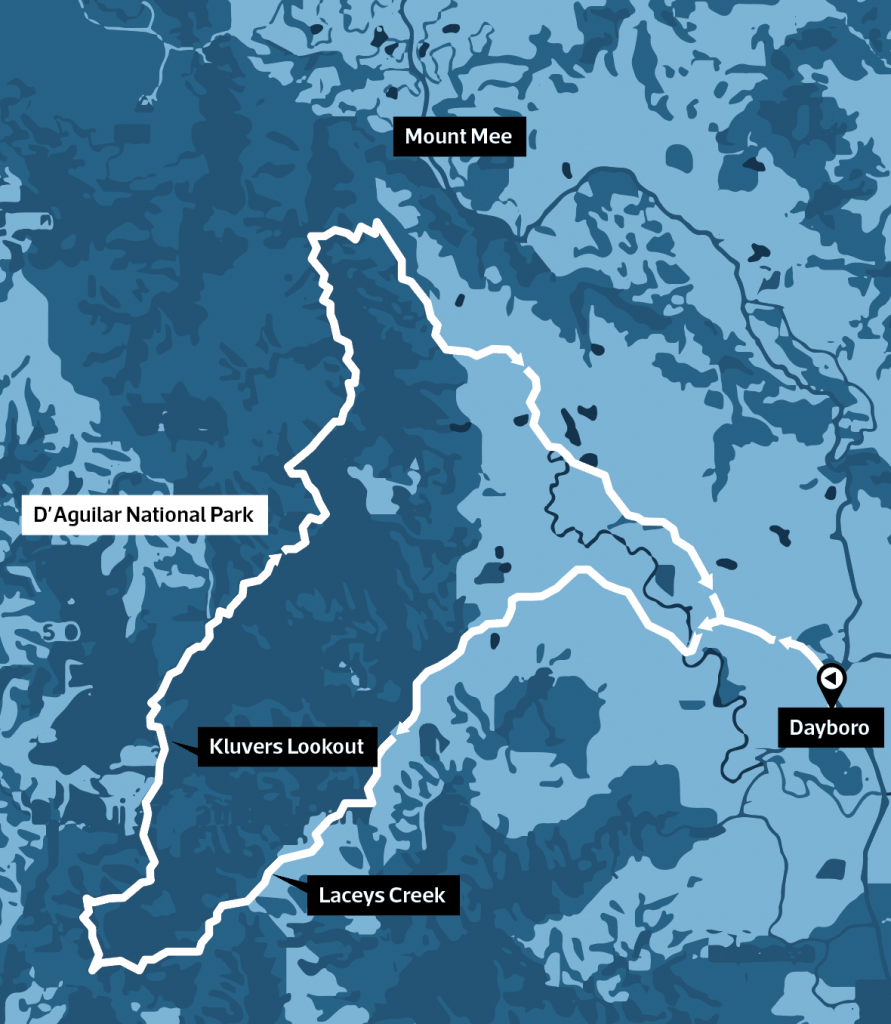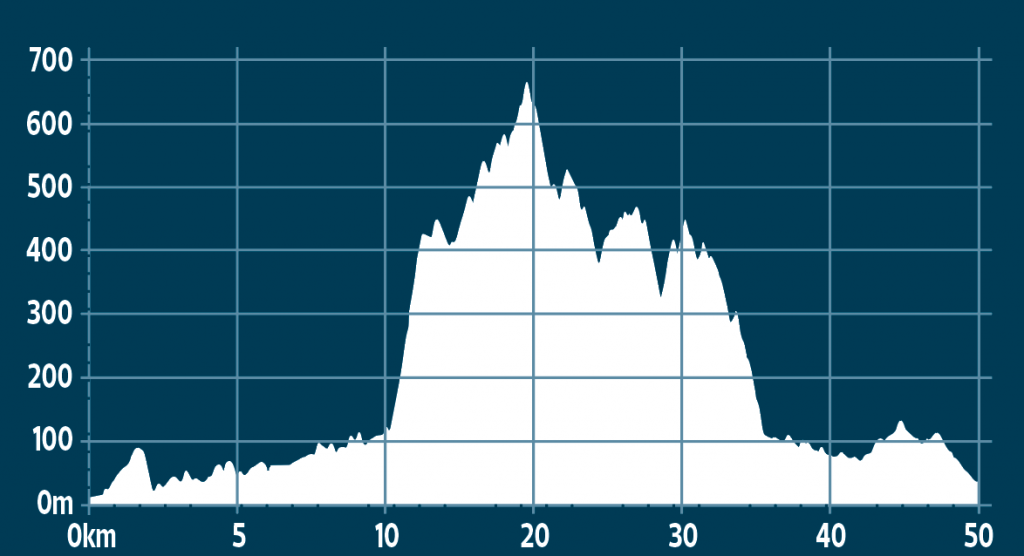 The riders' gear
A huge thanks to Shimano for kitting us out from head to toe with jerseys, bibshorts, helmets and sunnies.
If I hadn't driven the point home enough already, the day was hot, so I was stoked to have the ultra-lightweight Pearl Izumi Elite Pursuit Speed jersey and Interval Cargo bibs at my disposal. The jersey features Pearl Izumi's Speed Sleeve, which uses textured fabrics around the shoulder to reduce drag, but the features that won the day were the Elite Transfer In-R-Cool fabric and Direct Vent mesh side panels to promote as much airflow and cooling as possible. The same goes for the Interval Cargo bibs; the mesh panels, which cover the majority of the leg, breathe substantially better than Lycra on its own. Meanwhile, the pockets – especially the ones on either thigh – meant snacks were always on hand. Mike (pictured left) was in the Attack jersey and bibs; both are made from recycled fabrics and tailored to suit an aggressive riding position.
Atop my head was the Lazer Genesis helmet. It weighs just 245g for the non-MIPS version, and it disappears once it's on. The Advanced Rollsys retention system is both comfortable and unobtrusive. Mike wore the Lazer Z1, which focuses on venting and also utilises the Advance Rollsys retention system.
We also had a couple of pairs of Shimano's brand new Ridescape sunglasses. They use tuned optics and a polyamide lens to block specific colour frequencies. The increased visual contrast helped to reduce eye strain and allowed us to see road obstacles with extra clarity.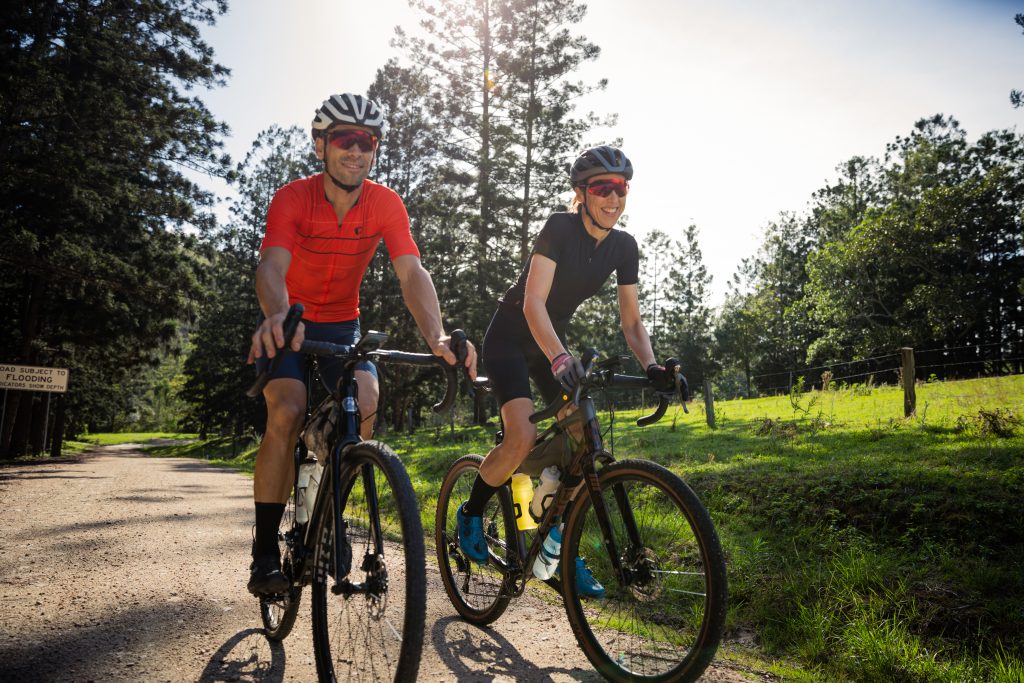 How we got there
Travel
Dayboro is just under 50km from the Brisbane CBD, a little under an hour's drive; or 100km from the Sunshine Coast, which will take you a little over an hour.
 Accommodation
I was lucky enough to stay with Mike, Imogen and their blue cattle dog Norbert at their home in Samford, about 20km from Dayboro. In Dayboro proper, the accommodation options are a night at the Dayboro Crown Hotel to fully immerse yourself in the rural Queensland experience, or a range of Airbnbs – everything from modern apartments to bush retreats. 
Food and drink
We spent the majority of this ride in the D'Aguilar National Park, so don't expect to find a cafe stop mid-ride to refuel yourself. In Dayboro we enjoyed a late breakfast at the Mill Creek Cafe, but there is no shortage of options in town to feed and water tired riders. If you ride the full route and love classic cars, the Pitstop Cafe on Mount Mee Road always has a few parked out front along with a few vintage motorcycles. Best of all, the food there is good, and the portions are big.
Thanks
A huge thanks to Shimano for kitting us out from head to toe with Lazer helmets, Shimano eyewear and shoes, and Pearl Izumi clothing. And, of course, to Mike Blewitt and Imogen Smith for coming along for the ride and giving this writer somewhere to stay.