Bendigo's Goldfields were once so resplendent with the precious metal it made Melbourne the world's wealthiest city. Nowadays, the deposits may have dwindled, but the adventurous cyclist can still discover plenty of riches on the trails that emerged. Cyclist fattens the tyres for an off-road adventure along the Goldfields Track.
Words Nick Esser Photography Mandy Lamont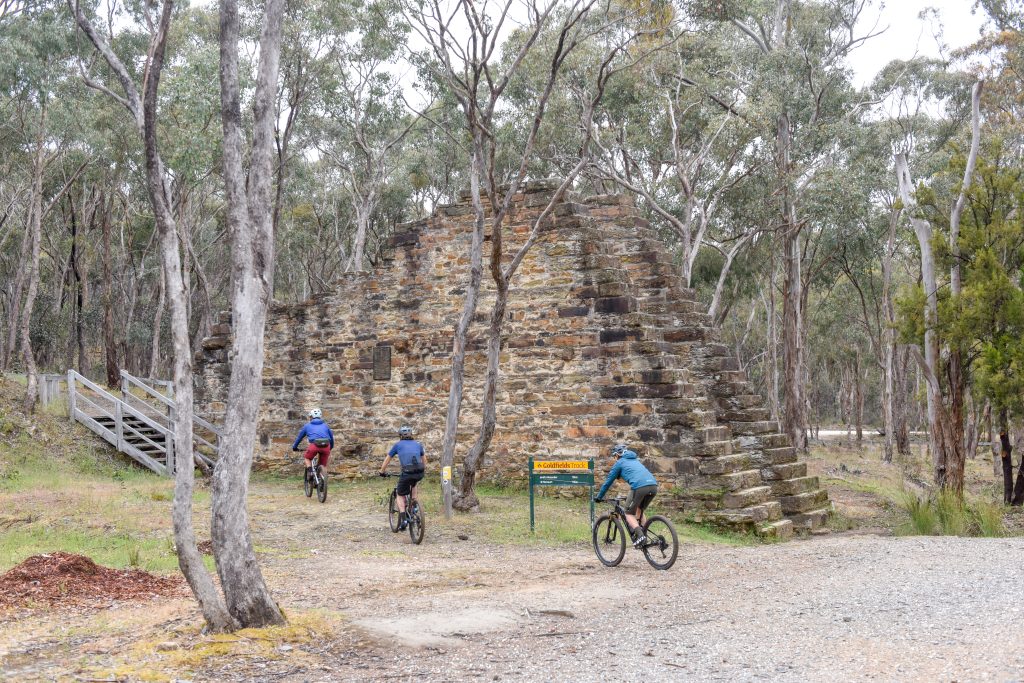 It's been raining for three days as I drive up the Calder Highway towards Castlemaine. The bike on the roof is accompanied by mild apprehension stemming from Melbourne's recent weather. Predictably unpredictable, the spring weather has been difficult to manage. Our window to get this ride in was small, slotting in between the opening-up of regional Victoria post-COVID-19 lockdown #317 and the arrival of Central Victoria's summer heat. Turns out, we need not have worried about the heat. As I arrive in town late on Friday evening, I shiver in a down jacket, and wonder if it's snowing in the mountains. It is.
One of the many challenges of the last couple of years has been catching up with friends and family in other parts of the country, or even state. I'm excited to catch up and ride bikes with two friends I haven't seen in quite some time – Nick and Tash, old friends from a past life spent working in a bike shop. It has also been a tough little period to ride mountain bikes in Victoria… unless you're Nick and Tash. They timed perfectly their move to Bright just a year before a global pandemic, and now live within 5km of world-class trails in the High Country. I certainly did not, and the few trails around metropolitan Melbourne have been loved to death with a combination of hungry mountain bikers starved for riding options and a wet winter forcing land managers to periodically close trail networks to keep them open in the long run.
Still, with vaccines in our arms and lockdowns hopefully in the rear-view mirror, we're thrilled to ride somewhere different and catch up over a beer afterwards, and Bendigo, with its inviting springtime climate and excellent network of trails, provides the perfect setting.
Bendigo and surrounds have a rich cycling history with numerous national champions and Olympic medallists, on both track and road, hailing from these parts. There's a thriving club and local race scene, for which many athletes move here specifically. However, our ride travels through a very different history on different surfaces, across Dja Dja Wurrung Country, and it's important to recognise that the Djaara people maintain an unbroken custodianship of, and deep connection with, the land through which we ride. Our route will follow the Leanganook Track, a section of the Goldfields Track named after the Djaara term for Mount Alexander – a significant place for cultural ceremony.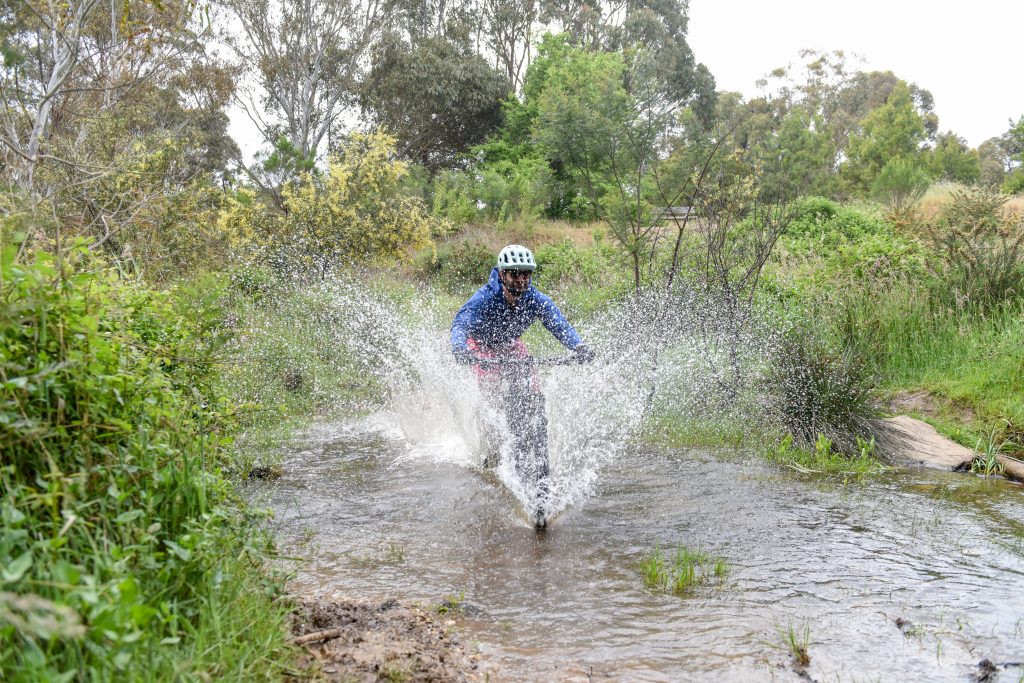 Red alert
It's overcast on Saturday morning as we prepare to leave Castlemaine after a nourishing breakfast at Saffs, a local I on the main street of town. It's also unusually cold for the region at this time of year. A quick check of the car's thermometer reads 4°C, and we're all in jackets with multiple layers underneath.
We head east along Duke Street and link up with the trail on the outskirts of town. Signs of modernity quickly disappear as we make our way through the eucalypt forests of the Castlemaine Diggings National Heritage Park. Once one of the richest and busiest goldfields in the world, all mining activities have long since stopped and all we're greeted by are remnant traces from a camp that once was home to more than 30,000 people.
Rolling up to the Garfield Water Wheel, a giant wooden wheel once used to power activities at the mine towards the end of the 19th century – and also the largest of its kind in the Southern Hemisphere – we're sprung upon by a colourful character dressed from head to toe in a very bright red tracksuit, complete with four pegs clipped to his matching red beanie. After a brief chat that sheds only partial light on his reason for lurking in bush – it turns out he's talking to visitors and advocating for further protection of the area – he hands us a deck of homemade playing cards that detail the historic sites within the park.
The legacy and infrastructure from the region's gold-mining heritage has more than just a passing impact on our ride. We're riding the fourth section of the Goldfields track – 210km of mixed surface trail, the vast majority of which is maintained single track, from Mount Buninyong near Ballarat, to Bendigo, passing through the towns of Daylesford and Castlemaine along the way. All three sections make for great riding, but it's along the old mining tracks and water races just before, and immediately after, Castlemaine that you feel closest to the region's past.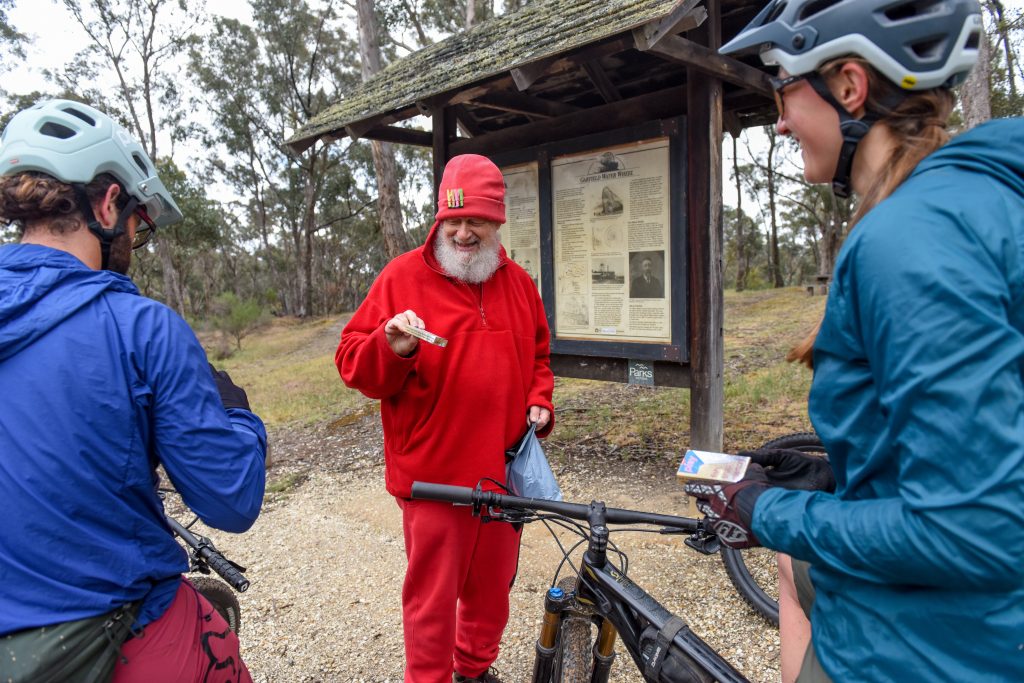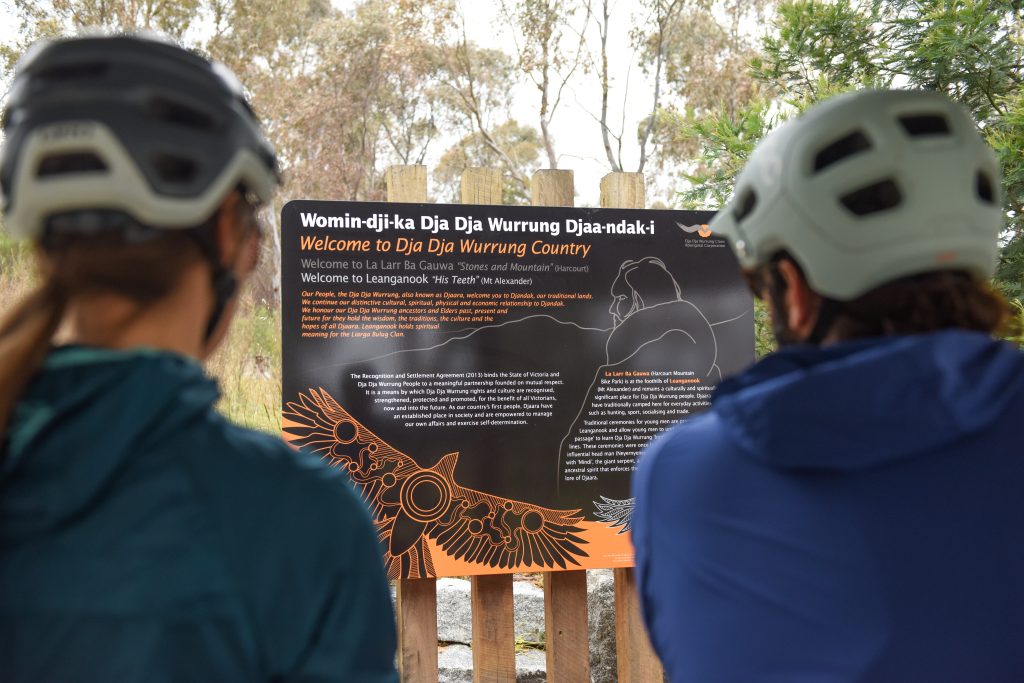 She'll be apples
The eucalypt woodlands turn to pine plantations as we leave the historic park and ride along tight logging tracks south of the small town of Harcourt. There's a certain grandeur to the scale of these manufactured forests. The tightly spaced trunks and overcast skies add a weight to the landscape we don't experience elsewhere along the track. We're all grateful for the traction of our 29-inch tyres, the recent rain and slick rocks transforming otherwise nondescript logging tracks into fast and slippery double track.
Once the apple capital of Australia, Harcourt is a small but growing town with a growing reputation for quality produce – unsurprisingly its cider, but also its wine. It's also conveniently located about a third of the way into our ride and is the perfect place for a break. The town has a couple of options, but we head straight for the Harcourt Produce Store. Annette, the owner, proudly informs us everything on the menu is made on the premises from ingredients either grown on the family farm or sourced from surrounding properties. The home smoked salmon bagel hits the spot and is enthusiastically washed down with local sparkling apple juice.
Alongside its produce, Harcourt is increasingly known for the La Larr Ba Gauwa mountain bike park on the western slopes of Mount Alexander and just 2km from the town centre. Constructed about five years ago and managed in conjunction with the Dja Dja Wurrung Clans Aboriginal Corporation, the trail network offers 34km of fun and challenging single track. 'Stones and mountain' – the translation from Dja Dja Wurrung language – is a fitting description for the riding on offer.
The trails are split into two distinct areas. The southern section offers undulating terrain, technical rock features and challenging climbs, while the northern section is flowy with longer jump-filled descents and climbs that return you to the northern trail hub. Testament to the expertise of Dirt Art, the construction team behind Maydena Bike Park in Tasmania, the same trails offer something for everyone – maintained berms, rollable jumps and B-lines mean it's a great place for intermediate riders to improve. However, the three black trails certainly pack a punch, and their A-lines test even the strongest of riders.
With the prospect of another 40 or so kilometres left in the day, we head straight to the northern section for a couple of fun and flowy laps. The climb up Girra (track two) is consistent but achievable, and we're greeted by views back over the rolling hills to the west. From the saddle we head down Wilkerr (track three) through sculpted berms, across rock slabs and gapping granite blobs. It's a track we all know well, but the recent rain has combined with the granite sand to produce hero levels of grip and the stoke is high as we climb back up the northern trail hub. Our second run leads us down Murnong (track four), which doubles down on the flow with endless berms and friendly rollers. At the midpoint of the loop we leave the trail network and turn right on to a fire track that joins back up with the Leanganook Track.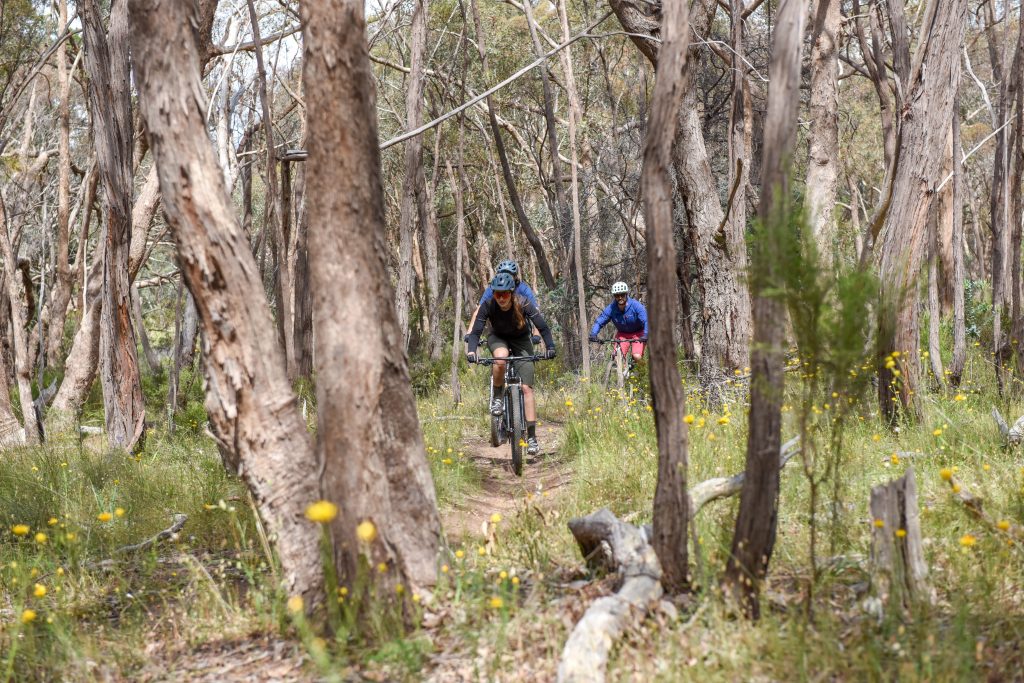 To Bendigo we go
Bike choice for a ride like today's is always going to be a compromise. In the week leading up we had discussed whether to prioritise fun over technical features or maximise speed and efficiency over the course of a long day. While Tash has set out on her super-efficient carbon XC race bike, Nick and I opt for our normal trail bikes – 140mm and 120mm of travel respectively. However, we were both glad to have tracked down some fast-rolling cross-country tyres.
We keep it light on the bike. Nick and I both wear
bum bags containing a few bars and another bottle of water, always planning to grab a bite to eat at Harcourt, while Tash rolls along every bit the XC racer with one bottle on her frame, a handful of gels and just the one emergency bar in her pocket.
A small and relatively short climb along the road to Sutton Grange brings us to the next section of single track – a gradual 20km descent from the northern slopes of Mount Alexander to Mandurang South on the outskirts of Bendigo. This section of track follows the Coliban Channel, a gravity-fed water race that since the 1860s has supplied Bendigo's drinking water. The terrain is less technical and we all settle into a relaxed pace rolling past paddocks filled with countless cows, sheep and even the odd llama. Adding to the mood is that the clouds look like they're trying to lift. It seems like we might just get away with it.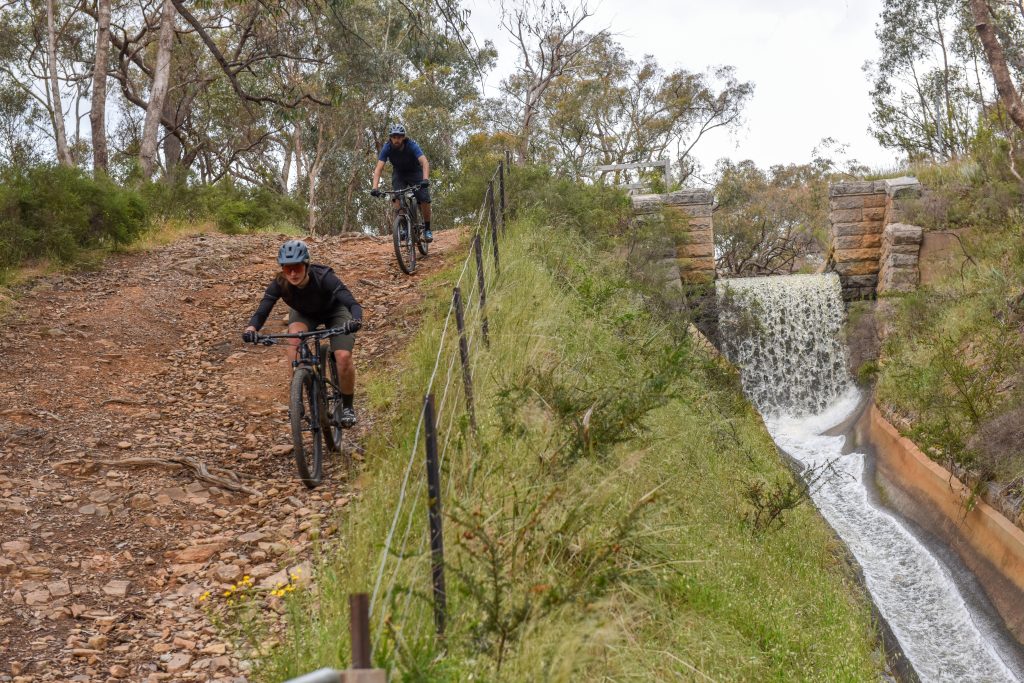 It's spring, and the Box-Ironbark forests surrounding Bendigo are filled with wildflowers in full bloom. The distinct yellow everlasting daisy lines the trail as we leave the Coliban Channel at Sandhurst Reservoir and make our way into Bendigo Regional Park. A quick glimpse at Trailforks shows just how much single track there is south of Bendigo, and while we did have grand plans of a few detours to take them in, due to a long lunch and plenty of photo stops along the way time has gotten away from us. We're also starting to get thirsty, so we make the group decision to follow the most direct route – the sign-posted Leanganook Track – through Golden Gully and on towards Bendigo Railway Station.
Point-to-point rides like the Goldfields Track always raise the question of how to get home – do you halve your ambition and return along the same route you just rode, or shuffle a car ahead of time? We avoid the quandary and simply hop on the V-Line train for the 30 minutes it takes to return to Castlemaine. After a big day, we catch up over a much-deserved beer at Shedshaker, a local craft brewery that I can thoroughly recommend, and relive the kilometres covered, satisfied that it all came together in spite of lockdowns, summer heat or unseasonal rain. Sometimes you gamble with the weather, and sometimes it pays off. Today, it paid off.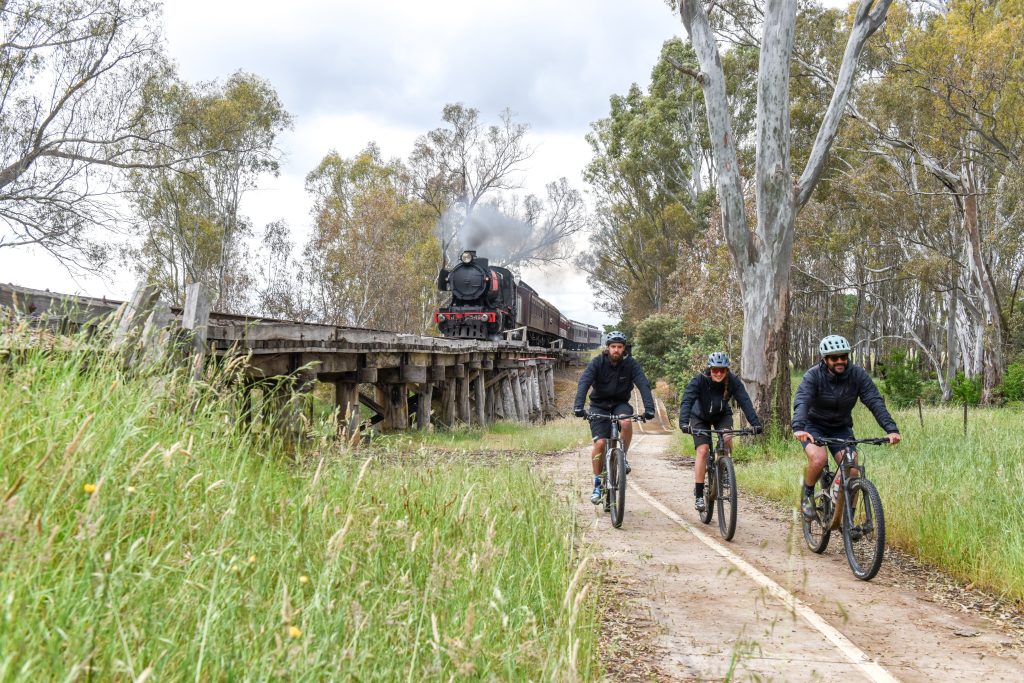 Making tracks of a different kind
On Sunday, the day after our Goldfields Big Ride, the crew took on the Castlemaine to Maldon Rail Trail, finishing up with a golden ticket aboard the Goldfields Railway steam train – first-class, of course! (Though we're not sure what they made of our muddy footwear.)
Running alongside the railway and darting in and out of the surrounding forest, the Castlemaine to Maldon Rail Trail is a great option for a more relaxed day of riding, which we needed after our big day on Saturday. At 18km each way, the trail is moderately downhill when travelling from Maldon, a town known for its 19th century architecture and a number of excellent cafes and hotels. If you're there on a day when the train is running, we thoroughly recommend riding out to Maldon and putting your bike on the heritage train for a relaxing return journey.
In keeping with the rich history of the area, the historic Goldfields Railway passes through the Box-Ironbark forests and gold-rush era settlements for which the region is famous. A major tourist attraction, the working steam train is lovingly maintained and staffed by a fleet of passionate volunteers. Trains run on Wednesday and Sundays, with extra services during school holidays.
Despite being neither history buffs nor trainspotters, Tash, Nick and I took the opportunity to put our bikes on the train and relax on the journey through to Maldon. Decked out in mountain bike attire, we felt a wee bit out of place as we reclined in lush leather armchairs being waited on from the fully serviced bar in the first-class cabin, but as the train rolled along through forest and farmland we leant back into the old-world luxury and ordered another local cider for the ride.
There was certainly less adrenaline and effort than yesterday, but there's something about the ambling pace and suspension of time that makes for a thoroughly enjoyable experience. Not gonna lie – we could get used to this.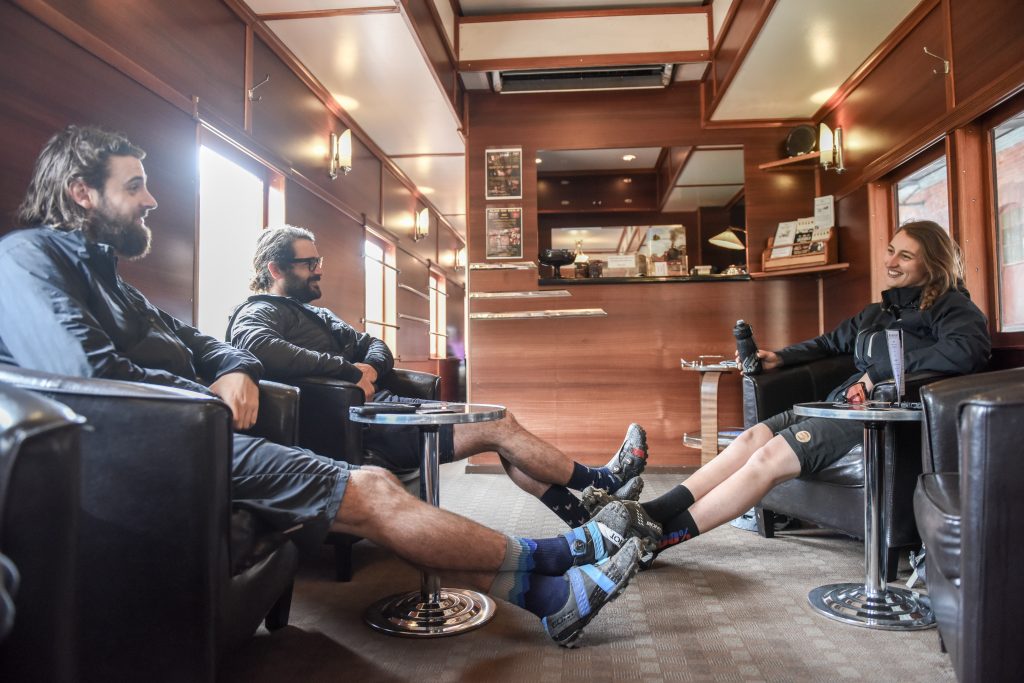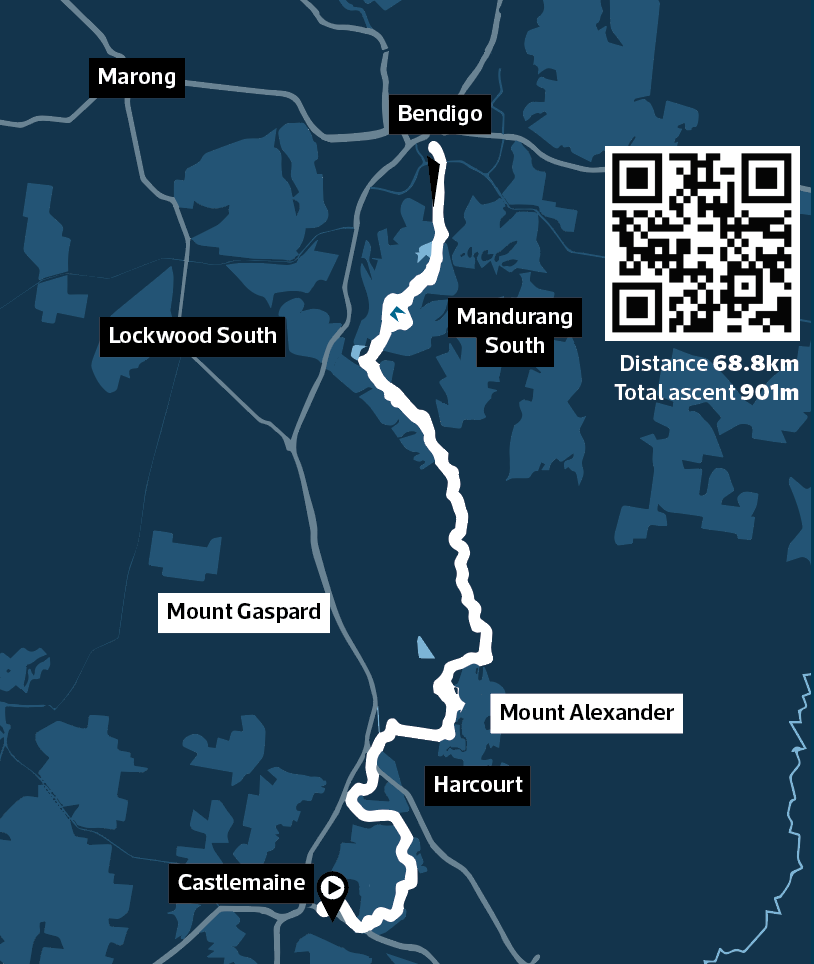 The route we took
Our route follows the Leanganook section of the Goldfields Track, from Castlemaine to Bendigo, and passes through the La Larr Ba Gauwa MTB park near Harcourt. Find the trail head on the east of town just off Happy Valley Road. Follow the trail markers as you make your way along the Forest Creek section of the trail and past the historic Garfield Water Wheel. Climb along logging tracks and through pine forests south of Harcourt. Grab a bite to eat in Harcourt – the produce store is highly recommended – as the small town is the only chance to refuel along the way. With energy restored, head up the hill to La Larr Ba Gauwa, and take Tracks One Winyarra then Two Girra to the northern trail head of the park. From here there are a few options for loops depending on your appetite, but eventually you'll want to leave Track Four Murnong about halfway along at the firetrail to rejoin the Goldfields Track and continue north. Don't miss the left turn off Harcourt-Sutton Grange Road, which starts the long descent into Bendigo. Follow the water race through Mandurang South and then the trail markers to the outskirts of Bendigo, where a network of single track leads you almost to the centre of town.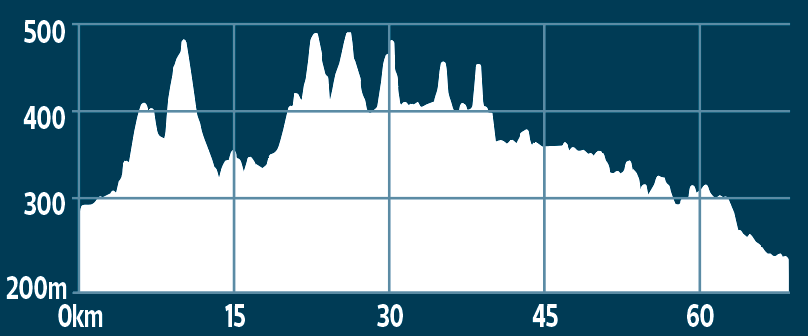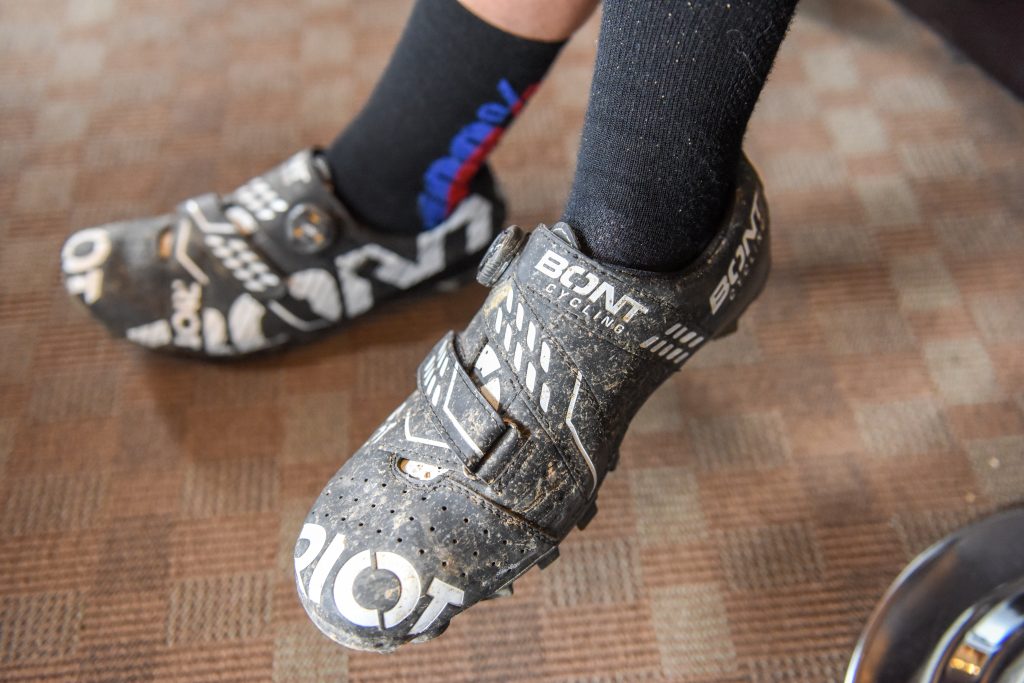 The riders' shoes
Bont Cycling Vaypor G $599.95, Riot MTB+ $279.95, bontcycling.com
Bont Cycling kindly kitted us out in pairs of their carbon-soled cross-country race slippers. Nick and Tash wore the Riot MTB+, and I sported a pair of the Vaypor Gs. While it wasn't my first experience with Bont shoes – I had a pair while pursuing a B-grade criterium racing career a few years earlier – I had forgotten just how stiff the carbon soles are. Despite the uber-efficient pedalling platform, they remained comfy throughout the day and largely went unnoticed on the bike – serious praise for a new pair of shoes. It's only while getting around off the bike – including ordering a beer at the pub afterwards – that I'm reminded I'm wearing nearly the same shoes that Sir Bradley Wiggins made famous at the Tour de France.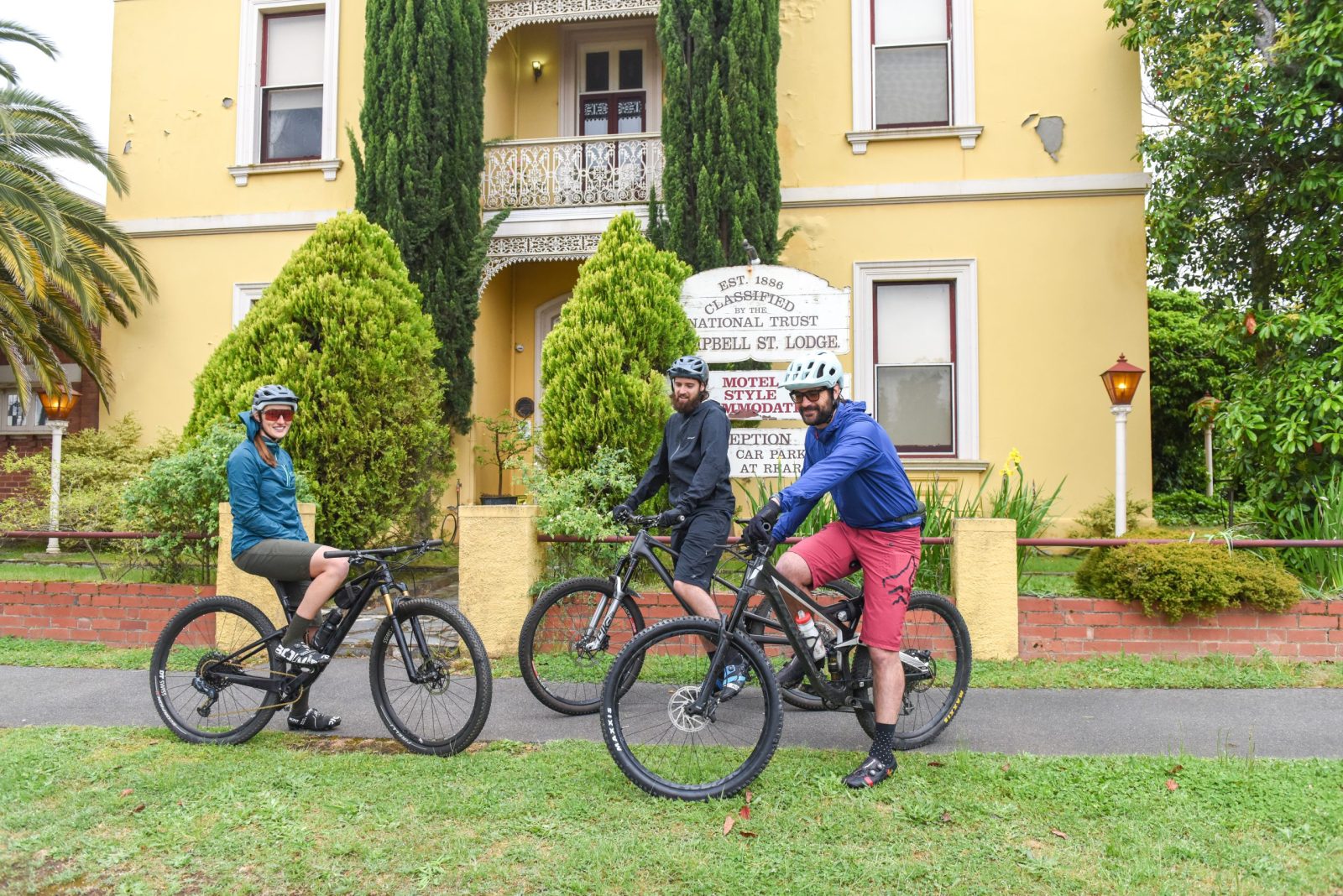 How we did it
Travel
Just a 90-minute drive north of Melbourne along the Calder Highway, Castlemaine is equally accessible on the bike-friendly Bendigo to Melbourne "V-Line" train line, which leaves from Southern Cross Train Station in the centre of Melbourne. The same train is an uncomplicated way to return from Bendigo after riding too. The town centre itself is compact and can be explored on foot.
It's certainly possible to ride around the Goldfields all year round – but it gets hot in summer and, aside from Harcourt, there's no drinking water available on our route. The best time of year to visit is during autumn or spring. The granite at La Larr Ba Gauwa means the trails hold up well in wet weather – making it a viable option when other mountain bike trail centres are unrideable during the depths of winter.
Food and Drink
Castlemaine is well-served for food and drink. The Taproom at Shedshaker Brewery (within the Castlemaine Mill precinct) does great pizzas and share plates, and the variety of small-batch beers means everyone is satisfied after a long day riding. Head to the Bridge Hotel for gastropub fare and one of the best live music venues in country Victoria. There are plenty of good cafes in town – Togs Place serves a strong long black, and we can recommend the Bircher muesli at Saffs.
Accommodation
We stayed in the centre of Castlemaine at Campbell Street Lodge – a boutique but charming 19th century hotel. Castlemaine is a thriving town  with options to suit all budgets (campbellstlodge.com.au). For a full range of accommodation, food & beverage and other experiences, visit bendigoregion.com.au
Thanks
Shout out to Bradd and Lana from Bendigo Regional Tourism who helped bring this trip together and were fantastic hosts for a fun weekend, letting us know all the best spots both on and off the bike. Also, a massive thanks to Nathan Ziino from bikeNOW in South Melbourne (bikenow.com.au), who sorted our photographer Mandy with a Specialized Turbo Levo e-MTB for the weekend. We're in constant awe at our Cyclist photographers' ability to get ahead of the riders and snap the photos you see in these Big Rides, but the off-road trails tackled here in Bendigo definitely required a bit of extra boost, and the Levo sure made life a whole lot easier. Cheers Nathan!