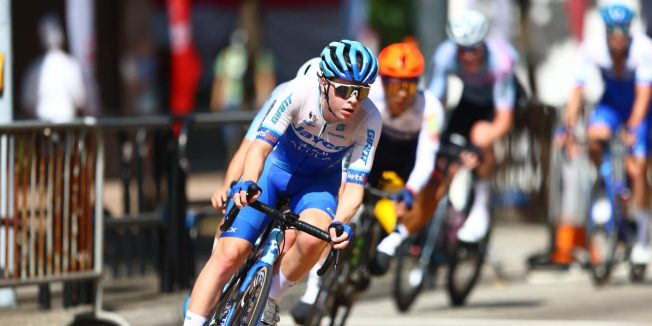 Rudy Porter Q&A
Australia's Team Jayco AlUla had a tremendous recent showing at the Sun Hung Kai Properties Hong Kong Cyclothon.
Lukas Pöstlberger took first place, Zdeněk Štybar third and Blake Quick fourth.
Rounding out the team's top-10 performances was 22-year-old Rudy Porter, who finished eighth.
Cyclist caught up for a quick chat with Porter after the race.
Cyclist: Congratulations on the team's result at the Sun Hung Kai Properties Hong Kong Cyclothon, you must be chuffed. Tell us about the race? 
Rudy Porter: For sure! The circuit provided a good opportunity for us to attack the race from the start and create a split that favoured us.
With our numbers from the split we were able to play multiple cards towards the finish to get the victory and round out the podium with a third place also, so it was a really good day for us as a team.
Cyc: It would have been a different atmosphere in the bunch with pros like yourself competing alongside talented Asian riders. How did you find it?  
RP: It was very different, we are all familiar with how teams and riders race in Europe as we compete against them all year around, however at this race it was all new faces and we couldn't give riders too much room as we were unsure of their capabilities.
A lot of the riders were very quick and covered our attacks well, which made it hard to get away. It made for very dynamic and interesting racing.
Cyc: The race came – more or less – in the off-season for pro cycling. What's next for your off-season? Will there be some time off the bike?
RP: Yes, we all have some downtime and riders like to do various things that work for them to give both a mental and physical break.
Personally I will take some time off the bike and will be back in Australia to see friends and family that I haven't seen since the start of the year.
Cyc: How was riding in Hong Kong? I'm sure you would have rolled through some kilometres either side of the closed-road race, did anything surprise you about riding there?
RP: Once we got out of the city congestion with traffic lights, it was a pleasant experience seeing the rolling hills nearby and the roads the locals train on.
We got to see another new side of Hong Kong, which was great.
Cyc: The Hong Kong Cyclothon's 30km and 50km events looked really well-attended, particularly given it was the first event in five years. How was the vibe to bike riders in the city? 
RP: It was good seeing so many passionate cyclists up and about and challenging themselves in the Cyclothon.
The cycling community in Hong Kong certainly created a great atmosphere and set the tone for our race.
Cyc: Had you been to Hong Kong before? What did you enjoy about it? 
RP: This was my second time in Hong Kong and it was awesome being back in such an amazing city.
We were fortunate enough to do a bit of exploring and go to a few restaurants with our time there.
There were many aspects that I enjoyed however the people were the best – very welcoming and accommodating.