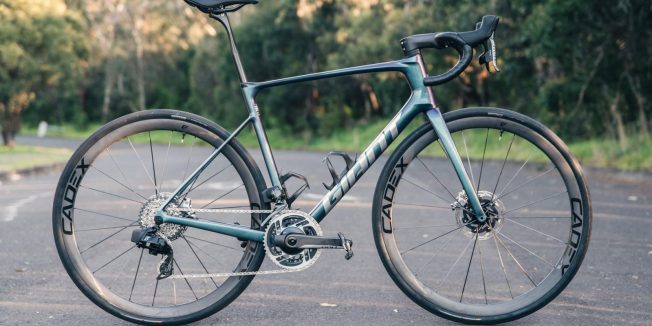 Giant – Defy Advanced SL 0
Defying trends and renewing the love for the comfort road category
Words NICK SQUILLARI  Photography BEN LEHNER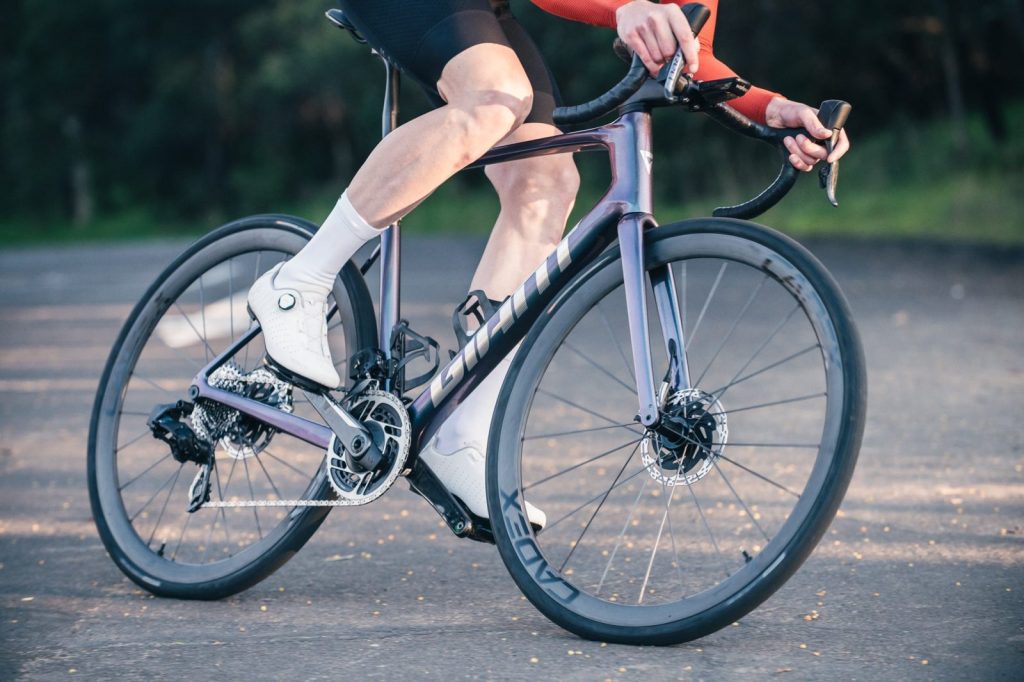 Reports of the death of endurance road bikes are greatly exaggerated: a famous Mark Twain saying, or probably would have been were he alive today.
It was certainly my feeling after my first ride on this new Defy Advanced SL 0.
The same ride, incidentally, where I listened to Dave Rome – on an Escape Collective podcast – cry out for performance-engineered endurance road bikes to re-enter the market.
'What happened to them?' he queried.
Like The Sixth Sense, without any hope of anyone hearing, my internal voice replied: 'It's here! Giant has heard your prayers!' Dave Rome isn't wrong.
In a confluence of events that combines road bikes moving to disc, opening space for more clearance and wider tyres; the rise in popularity of gravel; and the general recognition that wider tyres are more comfortable and just as fast, we have a situation where riders will come in looking for a comfortable new bike, only to be sold a road bike with larger tyres and the promise of 'more comfort'.
Or a gravel bike, more upright and rolled out with the line, 'Just throw some road tyres on when you want. She'll be right.'
I'll admit, even I've reviewed bikes that were more gravel than road and leaned into that one bike for everything line of thinking, little realising it was creating an environment where the performance road bike was under attack, shunned by buyers. At least temporarily.
Lower backs are undefeated when it comes to letting riders know if a bike is too long and low.
There's only so wide a tyre can go on a thoroughbred race bike before even that isn't enough to make up for a bike that's too stiff for the rider.
And there are only so many compromises one can make on a gravel/do-it-all road bike.
If ever there was a time for a brand to step in with a revamped performance endurance road model, it's now. Enter the 2023 Giant Defy.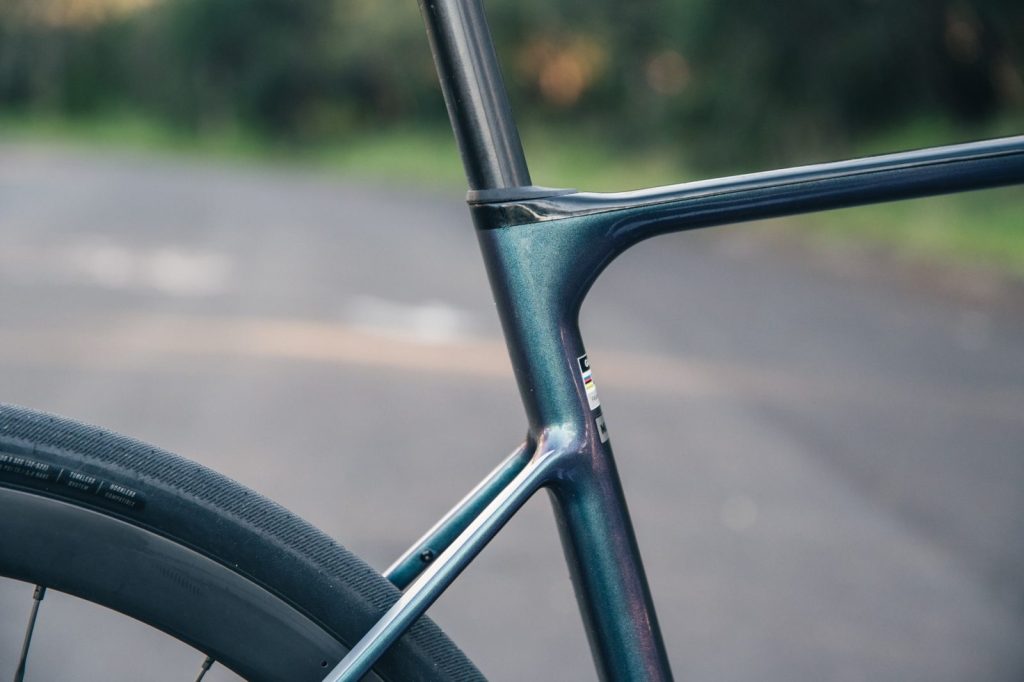 Wait, what is that weight?
Far be it for me, a time trial specialist, to ever get too caught up on bike weight. Giant Australia handed over the bike and I nearly flung it into the ceiling.
'It's how light?'
'6.9 kilograms.'
Sure, without pedals. But with 32mm wide all-road tyres. Fit some 28mm road tyres to the Cadex 36 wheelset and there goes at least another 100g. Giant has crafted a UCI weight limit 6.8kg bike. In a medium-large. In an endurance road package.
Say what you like about how good endurance category bikes were in years past, an undeniable common trait was that they were not built with light weight in mind.
Hell, there are current disc race bikes that cannot come close to 7kg, let alone below that.
The weight of the Defy Advanced SL0 is exceptional. Giant ought to be congratulated. Race pedigree DNA does not – and should not – be limited to just the race range. And that segues perfectly to arguably my favourite feature of this rig…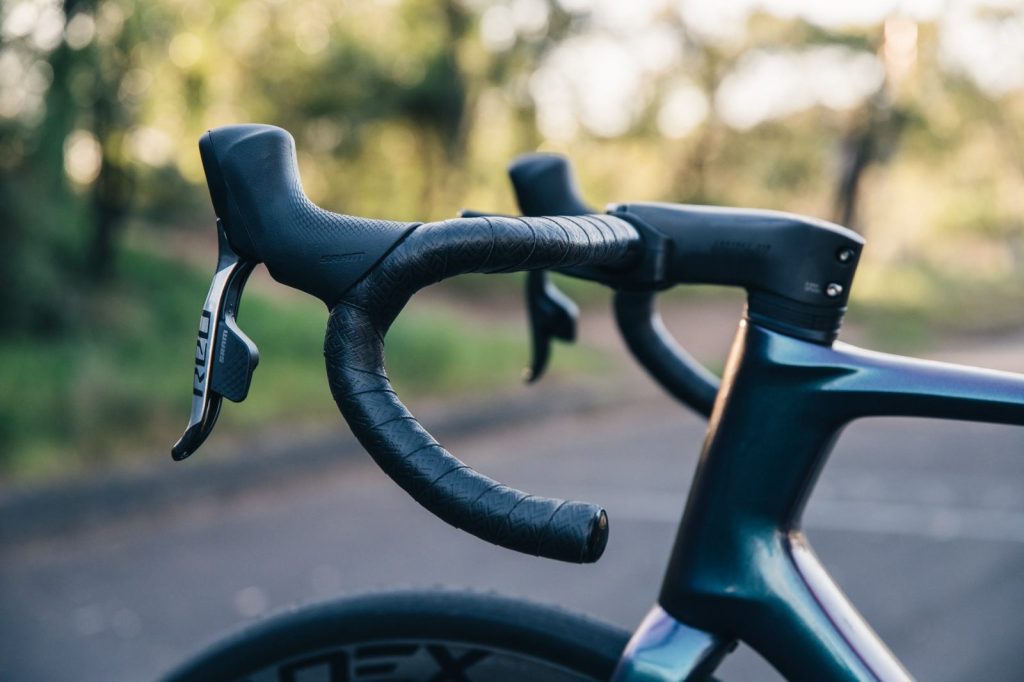 The nerdy, boring and best part of this machine
Giant launched the redesigned Propel at the 2022 Tour de France. Honestly, if not for COVID supply line shenanigans resulting in Australia lagging behind the rest of the world in supply, I'd have had one in my collection by now.
Not just because it's  aero, and light, but also because is has the best two-piece integrated front end on the market. Fight me if you disagree. All the aesthetics and aero benefits of a full cockpit integration, paired with the traditional ability to swap an individual stem or handlebar.
This not only assists bike fit, but also means your bike mechanic isn't going to put up the CLOSED sign the moment they spot you wheeling your bike into the store for a service.
In a time when some brands have integrated front ends so complex that stores have (honestly) banned them, Giant went and changed the game on the Propel.
It's a design feature I was thrilled to see carried over to the new Defy – like the bike weight, race DNA on an endurance road model.
It also lets you dial in the perfect fit. Seems logical, but it's incredible how many opposition brands have abandoned this approach.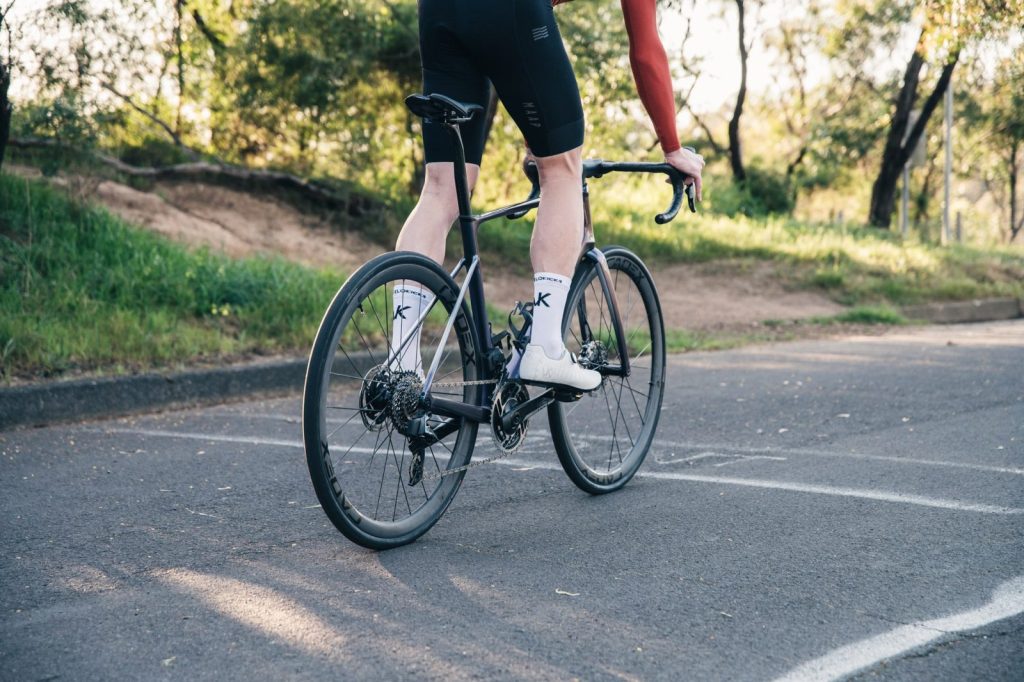 The ride
Sram Red AXS needs no waxing lyrical. Excellent performance, as you'd expect.
To come with a Quarq is impressive and, again, operated flawlessly.
Having been around electronic shifting for so long now, you don't think twice about how incredible it is, even compared to groupsets from 10 years ago.
It wasn't until a passer-by stopped and doubled back to admire the parked up Defy that there was a reminder.
'Shifting is wireless and electronic now?' After some delighted flicks of the shifting buttons later for the fan, my admiration for what Sram has created was reinforced.
Gearing is performance-oriented, 46/33 front chainrings paired necessarily with a Force 10-36 cassette (Red tops out a 33 max).
Hills melt when you're at better than a 1:1 gear ratio.
Precisely the set-up you're looking for in a bike like this.
Fondos, alpine getaways, even some light bike packing (there are fender mounts that some racks could use!).
Gearing is not an aspect of this I think twice about. Flatter bunch rides with a bit of pep? Equally capable.
Hiding in plain sight in some of Melbourne's midweek express sessions, the Defy cruised along just fine at 45+ kmh. Only one keen observer asked, while passing in the paceline, 'Is that… a TCR… without front cables?'
No time to reply – he was gone by that point – but eagle-eyes wasn't wrong.
Even passing in a bunch the Defy looks, performs and handles much like a TCR.
Steering is a little slower (I didn't need to see the geo chart to know there's a little more trail than many of the race bikes I've reviewed or owned).
However, there was no time on any descent, in any bunch or around any sharp corner that I felt I had to really push the front end to get it through.
Understeer, in this endurance bike at least, is of zero concern.
My only gripe is the bars, specifically the width. Shape-wise, the new Contact SLR D-Fuse is ideal.
Nice little aero cues without being massive. Nice size to grip and wrap a front light strap around.
But they are wide – really wide. Like, I'm-riding-alongside-you-and-feel-likeI'm-about-to-hug-you wide.
I measured the drops: 45cm centre-to-centre. (This is a flared drop design, so 42cm C-C in the hoods.)
In an M/L, I'd like to see 40cm at the hoods and 43cm in the drops.
That feels like it would be ideal for road (hoods) and gravel stability (drop).
The good news is these can be swapped easily enough, so thank you again, Giant, for this system.
That said, the theory my partner came back to me with (as I tried to chase her down with an on-bike hug as we rode together) was that if they were to go to more narrow bars, Giant would be at risk of changing too much for some riders.
I thought back to the bike fan from earlier, and realised that it's easy to forget there are still riders out there who are yet to wrap their hands around wireless shifting on a bike of their own.
A bike that has internally routed cables, comes with 32mm wide tyres, with tyres setup tubeless, on carbon spoked rims.
There's already a lot going on for some who have watched bike technology and standards evolve at breakneck speed over the past decade.
Throw in narrow bars and the risk could be that it's too much; too unfamiliar.
Brand theorising aside, the new Giant Defy Advanced SL0 is a superb bike.
It's everything your  mate who wants a TCR – but who should be on something a little more forgiving – needs.
I'll even go as far to say it's many things owners of TCRs wished their bike could deliver.
The universe cried out for reimagination in the endurance bike space. Giant and the new Defy have duly delivered.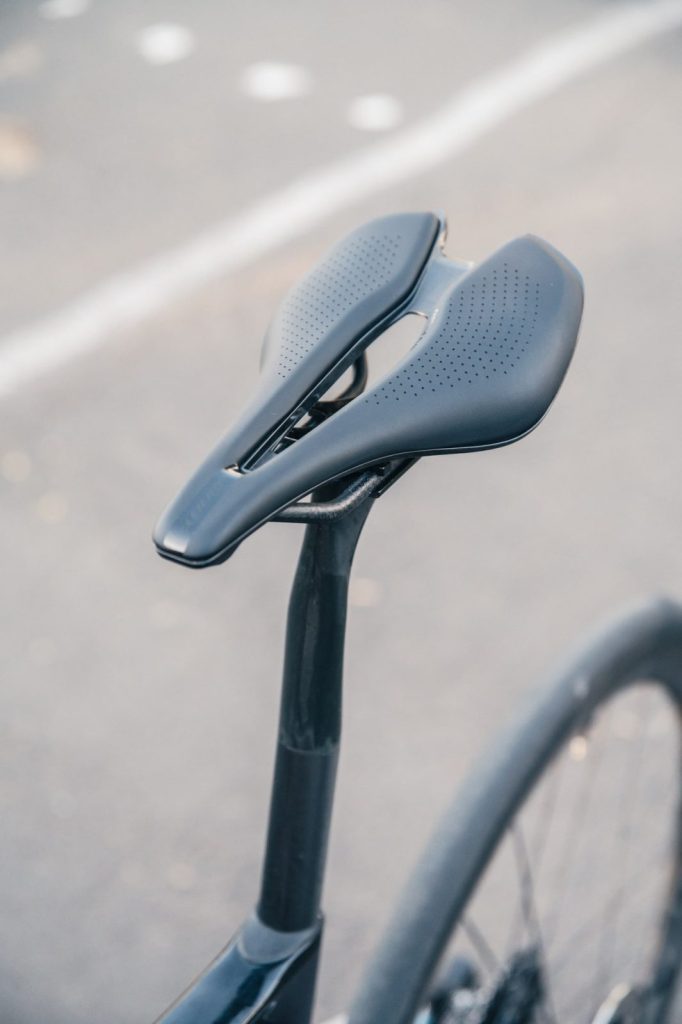 The spec
Model Giant Defy Advanced SL 00
Price $13,999
Weight 6.9kg without pedals, M/L
Groupset Sram Red AXS
Wheels Cadex 36 Disc WheelSystem
Finishing kit Contact D-Fuse handlebar, Contact AeroLight stem, Giant SLR D-Fuse seatpost, Giant Fleet SLR saddle, CADEX Classic, tubeless, 700x32c tyres
Contact giant-bicycles.com/au
Highlights
The handlebar/stem combo. All the benefits of a one-piece integrated front end, with the ability to still swap either part easily. More bikes need this design.
Weight. For an M/L to come in under 7kg without pedals is exceptional.
Clearances. Can any bike be a gravel bike? This one most certainly can.