I sit in the warm carriage. The clackedy-clack of the wheels over the train lines echoes through the underground walls and back through the open windows. The breeze is warm with an oily undertone. It's loud. As well it should be. Opened in 1896, the Budapest underground is the oldest electrified underground in mainland Europe and the second oldest in the world. Back home, my girlfriend lives in a house half the age and yet Heritage Listed, draft-riddled and the truest definition of a 'renovator's delight'. In Hungary, I'm travelling on a completely functional – and for its age, very comfortable – rail system that pre-dates most buildings in Australia.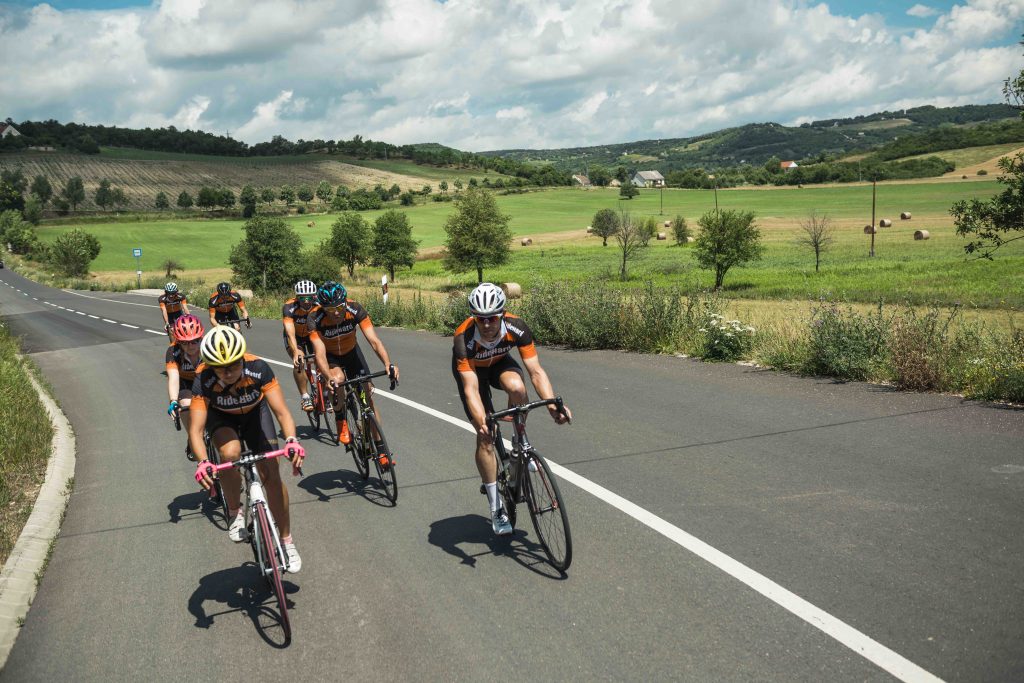 Words Nick Squillari
Photography Vanik Zoltan / Ride Hard
I was informed before arrival that Budapest is a beautiful and ancient city (Celts settled well before Roman arrival), but the age of the underground still made me pause in awe. Coming from a state with a modern, multi-million-dollar rail network that can't operate on time, one that's 120 years old and functions perfectly made for nice irony. Not everything old needs replacing. Not everything new works like it should. Hungary subtly shows how well a country so steeped in history can meet and adapt to the modern world.
A cursory glance over the nation's history confirms that Hungarians have spent over 1,000 years being invaded, occupied or allied by surrounding nations and powers. Progressive adaptation was the name of the game. It's a charm I'm about to experience as I finish using Wi-Fi on a 120-year-old underground.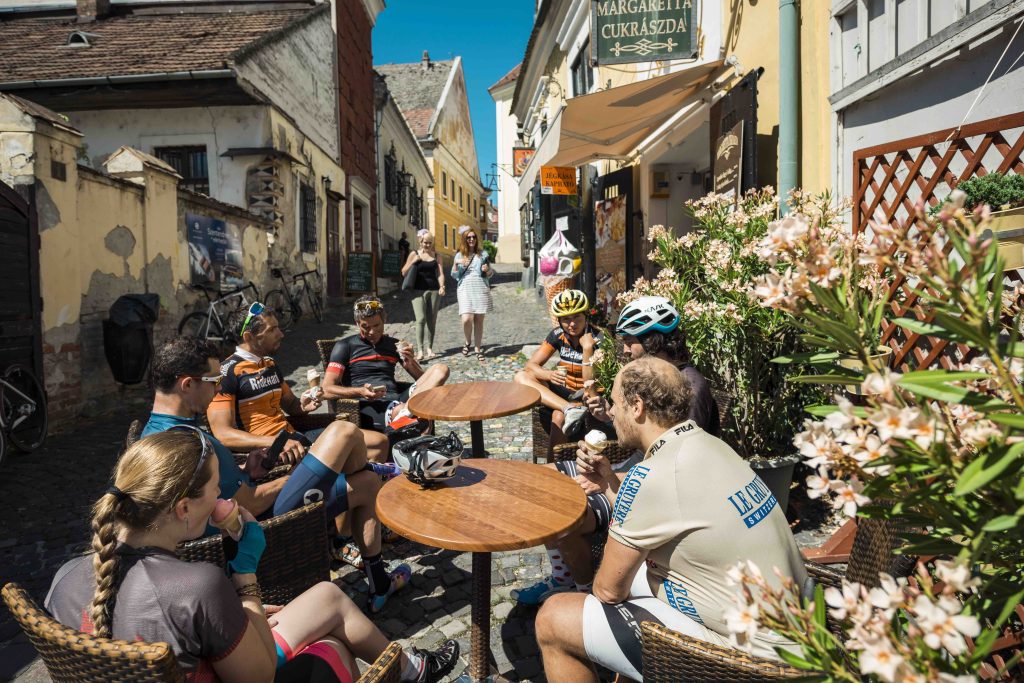 An oldie but a goodie
Google 'best European cities' and you'll see that Budapest is the Mark Cavendish of major European centres, topping lists constantly – most beautiful city, most desirable city, you name it. It's also top for art collections, nightlife, financial precincts, coffee. That last one is questionable, I discover, but the coffee is well above the French offerings, at least.
It's a metropolis deserving of an eight-day tour of its own. In this instance, however, Budapest is just the starting point for a new tour through the land of spas called Ride Hard Hungary. Don't let the name fool you – the focus, we're told, is as much on wine, countryside and natural thermal spas as it is on riding.
Before any 'riding hard' begins, our hosts for the trip, Tamas and Anna, feel a town bike tour of Budapest is the best remedy for jet lag. And while there is the odd momentarily upset driver or two later on in the trip, the motor vehicles of Budapest prove to be courteous as we navigate our town bikes between city landmarks.
Buda Castle. Heroes' Square. Fisherman's Bastion. Castle Hill. Hungarian Parliament. Gellert Hill. St Stephen's Basilica. It's an all-star list of highlights I'll profess to knowing little about prior to the trip. It's not unfair to say that Western Europe presents only a modest mystery to most Australians. Even those who have never travelled know of the Eiffel Tower, the Colosseum, the Tower of London or the Brandenburg Gate. Once visited, it's simply a confirmation one way or the other: 'It's bigger/smaller/prettier/uglier than I expected.' With Budapest, though, all I knew was from the odd person who had passed through on a river cruise simply stating 'it looks stunning.' Fulsome praise, but little in the way of 'you really need to visit [insert any of the dozens of stunning Budapest landmarks].' Compared to the modest mystery of the west, visiting Budapest  – and Hungary as a whole – is like flicking the light switch on in a pitch black room.
If you remember only one thing from this piece, I implore you: include some extra days to spend in Budapest. Get a feel with Tamas and Anna before the tour, then take some days to truly enjoy it after all the riding is done. While this trip is as much about Hungary as a whole, missing a chance for a closer look at Budapest would be a real shame.
Wining and dining
We make it to the hotel before a late afternoon storm on the transfer to Zalakaros from Budapest. For reasons backed by zero meteorological knowledge, I believed storms in a landlocked country wouldn't be as severe as those on the coast. Incorrect. There's water pouring through a dining hall fire sprinkler in the ceiling as it hits. The next day, trees are split in two, blocking bike paths and, a few days later, neutralising the first stage of the UCI 2.2 ranked Tour de Hongrie. Hungarian summer storms are legit.
Unphased after the impromptu dining room shower opportunity, the first full ride (more cyclo-cross than road riding on account of the massacred tree limbs) arguably hits one of the trip highs straight out of blocks. Tucked away down a small lane, overlooking a tiny town and the southern end of Lake Balaton, the 40km loop stops at a nondescript farmhouse. A vineyard out back is quaint, but hardly expansive. This is the destination, and from the farmhouse bustles an older couple. Mid-60s, not a word of English spoken and all smiles. We're welcomed like grandchildren they've not seen for months. Expanses of food suddenly appear across the table on the rear patio. Fresh baked bread, olives, spreads, peppers and fresh sliced onions. It's provincial Hungarian food, simple and delicious. 
'That white spread is nice. What is it? Butter?' I ask. 'Lard,' comes the cheerful reply. I recall stories from my grandmother telling me that's what her father used to love. That was in the 1940s.  Seemingly, it never left the menu. But even knowing what it is doesn't temper the enjoyment.
Round two is a baked ricotta pastry, sweet and savoury, accompanied by local wines. And by local, I mean from the vines no more than 20 metres away. The winemaker tells us he makes around 3,000 litres a year, with most going to family, only a little going to the local store. I love it. Wine money almost literally cannot buy, from a vineyard that has no cellar door per se. It's not even open to the general public. Only Tamas' local knowledge gains us access, true hidden-gem style and as authentic a tourist experience as you could hope for. It's only knowing that I have to ride back to the hotel in a bunch that stops me from enjoying a few more glasses. I'm not one for binge drinking, but these drops were simply so good it made self-control a challenge.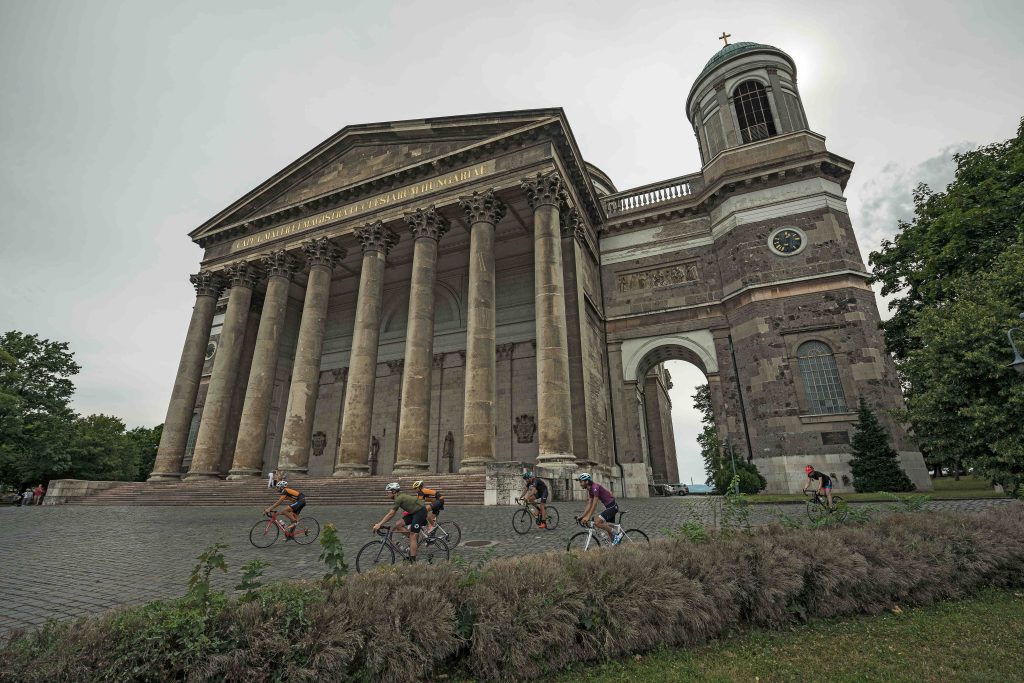 The land of spas
Unlike France, Italy and Spain, Hungary has no alpine regions. Its highest peak only just trickles over the 1,000-metre mark, so the touring – while not without undulations – isn't one where you'll need to scramble for a compact chainset and a 30-tooth cassette. 'Ride Hard' might be the name, but Ride Leisurely is more fitting. 
I don't mind one bit. Back home, Victoria is shivering through a cold snap in one of the colder winters in recent years. Casual rides, no winter gear, ice cream and a sun tan don't come under sufferance. In fact, it's a nice change of pace to have group riding that's not about being on the rivet all day.
Days two and three are both close to 100km, but aside from the occasional water bottle, handily grabbed from the van rolling alongside – these guys are pro – there's never a time when I'm praying for a stop due to exhaustion or hunger. The countryside is typically European, which is to say, you can happily ride through it all day long. 
Not that the days are free of challenges. Forget scaling epic mountains in cycling attire – try ascending the 20% cobbled 'road' to a medieval fortress. Totally overgeared, I have to get off and walk the final few metres. In cycling shoes. It's like an ice rink. Engineers of the Sumeg Castle designed their 13th century defences well, safe from Turkish and lycra-clad warriors alike. However, the views and experience of touring through a fabulously restored castle are worth the awkwardness. It's never my expectation to come across such exceptionally well-preserved ancient history. No one talks about the castles of Hungary – possibly because none of us in the West know about the castles of Hungary. The juxtaposition of riding up to a fortress nearly 1,000 years old, sporting cutting-edge wireless shifting, isn't lost on me. It also reinforces the very first impression I had of the country: one of contrasts. Old meets new. East meets West. Traditional meets contemporary. You're simultaneously thrust back in time, yet still only moments from Wi-Fi range.
The days spent around Lake Balaton exemplify this. It's easily Hungary's largest expanse of water and the site of many of its religious and historically sacred landmarks. We spend the morning admiring Tihany Abbey and the tomb of King Andrew – nearly 1,000 years old – only to later have lunch at the Jococsma pub. The outer facade (looking almost run-down, with a straw thatched roof) gives way to another classical-meets-modern setting. Wi-Fi (there's a recurring theme here) and modern craft beers complement another traditional Hungarian meal. We eat like we've ridden 200km. What a holiday should be all about.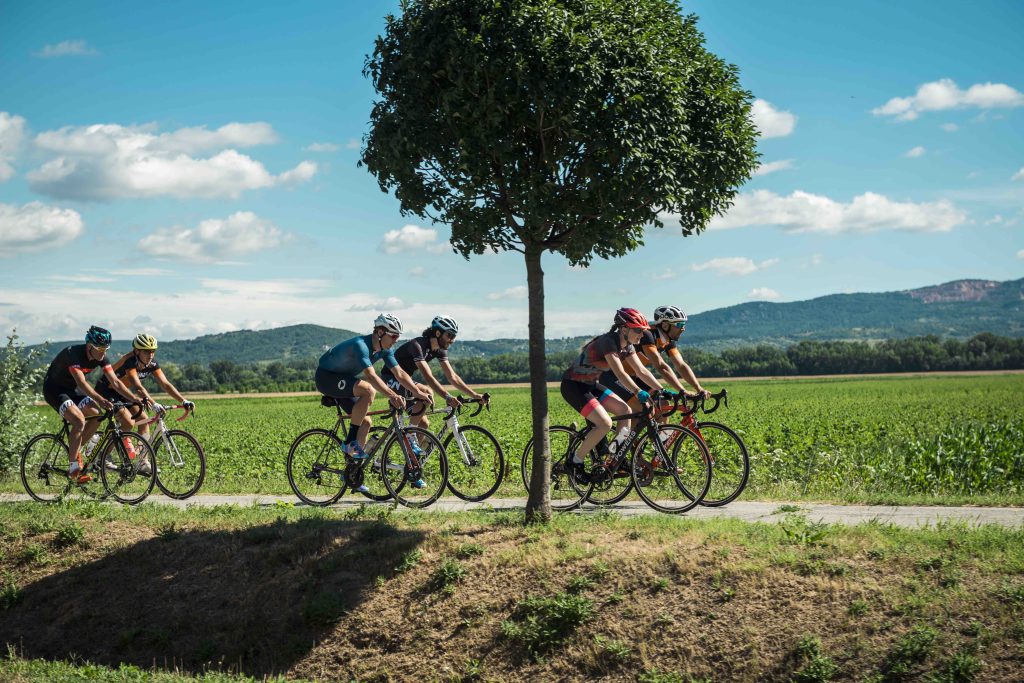 Hills, hippos and happiness
Early into day four there's a stop, so the group can admire a small traditional Hungarian building, with a replica of one of the country's sacred trees. Tourist plaques inside inform us that the surrounding foothills' cave networks have provided archaeologists with a plethora of artefacts and fossils, including fossilised teeth of hippopotamuses that once roamed the country. As a child of the 90s, you can imagine my delight. Yes, ladies and gentlemen: Hungry Hungary Hippos were real. I nearly die with laughter. No one else knows what the hell is wrong with me. Alas.
From there, it's the end of rolling countrysides and – after a brief stop to admire the Esztergom Basilica, the third largest basilica in all of Europe – it's finally into the hills. Winding our way back towards Budapest, we're immersed in what is, riding wise, the absolute highlight of the trip. Nestled between the Danube and a vast national park, Visegrad isn't just home to (another) impressive castle. It's postcard-worthy European woods with winding roads, bike paths and low traffic. Imagine (for those playing back home) the Dandenong Ranges – the Euro version kind. It's spectacular. You can almost feel the trees breathing. Climbing through them is a joy.
Bears are still not an uncommon sight in the region, and it's easy to see why.
One sight I didn't expect is on our way to the summit of Pilismarot, the highest peak in the region. A few hundred metres from the recently constructed observatory, we ride through what look like train carriage 'hangars'. They're long, concrete and rectangular. Parked at the top of a remote summit without a single track in sight, I can only assume they're not meant to house trains. With Budapest sitting roughly 40km into the horizon, it suddenly clicks, and Tamas confirms. These are relics from World War II. Silos to house German V2 rockets, taking up a strategic position not only over Budapest, but also the surrounding countryside. Sobering yet at the same time fascinating, it's experiences like this – that not even Tamas had on the itinerary – that really make a trip. This is why we travel. History lessons in sunshine with a bike.
It really is hard to top.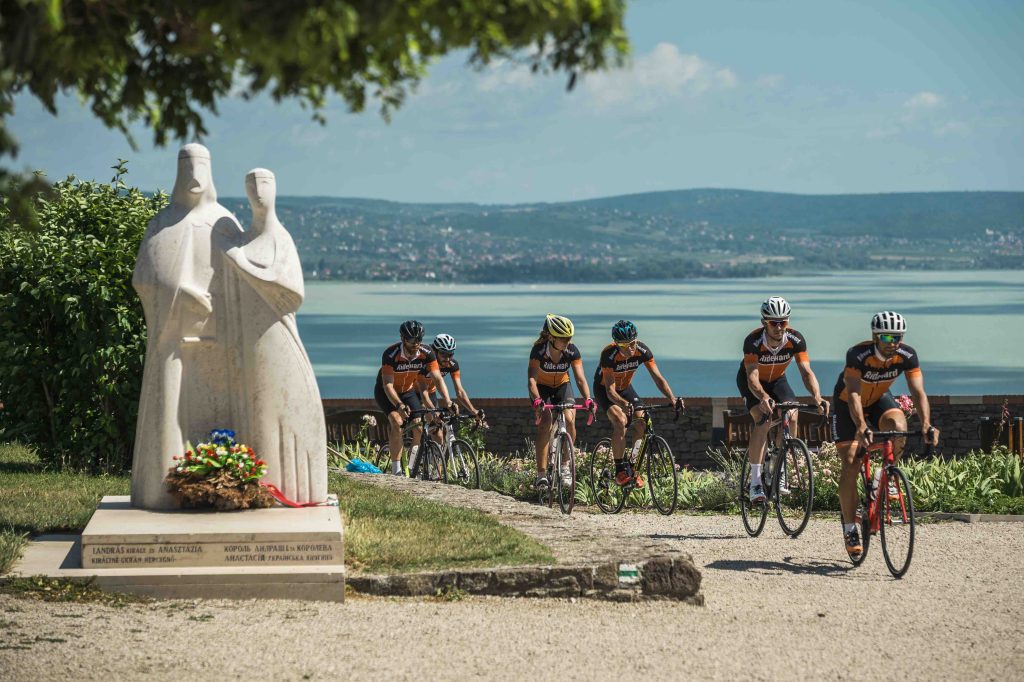 That perfect balance
I'm sure I'm not the only one who has had a thrilling time far from home while nonetheless missing one or more comforts like potable drinking water, easily accessed food, comfortable lodging, internet or being able to communicate with the locals. Sure, we can deal with it – it's part of the charm. It wouldn't be the Tour Down Under without Adelaide's questionable-tasting water.
But at no point on this trip have I forsaken any 21st century comforts simply for the sake of experiencing truly historical sights. I won't lie – this time it was great to not have a worry about anything. You get the best of the cycling tourist and 'regular' tourist worlds. Instead of worrying about having to rest my legs – concerned with the coming days of riding – I could take them and a beer to the thermal lake and lounge in 33-degree water.
Not all trips are meant to employ the term 'epic'. This is one that does not. Go for the people. Go for the food. Go for the riding. Go to see a country that hasn't been waxed lyrical over; where you can still discover parts that Google doesn't even know exists. It won't disappoint.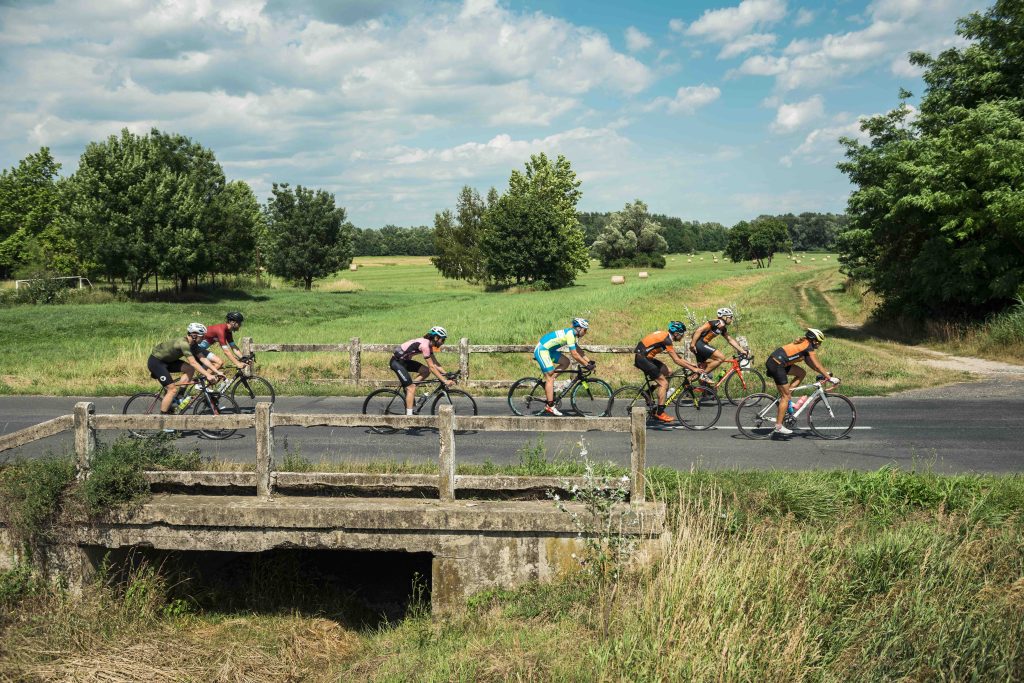 The route we took
Tracing many of the same roads as featured in the 2017 Tour de Hongrie, our global crew of cycling journos arrived in Budapest ahead of a planned eight-day cycling tour around the country. Included in the initial brief from tour organisers Ride Hard was the chance to soak up the breathtaking views from a two-wheeled perspective. Many of the days would include a recuperation session in one of the famous healing spas in Heviz Lake, Zalakaros or Budapest while also getting the chance to see the professionals first-hand at the Tour de Hongrie. Upon landing in the country's capital, we spent the afternoon on city bikes exploring a number of the key sites before taking the train down to Zalakaros – where the real cycling would begin. While not overly strenuous in terms of distance, each day averaging around 100km, it's amazing how much time you can kill while ensuring that no stop, cafe, restaurant, attraction, is left undiscovered. Enjoying a mix of four point-to-point days and four alternative riding days means we had time to thoroughly appreciate our surrounds while still getting to cover a huge amount of terrain. From the rolling hills around Zala, Visegrad and Pilis through to the stunning waters and 'beaches' of Lake Tata and Siofok, we really did it all. All that was really missing was a few extra days in Budapest. But that can wait for next time.