As the sun began to rise on one of the shortest days of the year, a group of determined riders set out on a 192km journey from Benalla to Bright – with the aim of reaching their destination before dark. We give you the Ride High Country Dawn 2 Dusk Winter Stitch-up!
Words Tam Allenby  Photography Simon Esjay James
Additional photos supplied by James Davidson / Ride High Country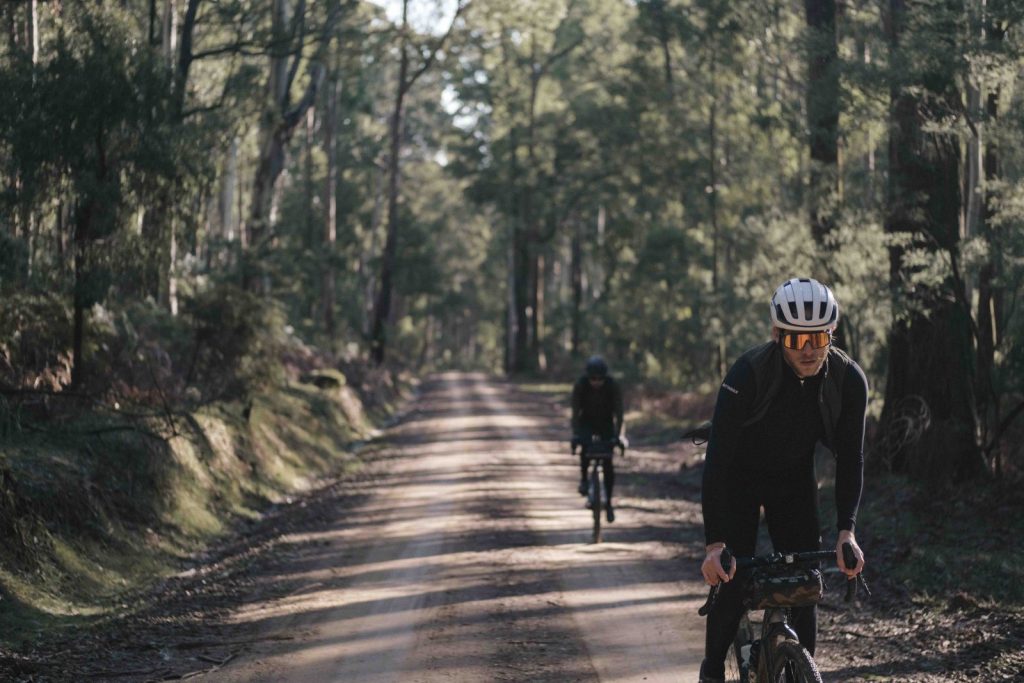 Picture this: you're on your bike halfway up a mountain, in winter, and it's nearly dark. Your GPS head unit has run out of juice and your riding companions are nowhere to be seen. Navigational guidance has been reduced to a half-remembered Strava file you looked at the previous day, and you're literally at a crossroads – with a couple of layers of Lycra your only protection from the elements – faced with two options: left or right.
Needless to say, it's not an ideal situation – but it's one I recently found myself in, somewhere in the mountains above Bright in Victoria, dusk shadows quickly turning into something darker and more dangerous.
The concept, when presented to me a few months earlier, sounded like a fun one: the shortest day of the year and a long, mountainous gravel ride through Victoria's High Country. It would be a race against the clock with darkness and a beer festival presenting the ideal finish line. Sounds like a great day out, right?
Well, right up until that moment, it had been. Note to self: when riding for 10 hours or more, bring a battery pack (or upgrade your bike computer).
Now, for more pressing matters: left or right?
Freeze and defrost
As a Sydneysider, any temperature in the single digits is freezing, and when it's down in the negative ones and twos, well, that's positively Arctic.
It's -2 when we park at Benalla station just before dawn to meet our companions on today's adventure, and I'm shivering as soon as I step out of the car. On team Cyclist, it's me, two-wheeled photographer extraordinaire Esjay, and our good buddy Jake. Bikes unloaded, we bump gloved fists with a few familiar and not-so-familiar faces, united today by the love of one thing: gravel.
Group shots ticked off, we roll out through the sleepy streets of Benalla, past the airstrip (the area is a bit of a hotbed for gliding) and onto a long, straight and sealed road leaving town. My hands, feet and face are numb, and to be honest, I'm not sure why I'm on the bike today; driving into Bright the previous night, all the roof racks I spotted were occupied by skis and boards, not bikes – the former a much more common equipment choice for Victoria's High Country in late June. But as we'd discover, there's plenty of great riding here even in winter's depths.
Ahead of us lies a significant challenge: nearly 200km, and over 3,000 metres of climbing, around 90% of that off-road. Adding to the degree of difficulty is the fact that it's pretty much the winter solstice; there seems to be little doubt we'll be riding right up until dusk.
Better crack on then.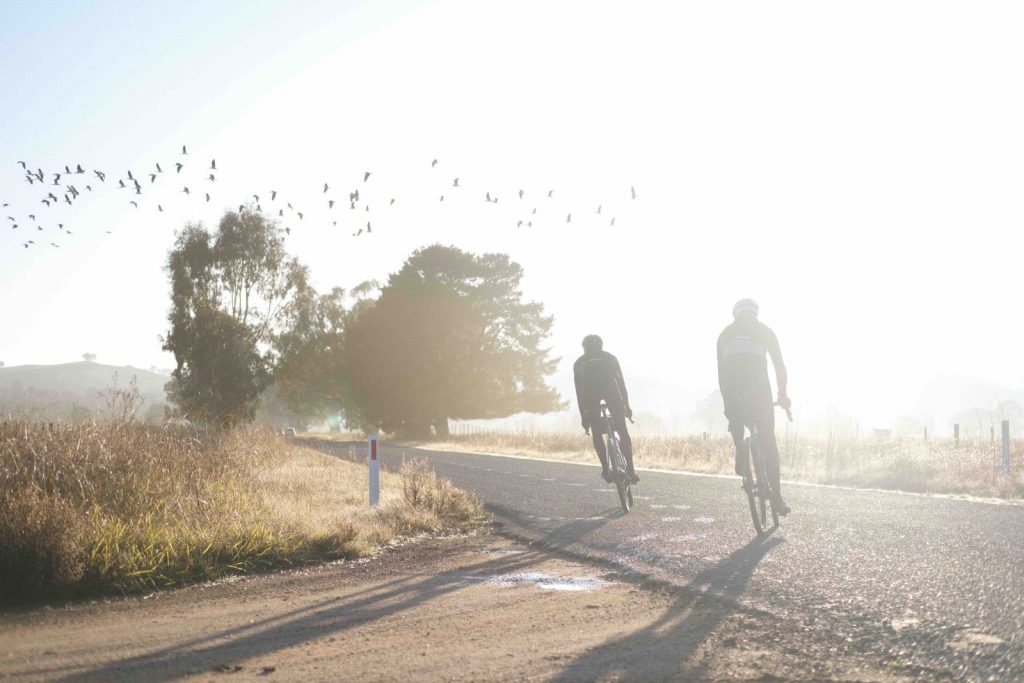 Let the games begin
After 11km of 'warm-up' (my hands and face still numb) we hit the grav – and oh baby it's good. There are a couple of potholes here and there from the recent rain, but it's otherwise super smooth and fast. I'm enjoying the rolling, green terrain, early morning sunlight starting to stream in, when a member of another team also covering the ride decides that a soggy section of doubletrack is a good place to pass the bunch. Needless to say, a speeding Subaru, a muddy puddle, and (previously) dry cyclists aren't a great combination, and a few riders are left pretty soggy after this particular manoeuvre. I anticipate a few choice words will be exchanged later on.
We knock out the first 25km nice and quickly, but with only 100 metres of elevation gain so far, the day's challenges are still to come. At this early stage, everyone just seems happy to be out on the bike again. It's June 2022, and after more than two years of Covid life, it's my first visit to Victoria in a long time, so I'm content just to soak it all in. The temperature is slowly starting to increase and it's very enjoyable just rolling along the country lanes, chatting as we go.
Question for readers: do you call or point out potholes on a gravel ride? There are a few grumpy noises from behind when Jake and I neglect to do so on a bumpy section of road about an hour in, but I'm of the mind that unless it's an actual crater, when riding off-road, it's everyone's responsibility to stay on the lookout for potential hazards. One to ponder, perhaps…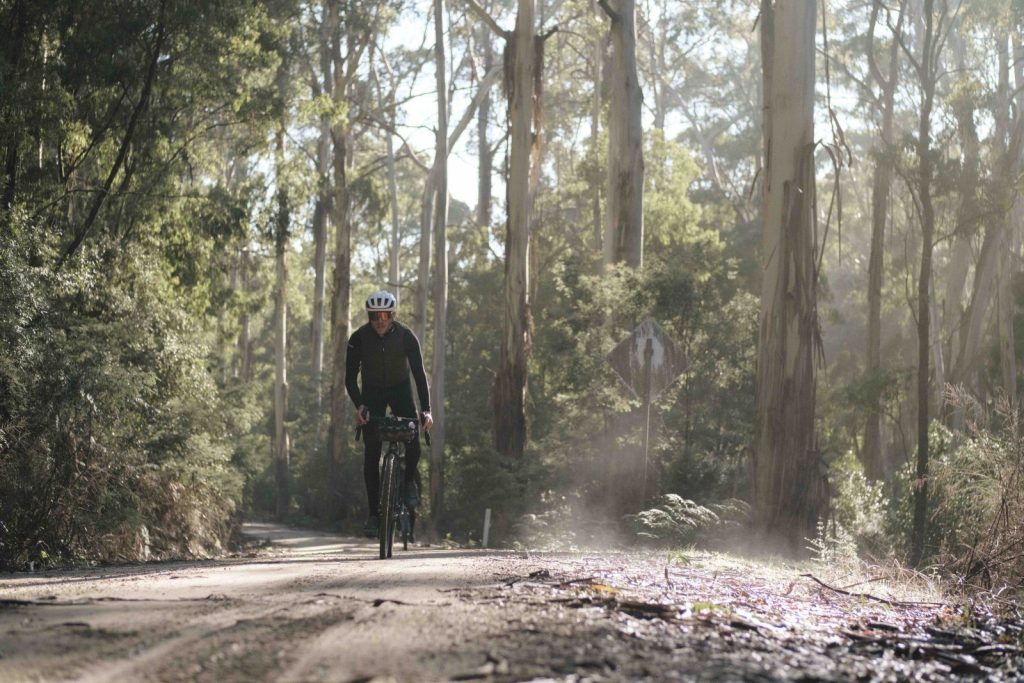 Mountain time
The road starts to increase in gradient as we near and eventually pass the 30km mark. Despite the grippier incline, the surface just keeps getting better – it really is perfect gravel around these parts. A cliché maybe, but so far it's been smoother than tarmac; the clay-like surface would present no issue for even the narrowest of road tyres. We haven't needed the 40mm of knobbly rubber that each of us representing Cyclist have come prepared with, but I anticipate that will soon change as our surroundings shift from pastoral farmland to rugged bush.
It's definitely bushranger country around here – the craggy rock, green grass and gum trees are Ned Kelly-esque, if you'll allow the clumsy phrasing. Jake is the first to raise this icon of Australian folklore; in fact, the road we're on will take us all the way to Stringybark Creek, where in 1878 the Kelly Gang ambushed a police encampment shooting, killing police sergeant Kennedy and constables Lonigan and Scanlan.
Our chat about the helmeted one soons draws to a close, but not by choice – the gradient is really starting to bite, and as suspected the surface has become a fair bit rougher to boot. I look over at Jake, who to my surprise is still nose breathing; he hasn't exactly been a regular presence on our early morning training rides in recent months, and a few in our group chat are predicting a spectacular explosion at some point during the day. I have a little more faith, but after years of riding with him, I do know that once he stops talking, he's really feeling it. Still, there's no sign of Silent Jake™ at just under a quarter of the way in.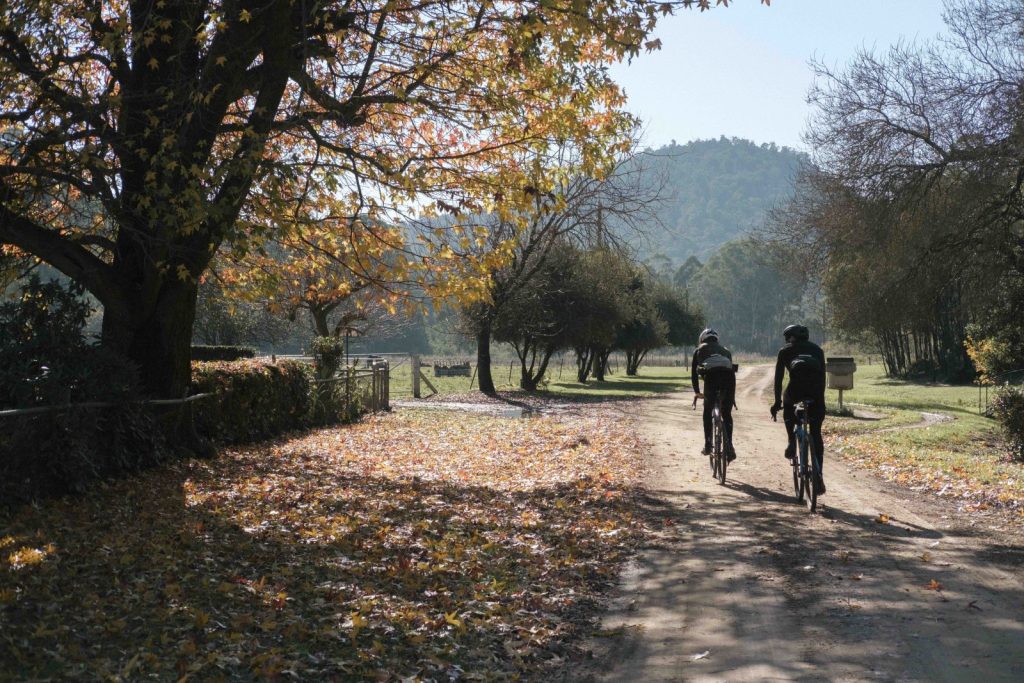 After around 10km of climbing, we get a bit of reprieve on a lovely section of rainforest road, the tall timber and ferns, morning fog and birdsong all coming together to put on quite the show. The three of us are now alone, having dropped off the back of the group to take some photos around half an hour earlier, and here in the forest there's almost no wind and absolutely no traffic. Gravel heaven, really.
At 42km, we reach a short downhill, and the vibe shifts; to the right side of the road, it's all rainforest, but to our left is pine logging forest, more reminiscent of the Northern Hemisphere. We roll over a few sections of chunkier gravel through the pines before a short, rattly descent that gets the adrenaline pumping. Turning left onto Tatong-Tolmie Road, things start to look really familiar and I realise I've been here for Cyclist before (see our King Valley Big Ride in issue 62). The scenery is just as amazing as a few years ago, and the road surface is sandy and smooth, courtesy of Stringybark Creek bubbling along to our left.
A couple of blissful kilometres later, we come across the sag wagon, and enjoy a few muffins and a handful of lollies. It goes without saying that eating on a ride like today's is of vital importance.
Fuel tanks topped up and back in the saddle, before too long we're going down in a big way. The smooth, orange dirt encourages the three of us to pin the descent – the steepest bit lasts for around 10km – and there are more than a few 'yewwws' emitted as we carve our way through the corrugation-free corners. We're going so fast that we don't have much time to appreciate the orange-vested hunter, rifle strapped to his back and walking what looked like five dogs, until the gunshots ring out a few minutes later. 'Must be state forest, not national park,' Esjay says.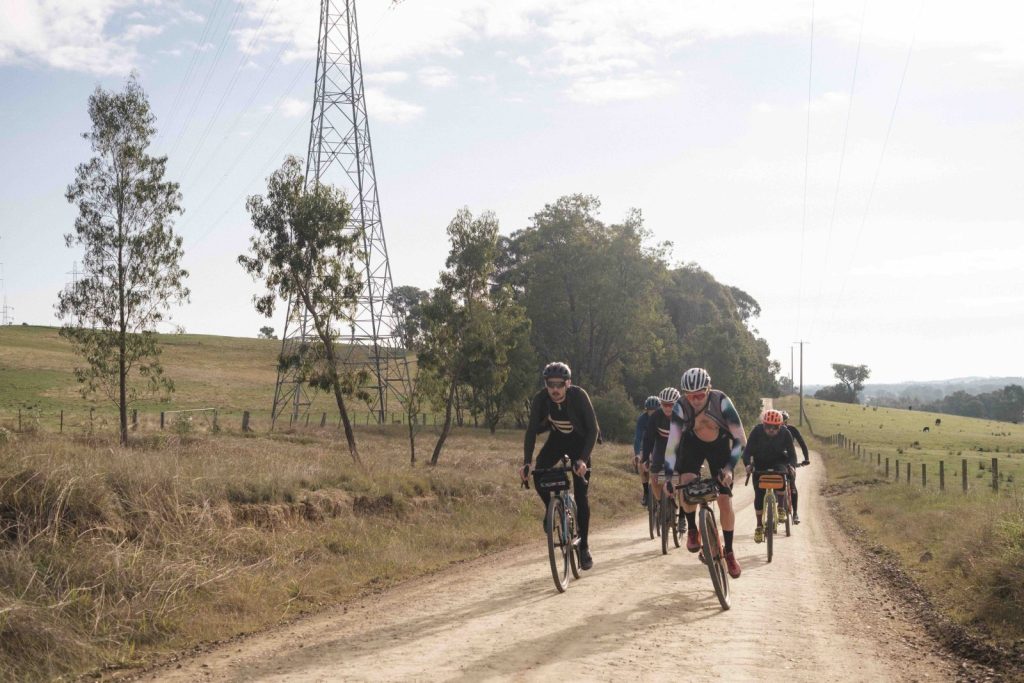 Local delicacies
With the major section of the descent done and dusted, we make a left turn and find ourselves on a rougher section of road. There's a creek to our right this time and it's not as idyllic as before due to the large number of river stones it has deposited directly on our route. I drop my chain twice in five minutes and make a mental note to get a chain guide when I get back to Sydney.
After crossing a bridge over the creek, my hands now a little grubby from the chain grease, the gravel goes back to its regular state of perfection and we leave the forest and roll past the first of many hop farms. The clock has barely passed 10am but the topic of conversation naturally turns to the beers we'll be enjoying later – we've already been rolling for more than three hours, so please forgive us – and the prospect of a lunch stop at Whitfield in an hour.
Through we go to the small settlement of Myrrhee (population 152) – we're definitely in the King Valley now as we spy vineyards left and right. 'Screw Champagne gravel – this is Prosecco gravel,' says Esjay, potentially coining a new marketing term for the local tourism board in the process.
Having stopped a few times for photos, we decide to put the hammer down a bit up the next climb at around 82km, which lasts for four kays at a gentle 5%. This potentially isn't the smartest move with more than 100km left, but with lunch beckoning, we make short work of the hill and are soon descending the lovely sealed road into Whitfield, making a beeline for the Hobbledehoy Cafe and Distillery where we rejoin the group who are lazing around in the sun, cappuccinos in hand.
I don't mess around at the counter: double-shot coffee, toasted sandwich, cookie and two local craft sodas (I've never had Billson's, and the Fruit Tingle and Raspberry Vinegar flavours are very tasty and appropriately sugary at this stage of the ride). Our orders come out quick, but after around 20 minutes of lazing around, I'm starting to get twitchy. Despite being the middle of winter, the sunshine is far too comfortable for anyone to be in much of a hurry. However, it's already well past noon, and we still have 100km of gravel to cover before sundown at 5:30pm. Back in the saddle, my bike computer informs me that we'd parked up for a total of 38 minutes. Would this be our downfall?
Luckily the next 10-15km after lunch are on tarmac, and Jake and I take the opportunity to get on the front and knock out some kays. A series of punchy climbs shortly after sees our bunch thin out slightly, but we collectively decide it's best to keep the group together – we're all in it for the long haul. I'm not feeling amazing after the calorie bomb at lunch, but am glad to have the fuel for the 80km still to cover.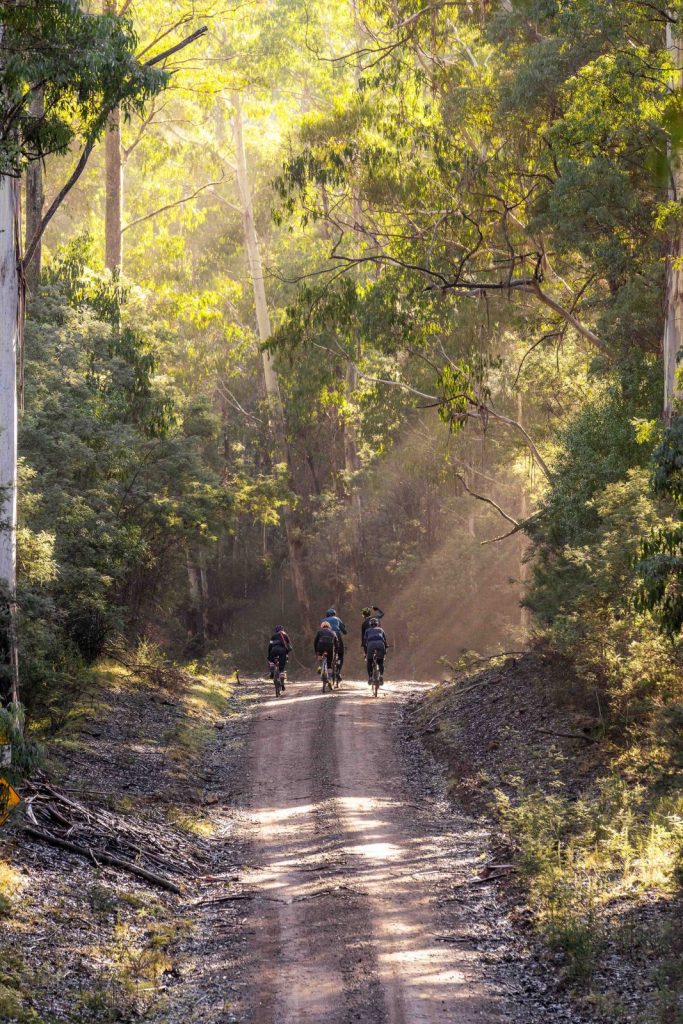 Cows and Buffalo
Our group of 10 rides through a few lush, pastoral valleys, cows mooing, and up and over a couple more pinchy climbs. One thing this route really has going for it is the variety of terrain on offer; there are views for days and the scenery is ever-changing. Oh, and did I mention the quality of the gravel? Needless to say, the stoke levels are staying high, though I do notice Jake has gone quiet and is slinking ominously towards the back of the group.
At 133km, we hit Snow Road, and have to deal with our first and only bit of traffic for the day. Getting into single file, we put our heads down and knock out five kays on the shoulder, before turning onto another gravel road that climbs steadily upwards underneath some power lines. At the top, we're rewarded with an incredible view of Mount Buffalo and the steepest descent of the day, our speeds nudging nearly 70kmh, which feels super fast on the grav.
My phone buzzes in my jersey pocket and I realise I've been out of reception all day, so I take the opportunity to fire off a few texts and an Instagram story or two as we reach the outskirts of Myrtleford. Rolling into town, it seems the sag wagon driver has read our minds (and stomachs), and we stop in and down a round of Cokes and a handful of lollies and muffins. I'll take those over a gel any day.
Leaving Myrtleford, we jump on the rail trail for a few kilometres and rejoin the road at Happy Valley. There are about 40 kays to go, though there's a bit of nervous chatter about the size of the final climb, Mount Porepunkah (which rises about 650 metres over 18km) and how much daylight is left. We get to work on the false flat, sealed road, a real 'calm before the storm' feeling coming over the group as we turn right onto Havilah Road, where the climb begins in earnest. Thankfully the road stays sealed for a while, and we roll through another section of planted pine forest before hitting the grav for the final time, bidding adieu to the group.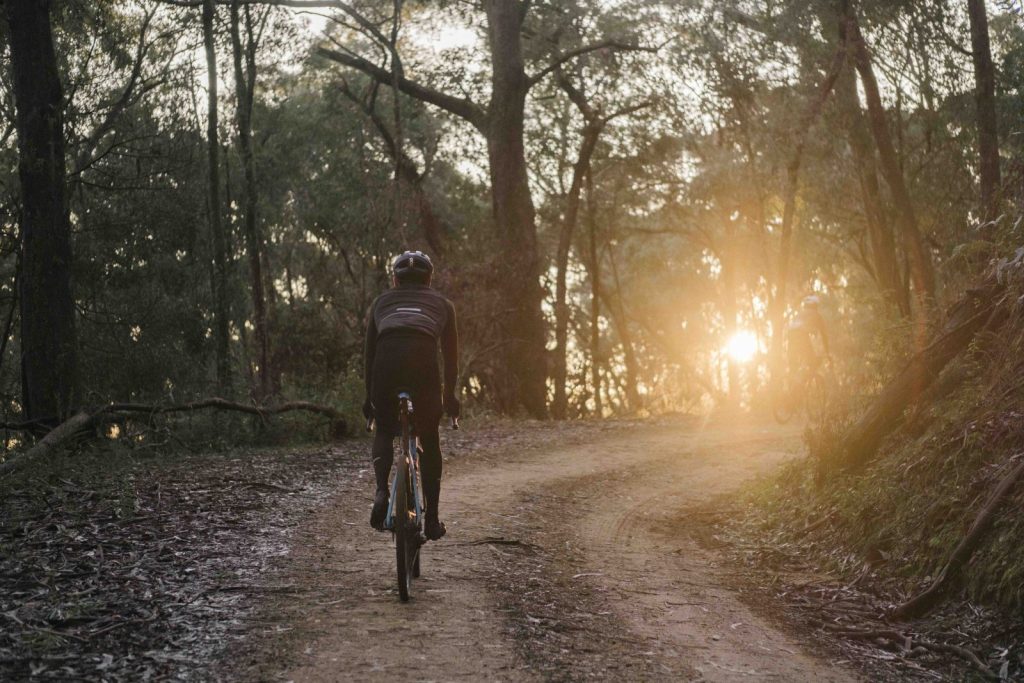 When darkness falls
Passing a creepy old cemetery, the road turns to doubletrack; it's a bit sloppy here and there but otherwise very rideable. We get a bit of a shock when a barking kelpie comes bolting straight for us, defending his domain (a lonely, rusty caravan and burnt-out old ute) but Esjay stares him down, and we continue onto a lovely section of doubletrack, all misty and mossy and technicolour green.
After rounding a couple of dirt switchbacks through the gum trees, the late afternoon light starts really turning it on. We're at 173km, with around 20km to go, but Esjay is nothing if not a professional and we spend a bit of time getting the shots we need in the dappled orange rays. I can't help but think it's starting to get a little dark, however, and the elevation profile shows a fair bit of climbing still to come. It also feels like we're in the middle of nowhere – it's a much more rugged, wild-feeling climb than the first one all those hours earlier. The brewery feels a long way away.
Still, Mount Porepunkah is a beautiful climb, and there's nothing left to do but press on. At this point, Esjay and Jake are really feeling it, but I've just had a caffeine gel to squeeze out the last of my energy and decide to push on solo to the top, driven partially by nerves. It's with a real sinking feeling that, when flicking to a different screen at what feels like the peak, my computer runs out of juice. Shit.
I check my phone (which thankfully still has battery) and, while I'm out of reception, I can just make out a fork in the road a few hundred metres ahead. Helpfully, there's a street sign, but nothing that indicates which direction to take to Bright. I stop here to wait for Esjay and Jake, who roll up a few minutes later – it's pretty much dark by now. After a brief discussion, we decide right is the safer bet; staying on Mt Porepunkah Road sounds more promising than deviating onto the other one, and we fire up our front lights before rolling out again.
We're all pretty worried at this point, and I pull over after a few minutes of descending to check my phone again. Yes! For once, Vodafone has more signal than my companions' Telstra, and it's with a sigh of relief that we confirm we made the right decision back at the fork. It's put beyond doubt a few minutes of descending later, when we see the sag wagon and are given a helpful point in the right direction. We can almost taste the beers.
What follows is a bone-jarring, pitch-black gravel descent, our front lights illuminating a pale patch of safety a few metres in front of our wheels. My back and hands are protesting after more than eight hours on the road, but apart from a close call with a kangaroo which jumps in front of us on the outskirts of Bright, we make it to the brewery without incident. Rolling time: nine hours and five minutes.
At the festival, the ski-jacketed revellers look at us like we're aliens, but who cares – today we truly earned a beer.
Tam Allenby is a cycling writer who also ran out of juice moments before finishing this sente–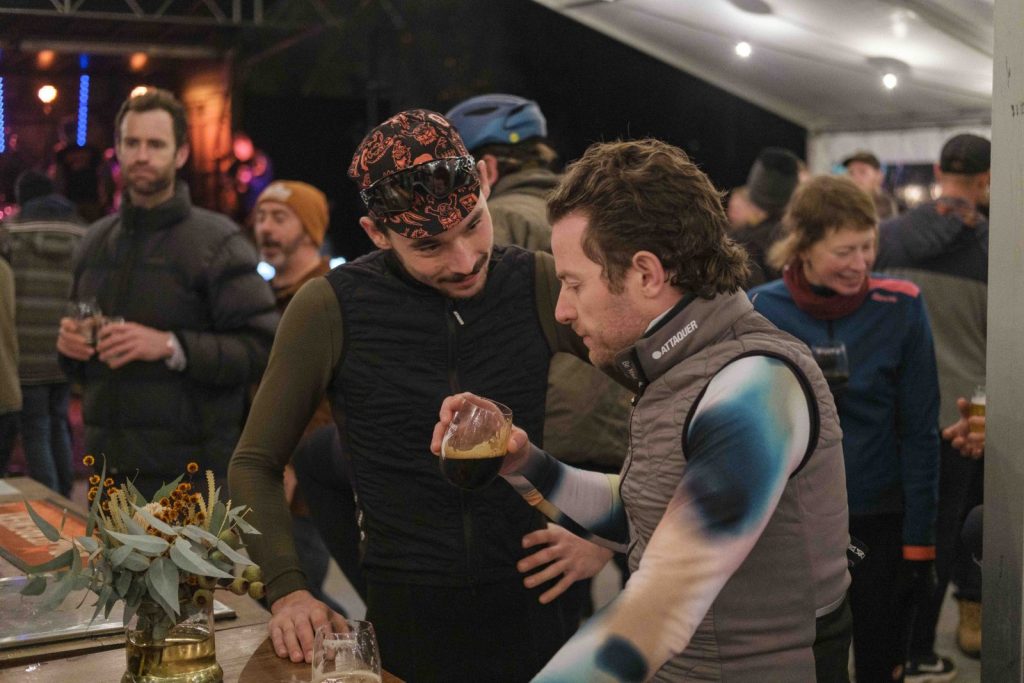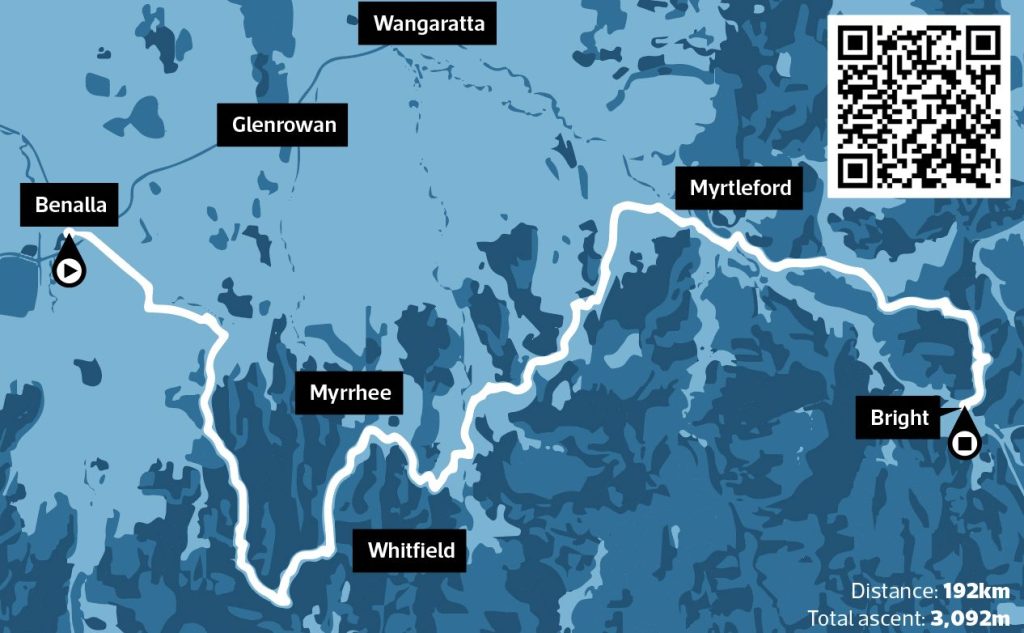 The route we took
To see our route on Strava, scan the QR code above. Starting in Benalla, take Kilfeera Road out of town (passing the airstrip on your left). This straight, flat and sealed road is a good warm-up before the gravel starts at around 11km when you make a slight right turn onto Gunns Lane, which soon turns into Hartridge Road. Turn left and briefly join Molyullah-Tatong Road before turning right onto Molyullah Road, passing through the small settlement before turning right again onto Odea Road. From here, the road starts to rise; at 33km, turn left onto Tiger Hill Road. This takes you all the way to the top of the first major climb of the day, where you join Tatong-Tolmie Road. Enjoy the sounds of the forest for 7-8km until you reach Dicks Landing Road, where you turn left, and then join Madhouse Road for fast descent to Upper Fifteen Mile Creek Road. Take Benalla-Whitfield Road through Myrrhee and climb the smooth unsealed climb up to Mansfield-Whitfield Road, which is sealed and will take you all the way into Whitfield, around halfway through the ride and the ideal spot for lunch.
Leaving Whitfield in a northerly direction, turn right on Gentle Annie Lane, then left onto Edi-Cheshunt Road, which becomes Cooks Gap Road. Return briefly to Edi-Cheshunt Road, then turn left onto Pettifers Road. After around six kilometres you will hit a T-intersection; turn right here onto Gum Flat Creek Road, and when the road splits after three more kays, bear left on Carboor Upper Road, which soon turns into Carboor-Everton Road. Take Waters Lane, Carboor-Whorouly Road, and Whorouly S Road to eventually hit the Snow Road, where you turn right. Take care here as Snow Road is busy during most of the year, and especially in winter. After 4.5km leave the main road by turning onto Merriang Gap Road; this will take you to Buffalo River Road where you turn left to pass through Myrtleford. Fill your bottles (or grab a can of coke) if running low on fluids or energy. Jump on the bike path leaving Myrtleford in a south-easterly direction until you reach Ovens where you join Happy Valley Road. Just under 10km of pedalling later, turn right onto Havilah Road, where the biggest (and thankfully final) climb of the day begins. The first third of the climb is sealed, before turning to sections of doubletrack and gravel. As the road levels out, Havilah Road meets Mt Porepunkah Road, which takes you all the way down a sweeping gravel descent into Bright.