With Halls Gap as a base, Cyclist embarks on an out-and-back journey through the Grampians National Park to Dunkeld, taking in the Northern Grampians, Ararat and Southern Grampians Shires – and no shortage of breathtaking scenery along the way.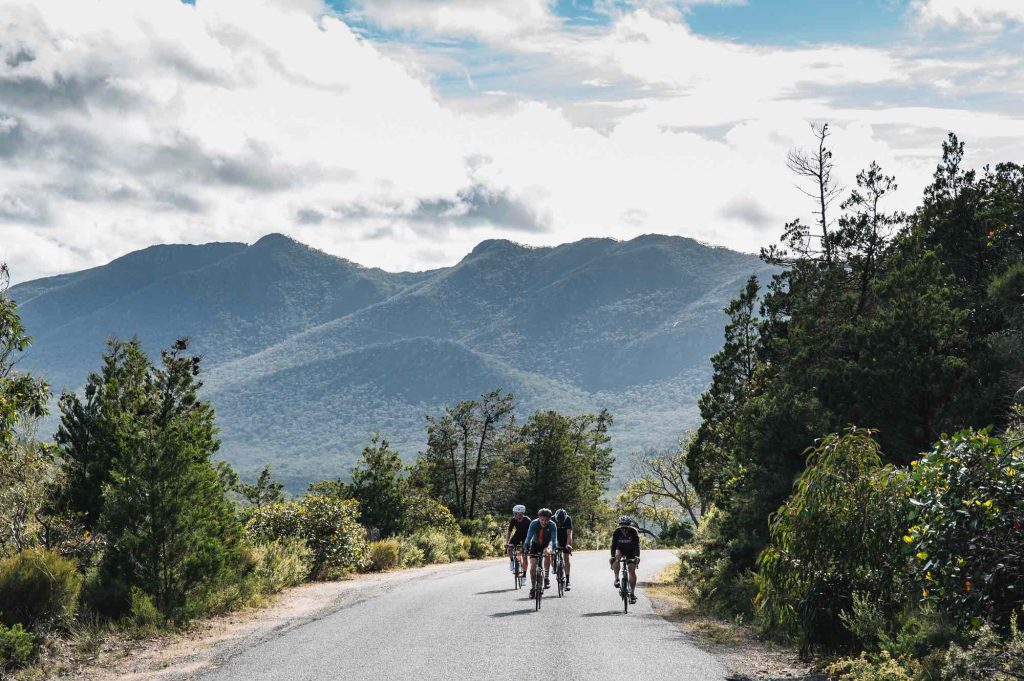 Words Nick Squillari
Photography Ben Lehner
If it's not a meme already, it should be. In the form of 'What my overseas friends think Australia is like' vs. 'What Australia is actually like'. Internationals think our backyards are full of kangaroos and we race emus to the shops, whereas reality finds us squealing if there's a blue-tongued lizard mowing through the snail population around Mum's pot plant collection.
Imagine my delight, then, when there's a call for a Big Ride feature in Halls Gap: a corner of Australia where what overseas folks think Australia is like meets reality. It feels almost comical how, rising out of endless flat and windswept farmland, this oasis of bush and mountainous outcropping is home to an almost reality-TV level of Land Down Under tropes. Kangaroos are actually in the centre of town. Keep your sandwiches close and bring your dog to the caravan park with caution (not the boxing match anyone wants to see). Emus race along the fenceline as we navigate the gravel roads to our accommodation. A kookaburra perches on the 'Welcome to Halls Gap' sign as we enter town. At one point I even ask, 'Come on, is this set up?' Kooka just laughs. Typical.
These are the experiences – at least in my visits here – that define Halls Gap. Wildlife bursts from the seams, like someone left the doors open to the Australian section of the zoo and no one cared to pop them back. It's a magical place to go for a spin – so long as all those lovely critters stay off the road as you ride on by.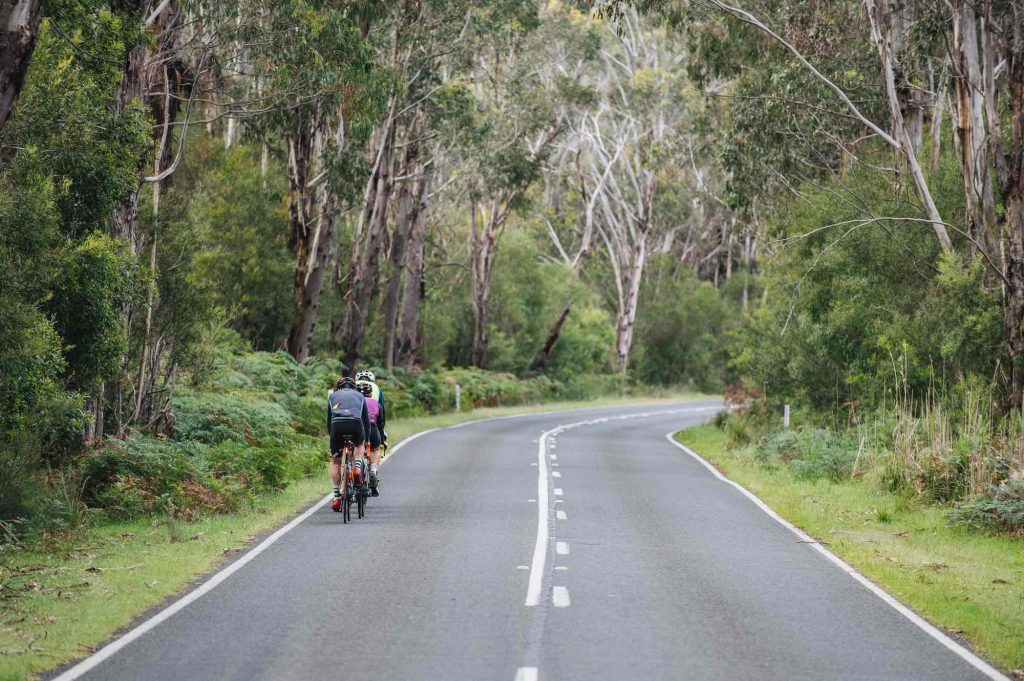 What are the Grampians?
Not renowned for cycling, the Grampians – 'Gariwerd' to the traditional owners – has been a place of beauty, wonder and abundance since long before settlement times. The sandstone outcropping – estimated to have been, at one point millions of years ago, the eastern shoreline of Australia – has quite the Dreamtime origin story from the native Djab Wurrung and Jardwadjali people. Their Dreaming centres on the creation of the Gariwerd region by the Great Ancestor Spirit, Bunjil, and how the gaps were formed by Tchingal, an enormous emu of the Gariwerd land. I won't poorly paraphrase the whole story, but suffice to say I spent an evening immersed in it and appreciating its wonder. That 80% of Indigenous rock art in the state is located in the Gariwerd National Park is testament to the importance of the region and the sacred position it holds. Attempts to strike a balance between the traditional owners and those coming to admire and appreciate the land's beauty are ongoing, and common visitor drawcards like rock climbing are now contentious, not dissimilar to the bans around climbing at Uluru as we move to conserve these sacred regions.
I appreciate the issue around rock climbing in the region is more nuanced than these few lines have conveyed. What is not debatable, however, is the sheer beauty of the surrounds. And while efforts are made to collectively find an answer between the traditional owners and those looking to scale the rock faces, what is not under restriction are the roads. You can ascend the formations without ropes or a harness, and I'd wager it's just as challenging. I've previously ridden the peaks of Mount William and Zumsteins. Breathtaking (and I'm not just talking about my climbing ability). However, what I hadn't yet had the opportunity to admire are the angled rock formations on the road to Dunkeld. That wish will be granted today.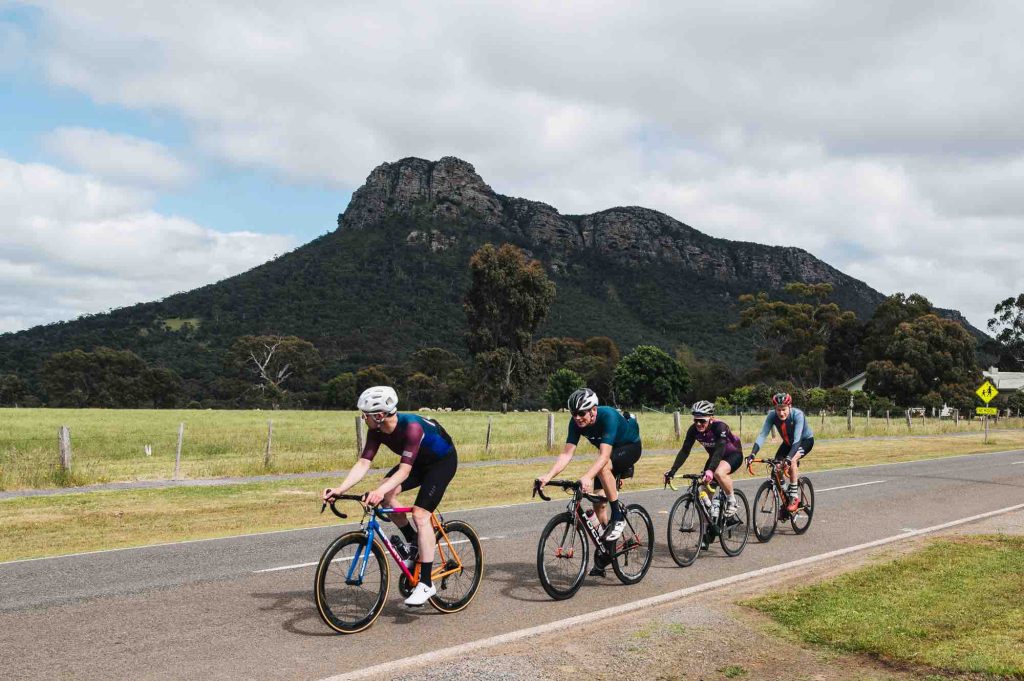 You cycled how far?
Our ride guide (and proprietor of the Grampians Pioneer Cottages, our accommodation for the weekend) Aidan Leahy meets us the evening before at the Halls Gap Hotel. 'Pleased to meet you,' 'Yeah I ride a bit,' and other such formalities are exchanged. As it turns out, that 'bit' of riding in the legs of Aidan, an Englishman by birth, included taking his bicycle as a younger man over to Europe, east out of France, all the way to Turkey, onwards to China, and then south by boat to Hong Kong. He stayed where he could along the way and picked up odd jobs to pay bills for well over a year, only heading home when he thoroughly ran out of money. I need to be excused while I collect my jaw from the floor. Those stories from your parents, where things were so hard they had to walk 50 miles to school in the snow, barefoot, hauling an 80kg backpack? They suddenly don't seem so crazy. Hell, I wouldn't attempt a trip like that now, and that's with a modern bike, Wi-Fi, and global satellite navigation. It never worried Aidan. A bike, a map and a place to stay was all he needed. Bikepackers of 2022, take note.
Rolling out of Halls Gap, one thing you cannot escape is the closeness of the bush. It's dense, and for good reason. Mount William – the highest peak in the Grampians and whose road we pass outbound and in – gathers some of the highest estimated days of precipitation of any site in Australia. It's no coincidence you have surrounding bushland that's closer to rainforest. One-third of all Victoria's flora is located within the Grampians. It had been steadily raining the day before, and most of the week. Today, not a cloud in the sky. More of the exception than the rule, and very much welcome. Even Mount William (Duwil) is cloud-free as we eventually make it out of the Gap and into space with no canopy. It's a microclimate if ever there was one, so pack expecting the same 'four seasons in a day' that Melbourne loves to dish up on a regular basis.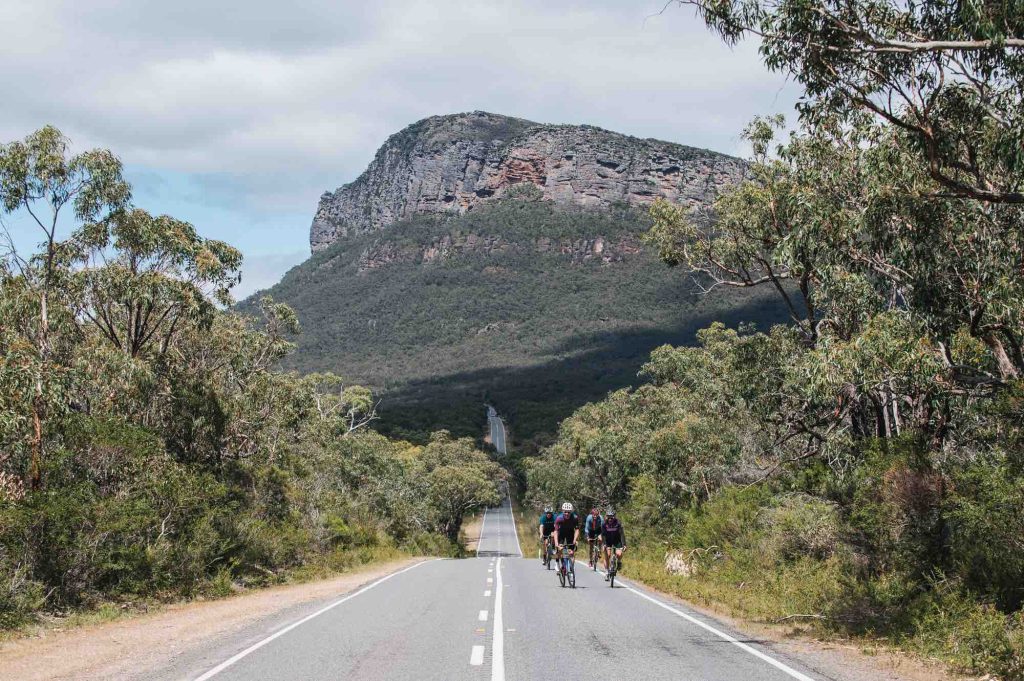 All the rain makes for a dead road that shoots uphill until the very point where you're in a direct line east to west with the peak of William. Not that you can see it yet; the gift that is the rainflow off the mountain powers growth for kilometres still to come. The downhill gradient kicks in at just the right time and you get a freewheeling ride from the Northern Grampians Shire into Ararat Shire. It's a distinction not only of local governance, but also of vegetation and geological formations. In the car on the way here, I struggled to make out these changes well, only to discover there is considerably more clarity when observed on a bike. The eucalypt rainforest thins almost as soon as William is out of sight. Shrubland takes over and the run down to the Victoria Valley road begins.
To this point, there have been more passes by our resident expert behind the lens than any other traffic. Empty roads are a welcome blessing at any time. However, I would note  that (surface aside, which isn't that coarse) there is little to no shoulder. In a region where there's a lot of caravan traffic, I'd recommend riding early, planning your trip outside of peak holiday season, or both.
The only major turn of the ride is suddenly upon us. Not even two-and-a-half kilometres long, its gradient and feel is very reminiscent of Mount Buffalo: just on 7% and grippy without meaning you need to bail to the easiest gear, even with a mild headwind. There are some walking tracks at the top and, even at a modest elevation, some lovely views back north towards the Gap or west towards the border ridgeline of the Grampians National Park. I'm famously not a 'walker', but the Grampians swoon me to the point that I almost want to hit the hiking trails. Or, in an ideal trade-off, return with a gravel bike and get off the sealed roads (a seed already very much planted for a future Big Ride).
The descent is quick, and not technical, to the valley floor crossing into Southern Grampians Shire – which, if the crops, livestock and healthy wedge-tailed eagle family numbers are anything to go by, is very fertile. Dunkeld is still just over 30km away, but that coincides with some of the least undulating roads of the trip, so we pull into town in what feels like no time.
I have no idea why I expected Dunkeld to be bigger than it is. The (horse) races it hosts perhaps mean its reputation precedes it. As you might imagine, the backdrop of the Grampians makes for some spectacular photography, even if you're not a horse racing fan. As a non-foodie, the fine dining Royal Mail Hotel was never on my radar, and as quaint as the town is – blessed with some lovely views – it's not a place I ever expected to find a two-hat restaurant. In fact, so frequented is the Royal Mail by Melbourne residents that it actually had to close during some of Melbourne's lockdowns.
Degustations are firmly off the menu this morning, however. For our group, it's a coffee stop at Dunkeld Old Bakery. Set a few blocks back from the main street, it feels like a bit of a locals' secret and a great location to grab some sustenance. If it's traditional and can be baked, you're covered in this little gem. And we're going to need it: it's 70km home and, short of flagging down a passing car, there's not a single spot for more food or water between here and Halls Gap.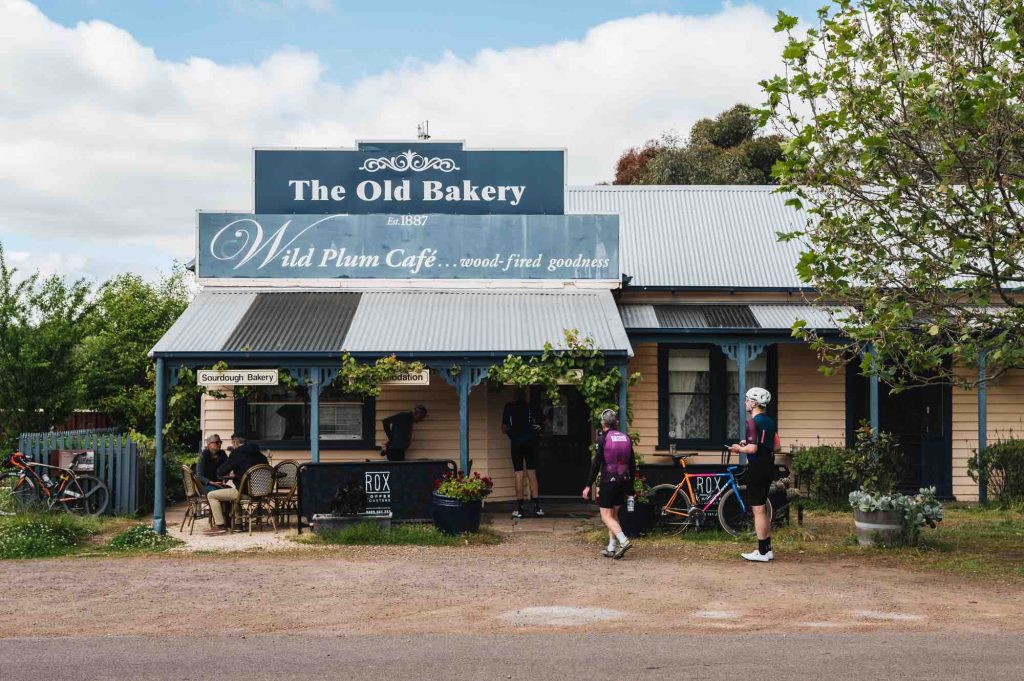 Save the best till last
To be honest, there are many, many worse places in the world to bonk if you find you've not downed enough at the Dunkeld pit stop. The road back to Halls Gap is where the real magic happens. The 45-degree sandstone balconies and sheer vertical rockfaces are breathtaking and worth every pedal turn to make it to this point. Hiding in plain sight, your back to these vistas the whole trip south, the Grampians are on full show to carry you home. Twelve hours earlier, barely a peak could be seen on our rainy drive in. It's picture-perfect now. How could you deny the awe and sacredness of the region when faced with such towering beauty? Riding through and past feels like living the set of a movie that has just won the Oscar for best cinematography. My only dismay is that there are so few sealed road options on which to ride under the splendour of such surrounds – understandably so, being a national park and with the region's aforementioned cultural significance. Simply laying down more tarmac is neither particularly feasible nor sensitive to the traditional owners. It's why a gravel ride in the region logically seems the way to fill right up on the wonder of the Grampians while utilising the infrastructure already present.
It's not often I finish a Big Ride imploring you do more than just this ride. But if means and transport permit, pack a road and gravel-capable machine. Do this road route. But by all means, push on and explore further. And if you're not instantly intoxicated with the vastness and majesty of the Grampians, then I'll owe you a coffee should we ever meet.
Nick Squillari is a cycling writer and podiatrist who is already dreaming of his own Grampians gravel adventure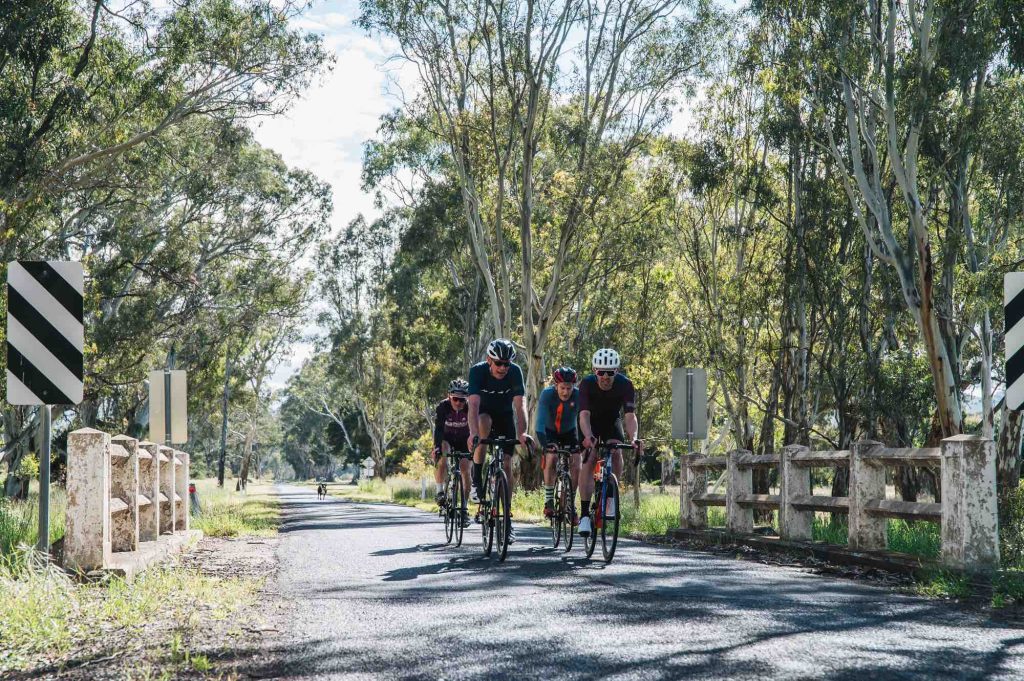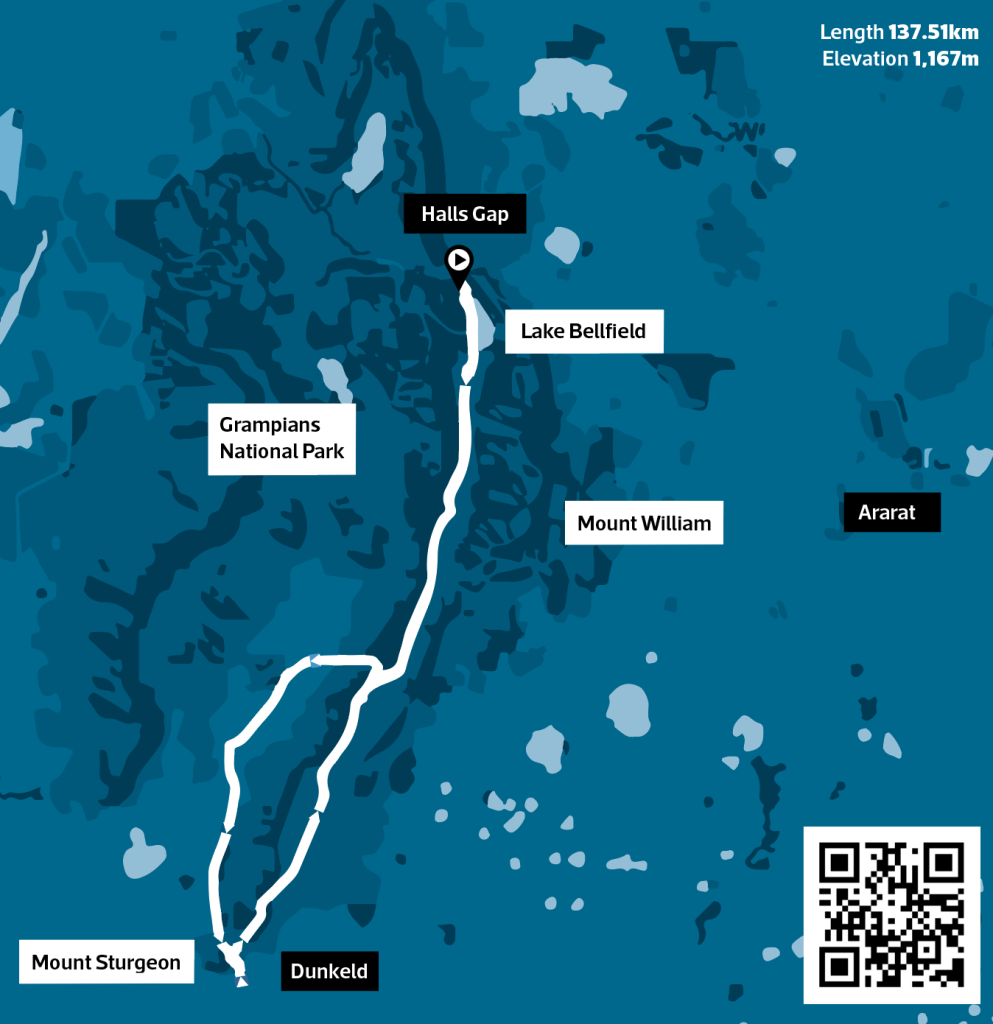 The route we took
Our route took in three Shires: Northern Grampians (home of Halls Gap), Ararat, and Southern Grampians (home of Dunkeld). It was an easy starting and finishing point at the big car park in the centre of the town of Halls Gap. There are a few ways out of town, but our route heads south on Grampians Road towards Dunkeld. If you don't pass Lake Bellfield or head directly up a significant gradient, you've taken the wrong road. From there it's the same road – you're not turning off it for 37km, so settle in. At Victoria Valley Road it's a right-hand turn and up a 2.3km climb with some lovely views. You're rewarded with a nice long descent, after which you continue on Victoria Valley Road all the way to Dunkeld. Follow our route to the Dunkeld Old Bakery or pull up at another in town. To head back, jump back on to Grampians Road. There's not a single turn from there; that is your route all the way back into town. A truly great ride for those who hate needing to upload routes to a head unit. And even if you somehow get lost, the (sealed) roads are either no-through roads or a loop. Either way, you'll end up back on course (albeit with a few more kilometres in the legs).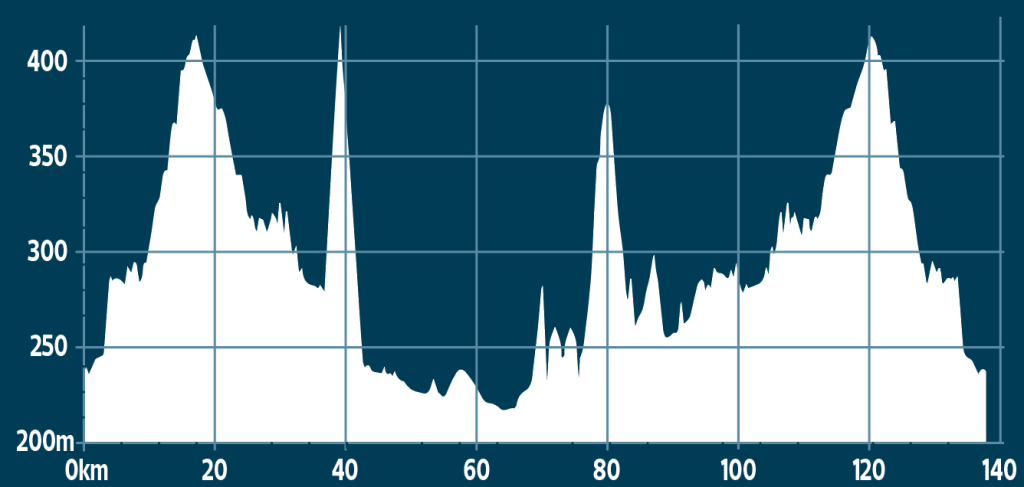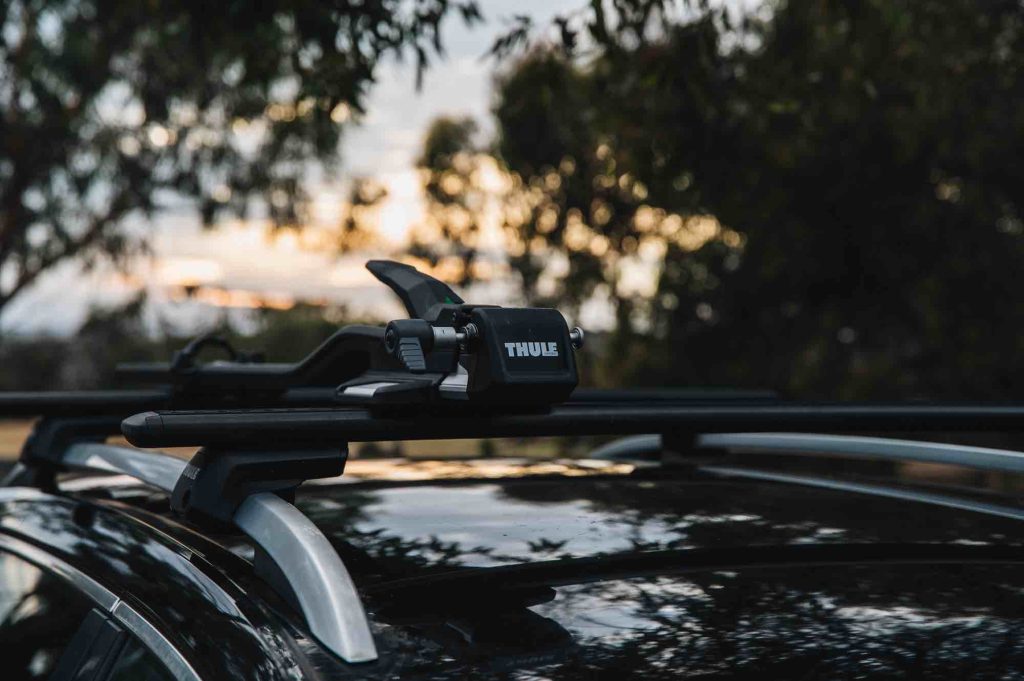 Thule TopRide, $569
As I unboxed my new Thule TopRide rack, my significant other remarked, unironically, that this assembly 'looks a little like Ikea'. Mind blown, then, when I explained that Thule are indeed (also) Swedish and that the box comes with a hex key. The similarities, however, ended there. Not only was the rack immaculately packaged (unboxing was a pleasure, unlike their aforementioned counterparts), but the instructions – most especially, the included videos – set the tone for what is a first-class system. Sequential and stable fitting to the car, once the rack was on and the bike was secured there wasn't a single time a gust of wind had me worried my bike would be disappearing across the western plains. And if ever there was a stretch of road to test the Thule's strength and loving grasp of my bicycle, the road to Halls Gap would be it. Didn't budge, not a single millimetre. There's a reason you can spot cycling brethren by the Thule rack atop their car – they simply work and, just as importantly, work simply.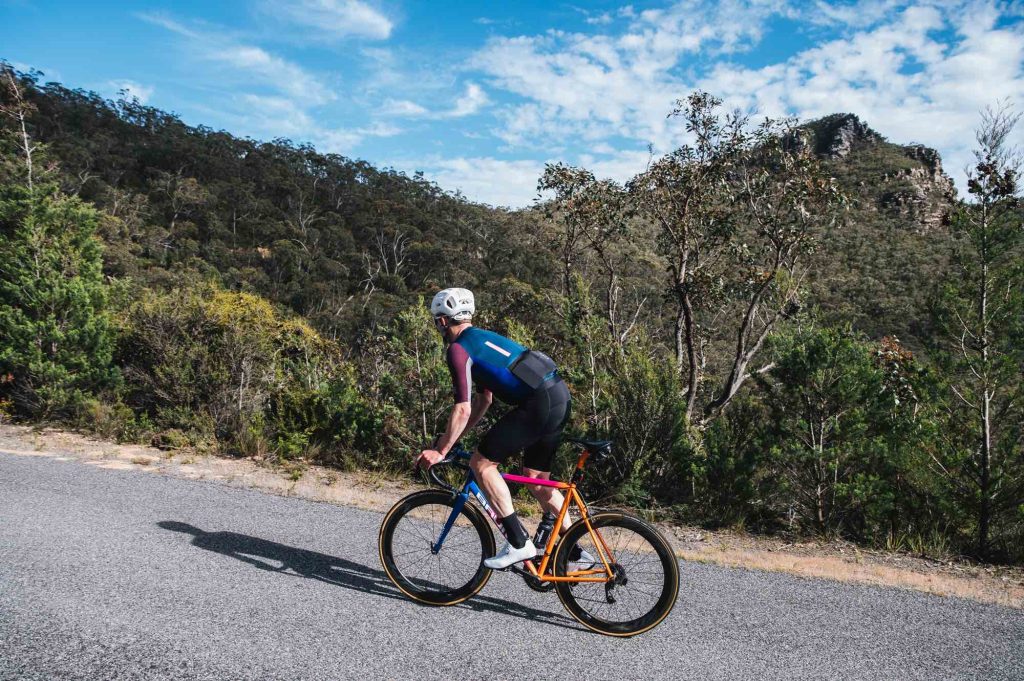 The riders' kit
Our kit came courtesy of Victorian brand MAAP. Both bibs and jersey had terrific air flow on a ride that warmed up and where some cooling was needed. Both race cut. Sheer, not a single scrap of wasted material. Precisely how I like my kit to fit. And while I enjoyed the jersey, I have to have it on record that short of my time trial skinsuits, the new Pro Bib 2.0 is the most technically innovative piece of kit I have worn. The panelling within the knicks and alternate layup engineered to be specific to the use case for that part of the bib was sublime. Appreciably, $390 knicks aren't within the budget of every cyclist. And there are some products in the cycling world that I wonder why they cost so much. Not these. It's impressive the speed with which MAAP (and their innovation) has grown. This kit is testament to that.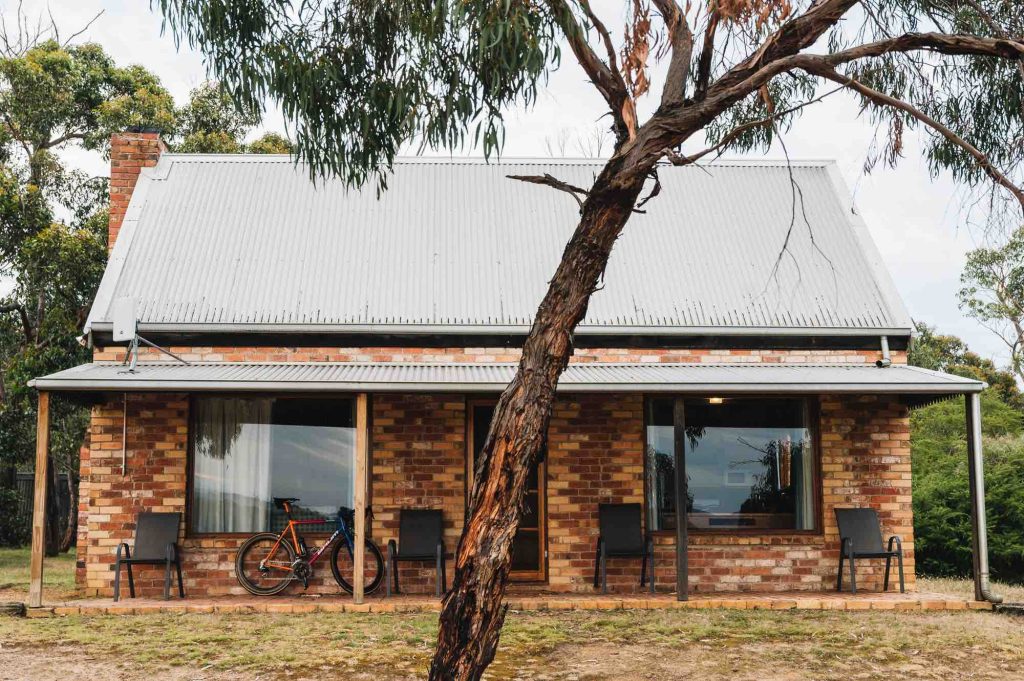 How we did it
Travel
Not unlike a lot of regional Victoria trips, you can get there via public transport, but the bike adds a layer of complexity that in 2022 still appears to bewilder V/Line. My rant about how un-bike friendly public transport remains is, however, for another day. Best access is with a car, which in this instance, with the accommodation being down an extended dirt road, is the means of transport I'd be recommending (for a road riding experience at least)
Accommodation
We stayed at Grampians Pioneer Cottages. Aidan and Corinne took over the property from the original owner, who hand-built each cottage with recycled building materials. But ramshackle abodes they are not – time testifies to these unique cottages' ability to withstand the ever-present western plains winds that rip across the Gap regularly. Mud brick, red gum, red brick and stone are your four choices, each cottage constructed with its namesake material. Our red brick cottage had a wonderful high ceiling, wood heater (it can get cold at any time of year), and even a wireless router, so you can be as connected – or disconnected – as you choose. You better believe I took videos of the kangaroos and emus grazing just off the cottage porch and used Wi-Fi to share before promptly throwing the phone in the bag to enjoy life without it. If it seems I'm swooning a little over the Pioneer Cottages, you're not wrong. Exceptionally reasonable rates and a real Australian bush feel, it's exactly what was needed after two years of Melbourne lockdowns.
Food 
We kicked off the weekend with an impressive dinner selection at Halls Gap Hotel. Pomonal Estate, for lunch post-ride the following day, was a thoroughly enjoyable experience – wide open areas, brightly lit, and well-serviced with great food, wine and beer. Tell the effervescent Pep that Cyclist mag recommended it and she'll most certainly welcome you warmly. Not done yet: Paper Scissors Rock Brew co. is another relatively new venture in town, taking its name somewhat accidentally when the owners were stuck between three names and a game of paper, scissors, rock was suggested as a decider. The food is tidy and their microbrew range very refreshing – so enjoyable they're rapidly running out of brewing space to keep up with demand. Among the founding members are the owners of Livefast Cafe, another popular stop in Halls Gap.
Thanks
To the team at Grampians Tourism for helping us bring this ride together, to Aidan for his excellent local ride knowledge (and for hosting us at his Cottages), to MAAP for supplying the kit and to Thule for lending us a set of racks – it all added up to a fantastic adventure in a stunning part of Australia.