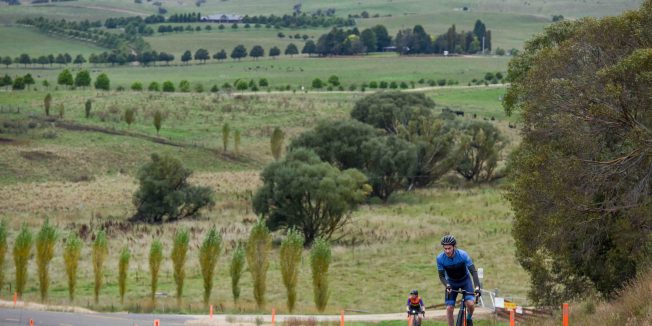 First time's a charm: Big Ride Hotham and Dinner Plain
Conquering just one of the Victorian High Country's famous 7 Peaks is a feat for any road cyclist, no matter their experience. So what happens when we challenged a first-time climber to take on not one, but two of them – Mount Hotham and Dinner Plain – in the space of a weekend? Read on to find out…
Words Louis Coad
Photography Mandy Lamont
When I arrive at Mount Hotham, I'm already feeling exhausted. A quick back-story for you: I'm an event coordinator for Bicycle Network by trade. It's March 2022, and I've just finished up at Peaks Challenge Falls Creek, a long week of sleepless nights and 20,000+ steps a day in steel cap boots to help deliver another epic edition of one of the Victorian High Country's best events. After seven days of work just over the valley, I'm in desperate need of a hot shower, a good meal and a comfortable bed, because over the next two days, I'm about to push myself even harder – but this time on the bike, tackling two of the high country's famous 7 Peaks, Mount Hotham and Dinner Plain.
I'm really looking forward to the next couple of days. I've always considered the 7 Peaks something that only real cyclists do. See, I've never been much of a climber – probably because I'm always working. Whether it's Peaks Challenge, Alpine Classic, a fun run or a triathlon, I'm always wearing my operations hat and high-viz. Now, thanks to Ride High Country, I have the golden opportunity to tackle a couple of peaks myself – provided my legs can manage.
Bronwen and Stuart from Hotham Resort greet photographer Mandy and me at The General (aka the Genny) with big smiles. We chat for a while about Hotham Resort and its amazing offerings, though truth be told, a decent chunk of my attention is fixated on The Genny's dinner menu. I opt for a Genny Parma as Stuart launches into a 600g ribeye (huge) and Mandy and Bronwen share a selection of divine small plates. I'm tempted to add a local lager to the mix and set myself up for a great night at the pub, but that exhaustion I mentioned is still very much present, and my bed at the Mountain Dreaming Apartments is beckoning – but not before a lovely, hot alpine shower. Better call it a night.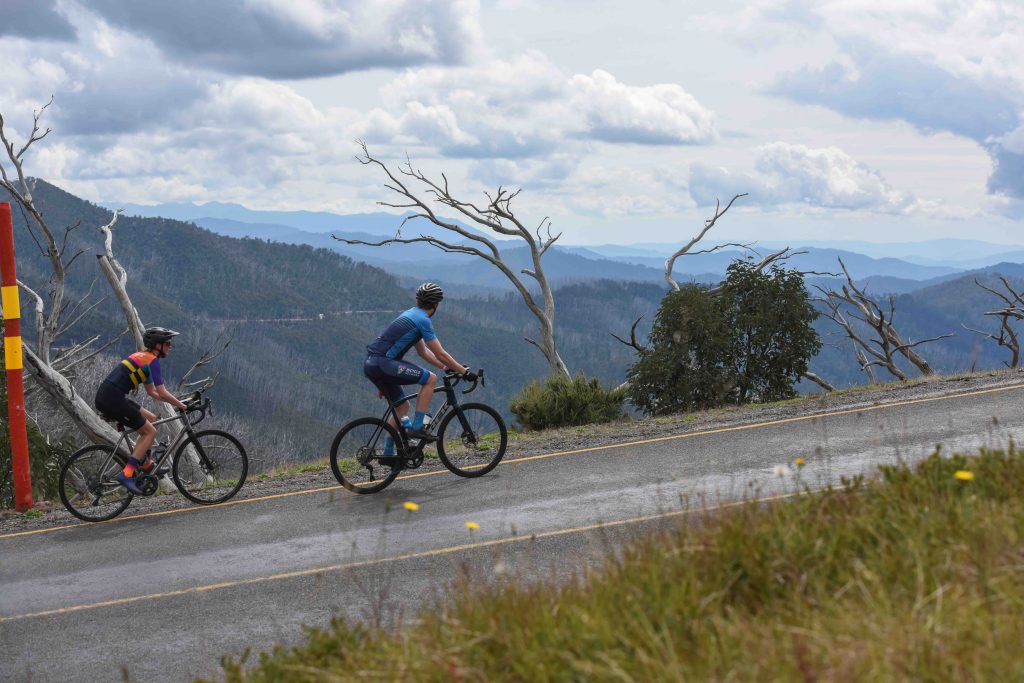 Day 1: Hotham > Harrietville > Hotham
I wake up and look out the window of my apartment, and the views are incredible. Hotham Resort, on the land of the Gunaikurnai and Taungurung people, is a haven for cyclists and hikers alike. Indeed, had I not been up here for riding, I'd have thrown on the hiking boots for sure.
My body sure needed that rest – my trusty Garmin sleep tracker lets me know I've comfortably exceeded my sleep goal with 11 horizontal hours under the belt. Now it's time to tackle some vertical.
The cavalry arrives the next morning in the form of Marty and Elena, who join us at The Genny again for a quick brekky to kick off the day. Marty is from Ride High Country and will be in the support car, while Elena is my ride partner for the weekend. She comes from a gravel riding background, but is new to road climbing like me.
Just as I finish changing into my ride attire, strap on the helmet and pop on my cleats, I walk out of my apartment to watch the heavens open up. Am I deterred? Absolutely not. I'm about to tackle my first peak, and nothing is going to get in my way.
We head on up through the tunnel out of Hotham Village and immediately I'm blown away by the ridgeline towards Mount Feathertop, with its luscious trail carved into the side of the mountain. I decide right there to add it to my bucket list. The views are nothing short of magical, and I've only been riding for five minutes. From one side of the Hotham ridgeline to the other, everywhere I look I see something more incredible than before. I love exploring, and when I'm riding a bike I can take the time to truly appreciate my surroundings. It has a snowball effect, opening up the desire to see more new places.
Hang on a second – when is this descent going to start? I expected to be descending as soon as we left Hotham, but the first 5km feels like there's as much climbing as there is freewheeling. Still, at least the views are epic, and forward thinker that I am, I remind myself that these early climbs will mean a downhill reprieve later in the day on the way back to Hotham – when I'll truly need it.
Ah, here's the downhill now. The road to Dargo appears on my left, with nothing but sloping, winding roads ahead. I'm down in the drops, but cautious as the road is still a little wet. As we all know, it's been a much wetter summer than usual around Australia, but this has its upsides too: the trees are incredibly luscious, and it gets greener and greener as the altitude drops.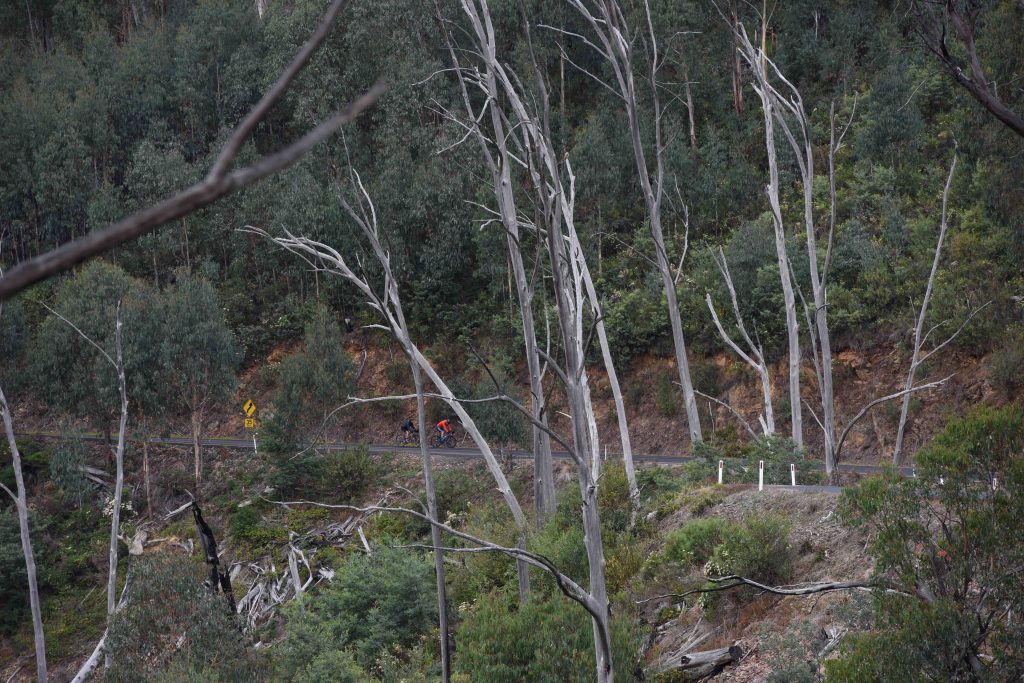 Here comes The Meg, the steepest part of the Peaks Challenge event. At least this time I'm going in the reverse direction. That said – and we can blame my inexperience on this – my back tyre is well underdone at just 40psi. Something to laugh about later, I hope, but for now I'm feeling super nervous on the brakes. I'm not going quick by any means, and still I feel my back wheel lose a bit of traction with the ground. I inhale some deep breaths as the gradient plateaus out again. I won't be making that error again. Lesson learned for tomorrow!
Hello, Harrietville. The quaint little rest site of Pioneer Park with the gushing sound of the Ovens River makes me really feel like I'm on a holiday, notwithstanding the fact that I'm about to push my body to its limits by riding up Victoria's most iconic mountain. Better still, the sun is now shining and it's a balmy 20 degrees. Marty meets me in his support car and pumps my tyre back up to working order. My bike isn't the only thing that needs maintenance – time to refuel the body at the roadside coffee caravan.
After devouring a croissant washed down with a latte, it's time to ascend back towards the clouds. Sunscreen on, jacket off. I opt to keep my underlayer on for now – this is Victoria, after all.  The start of the Hotham Climb doesn't muck about – Elena and I are straight into a steady 11km uphill grind, and I immediately wish I'd disposed of the underlayer in Harrietville. I have that uncomfortable feeling of wearing too many layers as the sweat builds on my forearms. It's at this point that I remember the joys of having a support vehicle for a reprieve. One layer off, one gel consumed, and I instantly feel better. Bonus energy.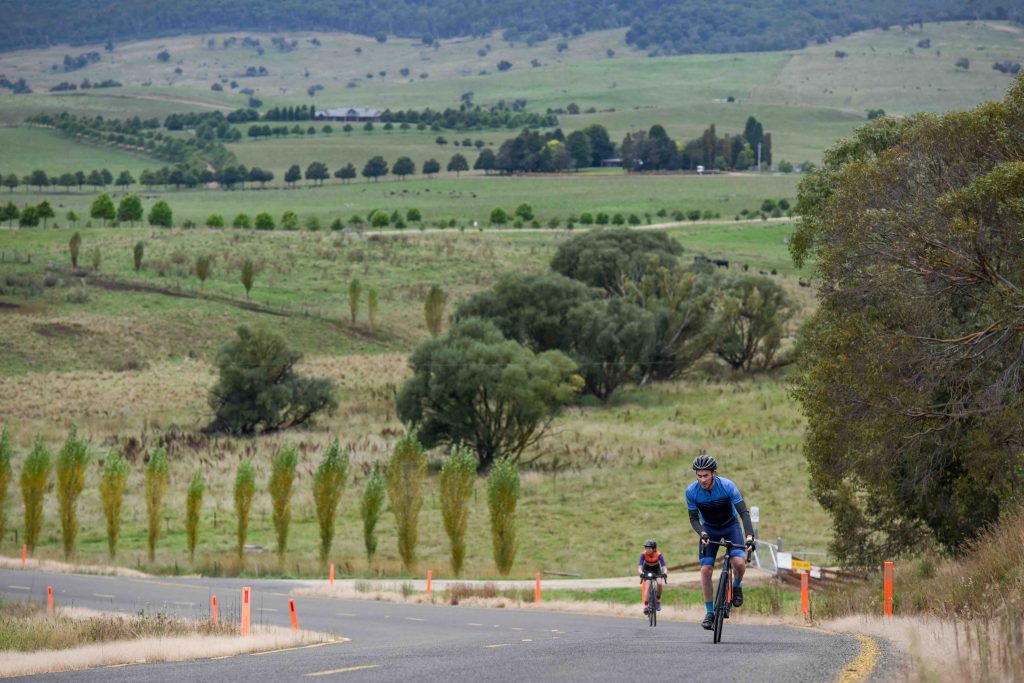 Elena and I push on. The tree canopy makes the sunscreen I slathered on feel almost redundant. These sweeping bends were certainly more fun on the way down. As I'm riding, I'm waiting for my old mate Meg just around the next bend. For me, there's only one way to attack it: get it over and done with as quick as I can. Relentlessly pedalling, I feel like I'm flying up the steepest section of the climb, and soon enough the road starts to level out again. Tick – toughest section complete. The adrenaline certainly kicked in to help me get here, and I'm feeling mighty accomplished. Still, I'm not done yet – the rest of Hotham remains.
How awesome is the High Country? This false flat section for the next 10km is gorgeous. Sitting back in the saddle, I find myself with an opportunity to look out and enjoy the views. They're vast; seemingly endless. I'm absolutely cruising along now. Elena and I are deep in conversation, there's no more rain, and we're sitting comfortably above 25km/h, hardly noticing that the altitude is apparently rising. The thrill of having conquered The Meg is still very much present, and it's a feeling I could definitely get used to.
Of course, all good things come to an end. As we hit the last section of the Hotham climb, the weather again changes. Right as we get stopped at the roadworks, Marty pulls up with a rain jacket for me. Elena and I have only about 15 minutes of riding to go – we aren't stopping now.
As we roll back into Hotham, a feeling of elation overcomes us. Job done. Peak summited. I'm pretty stoked. The best part? I want to come back and do it all over again. But not before taking on another peak tomorrow…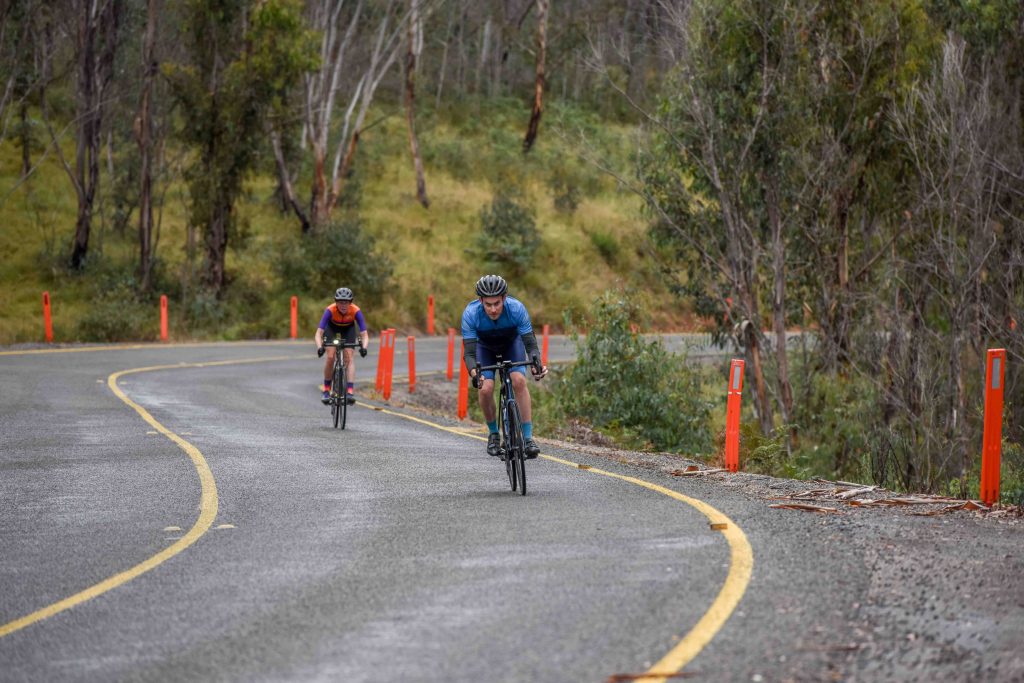 Day 2: Omeo > Dinner Plain
After another restful night at Mountain Dreaming Apartments, Marty arrives in the support car to drive Elena and I from Hotham to Dinner Plain. We stop at The Hub for a lovely coffee to wake us up, and we deliberate over our plan for the day. Much like yesterday's ride, the plan was to first descend from Dinner Plain to Omeo before the return climb, but with the roads looking a little wetter than we'd hoped, we all agree to hitch a ride down to Omeo.
We spend some time looking around Omeo, an attractive little town in an undulating plain with high mountain ranges in the distance. Omeo is fast growing as an MTB community, with an impressive new pump track recently built below the war memorial. Elena, with her love of MTB, can't help herself and enjoys a little playtime on the track before we get back on the road. Meanwhile, the sun breaks through those early-morning clouds, much to our delight. It's turning into a beautiful day.
Interestingly, we're not actually in the High Country at the moment. This is East Gippsland Shire, and Omeo is in fact closer to the Tasman Sea than it is to the Hume Highway. Looking at the town on a map gives me a weird appreciation of where I am in Victoria. As the crow flies, Melbourne doesn't look too far away, but the mountainous terrain in between means it's still a five-hour drive back to the state's capital.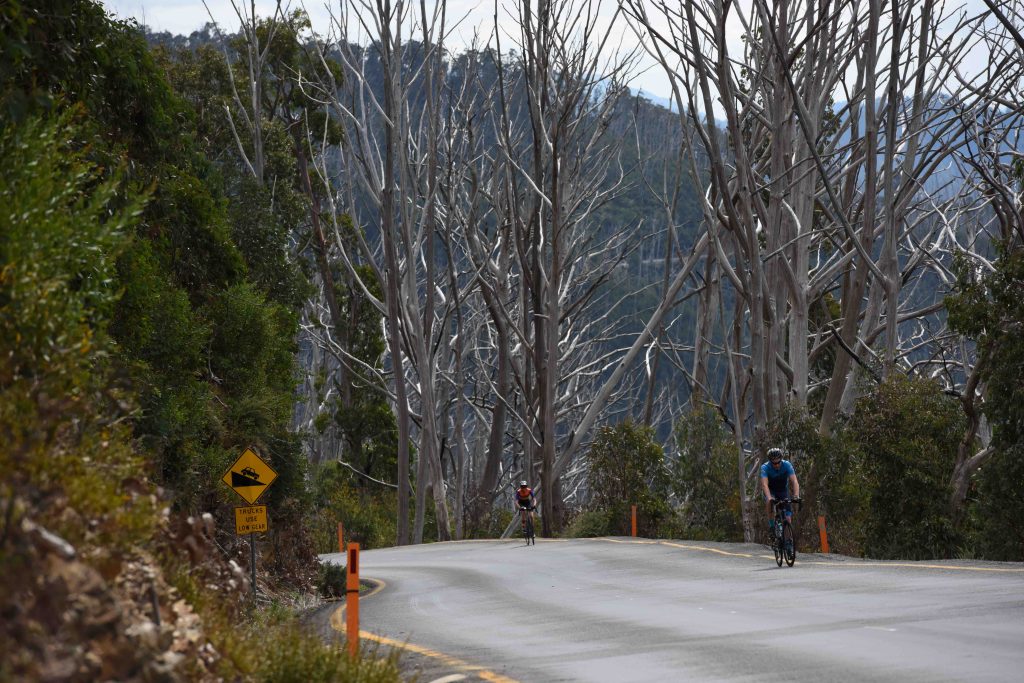 Anyway, back to the peaks. Elena and I are ready to go. We roll out of Omeo bound for Dinner Plain. It's a little earlier in the day, so we're not as warm as we were yesterday, but having skipped the 40km of undulating descent, we know we're going to heat up pretty quickly on the climb. Sure enough, as we pull into Kosciuszko Lookout just 7.5km into the ride, I'm already sweating profusely. I de-layer, stop for some all-important photos, consume a quick energy gel and get back on the bike.
I thought there was a lot of up and down in yesterday's climb. Turns out, it had nothing on today's. In fact, when you see one of the 7 Peaks purple elevation signs with a negative average gradient, you begin to question whether you're going up or down a mountain. Alas, I guess it all balances out. While I'm on the topic, those gradient signs are fantastic visuals for new riders like me. If you don't have a good understanding of the route ahead, they give you an excellent snapshot of the next 5km and remind you how far you've ridden.
While yesterday's views were all mountainous ridgelines and alpine valleys, the green pastures that surround me today are magnificent in their own way. That said, I'm feeling more focused on the ride. My legs are feeling a little more tired following yesterday's ascent, I'm sweating profusely, and I'm keen to get this ride done and relax with a nice hot shower.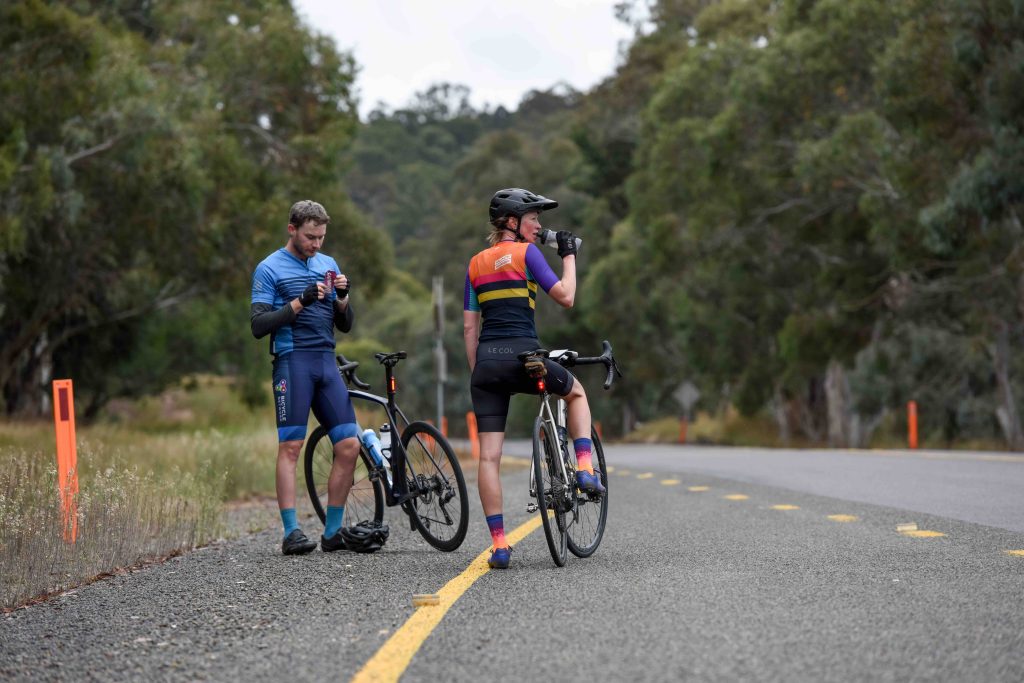 The section out of Cobungra is a real test. My heavy quads become even more noticeable as my body reminds me of what I've been doing for the past week. Still, the willpower is strong, and I get it done. One last push as we head past Hotham Airport. I see a chopper taking off, and I'd be lying if I said the idea of hopping on board for the rest of the journey wasn't a little appealing. I'm sure many others before me have had a similar thought. But no, my trusty bike will need to finish the job it started.
My mind keeps drifting. What has Marty ordered for me back at The Hub? What's for lunch? Can someone else drive my car back to Melbourne this afternoon? At least it's a good way to pass the time as 10km to go becomes 5km, 2km, and… we've done it! Elena and I turn into Big Muster Drive at Dinner Plain with jubilant smiles. Don't underestimate my hunger though – I'm starving. Marty doesn't disappoint, with an assortment of quiches, pies and cupcakes waiting for us at The Hub. Divine. As for my request for someone to taxi me back to Melbourne, I have no volunteers. Still, after a good feed, drink, stretch and a change of clothes, I'm feeling pretty good and ready for the drive.
What an experience. For Ride High Country, this experience was about showing a couple of inexperienced climbers the beauty of the mountains. For me, it was about achieving something special by riding up not just one but two of the 7 Peaks. The result was a tick in all boxes. I got it done, and I feel proud and accomplished; simultaneously, I've become a great advocate for road cycling in the stunning Victorian High Country. I'll be back for sure – after all, I have five peaks still to go.

The day 1 route
The climb may be hard, but directions couldn't be easier. For day one, we started at The General in Hotham Heights, heading north-west along Great Alpine Road out of town. After about 4km the descent begins; another 7km later, you'll see the road to Dargo appear on your left. Stay on Great Alpine Road all the way to Harrietville, and take particular care at The Meg, a 300m section of the descent with a -10% average grade. Once you're at Harrietville, simply turn around and head back the way you came, with the ascent back up the Meg beginning around 5.6km out of Harrietville.
The day 2 route
On Day 2, we simply headed in the other direction out of Hotham – east along the Great Alpine Road to Dinner Plain and then down to Omeo, though this time we drove for the descent so we could focus solely on the climb. It's a 43.3km climb from Omeo to Dinner Plain. We began at AM Pearson Historical Park in Omeo, heading west along Great Alpine Road. You can stop at Kosciuszko Lookout 7.6km into the ride for stunning views of Australia's highest mountain on a clear day – and to grab a breather after an initial climb that reaches well above 10% grade in parts. From there, enjoy 14km of rolling roads until Cobungra, where the more gradual (but still tough) 20km ascent to Dinner Plain begins.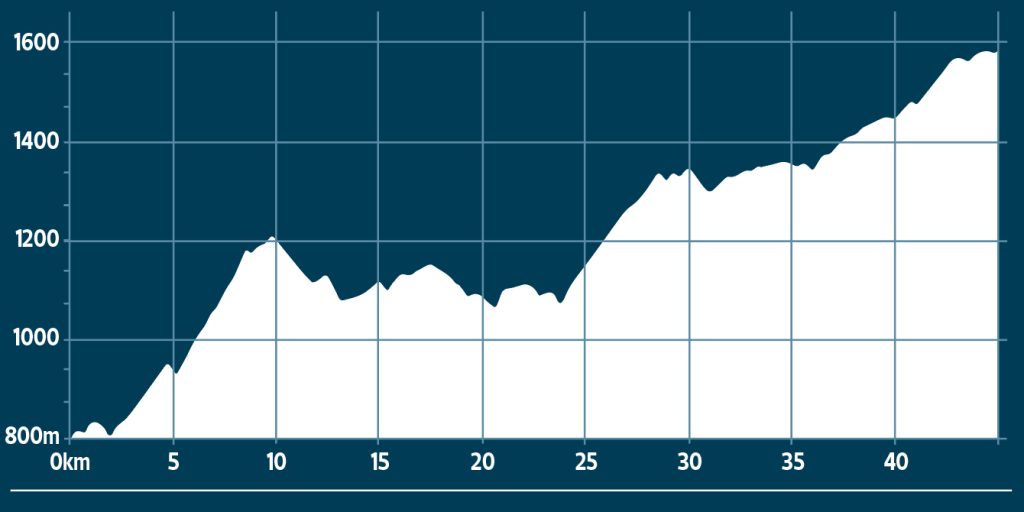 The rider's RIDE
Trek Emonda SL7, $7,800
trekbikes.com/au
I needed something spectacular to help me get up these hills, and the Emonda SL7 certainly delivered. Click a button and the gears change, disc brakes that work like a charm – what's not to love? Compared to what I've been riding for my morning commute (perhaps I shouldn't underestimate Latrobe Street in the Melbourne CBD), climbing just felt so much… easier. In the saddle I felt very comfortable too, which was just so pleasing given I hadn't had a chance to try this bike out before my climb on Day 1. The Trek sizing chart worked wonders.
The Emonda makes me want to ride more. I'm yet to upgrade my usual roadie, but I know where I'm going to head now. Thanks so much to Mark and the team at Trek Port Melbourne for building this beauty for me – my only complaint was that I had to return it at the end of the trip!