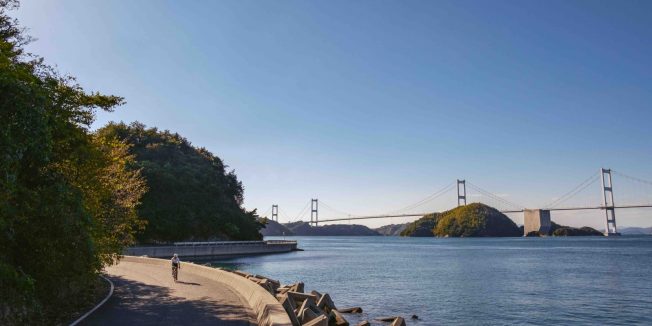 Epic Ehime: Big Ride Japan
Every two years, Cycling Shimanami attracts cyclists the world over to Japan to ride the famous Shimanami Kaido route across the majestic, sparkling Seto Inland Sea. So when Cyclist heard Japan was reopening its borders, we knew exactly where our next international trip should be…
Words Tam Allenby
Photography Simon Esjay James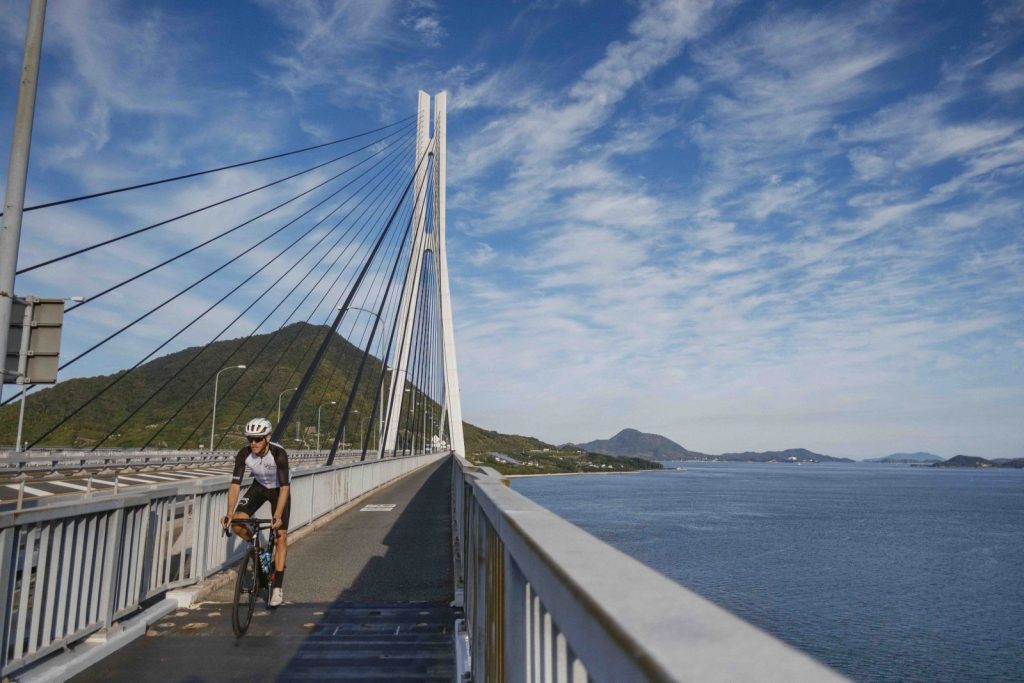 It's a view I won't be forgetting anytime soon: clear blue skies, 360-degree sea vistas, and thousands of cyclists riding across a gigantic suspension bridge, supporting towers stretching a hundred metres-plus into the air. A marvel of Japanese engineering. 
It would have been impressive enough as a casual bystander, but I was lucky enough to be part of the crowd myself, the pink number pinned to my back (and less stylishly, stuck to the front of my helmet) marking me out as one of 7,000 participants in the 2022 Cycling Shimanami event. 
As Esjay, photographer, friend and my companion on today's ride, jumped ahead to take a picture, I looked down at my Wahoo and grinned: there was still more than 90km to go. The road – as to be expected in this part of the world – was smoother than silk, the legs felt good, and the prospect of a day spent exploring picturesque Japanese islands on two wheels had me buzzing.
Today was going to be a good day.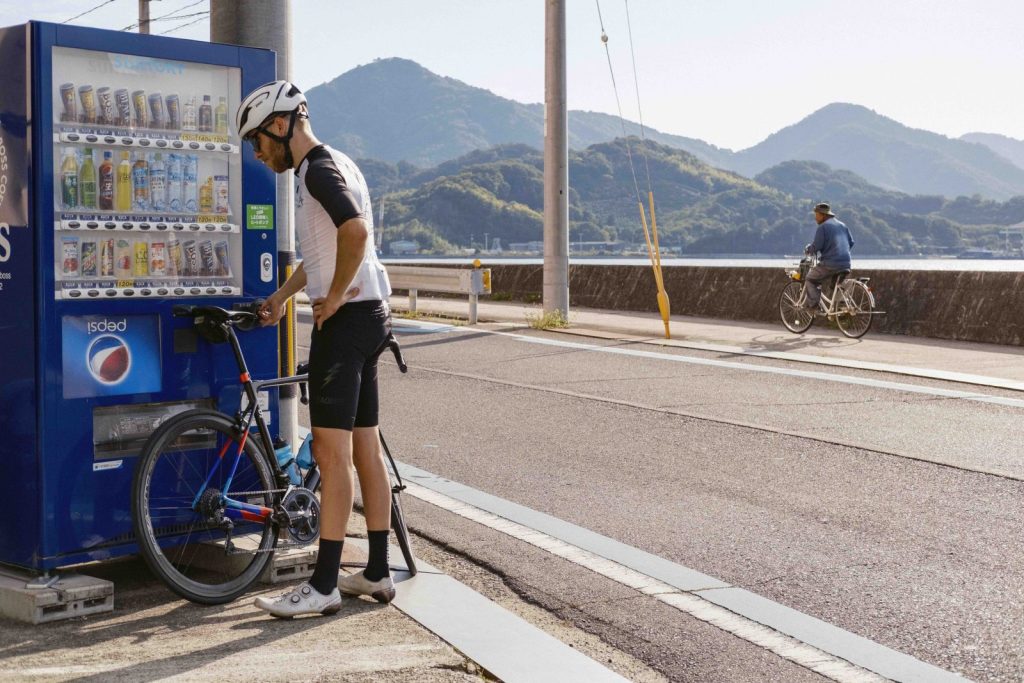 Shipbuilding, towels and yakitori 
Touchdown in Tokyo at 5:25am. Sushi for breakfast. NH673 to Hiroshima – with a jaw-dropping view of Mount Fuji from seat 36A. International travel is back, and damn it feels good.
We meet one of our guides, Akira, at Hiroshima Airport, and after a smooth bus transfer through Japanese suburbia, we're enjoying octopus curry and a cold brew at a homely roadside cafe by midday, with a panoramic view of the Seto Inland Sea whetting our appetites for what's to come. We only left Sydney around 16 hours ago, but here in Japan's south, Australia couldn't feel further away.
Our bikes have arrived safe and sound, and Esjay and I build them and get kitted up in the carpark, eager to get out there for a preview ride of the Shimanami Kaido cycling route – the reason we've travelled all this way.
Stretching 60km from end to end, the Shimanami Kaido is an expressway connecting Japan's 'main' island of Honshu with the smaller island of Shikoku, hopping and skipping between six even smaller islands in the Seto Inland Sea – via a series of spectacular suspension bridges — along the way. Every two years, the expressway is closed to cars for the Cycling Shimanami event, and thousands of cyclists from Japan and around the world descend on the area for the chance to ride the spectacular route. The bike path (which at times deviates from the main road to reach a total length of 70km) is rideable 365 days a year, and has to be one of the world's best; purpose-built, scenic and smooth. It's also incorporated into the return leg of the biennial fondo.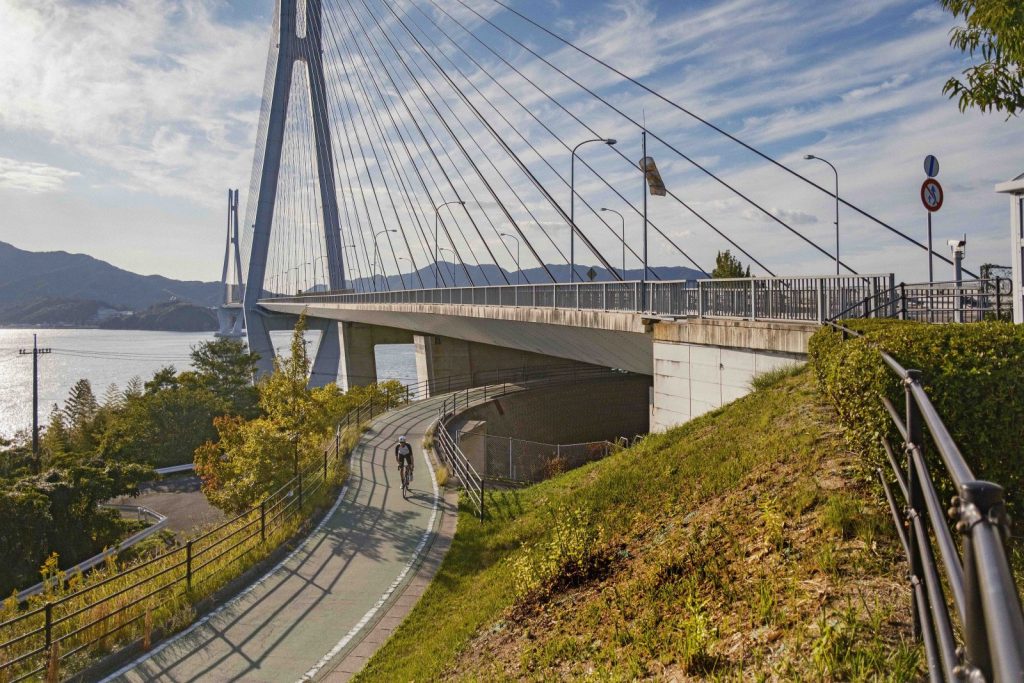 Tomorrow is the big day, but this afternoon, we decide to ride as much of the route as we can while still fitting in with our itinerary for the evening. We end up with just over 50km on the board, enjoying a very scenic ride from Nejiro (the cafe) near the town of Onomichi to the island of Omishima, ticking off a section that isn't included on the route we're riding tomorrow. 
First impressions: it's good, very good. While it utilises the edge of the expressway – mostly to cross between islands – the bike path offers a much more ground-level view of life around these parts than I was expecting, and we ride past shipyards, citrus farms and fishing villages. It's hard not to stop every hundred metres to take a photo.
Meeting the team on Omishima Island, we pack our bikes in the van and drive the remaining 30km to Imabari in Ehime Prefecture, our home for the night and the starting point of the event tomorrow. In addition to ships and citrus, our guide Chizuko explains, Ehime is also well-known for its towel-making industry and seafood, in particular the local sea bream, which we're soon sampling at dinner at a local izakaya.
Sashimi, yakitori, gyoza and a few glasses of Yebisu – now that's how you top off a long but rewarding first day in the land of the rising sun. We're sound asleep by 10pm.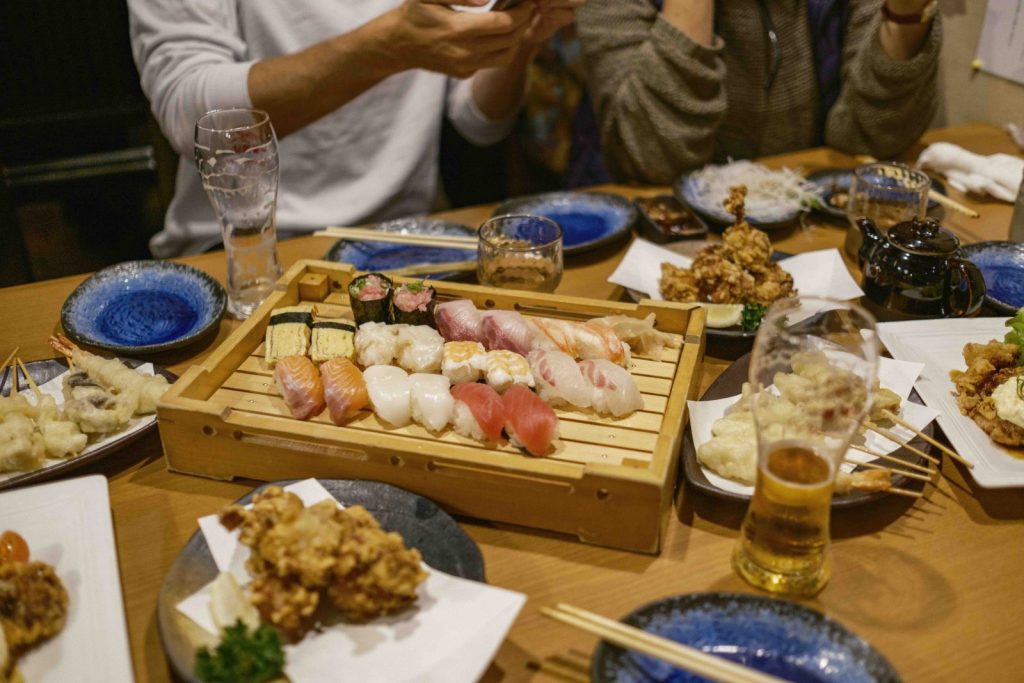 Fondo time
Maybe it's the time difference (a gentle two hours), but the 5:30am alarm is surprisingly easy to cope with, and after a couple of Boss cans and 7-11 baked goods in the hotel room for breakfast we're ready to roll. Imabari is just waking up, but we join the early-morning throngs of cyclists making their way through town, the start line an easy 2km pedal from the hotel.
In the end, we needn't have risen so early, as we're far from the first wave to be let out onto the course (wave 3 of route C). It's actually pretty chilly in the marshalling area, a vast sea of carbon fibre punctuated by – to the eye of this Aussie cyclist at least – some interesting fashion choices. I can hardly talk, though – it's firmly arm-warmer weather and I regret not bringing them as I shiver in the shade.
As you would expect, the level of organisation is top-notch, and our wave of roughly 300 cyclists is eventually corralled through the barriers and onto the start line itself. The event MC reminds us that 'it's a ride, not a race', first in Japanese and then American-accented English, right before the siren goes off and the air is filled with the sound of hundreds of cleats snapping into place. Time to roll.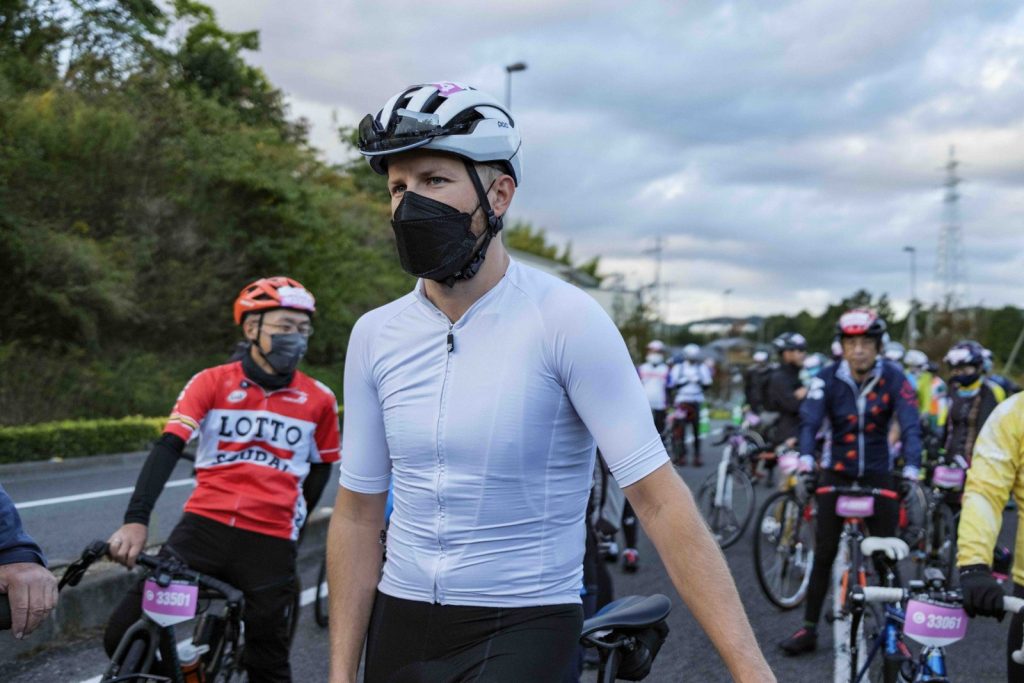 Esjay and I quickly make our way to the front of the group, and after two or three kilometres on the freeway, the pacesetter for our wave lets us pass beyond him and ride across to the back of wave two. It's not like we're jumping from one peloton to another, however – most riders seem content to ride in small, single-file groups of three to four people, rather than a big bunch. It's an interesting dynamic, more 'fun run' than competitive smash fest; I guess everyone listened to the MC.
Much more organised than the riders on the road, however, is the event staff: there are volunteers literally every 100 metres, holding signs for bike pumps, tools, water or simply clapping everyone along. There are portaloos at least every kilometre, and there are even plastic mats over any grates or metal surface on the expressway – they've really thought of everything. Spectators are out in big numbers, too; here on the freeway they can't exactly access the roadside, but every time we pass under a bridge or overpass there are a handful of locals banging together Shimanami Kaido-branded inflatable cheering sticks. Ah, to feel pro for a day.
Through a fast downhill tunnel and onto a slight uphill drag, we get our first view of the massive bridge that towers above Imabari. Lit up in the morning sun, its white-grey expanse contrasting with the blue sky and sea below, it's an impressive sight, and after another kilometre or so of pedalling we pass onto its span.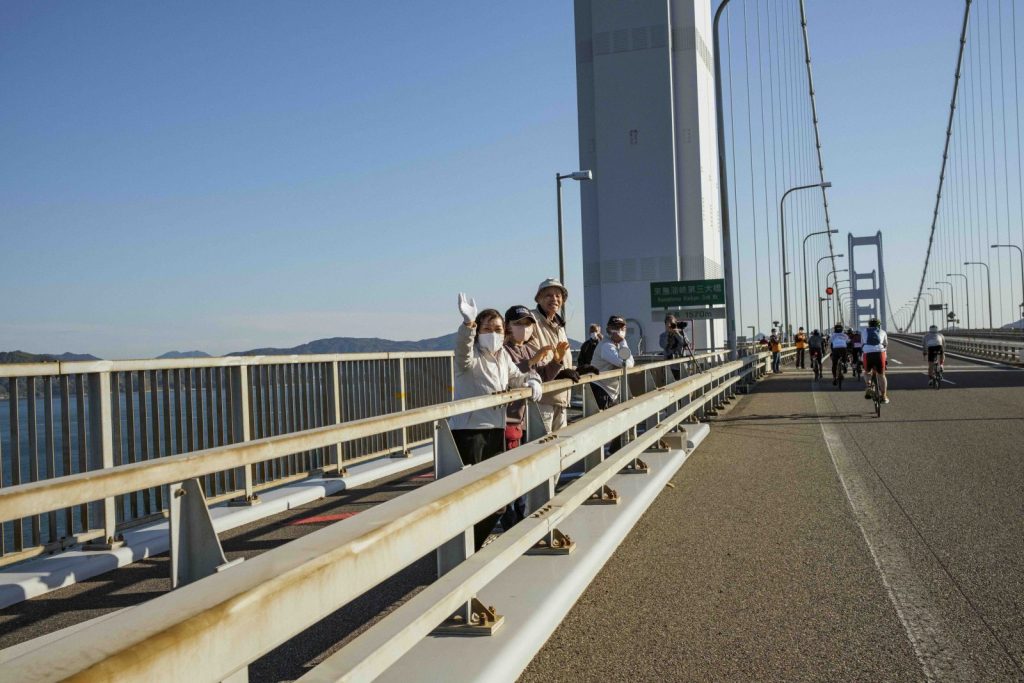 Bridges and buffets
Onto the bridge and into the sun, earlier thoughts of arm warmers are swept aside as the day begins to heat up. Riding across the Kurushima-Kaikyo Bridge with thousands of other cyclists is a real treat, and I feel privileged to be here after a few years 'stuck' in Australia.
After 4km of delightful pedalling, we reach the other side of the bridge and enter a short tunnel, and emerge out of the darkness into the greenery of Oshima Island. The course so far has been smooth sailing, the expressway either flat or a gentle 1% or 2% gradient up or down, and given the lack of technicality and how spread out everyone is on-course, Esjay and I are able to have a good look around. The countryside is gorgeous, all green and autumnal colours, with brief peeks of bright blue water and small villages and towns between the hills.
Straight after a long tunnel, red rear lights blinking far into the distance, we pass onto the second bridge of the day, which is a lot smaller than the first but still offers great views on either side. So far we've been sitting at an average speed of around 35kmh, passing most riders on the road, but just after 20km a faster pair catches up to us, one of the two riders in full Jumbo-Visma kit complete with Cervélo S5. We jump on the back and roll turns for a few kays, enjoying the freedom that only a smooth road and a paceline offers, eventually crossing the third bridge of the day at the 25km mark.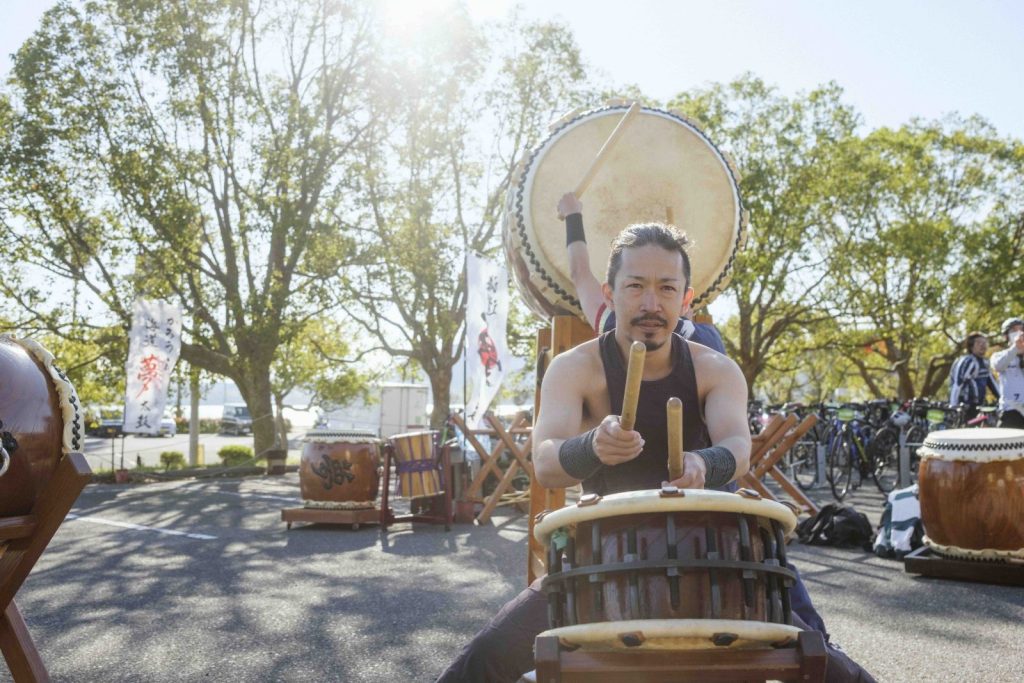 Soon after, we follow the bright pink 'Route C' signs on the side of the road onto an off-ramp that drops down to sea level on Omishima Island. 'I think this is the same spot we got picked up yesterday,' says Esjay, and he's right – but it looks a little different this morning, the event organisers having set up a rest area and refuelling station in an empty carpark overnight. 
This isn't your regular fondo food stop, however. There has to be more than a thousand riders milling around the area, which is set up with bike racks, taps, and even a band of drummers to keep the crowd entertained. I join an orderly queue for some goodies, but there are no bars or gels in sight – local mandarin jelly, mochi and a hot-dog bun filled with a Nutella-like substance will have to do. It has been a long time since breakfast so Esjay and I pack in the calories (I'm not sure about the mochi, but the other two things are alright), enjoying a brief rest and soaking in the atmosphere before rolling out again.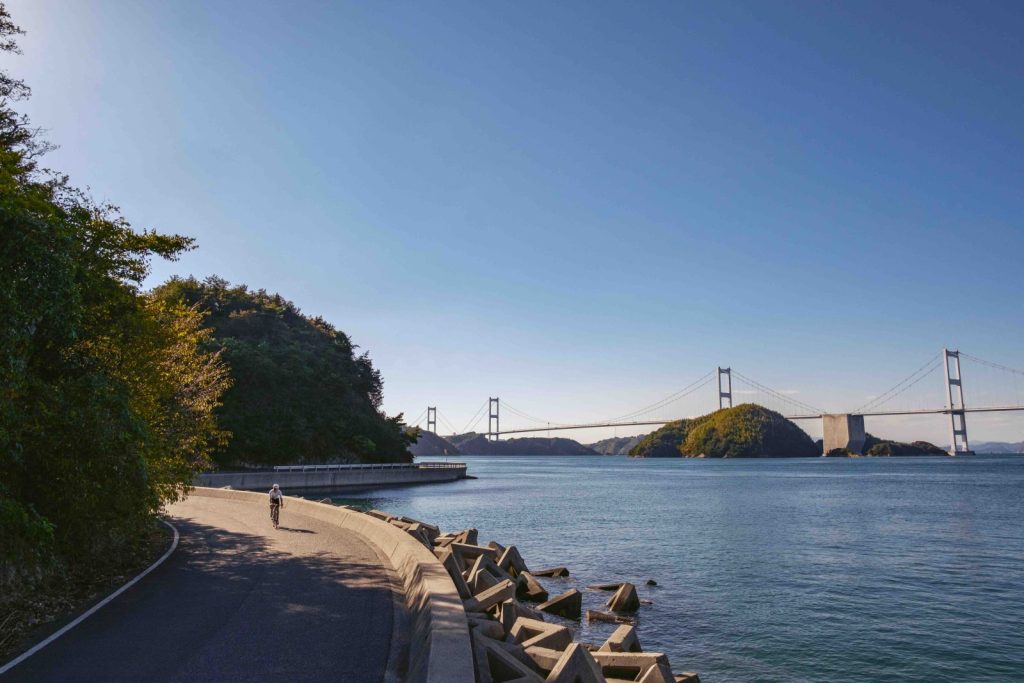 Gourmet traveller
After the rest stop we're off for a big lap of Omishima, the largest of the islands on the Shimanami Kaido. So far we've only done around 200 metres of climbing, but I anticipate that will soon change – the island looks relatively mountainous and there will surely be a few rollers. We're soon moving at pace with the sea to our left; the expressway was great fun, but down here at sea level, we're able to get more of a lay of the land, locals cheering us along. 
At 35km, we turn inland and it instantly feels different, almost like being transported to a mountain village as the road climbs upward. Cresting the climb after a few minutes, we whip down a fast descent passing more citrus farms and a few fancy-looking holiday homes and B&Bs before we're back on the coast, enjoying incredible views over the inland sea back to Shikoku. 
Turning inland again, we hit a short but steep climb, around 400 metres in length. I'm still feeling pretty fresh so I decide to give it a solid crack; Esjay isn't far behind and rolls past me at the top, hunched over the bars after a somewhat excessive effort. I'm not used to rides being this flat!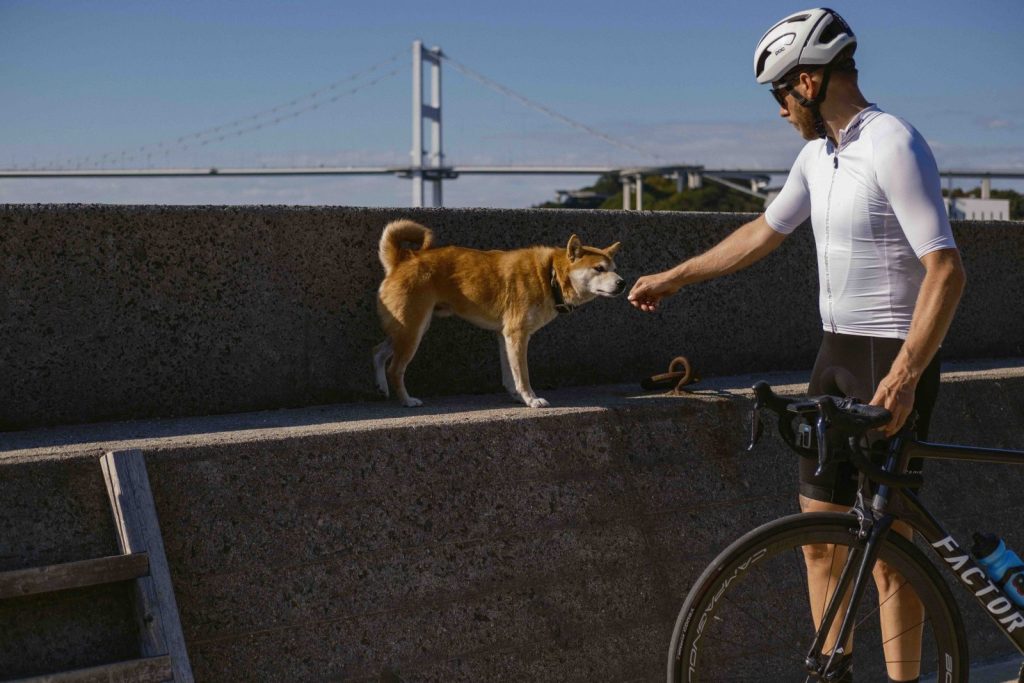 After catching my breath it's down the other side, and we drop into a traditional-looking village, passing what appears to be a local nursing home whose residents have come out to watch the riders pass them by. We give them a big wave, and a few minutes later we're back on the coast. The water is a glittering turquoise, the sun is shining and there's only a slight breeze, which rustles the autumnal leaves on the mountainside in front of me. It's idyllic.
Nearing the 50km mark, we regroup with our guides at a ramen shop in a small but pretty village just off the route. But it's not just any ramen shop – this one specialises in shishikotsu or wild boar ramen, as the pictures on the wall clearly indicate. Our guides tell us that the broth is cooked for at least eight hours using the bones of the beast, its meat sliced to create a tasty and slightly cured chashu to go on top. It's delicious. 
Bellies full of boar, we also take the opportunity to check out Omishima Brewery a little further down the laneway. Operating out of a renovated house, the brewery is cosy to say the least, and while it's tempting to settle in, Chizuko makes sure we only enjoy a small taster – there's plenty of riding still to go. Esjay and I follow her instructions and buy a few bottles (filled directly from the tap) to drink later.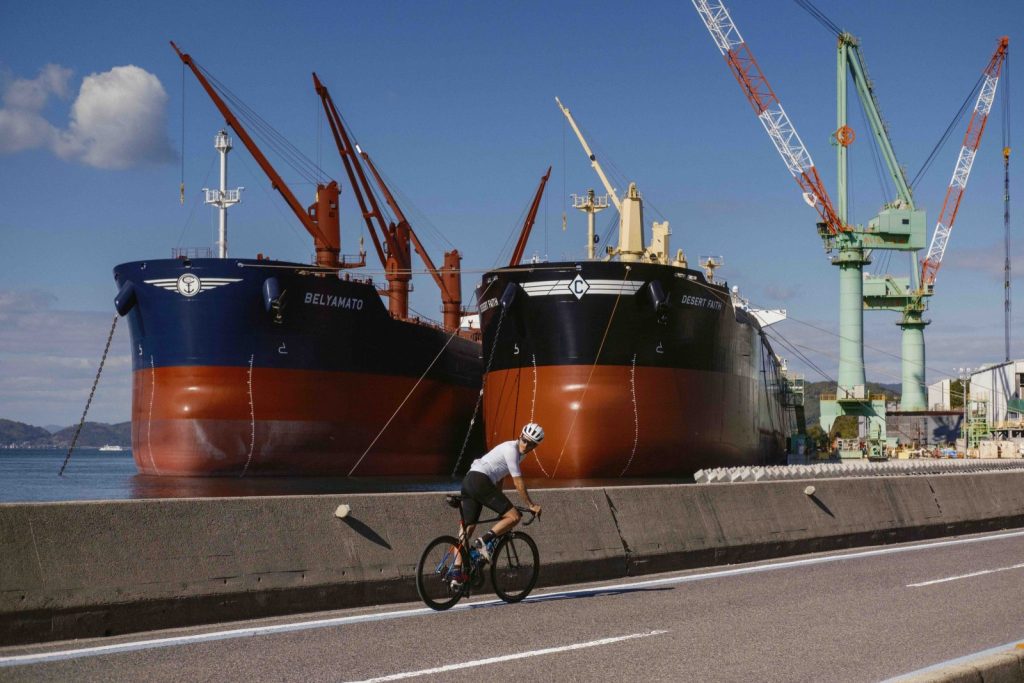 Pro sighting
One of our guides, Akira, decides to join us after lunch, our bunch of three rolling past multiple citrus orchards and eventually reaching the northernmost tip of the island. It's somewhere around here that we hit our top speed of the day, nudging 70kmh as the road drops steeply down to the azure waters of the inland sea. We enjoy a sweeping view back towards Honshu, which I clarify by pulling out my phone to look at Maps; you're constantly twisting and turning on this route, and at times, it's hard to know which direction you're facing. It hardly matters – it's picturesque everywhere you look.
On the northern tip of Omishima and a particularly exposed piece of road only metres from the water, we battle the first major headwind of the day. It doesn't last long, our toil turning to speed as we bend south-east and eventually due south into a solid tailwind. Heads down, we soon catch up to a familiar pair (Jumbo-Visma and associate) and three becomes five. We roll turns for a few kilometres, until Mr Jumbo-Visma decides to throw a cat among the pigeons and roll through at an insane pace; it's impressive for about a minute, until he pops spectacularly, and bidding adieu to Akira too, Esjay and I press on.
The Tatara Bridge (the last bridge Esjay and I rode over yesterday before hopping in the van) is getting closer and closer. 'Looks like the Anzac Bridge,' says Esjay, and to be honest, he's not far off – the two concrete pylons and cables are quite reminiscent of Sydney's second most famous span, the only difference being that you'd actually want to swim in the water here.
We roll beneath the bridge and past the aid station where we stopped a few hours earlier, which has mostly been packed down, and soon after we notice a well-organised bunch of around 10 riders coming towards us in the opposite direction. They don't seem to have numbers on so it doesn't look like they rode the event, but some Googling and Strava lurking later reveals the continental team Matrix-Powertag are also enjoying the region. Among them, one Francisco Mancebo – third in the Vuelta and sixth in the Tour back in the mid-2000s – now at the ripe old age of 46. According to ProCyclingStats, he has been seeing out the twilight years of his career in Asia, and with roads like these, who could blame him.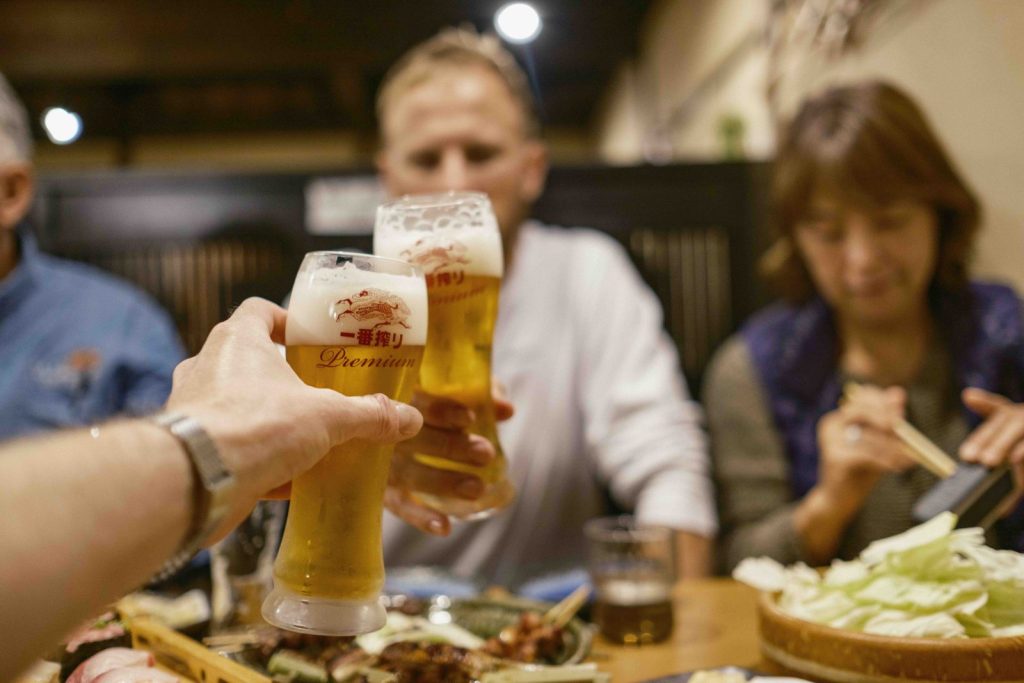 Kampai!
Back over the shorter arch bridge to Hakata Island (I'll be a bridge expert after this), after a few kays we're on the 2-3% slope leading up to the Hakata-Oshima Bridge. One of the most impressive qualities of the bike path is that the gradient seemingly never goes above 3%, allowing you to gain decent elevation without much of a drop in speed. It's great design, and something beginner and intermediate cyclists will especially appreciate – the exact opposite of the infamous Harbour Bridge stairs (on the landmark's northern end) back home in Sydney.
We cross the bridge and descend off it, rounding a few tight curves, and onto Oshima Island. We're now looking back across the channel to Omishima Island, where we spent most of the day, and keep pace with an old fishing boat for a couple of kays on a lovely coastal road, eventually swinging inland up a steep climb.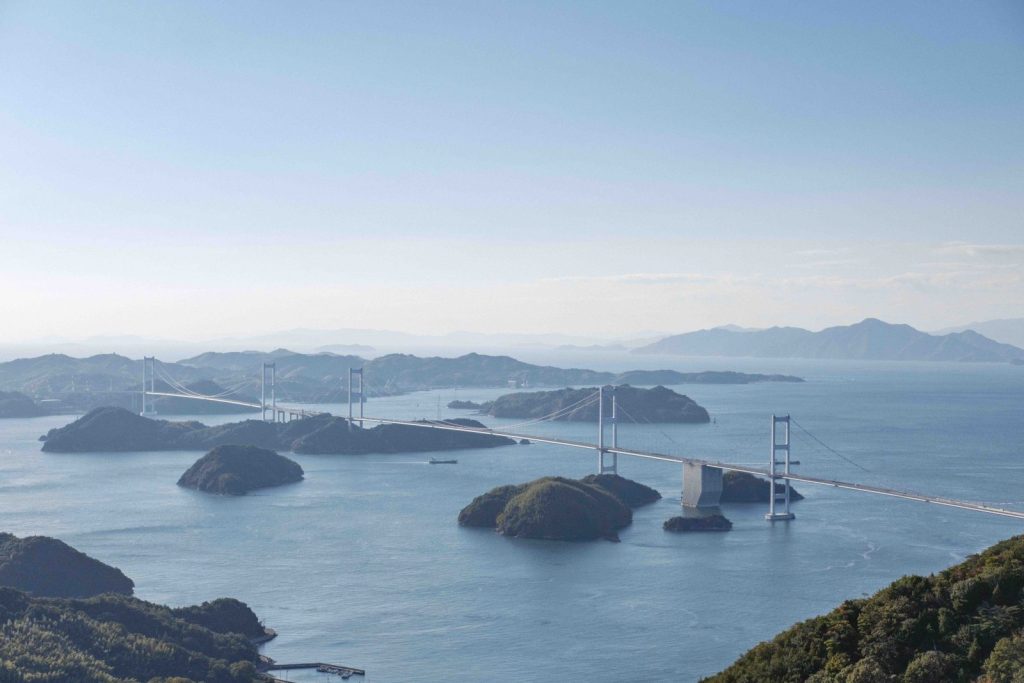 While short (just under 700 metres in length) it's probably the biggest challenge of the day so far, with an average gradient of 8.7%. Esjay and I pass a lot of tired legs on the way up – it seems that with our break for ramen, photo stops and later start time, we're now among the riders from Group D, who are well over 100km into the 140km route – and there are even a few opting to walk up the slope. Clip-clopping aside, it's great to see so many riders out today; there's a range of abilities, but everyone seems to be on carbon road bikes, all 105 and above. The Japanese cycling industry must be going alright.
Climb conquered, we enjoy a fast and curvy descent back to the coast, the familiar sight of the Kurushima-Kaikyo Bridge emerging on the horizon. Oshima Island seems more industrial and less rural than Omishima; we pass a huge shipbuilding yard at around 85km, the hulls of the boats raised above the waterline, and ride through what feels like a worker's village. It's been really interesting to see a side of Japan that neither Esjay nor I are used to; more low-key and less high-tech than the bustle of Tokyo or the grandeur and tradition of Kyoto.
Another curving bike path takes us onto the main (and final bridge) of the day. The view is amazing, and while it's slightly slower-going than on the road all those hours earlier, we're content to just soak it all in and soft pedal our way back to Imabari. It's been an unforgettable day, and back at the van with nearly 105km covered, Esjay and I crack open our takeaway beers from earlier to cap things off. It might be in liquid form, but if this Citrus IPA is anything to go by, I can now vouch for the quality of the produce around here too.
Sample this ride on FulGaz
You can get a little taste of our Shimanami Kaido adventure – kilometre 6.9 to kilometre 12, to be precise – on FulGaz! Sign up for FulGaz today to access our Shimanami Kaido ride, as well as thousands of other routes and climbs from Australia and around the world.
Visit fulgaz.com to get started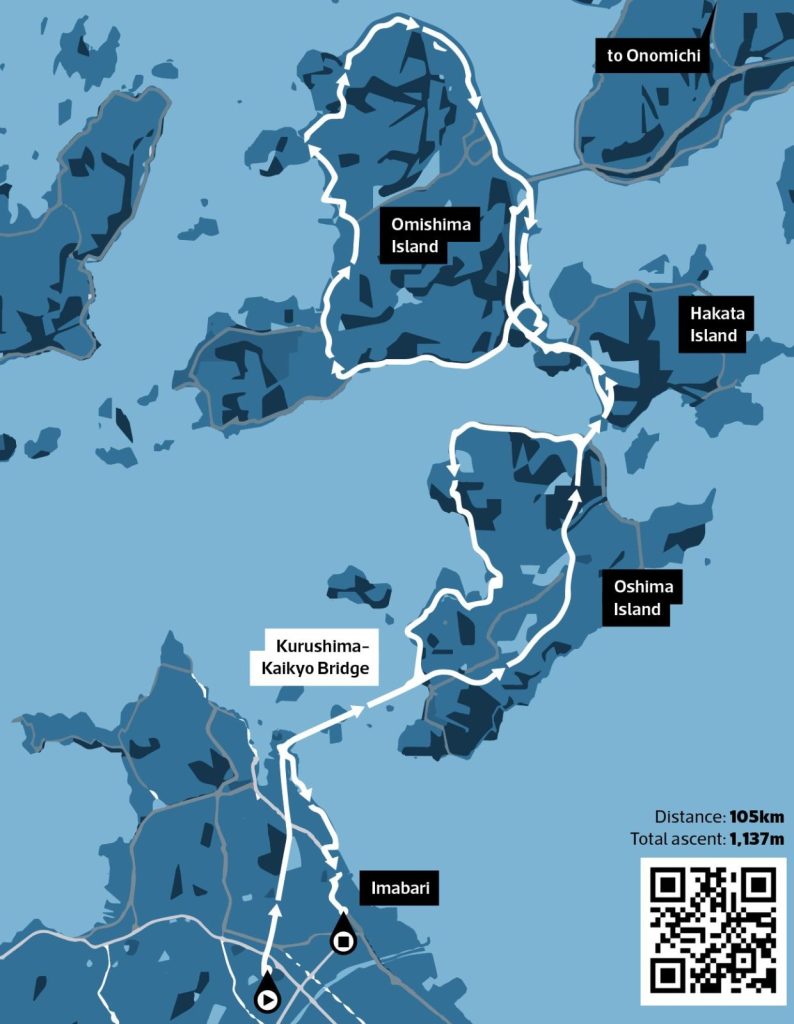 The route we took
To download this route, scan the QR code or visit strava.com/3028897143189609852. Imabari is the logical starting point for riding the Shimanami Kaido, and the start town for the biennial gran fondo. Keep in mind that outside of the event, you cannot ride on the actual road on the expressways, but do not despair: the bike path is good, if not better – you spend more time at ground level, allowing for more of an insight into the way of life around here. That said, Cycling Shimanami is an amazing event and we encourage you to take part, and if you ride any of the longer course options, you'll return via the bike path anyway (the expressway is only closed long enough for riders to ride one-way from Imabari to Onomichi). We rode Course C, which was a great option, and included a full circuit of Omishima Island (the largest in the island chain). From Imabari, ride 5-6km to the Kurushima-Kaikyo Bridge, which dominates the skyline above town, and cross the vast expanse to Oshima Island. At about 20km, you'll cross the second (and smaller) bridge to Hakata Island, spending only 6km on it until you're onto the third bridge to Omishima Island. Do a full loop of the island on the incredible coastal road, before retracing your tyre marks to Oshima Island, where you'll enjoy another stunning coastal road back to Kurushima-Kaikyo Bridge and eventually back to Imabari itself. Other course options for Cycling Shimanami 2022 are viewable here: cycling-shimanami.jp/english/course.html

Visit Ehime
Ehime Prefecture is one of four provinces on the island of Shikoku, itself the smallest of the four main islands that make up Japan, and is located around 600km south-west of Tokyo. Within Japan, Ehime is known for its hot springs (Dōgo Onsen, in the capital city of Matsuyama, is the oldest continuously operating hot spring in the country and served as the inspiration for the bathhouse in Spirited Away), abundant citrus, and its thriving textile and shipbuilding industries.
Ehime faces the Seto Inland Sea, the location of the Shimanami Kaido, and is a cyclist's paradise. While the Shimanami Kaido is the local cycling scene's jewel in the crown, the mountainous roads inland are also world-class; Mount Ishizuchi, the tallest mountain in Ehime (and Shikoku), is 1,982 metres tall, and you can gain most of that elevation on sealed road from sea level. Perhaps the most well-known road in the area is the UFO Line; you can include this stunning section of road – apparently famous for appearing in a Japanese car commercial – into a formidable HC climb (24km at 4.1%).
Shikoku is also well-known for its 88-temple pilgrimage; pilgrims clad in white robes, some making the 1,200km trek by foot, are a common sight on Shikoku. Twenty-six of these temples are located in Ehime, and the Cyclist team was lucky enough to visit one of them, Iwayaji, for a guided Zazen meditation experience with a resident monk. This is truly a beautiful place – we recommend Iwayaji as a must-do, off-bike experience.
For something a little different – perhaps if you're sick of all the hotmix and desperate for some off-road action – we also spent an enjoyable morning mountain biking at Kuromori (kuromori-cbf.com), a cafe and bike shop which also rents out bikes to explore the nearby, handbuilt trails. The friendly owner of the shop, who also built the trails, will show you around personally.