It's the kind of view many will travel across the world to see, but for Aussies – and especially Sydneysiders – it's right here in our own backyard. To celebrate our 50th issue, Cyclist heads back to the same place we shot our first ever Big Ride all the way back in 2013: to the NSW Coal Coast, on a route that includes the spectacular Sea Cliff Bridge.
Words: Tam Allenby   Photography: Simon Esjay James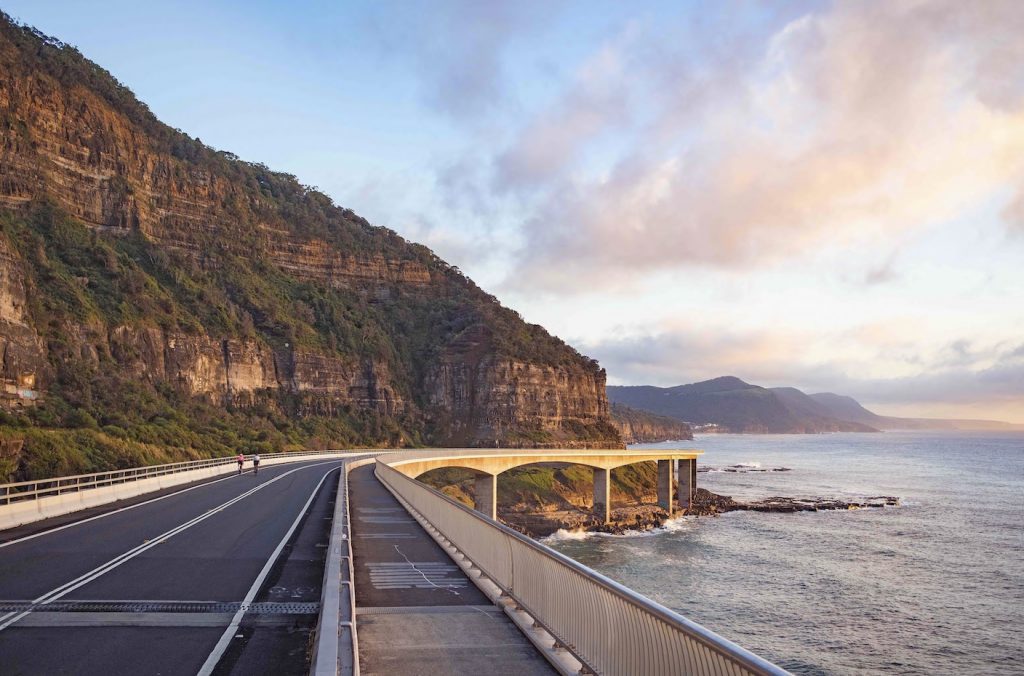 Sometimes you forget how good you've really got it.
What prompted this reflection? Well, when I found out the destination for the Big Ride in Cyclist Magazine's 50th issue would be right on Sydney's doorstep, on some very familiar roads, I can't exactly say I was jumping out of my skin with anticipation of the unknown. As a Sydney cyclist, I know the Royal National Park (RNP) like the back of my hand, and after a lot of time spent at home in 2020, I must admit I was hoping for somewhere a bit more unfamiliar and exotic. Still, duty called, and with a commission to return to the location of the Big Ride that appeared on these very pages way back in issue #1, I was hardly going to say no.
Once we got rolling on our Big Ride, bright and early on a fine February morning, it didn't take long for me to eat my words. As the sun rose over the Pacific Ocean, illuminating the serpentine curves of the Sea Cliff Bridge, I had the strange feeling of seeing something with new eyes. The rugged coastline of the RNP and Dharawal Country stretched off into the distance, and the high cliffs to my left were basking in a pre-dawn glow. On a day like today, I thought to myself, there was no better place on the planet to be riding my bike.
Our plan for the day was to hit the main highlights of the Coal Coast (the picturesque seaside suburbs that stretch from Wollongong's north to Stanwell Park, so named for their mining history) as well as the RNP, and accumulate as much vert as we could in around 100km, hitting some of the best and hardest climbs in the area. Our route was slightly different than the one that appeared in issue 1, which took riders on a one-way trip from Bundeena to the Gong, but I'd devised a loop that would take in the big hits of the area: all killer, no filler. The three of us — Grace, Esjay and I — had driven down from Sydney the night before, and after waking groggily to the harsh tone of a 5am alarm, we rolled out of the caravan park right before dawn to catch golden hour at the Sea Cliff Bridge.
Like I said, it can be easy to get complacent about where you live. All it took was a beautiful sunrise to jolt me back to reality: this is an amazing place to ride a bike, and I would be crazy not to make the most of it.

Sea Cliff magic
Every cyclist knows the drill. Alarm goes off way too early. You haven't slept that well, and you have to fight the impulse to just roll over and go back to sleep. But you don't. Instead, you get up, boil the kettle, get your kit on, and before you know it you're rolling down the street — perhaps a little bleary-eyed — but all in all glad you got up.
That's exactly how I feel on the morning of February 26, 2021. Fuelled by instant coffee and not much else — I find it difficult to stomach much before 6am at the best of times — we're soon rolling out from our cabin at the Bulli Beach Tourist Park and along the coast, heading north. The sun is just starting to send a faint glow over the far reaches of the horizon; there's some light cloud cover, but Esjay, our experienced photographer, is expecting a spectacular sunrise.
Waking up the legs on the beachside bike path, we soon reach Thirroul and join the road, first along some residential streets near the beach and then Lawrence Hargrave Drive, the main thoroughfare around these parts. It's a cool, quiet morning: apart from a few tradies rushing off to early jobs — if all the shiny new houses in the area are anything to go by, it seems work for our ute-driving friends isn't in short supply — we've got the road to ourselves, and we get a decent pace going on the rolling hills that start as soon as we leave Thirroul.
It's still pretty early, and the three of us are content to tick off the first 10km in silence as we soak in the magic of the early morning. We pass by a handful of beaches, surfers bobbing in the waves, before the road climbs up the edge of the escarpment and sand gives way to high cliffs, multi-million-dollar houses hanging tightly to the edge.
'Oh, wow.' Grace, who recently moved to Sydney from Brisbane, is the first to break the silence a few kays later, and I cannot blame her. After cresting a punchy little climb that takes us into the small community of Clifton, the road starts to go downhill, and we quickly gather speed before sweeping around a smooth left-hand bend. It's here that we get a full view of the Sea Cliff Bridge, prompting my riding companion's exclamation and my internal reflection on just how good the riding around Greater Sydney can be.
Opened in late December 2005, the Sea Cliff Bridge is one of only seven off-shore 'parallel-to-coast' bridges in the world. Replacing a stretch of road that was notorious for regular rock falls, the bridge sweeps rather aesthetically indeed around the edge of the cliffs, waves crashing against the tidal shelf beneath it. I've ridden over the bridge a number of times, but never this early — both in terms of the time of day and also this early in a ride — and we pull over on the side of the road to admire the scene in front of us. It's stunning. Clipping in again, we enjoy the bridge's fast downhill bends, and we're soon off the other end.
Just over the other side in Coalcliff, Esjay spies an unusual sight in a nearby tree, and we roll over to inspect further. Hundreds of thongs and other types of footwear are stapled or nailed into the trunk of the tree and its branches, with messages from visitors from around the world scrawled in permanent marker on many of the soles. It's not something you see every day, and a bit of roadside googling reveals an unusual origin story involving a wealthy couple, a Porsche, and some designer shoes soiled by dog poo. It's enough to have us chuckling until we hit the climb to Bald Hill, where the gradient forces us to save our breath for more pressing matters.
Bald Hill is a tough but enjoyable climb. The road surface has seemingly been repaved quite recently, and we handle the 9.8% average gradient with relative ease; it's still early in the ride, after all, and we keep plenty in reserve while tackling the day's first major challenge. At Bald Hill Lookout we stop to take in the spectacular view, which stretches off past the old refineries south of Wollongong down the South Coast towards Kiama. I've seen this view dozens of times, but it really doesn't get old, and it's nice to have it pretty much to ourselves — I know from experience that it can get pretty busy up here with tourists later in the day.
Just as we're preparing to roll out, the early-morning serenity is broken by the revving of a dozen or so engines. A set of restored vintage road rally cars and their occupants pull up with us to admire the view. Decked out with classic decals from the likes of Marlboro, Martini and Jägermeister, the cars are quite the sight, and Esjay gets chatting to the vape-puffing, mid-30s leader of the pack. He tells us that he and the crew are just kicking off a three-day road trip down to the Snowy Mountains, and as a reformed revhead himself, Esjay is keen to hear more. After making loose plans to shoot some of the cars back in Sydney and acquiring a business card, I have to peel him away from the conversation 10 minutes later to remind him of the task at hand. Time to pedal, mate.   

The infamous Wall
After leaving the lookout, we roll a few hundred metres up the road to the turn-off to Otford, and take a left, descending quickly through the trees into the heart of the small village. Esjay and I know what's about to come, but Grace is blissfully unaware: the Otford Wall, as it's known to local riders, is a serious climb. The road takes us over the train line, then across a small weir over the Hacking River (which can be sketchy, especially in the wet, so reader beware!), before kicking up in a big way.
At 1.75km in length, the Otford Wall isn't exactly a mountain, but it makes up for it with a leg-searingly steep 10.3% average gradient. It's been a while since I've ridden it, but I recall that the bottom section is the worst, and my memory is soon proven correct as all three of us click down into the easiest gear available on our 30-tooth cassettes. 'No idea how we used to do this with standard cranksets and an 11-23,' puffs Esjay, and I nod in sweaty agreement. It's a brutal climb, but with modern gearing we're able to keep our cadences relatively high; everyone's very aware of how much vertical we've still got to cover, and there are no heroic attacks this morning.
Seven or eight minutes of hard work later we crest the Wall and descend into Helensburgh. It's pretty early and the temperature is still nice and mild, so we forgo the chance at a water stop and press on through town. Reaching the Princes Highway, we turn right, put our heads down and get to work: the next five kilometres hugging the shoulder of the road are nothing to write home about, and we take the chance to get our average speed back up after all the climbing, before turning left at the sign to Woronora Dam.
The out-and-back road to the dam is used less often by Sydney cyclists than the nearby RNP, but it's still worthwhile, and the three of us enjoy the rolling, false-flat downhill and empty road as we forge our way onwards. Opened in 1941 and supplying water to much of the surrounding area, the dam level this morning is as high as I've ever seen it. After a quick foray out onto the walking path that stretches along the top of its main retaining wall, we're back on the road, perhaps enjoying the
false-flat uphill a little less than the opposite direction.
Back at the Princes Highway, we turn left and we're soon on Sydney's outskirts, marked by the small suburb of Waterfall. With little more than a closed fish-and-chips shop in the way of amenities, we decide to push on for another handful of kays to Heathcote, where we know there are a few cafes. We haven't had a proper breakfast, and I don't know about the other two, but Clif Bars and instant coffee aren't cutting it for me — I'm craving something more substantial. Within five minutes, we pull up at Good Grub Cafe, where a round of brekky sandwiches and coffees brings us back to life.

Garie nice
From Good Grub, we clip back in, cross to the other side of the highway, and then after five or 10 minutes of pedalling we're back at Waterfall. We roll past the train station and the primary school, and then we're on the McKell Avenue descent dropping into the RNP.
Featuring a pretty gnarly left-hand corner near the top, this descent is one of the major obstacles in the annual 'Sydney to Gong' charity ride and has taken its fair share of victims, so we take it easy through the bend before pedalling across the flatter middle section, maintaining our speed into its second half. We've all done this section before – even Grace, who despite being new to Sydney has already enjoyed a Saturday morning ride with the local Coluzzi bunch through the RNP – so we take the opportunity to really rail a few of the fast hot-mix corners at the bottom, carving our way through the ferns.
After the descent, it's straight onto the next challenge of the day: Garie Hill, a popular training segment around these parts with a super competitive Strava leaderboard to match. It's not a particularly difficult hill, but it is an enjoyable one, especially on such a fine morning; out on the main road it's starting to get warm, but here among the eucalypts it's still relatively cool. We don't get anywhere near the eight-and-a-half minute KOM, but there's a bit of an injection of pace near the top when some casual half-wheeling turns into something more hostile, though it's all in good fun.
At the top of Garie Hill, we barely have time to catch our breath before hitting the descent down to Garie Beach. While McKell Avenue has one hairy corner, Garie Beach has a handful, and I warn first-timer Grace to take it easy – the rough surface, sticks and other debris from the overhanging foliage, and damp corners make this descent a tricky one. Though we make it down to the beach in one piece, things get a little loose through a slippery right-hand bend, where the council has seen fit to install a metal grate right in the apex of the corner. Worth noting if you're planning to follow in our tyre tracks.
Not a bad spot at all, Garie Beach. We take a few minutes (over a few Cokes from the surf club canteen) to enjoy the sun and coastal view before the climb back out. This Garie Hill is much harder than the previous – apart from the Otford Wall, it has to be one of the steepest climbs around Sydney – and it's pretty hard work pulling ourselves up it (2.75km at 7.5%) with more than 80km in the legs.
At the top of the climb, we detour briefly to Governor Game Lookout to enjoy a sweeping view over Garie, North Era and Era Beaches. We can just make out a group of hikers far down below enjoying the picturesque 26km-long Coast Track, plus a small community of ramshackle beach huts a little further to the south. From the lookout, it's a quick descent down 'main' Garie Hill before joining Lady Wakehurst Drive at the intersection with McKell Avenue, where we were about 40 minutes earlier.

Secret spots
The next section along Lady Wakehurst is a cracker. The rolling uphill climb never bites too hard, the road surface is super smooth, and the bushland around these parts is extremely lush and green. Today, thankfully, the cicadas aren't too loud either — Esjay and I shudder to recall an outing earlier that summer when the cacophony had left our bunch with ringing ears for the rest of the day — and we tick off around 10km in no time at all.
Before we know it, we're back at the Bald Hill Lookout, where dozens of hang gliders are also enjoying the day's spectacular conditions. We refill our bottles and hit the descent, enjoying some high speeds down the hot mix of Bald Hill, and then we're back on the Sea Cliff Bridge once again, this time facing a headwind and an uphill pedal rather than easily freewheeling downhill as we were all those hours before. We also chat about the upcoming 2022 UCI Road World Championships, which will be held in Wollongong; even though they are yet to release an exact route, it's a bit of no-brainer to incorporate this section of road into the race somehow, and our excitement at what it will be like to see the pros racing right here in our backyard propels us towards the Scarborough Hotel, where we plan to stop for a beer and some lunch.
It's not really surprising to find that the Scarborough is at capacity – it's a major tourist destination thanks to its beer garden, which sits right on the cliffs above the water – so we press on to Wombarra, where we take a right off Lawrence Hargrave Drive onto Morrison Avenue. If you're ever planning a trip to the area and want to check out the Scarborough Hotel, it's 100% worth booking ahead.
Straight away, the road pitches up, and at this point we've all got around 100km in the legs, so it's a real slog. As soon as we leave the coastal road, though, the scenery changes completely. There's plenty to look at on this higher part of the Illawarra escarpment, and some quaint eco cabins and larger properties soon guide our conversation towards real estate. I've never ridden this section before and it's a real gem, as well as a great alternative to Lawrence Hargrave Drive, which can get pretty busy later in the day. Thanks Strava Heatmaps for the local knowledge!
After the road drops us back in Thirroul, we make a beeline for the pub, and that's where the fun pretty much ends; after a couple of beers and a burrito bowl each, all that's left to do is roll slowly back along the bike path to the caravan park. It has been a great day out, and a really enjoyable loop – so add it to your list, particularly if you're thinking of travelling to the Gong for the Road Worlds next year.
As for me, well, I've learned my lesson: sometimes you don't have to look far to find riding gold.

Cliff notes
Our route from Bulli to the Royal National Park (and back) via the Sea Cliff Bridge
You can download this route at strava.com/routes/2798773091379642102, or scan the QR Code above. Starting at Bulli Beach Tourist Park – or anywhere along the beachside bike path between Wollongong and Thirroul – head north until you hit Hamilton Road. Choose your own adventure from here through the Thirroul 'burbs to join Lawrence Hargrave Drive, continuing north. Enjoy rolling hills and scenic views until you hit the Sea Cliff Bridge, where it's worth pulling in to admire this feat of civil engineering. Press on and enjoy the hot mix up to Bald Hill Lookout, then drop left down Otford Road; soon after you'll hit the infamous wall. Otford Road takes you into the middle of Helensburgh; at the town's main roundabout, turn left on Parkes Street, which takes you up to the Princes Highway. Turn right, and five kays later, turn left for the out-and-back to Woronora Dam (if pressed for time, or the gate is closed, this part is optional). Back on the Princes Highway, pedal into Waterfall, or on towards Heathcote (and back again) if you need a snack or a coffee. From Waterfall Station, drop down McKell Avenue into the Royal National Park; turn left at the bottom of the descent and head up Sir Bertram Stevens Drive to the turnoff to Garie Beach, and turn right. When you reach Garie Beach, turn around and go back the way you came, back past the intersection with McKell Avenue, to join Lady Wakehurst Drive, which will take you through the rainforest and back to Bald Hill Lookout. From here, it's pretty much the same way home – except we took a deviation at 98km onto Morrison Avenue which climbs steeply up to Wombarra and eventually drops you back into Thirroul.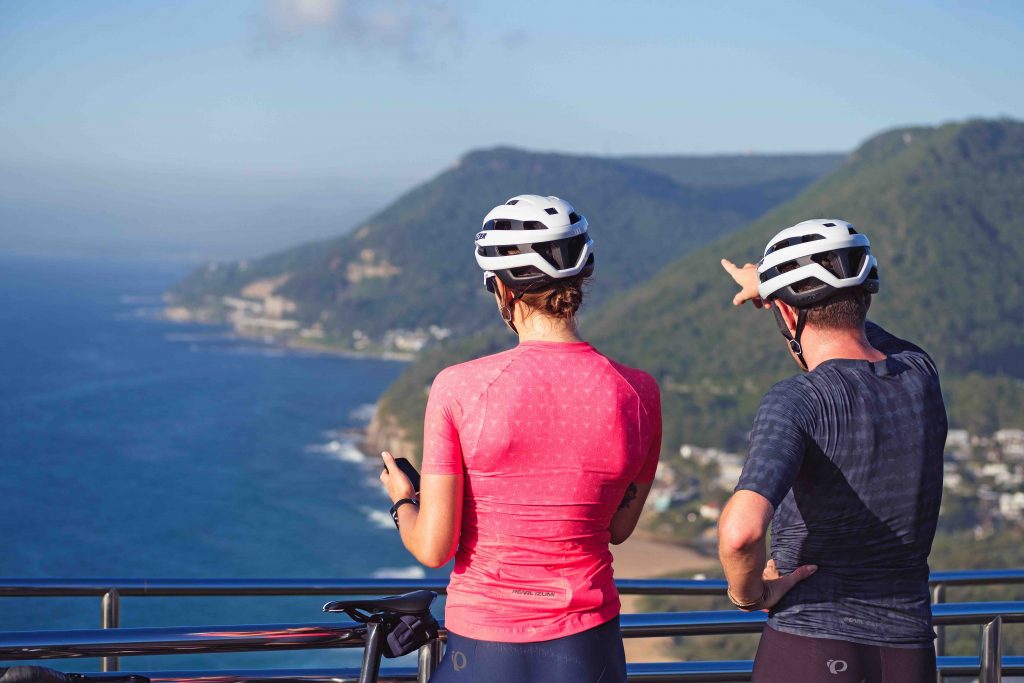 The rider's gear
Shimano was kind enough to supply all three riders with Pearl Izumi kits and Lazer helmets for the Big Ride, and everyone was very impressed by the performance of both on what turned into a pretty long day in the saddle. Kudos must be extended to Pearl Izumi for their handiwork in crafting the excellent bibshorts; all three riders were blown away by the comfort level offered by the chamois, laser-cut bib straps and seamless construction. As Ned Flanders once said, 'Feels like I'm wearing nothing at all!' The jerseys were also a big hit, scoring high points for their breathability once the mercury rose to around 30 degrees later in the day. Extra points go to the Attack Jersey that Tam wore, which is apparently made out of a fabric created from recycled plastic water bottles. Environmentally friendly and high-performance: good stuff, Pearl Izumi! The Lazer Sphere MIPS helmet also performed admirably on the day; we challenge you to find a comfier, more ventilated, and better-looking helmet at this price point. It's solid proof that you don't need to break the bank to get high-level performance when buying a lid in 2021.
Lazer Sphere MIPS helmet, $239, lazersport.com/au
Pearl Izumi kit, pearlizumi.com/au
Grace wore: Women's Interval Jersey (Atomic Deco) $299, Women's PRO Bib Short (Navy) $349
Tam wore: Attack Jersey (Dawn Grey Tidal) $149, Interval Bib Short (Black) $269, Transfer Mesh Sleeveless Base Layer (Dark Ink Sunset Orange Palm) $59
Esjay wore: PRO Air Jersey (Dark Ink Immerse) $349, PRO Air Bib Short (Black) $439
All wore:  Elite Tall Socks $35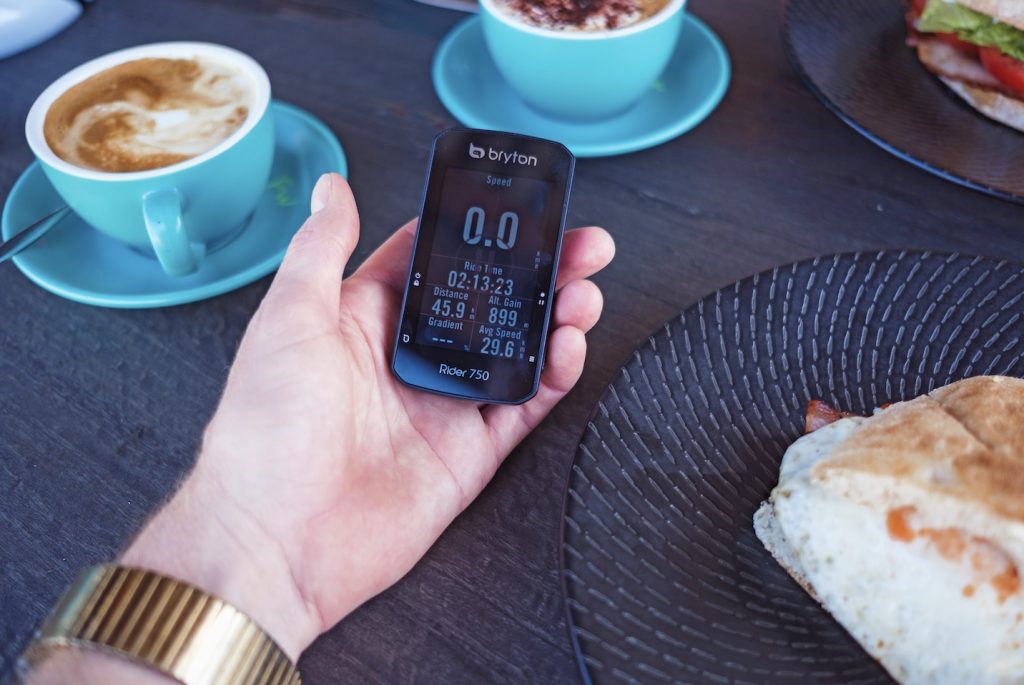 Bryton Rider 750

Grace used the Bryton Rider 750 cycling computer on the ride, and she was super impressed with how it stacked up against the more established players. 'I've never used a Bryton before, but had seen them being used by a few of the NRS teams (Team BridgeLane and Giant Racing),' she says. 'I thought it was brilliant. It has a large, colour touchscreen that works really well, and it also has an app that can be used to easily change the data fields, which is a lot easier than trying to do it on the head unit. The maps are awesome too – there's a lot of detail so you can actually work out where you are. Overall, I really liked it. I'm definitely going to keep using it!' Also worth noting is that the Rider 750 supports  electronic gear shifting systems including Shimano's Di2, SRAM's eTap and Campagnolo's EPS, and also supports e-bike component brand Shimano Steps. Expect to hear a lot more from this exciting new brand in the future.
Bryton Rider 750, $429.95 (including sports mount);
$549.95 (including sports mount, HR, Speed & cadence sensor);
brytonsport.com.au