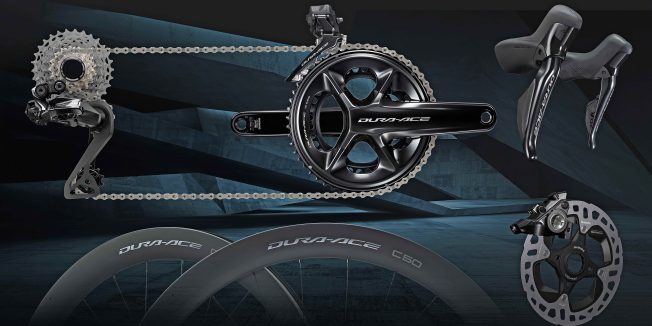 Shimano's perfect dozen
The latest renditions of Dura-Ace and Ultegra have been released simultaneously, and they build upon the company's gold-standard approach.
Words Jack Lynch
Every time a new version of Dura-Ace is released, it's tough to decide its headline feature. The R9200 series is no different, although its update from 11-speed to 12-speed and the latest 'semi-wireless' configuration are arguably the two largest talking points. But there are plenty of other features about Shimano's newest groupsets to get tongues wagging.
For instance, Dura-Ace R9200 and Ultegra R8100 will only be offered in electronic versions. It's likely you'll never see a Dura-Ace or Ultegra badged groupset with traditional gear cables ever again. (expect the price of bikes to continue an upward trajectory and more 105 to be seen in the bunch).
Shimano has also improved (disc) braking performance, unveiled a new wheel collection, and updated its chainring and cassette collection, bringing it up to speed with modern tastes.
Okay, explain semi-wireless to me
Sram has been doing full wireless since 2015. We all acknowledge eTap is a tremendous achievement and is a credit to modern engineering. Shimano, on the other hand, has opted to keep its powder dry in the full wireless game, choosing to focus on 'shifting reliability' (which was written in bold in the press release) and shift speed. Calling out these attributes takes aim at negative perceptions of Sram being too slow and Campagnolo being finicky in one fell swoop. Ouch.
'Semi-wireless' to Shimano means the front and rear derailleurs are wired to an internal battery, which operates like a brain back to the unwired shifters that are each powered by a coin cell battery. It makes shifter installation slightly easier, and mechanics will no longer have to fumble around with Di2 wires through internal handlebars, integrated headsets and down tubes. (Brake cables will still be present though, of course.)
Speaking of wires, the R9200's will be narrower than the former e-tube wires, which were already pretty easy to conceal on most bikes.
Practically, Dura-Ace (and Ultegra) maintain slender derailleur profiles as the battery remains inside the bike's frame. The trade-off is you'll need to install the wires, although this is a straightforward process and will only need to be done once.
A cool feature of semi-wireless is the system will now charge from the rear derailleur, doing away with Shimano's junction box and its various interactions.
And by the way, if you thought you couldn't get shifting faster than R9100, think again. As you'd expect, Shimano calls out R9200 as its fastest-ever shifting – so get out your stopwatches.
The drivetrain
Adding a 12th cog to the cassette is another feature of R9200 and R8100 where Shimano is just catching up on its rivals. It went 12-speed in 2018 with its flagship mountain bike group, XTR, but has only now joined Sram and Campagnolo with a dozen sprockets for its premier road ensembles.
A primary reason 12 is better than 11, which outdoes 10, which is an improvement on nine, which is more beneficial than eight, etc., is you can have a larger spread of gears with fewer jumps between gear changes. Translation? Smoother pedalling.
Through Shimano's 12-speed road systems, Dura-Ace and Ultegra have done something very un-cycling and simplified the cassette options. For now, both R9200 and R8100 have just two cassettes to choose from: 11-30t and 11-34t. This is a godsend for all bike shops who have, for years, grappled with stock control and are fed up explaining to customers that an 11-23t cassette doesn't mean they'll be faster than their mate up the back of Falls because they have no choice but to push harder.
Both Dura-Ace and Ultegra cranksets have an integrated power meter option – this is a new feature in Ultegra's armoury. Dura-Ace also has the option for a 54-40t chainring configuration and will no longer offer 53-39t. The end of an era. Other chainring options for both Ultegra and Dura-Ace are 52-36t and 50-34t.
Braking performance
Both Dura-Ace and Ultegra offer rim brakes, but they have received little more than a graphics update. The future is disc, and Shimano knows it. Dura-Ace R9200 makes braking a feature of performance. 'Races can be decided in the corners,' Shimano says, 'so improved braking can make the difference between a podium finish and disappointment.'
This is 2021 and braking is a big deal. New Dura-Ace and Ultegra components borrow
features from Shimano's mountain bike and gravel systems called SERVO WAVE, which means a shorter free stroke for faster braking connection between the pads and rotors. On the road, you'd call this 'better feathering' to enable you to carry more speed through corners thanks to less brake bite on the rotors.
Pleasingly, there is also a little more room between the pads and the rotors (10% to be exact), to further reduce the potential for pad rub on the road. It's quieter and more efficient than anything we've seen from Shimano before.
Rounding it out
As with any Dura-Ace groupset launch, there is an accompanying wheel line-up. Lighter, stiffer and more aero is Shimano's modus operandi when bringing out new wheels, and these are no different.
Ultegra makes a welcome return to the wheel world, after Shimano didn't release an R8000 series wheelset. So, for the first time, Ultegra's range includes wheels that are full carbon, tubeless ready and designed for disc brakes. That's great for everyone who craves Dura-Ace technology but prefers a more modest price point.
Overall, Shimano continues to find new ways of improving its top-tiered groupset, Dura-Ace, and of trickling its technologies down the range.
This upgrade may not have the wow factor of its first Dual Control Levers in 1990 (7400), the mind-blowing 7970 Di2 drop of 2009 or those gorgeous four-arm cranks of the 9000 series in 2012. However, what it does have is the guarantee that it is better than all its forebears. By sticking to what Shimano knows works, Dura-Ace, Ultegra, 105, Tiagra and Sora will continue to deliver class-leading performance, price and reliability in the cycling industry.
Save for the extra cog on the cassette, R9200 doesn't make you want to throw your R9100 in the bin and upgrade. Equally though, there is nothing offensive or risky about this new groupset. It is the best you can buy – it looks great and will deliver perfect performance every time, just like every other Shimano groupset you've owned.
Pricing
Dura-Ace R9200 with standard cranks, no wheels, $5,873; wheels $3,830 (pair)
Ultegra R8100 with standard cranks, no wheels, $3,586; wheels $2,335 (pair)
Power meter crankset, $1500