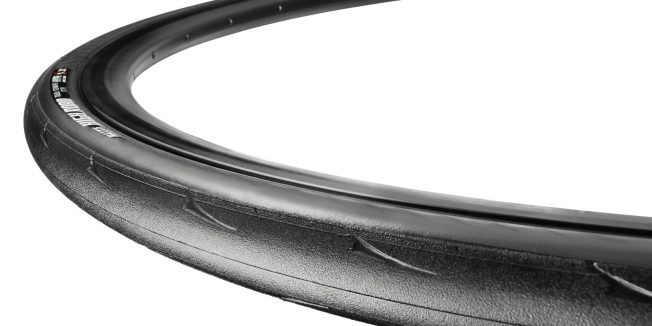 Maxxis High Road ZK Clincher tyre
Maxxis is known as one of the best and most prolific tyre brands in the world. The Taiwan company was founded in 1967 as a bicycle tyre manufacturer and has since excelled in providing rubber for pretty much anything with an engine.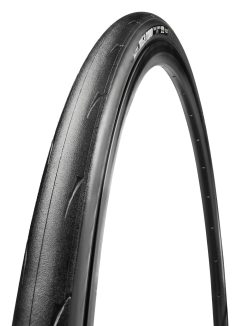 It's big in the mountain bike world and original equipment market (Maxxis does tyres for Cannondale, Giant and Merida, among others), but has not been a huge player in the road scene. However, it has built on the recent success of its Re-Fuse road training tyre with the new High Road race offering. In time, the High Road should help to build its reputation on tarmac.
The 218g High Road ZK (700x28c clincher) is a competition-ready tyre, but has the Maxxis ZK puncture protection, which is a light and flexible layer under the rubber to repel any sharp objects.
The High Road also uses the Maxxis HYPR compound which, compared with the company's previous road tyre, decreases rolling resistance and increases grip – particularly in wet conditions.
If you're looking for a comparison, the High Road ZK foldable (not tubeless) is around 30g lighter than the equivalent Vittoria Corsa Next, which also proclaims class-leading speed, grip and durability.
This reviewer hadn't used Maxxis's top-tier road tyre until this generation and can confidently say it's worth a crack for anyone looking to go quick on-road. Trusted by Israel–Premier Tech at WorldTour level and backed by more than 50 years' experience working with rubber, Maxxis is clearly a brand you can bank on.
We recommend the High Road ZK for all your riding needs (clincher, tubed or tubeless), but if you're a speed demon without concern for puncture protection there's the featherlight 180g High Road SL. There are also a couple of super durable models for winter training, commuting or light gravel.
The Maxxis High Road ZK Clincher tyre is $100.
For further information, visit Maxxis.com.