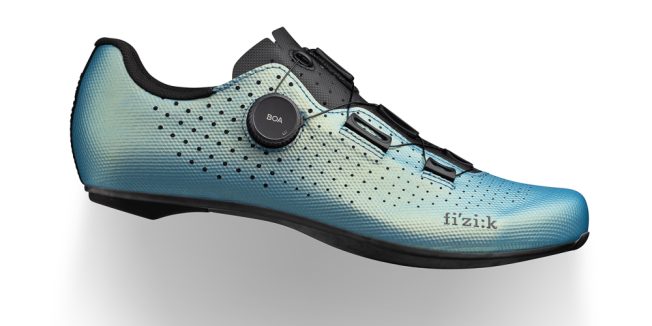 Fizik Tempo Decos shoes
'Tempo' means time in Italian, and the Fizik Temp Decos is a shoe that may well stand the ticking of the clock.
Weighing a claimed 228g in size 42, the Decos shoes borrow technology from Fizik's range-topping Vento Stabilita Carbon, but use a simpler design which Fizik says lowers manufacturing costs.
Simple doesn't have to mean inferior in design terms, however, and the Decos is similarly clean and slick like its more expensive stablemates, with minimal patterning and subtle perforations to the upper.
The Tempo Decos wowed us at first look – a single, low-profile Li2 Boa dial and PU laminate makes it extremely low profile, blending into your foot, so your calves absolutely pop when putting the power down (the important thing).
Fizik's R2 carbon sole is extremely stiff, but the upper foot materials are flexible enough to ensure the shoes remain comfortable all day. The upper is made from a polyurethane laminate-mesh composite fabric.
The fastening comes courtesy of an asymmetrical closure system that uses one Boa Li2 dial. Fizik claims this dial is smaller than previous iterations and is bi-directional, which allows for increased adjustability and so offers a better rider fit.
The Decos felt like ballet shoes off the bike without cleats screwed in, as so many shoes are. However, what separates these from other bike shoes is that the quality of the finish is seamless, almost literally. There are very few pieces to these shoes, so no pesky threads or loose bits of material can move and irritate you on a ride.
Fizik knows there are plenty of super high-quality shoes at the Decos's price point, so it has given consumers some great colour options alongside block white and black to think about. The iridescent light blue pair on test looks even better in real life than the photos, changing colour from blue to green in different light.
We've ridden our fair share of Fizik shoes at Cyclist and this rendition is its best we've tried across the three key categories of looks, comfort and performance.
AU pricing: $489.95
Website: fizik.com