With a decade of experience Dave Musgrove, made the bike he wanted to ride without compromise. The result, he created Grove Bike Co and their flagship RAD (Road And Dirt) a high-end premium aluminium gravel bike that sweats the small stuff.
To date, one of my favourite multi-surface drop bar bikes is the Cell Brunswick 2.0. From the mind of Sydney-based Dave Musgrove. This CX race bike didn't need to hide behind a big brand name or flashy parts; it was well put together, with a smart spec' and it didn't cost as much as a used car. The combination of the well thought out geometry and rack mounts galore made it just as comfortable for 'I can taste blood in my mouth' 'cross racing, to gravel adventures loaded up with overnight gear and even commutes too.
After reviewing the Brunswick 2.0 for another publication, Musgrove told me in an email "wait until you see the Brunswick 3.0. I'm changing up the geometry again, going lighter and radder."
Unfortunately, Cell Bikes abruptly went under before the Brunswick 3.0 hit stores. Musgrove had about a decade of experience not only making bikes, and already had relationships with the suppliers and factories in Taiwan, so the logical next step was for the Northern Beaches local to set off on his own. Now he could make the bike he wanted to ride without having to aim for specific price points.
The result is the RAD (Road And Dirt) a high-end premium aluminium gravel bike that sweats the small stuff.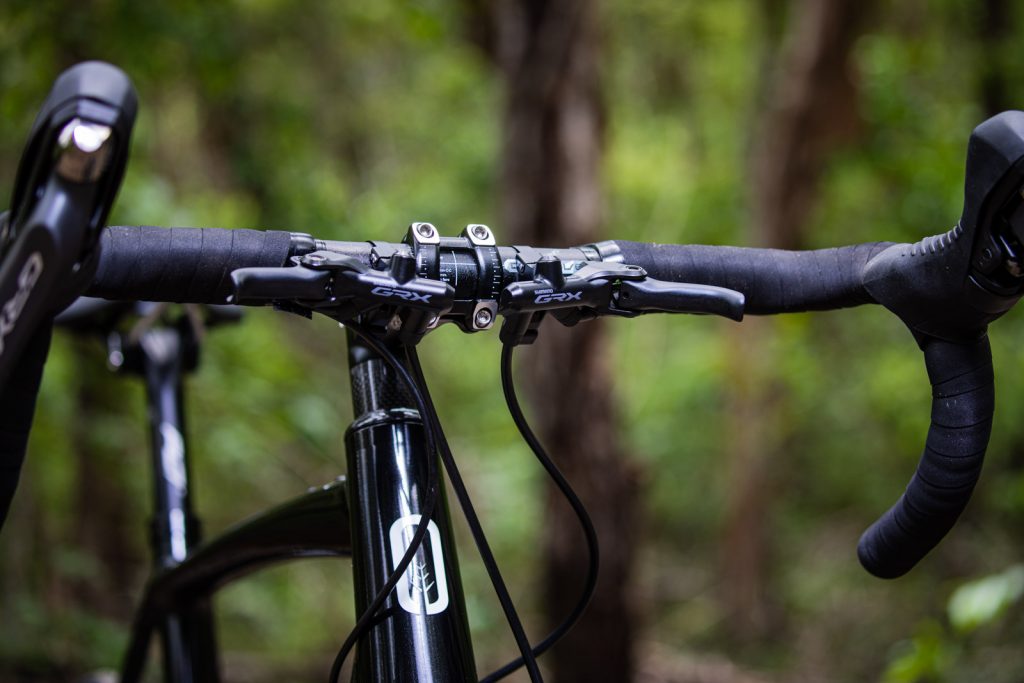 Get RAD
While the bike industry as a whole seeks to pigeonhole bikes into a specific category, Musgrove tells us the RAD is a bike designed to do many things; it can happily rip around a CX course with 33mm tyres on Saturday and then swap to a set of 650b wheels Sunday for fire road bashing adventure and get you to work as a commuter on Monday. 
The frame errs more on the aggressive side of the gravel spectrum with a 72-degree head angle, 73.5-degree seat angle and a stack and reach of 578mm and 389mm. The numbers are quite close to Specialized's 2017 Crux with a low BB for a CX, one of the best Gravel Racers you could buy. The RAD's 68mm BB drop is based around what Musgrove calls the optimal CX geometry; it's not twitchy or tippy with the 700c wheel, then when you swap to a smaller 650b wheelset, it lowers the bottom bracket and your centre of gravity by about 12mm — just high enough that your cranks will clear rocks and roots on techy climbs.
The chainstays on most gravel bikes measure ~425mm which is about as short they can go to achieve enough tyre or chainring clearance. The RAD has 420mm chainstays without using anything proprietary or dropped tubing but still clears a up 700×43 or 27.5×2.1in tyres by using a CNC machined yoke. Not only does this keep the classic two triangle aesthetic it creates a more direct tube path with shorter sections of tubing. This combined with the solid metal yoke and wide stance of the BB86 bottom bracket make for a unyielding pedaling platform.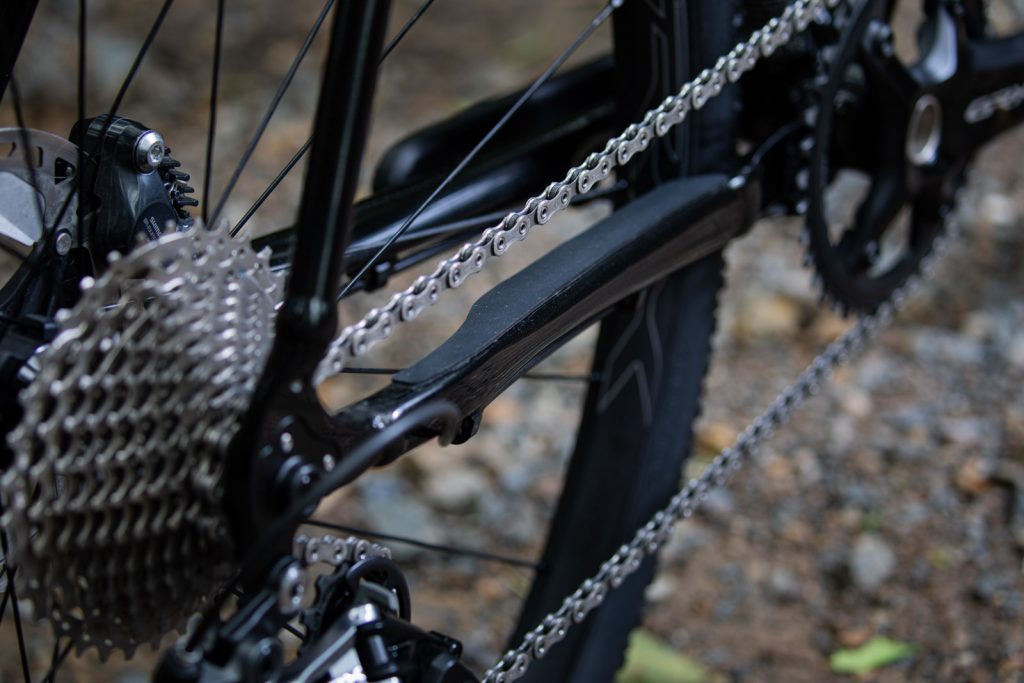 Firmly footed
It's this rigid platform which I think defines the bike, when you push on the pedals the Grove surges forward like its been poked in the bum with a cattle prod no matter the surface; it's not sluggish or relaxed at the pedals like some gravel bikes can feel and there is nothing lost to flex.
The rest of the frame is made from triple-butted 6069TC aluminium, an ultra-high-end alloy used by quite a few brands for premium aluminium bikes for its strength and fatigue life. The cable routing is internal, the bike uses thru-axles front and rear and flat mount disc brakes.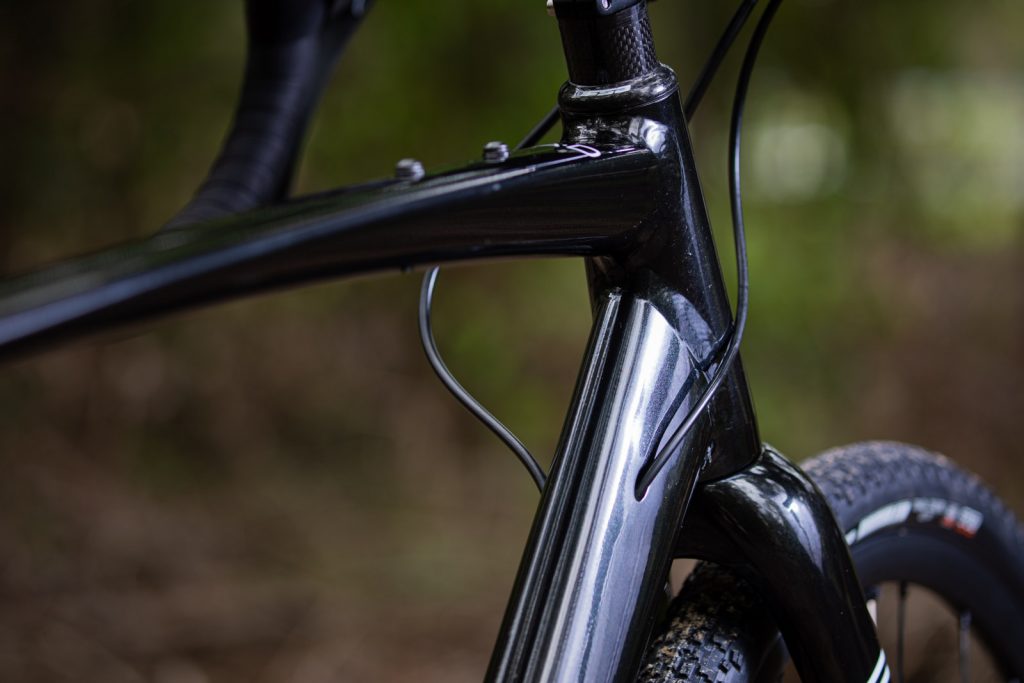 At the front is a full carbon fork, with a 1 ⅛in to 1 ½in steerer tube and the front end like the bottom bracket is extremely stiff and tracks through corners like it's on rails. With that I did find that this stiffness leant itself to harsher ride quality through my hands, which also accentuated by how well the seat stays and 27.3mm seat post combat vibration and shock. I wouldn't go as far as saying the ride is unbalanced, but there is a noticeable difference between the ride quality at either end. It's also worth noting that tyre choice and pressure can also have a major effect in this arena. With the mounting points spread around the rest of the frame, I am somewhat surprised by the lack of bosses on the fork.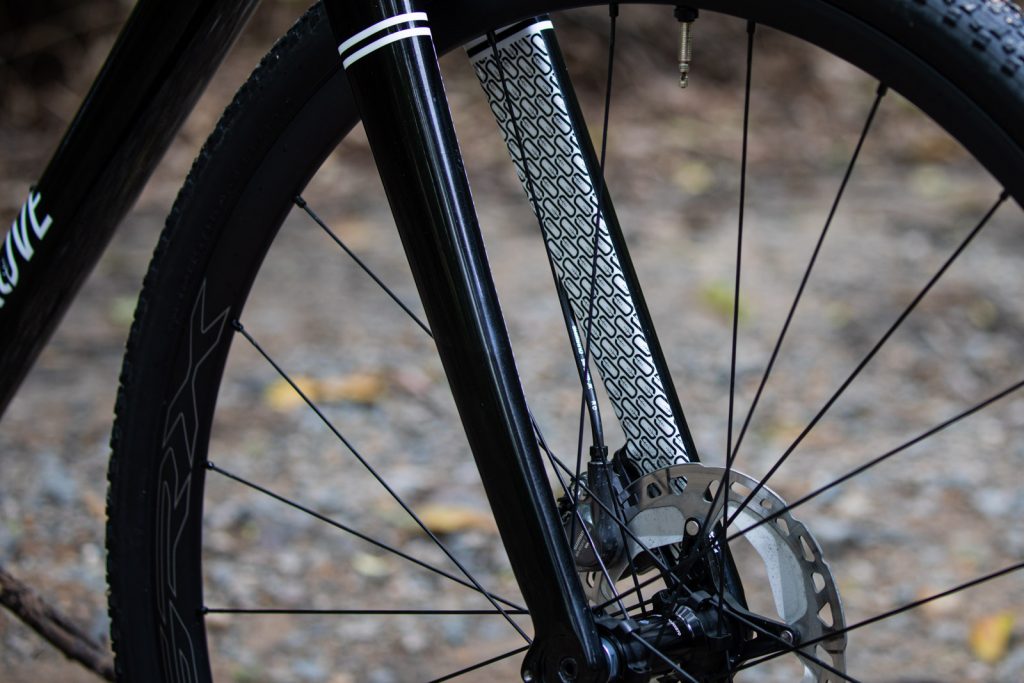 Even though the geometry is more CX than gravel, the RAD is extremely capable, and it's a bike that wants to party. Spritely and quick handling means you don't need much mustard to change your line, but it's not so fast to leave you with brown bike pants when you get in over your head. I can't speak to what the bike rides like with skinner 35c or 33c rubber or 650b wheels and tyres as I didn't have any on hand to slot in, but I was genuinely surprised how well the bike handled itself on the fire roads around Nerang (Queensland, Australia) in the 700 x 40mm setup.
On the nasty near vertical fire road slogs the short chainstays keep your weight over the rear wheel and help the tyres dig in their claws to keep you moving up.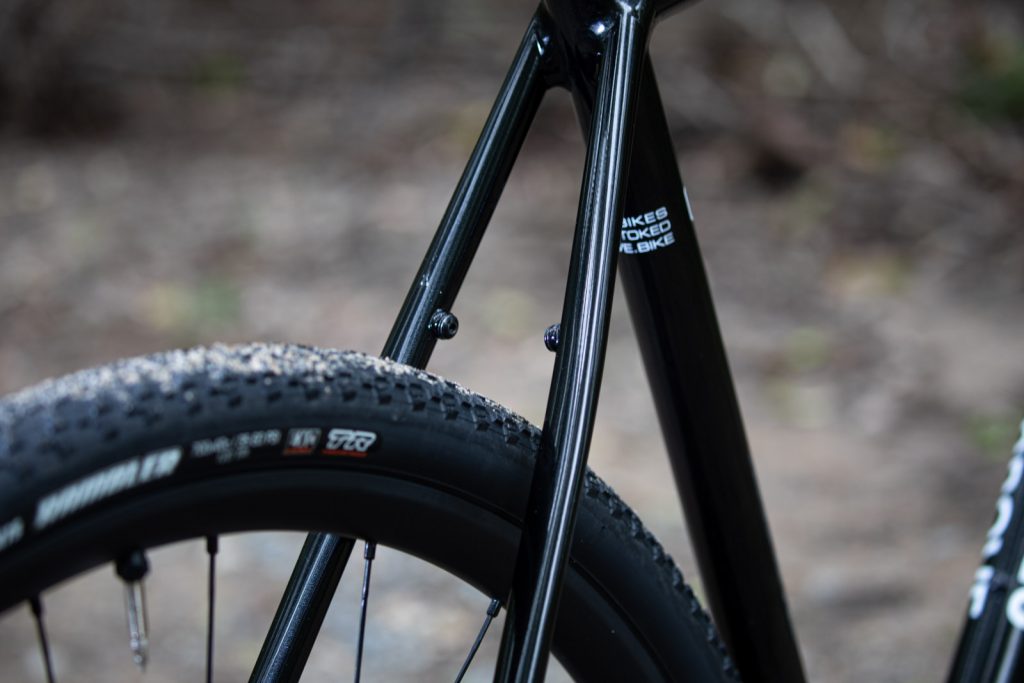 Shimano GRX
On the Grove website, there are two basic builds available SRAM Force 1 and Apex one; however, my test bike was a special build shod with the new 1×11 Shimano GRX RX 800 components. At the front, the ergonomics of the hoods have been redesigned and shimano added some texture to improve grip. The brake levers are flared and receive a brushed, almost rubberised finish that provides considerably more purchase than the polished finish on the road levers. It's a small detail, but having used it in the wet its something I now wish Shimano would apply throughout the rest of its range — the difference is night and day.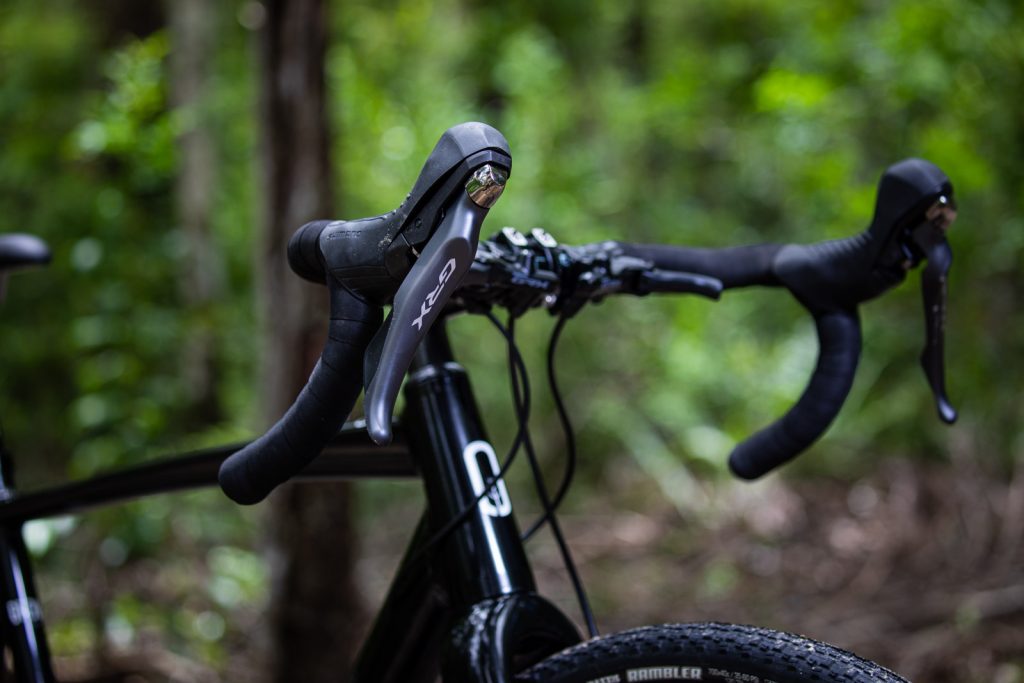 The brake pivot in the levers has been moved up to create more leverage when braking from the hoods, and by result from the drops too. The brake calipers look to be almost identical to the Ultegra road version. Shimano employed its Servo-Wave tech from the MTB side of things which speeds pad actuation at the top of the stroke, until contact with the rotor and then slows to provide greater modulation and control. When paired with the 160mm Ultegra rotors, I could put myself in steep terrain that was well beyond where a drop-bar bike should go, and still pick my way slowly down steep and rutted fire roads without losing traction or control.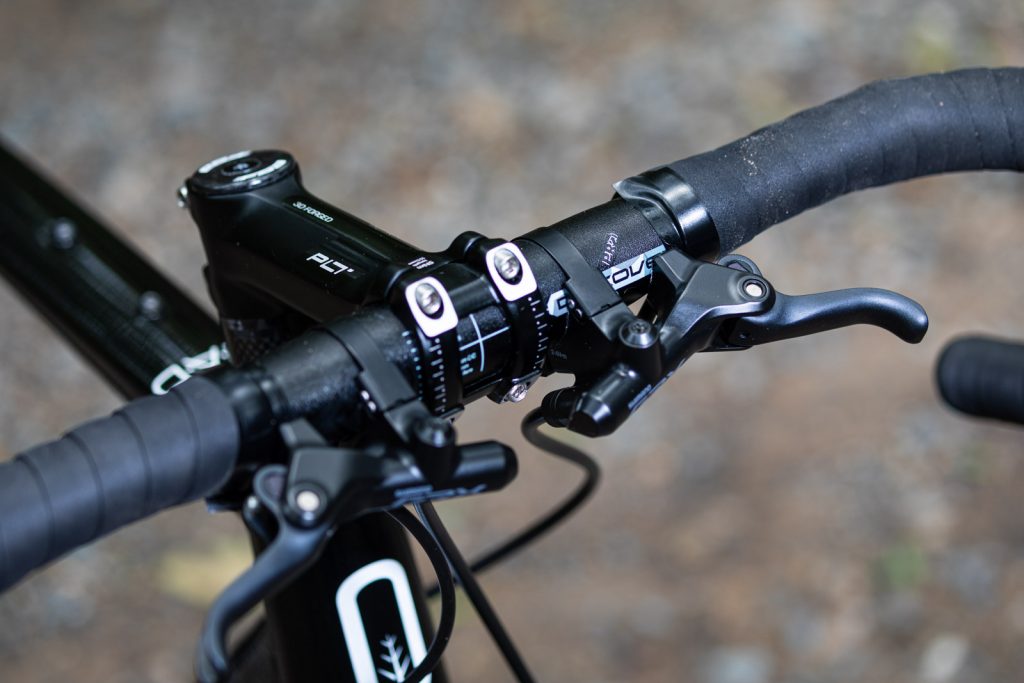 My test bike also had the new GRX inline hydraulic sub brakes. The sub brakes don't offer near the same power as the Dual Control levers, and the clamp design means they need to be mounted right next to the stem. That said it allows another hand position where you can drop the anchors if the need should arise.
Like any other Shimano groupset, GRX offers flawless shifting, and our RX810 group falls roughly in line with Ultegra as far as performance and feel — though the addition of the clutch does require slightly more muscle to move the chain up the cassette. This is hardly a complaint as the alternative is a wildly swinging chain that's likely to find its way off the front chainring when things get spicy. Here on the Gold Coast the gravel options are mostly steep fire roads or hidden urban singletrack and gravel paths until you work your way inland or down towards the New South Wales border.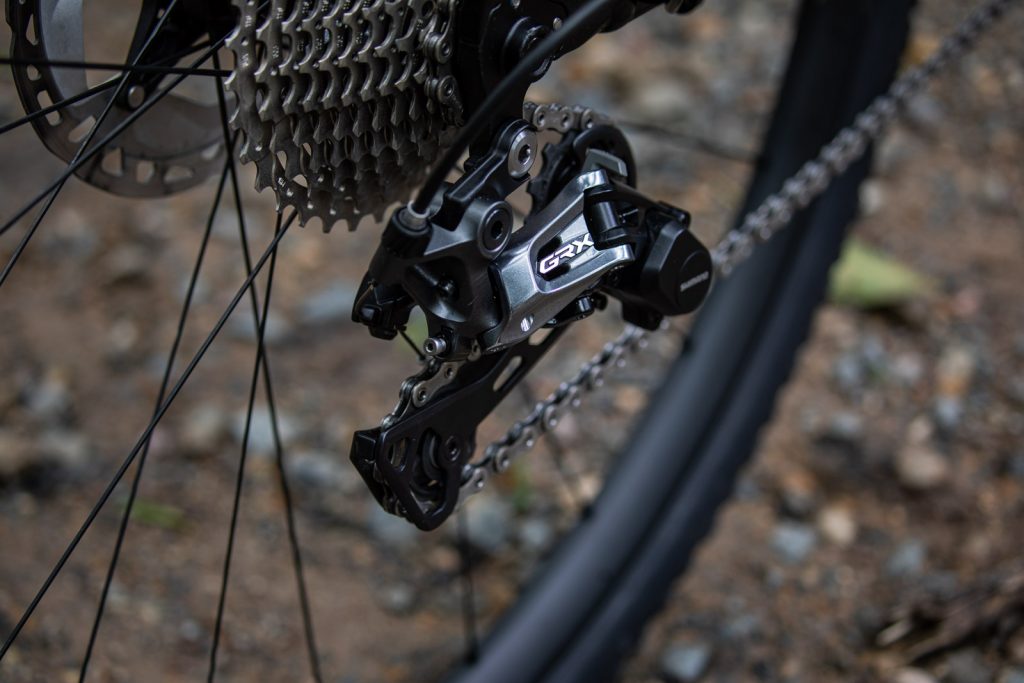 On the Groad
The majority of my riding with the Grove consisted of grinding up steep fire trails and the 34-11t cassette combine with the 40t chainring was a bit steep for my legs; I probably would have opted for the 42t cassette and long cage derailleur or a smaller chainring — as it stands the smallest GRX chainring is 40T. While there's also a 2x GRX crankset, the RAD doesn't have provisions for a front derailleur.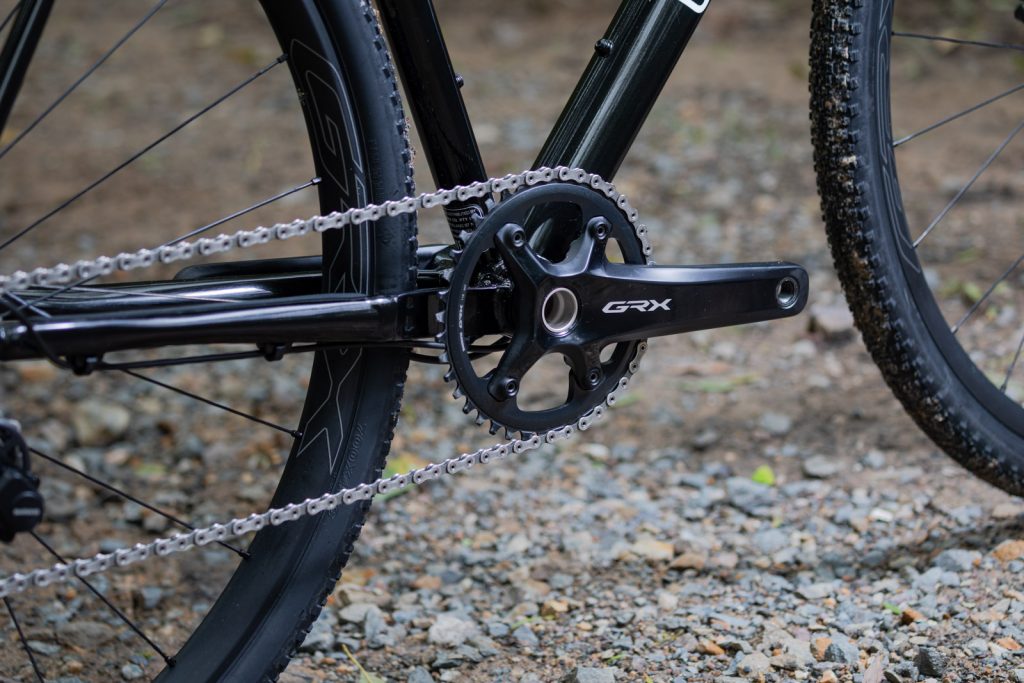 My Grove tester was also spec'd with GRX 570 alloy wheels and 700 x40c Maxxis Rambler tyres. Measuring 21.6mm wide the GRX rims aren't the broadest, but Shimano does trend slightly more conservative in its wheel designs to ensure compatibility with as many bike and tyre combinations as possible while still maintaining reliable performance — and that's precisely what they do.
After two months of testing, they are still true as the day I pulled them out of the box, and I didn't experience any burping despite running them at very low pressure. I didn't strip them down to weigh them, but the 1650g claimed weight seems realistic; they aren't the lightest hoops on the market, but they're comfortable with changes in speed and don't feel weighed down as you grind up a climb.
The 40mm Ramblers have plenty of sidewall support on the GRX rims but Musgrove warns they are right on the edge of the tread radius he's designed the Grove around — any larger than 700 x 40c or smaller than 700x28c and the tyre volume will change the trail figure enough to affect the handling. The Ramblers are a solid tyre and do well to balance the rolling resistance to grip equation, however for my locale they are both too much and not enough tyre at the same time —  by this, I mean something a bit narrower would have been better suited to my urban gravel routes while 650b would have been better suited to fire road bashing around Nerang.
Overall the Grove Rad is more or less unflappable in every situation I pedalled it into. It has its limits just as any other bike does, but it's efficient enough to happily cruise on the pavement with your lycra-clad riding buddies, and then swap in a set of 650b with plump rubber in search of more rugged riding and singletrack.
Grove R.A.D w/ Shimano GRX
Frame: Grove R.A.D AL-6069-T6 with tapered head tube, Pressfit BB86, 142x12mm thru axle and 140/160mm flat mount disc dropouts, internal cable routing, three bottle cage mounts, rear carrier and mudguard compatible

Fork: Grove R.A.D full carbon with 1 1/8″ to 1 1/2″ tapered steerer, 100x12mm thru axle, 140/160mm flat mount disc, internal brake hose routing, mudguard mounts

Crankset: Shimano GRX FC-RX810-1, 40T

Cassette: Shimano HG800-11, 11-34T

Chain: Shimano Ultegra

Rear Derailleur: Shimano GRO RD-RX810

Shifters: Shimano GRX ST RX810

Brakes: Shimano GRX ST RX810, GRK Hydraulic Disc Sub Lever RX812, GRX Hydraulic Caliper RX810, Ultegra Center Lock Rotors RT800 (160/160)

Handlebar: Pro LT Handlebar

Stem: Pro PLT, 100mm

Seatpost: Pro PLT Seatpost

Saddle: Pro Turnix

Wheelset: Shimano GRX RX570

Tyres: Maxxis Ramblerl, 700 x 40mm
Head to Grove Bike Co for full details including specification options and pricing.