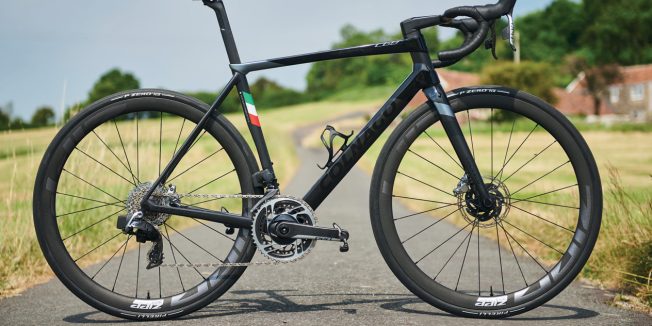 Colnago – C68 Road
The flagship has been refitted, but it's still very Colnago
Words James Spender
First thing's first: this is the Colnago C68 Road Disc, not to be confused with the C68 Allroad or the soon-to-be-released C68 Gravel.
As such, it replaces the C64 (there was only ever one C64) in spirit, although it is quite a departure in design.
Each frame is still made in Italy, but tyre clearance jumps from 28mm to 32mm and the famous lugged construction is now more like 'lugged monocoque'.
'There are six parts of the frame as opposed to the eight parts in the C64,' says Colnago's head of R&D, Davide Fumagalli.
'Splitting the frame like this meant we could increase the stiffness of the front end, which was compromised by having a junction in the most stressed area of the frame – the top of the down tube.
' Unlike the C64, whose front end comprised a one-piece head tube lug into which top and down tubes were bonded, the C68's head tube and down tube are moulded as a single piece, eliminating that lug/tube junction.
The bottom bracket cluster gets similar treatment – the C64 had a single BB lug/cluster whereas the C68's seat tube and BB cluster is one piece.
This is all neat engineering but I can't say I'm not a little sad.
It marks the end of the aesthetic and feeling that a C-Series bike was a steel Colnago, just cast in carbon.
But this is weepy-eyed nostalgia; the brief was always to be the best race bike, it's just that Colnago has come up with what it believes is a better solution.
Keeping on in that vein, the BB is now T47 (although Colnago points out the C60's old ThreadFit 82.5 system was really the precursor to T47, with its press-fit, threaded alloy sleeve), and headset bearings are CeramicSpeed SLT – 'solid lubrication technology'.
These are clever. Instead of being contained in a steel cage and lubed with grease, the steel balls in SLT bearings are held captive in a solid polymer ring, itself containing microscopic pores impregnated with oil.
As such, the bearings self-lubricate while simultaneously having no space for water or dirt ingress.
In theory this makes SLT bearings maintenance-free, which is mightily impressive.
Finally, rounding off the whistling bells is a Granite Stash multitool, which hides in an alloy sleeve in the fork steerer.
This I'm less impressed by.
The integrated setup makes headset adjustment more fiddly (SLT doesn't mean you'll never have to adjust a headset again) and, ultimately, the tool's effectiveness is compromised by being so compact.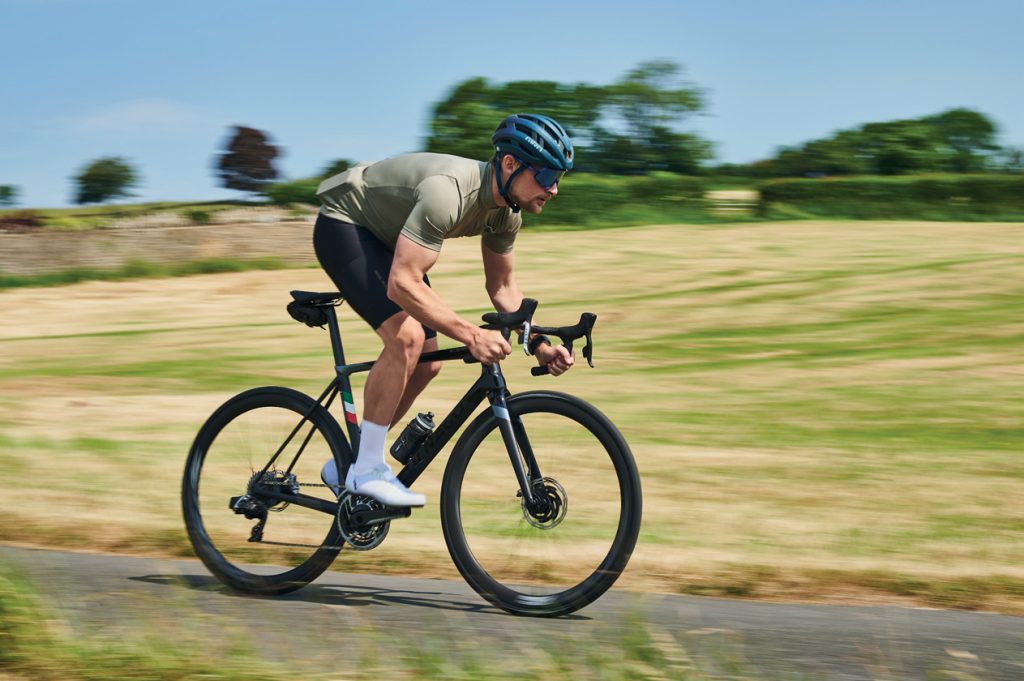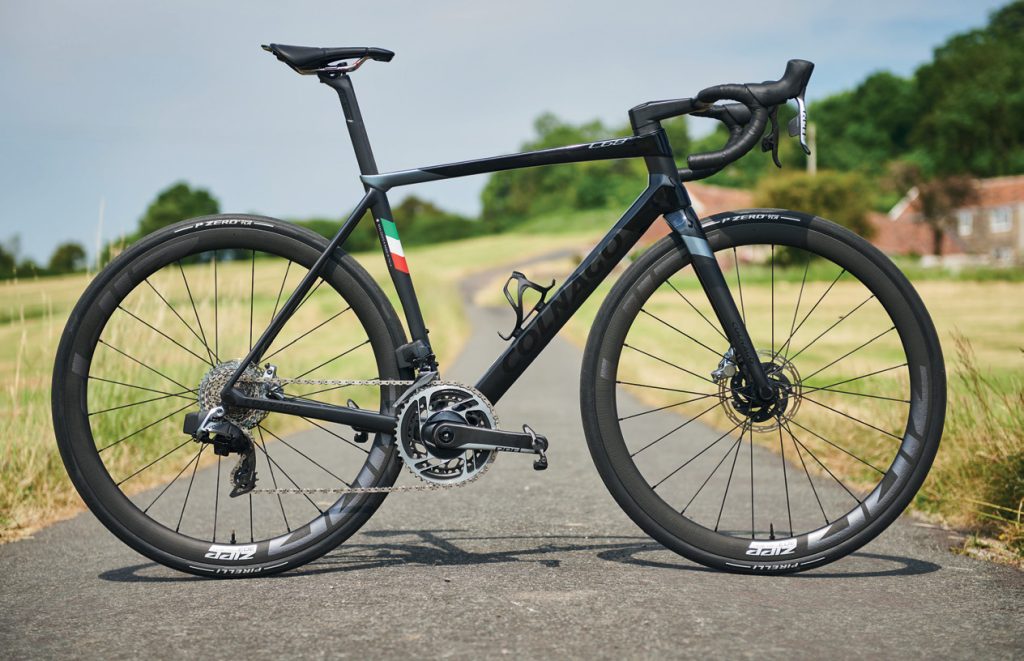 Handling 
Geometry is similar to the last C60 and C64, and in that, very 'Colnago'.
The seat tube is a steep 74°, pitching my centre of gravity that bit further forward, while trail is quite slack for a racer at 68mm. Compare this with a Specialized Tarmac (55mm trail) and you get the picture.
Then throw in a 998mm wheelbase and the C68 sounds almost stately.
But it isn't.
This is precisely the kind of bike that I'd love to take to the high mountains.
It just begs to descend long, fast roads, where technical turns spill into sweeping arcs and back again, and the reason is Colnago's geometry playbook makes the C68 incredibly stable at speed, its handling sharpening up the faster you go as long-trail bikes are wont to do.
In the same breath this makes for a less responsive bike at slower speeds, but that's the trade-off. Colnago has always plumped for such surefootedness – after all, Ernesto built for Merckx, who was famously all about safety being the bedrock of speed.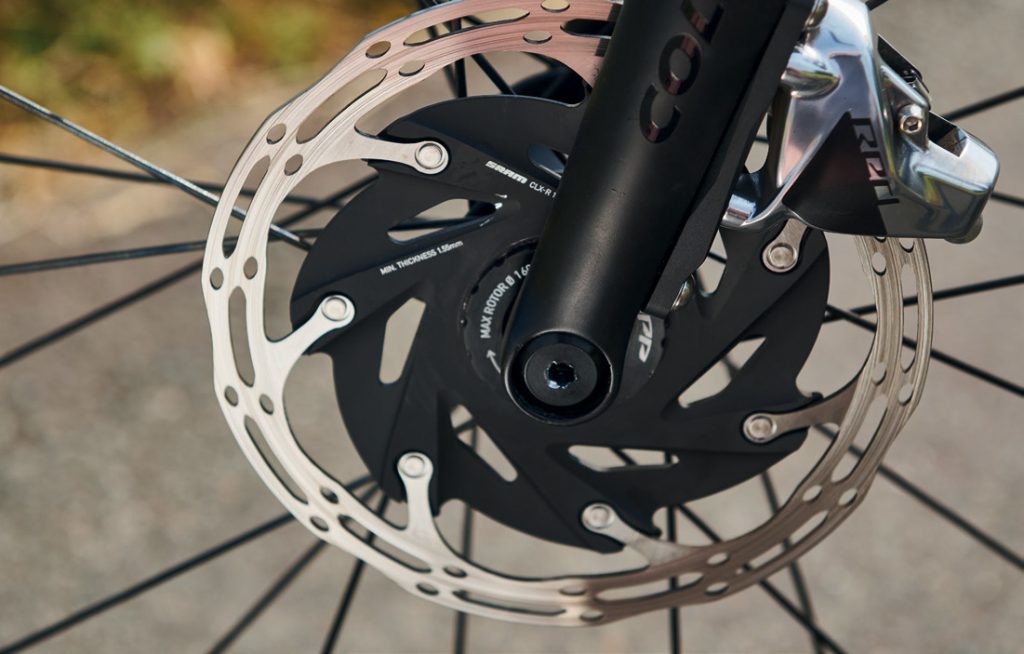 Plaudits
At 7.2kg the C68 should be good on climbs, but it still punches above its weight due to a very stiff front end.
Under serious bar wrenching, the front of the bike is steadfast, as are the bars.
They look aero-thin and flexible, but when I bounced my full weight on them (usually a sure-fire way to make aero bars flex) they barely budged.
Given this, I reckon narrower tyres would start to make the bike feel quite harsh, but that's the brilliant thing about the shift to wider tyres such as these 30mm Pirellis.
It leaves more room for frames to be stiff without making for harsh-feeling bikes or bikes that corner skittishly.
Are there faults with the C68? Well, it doesn't have that explosive, electric feeling if that's what you're after; it also costs insane money; plus I'd leave that multitool in the shop.
But if you can park notions of value, and if you want a bike that's more finesse than fire, the C68 is a superb all-rounder that unfurls its hand subtly to reveal an exceptionally well-honed ride.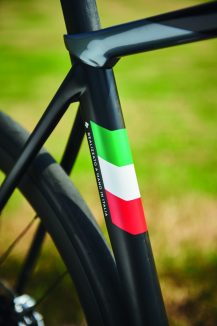 The spec 
Model Colnago C68 Road 
Price $17,999 
Weight 7.2kg (size 510) 
Groupset Sram Red AXS 
Wheels Zipp 303 Firecrest Tubeless Disc
Finishing kit Colnago CC.01 bar/stem, Colnago C68 Carbon seatpost, Prologo Scratch M5 Ti saddle, Pirelli P Zero Race TLR 30mm tyres 
Contact colnago.com
Highlights
Frame junctions such as head tube and down tube are now moulded as one piece, increasing stiffness 

Colnago's CC.01 bar/stem is aero and stiff. Below, CeramicSpeed SLT bearings promise zero headset lubing 

In typical Colnago fashion, fork trail is long, making for a stable bike at speed