In our endless pursuit of new gravel adventures, Cyclist dips into the Yass Valley for a ride that takes in Lake Burrinjuck, Wee Jasper and the Brindabella Ranges.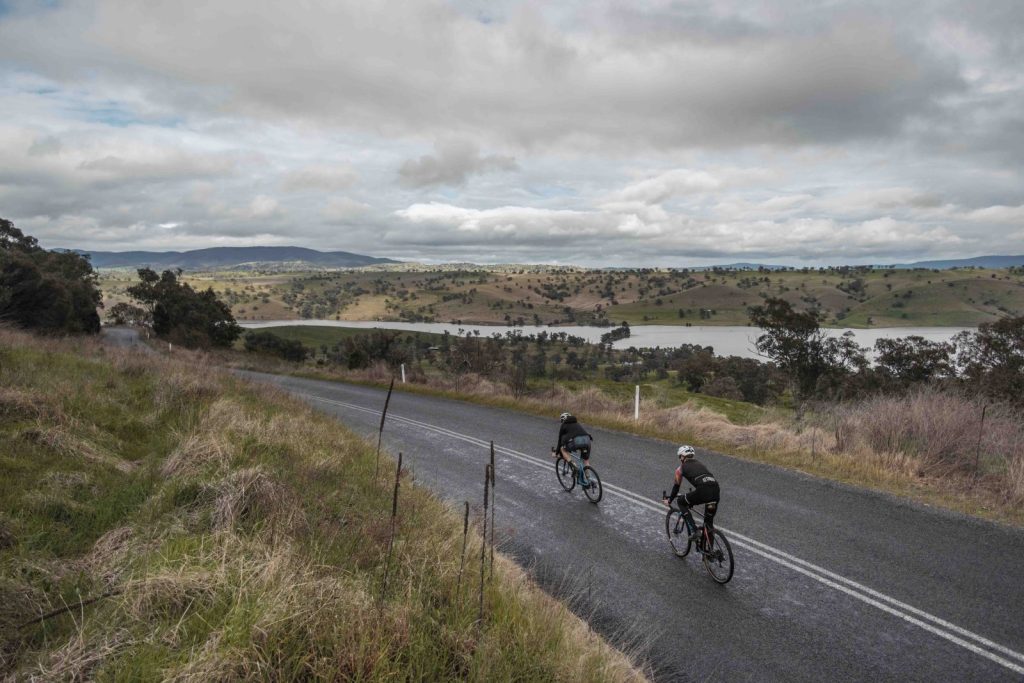 Words Tam Allenby
Photography Simon Esjay James
As cyclists, we're creatures of habit: the same meeting time, the same rides, with the same faces. This type of riding scratches the itch, but it's not completely satisfying. So if your regular morning rides are getting stale, and you're sick of the same views every day, there's nothing better than expanding your horizons and riding somewhere new. But what if you only have 24 hours to spare?
As many have discovered over the last few years, gravel is the answer. Chances are, even if you live in the middle of a metropolitan centre, as I do, there are spectacular unsealed roads – blissfully free from traffic – only two or three hours' drive from your front door.
So, a couple of mates and I put together a plan: drive to Yass (in the NSW Southern Tablelands) after work on Friday, stay the night at the pub, and roll out early the next morning – with the aim of arriving back in Sydney well before dark. We devised a route that skirted the edge of the Brindabella Range – nice and hilly, the distance an enjoyable 93km. Most importantly, the area was one that our group of three (along with Esjay, and Cyclist debutant Tobi) hadn't ridden before, and we were all eager to get out there and explore new roads.
Twenty-four-hour gravel trip? Yass please.

Roll out
The alarm goes off at 6am and I desperately want to hit snooze. The one man, one guitar show downstairs last night was followed by a couple of hours of singalongs on the jukebox, the locals rattling through all the classics, from 'Khe Sanh' to 'Better Man'. I guess that's what you get for staying at the pub. Should have brought earplugs.
We meet in the communal kitchen, wolf down some Weet-Bix and Boss canned coffees, and kit up, moving our bags to the car. It's wet, but according to the radar at least, clearing up, so we decide to wait it out – better to start out dry, we collectively decide.
This early on a weekend, Yass is still asleep. Apart from an appearance on Queer Eye back in 2018 – when the Fab Five worked their magic and made up a local farmer – Yass isn't exactly world famous, but we've heard it makes a decent base from which to explore the region's gravel roads. Despite driving past the turn-off countless times, I've never actually been into town, and I'm keen to see what the area has to offer.
By the time the rain passes, it's 7:30am, and we roll out of town under stormy skies, the air temperature a cool eight degrees. Within five minutes we're enjoying a nice bit of uphill, sealed farm road, perfect for a warm-up. Tobi, in particular, is happy to ease into it; 24 hours earlier it was touch-and-go whether he would come at all, still feeling the effects of a rather large evening a couple of nights before. Luckily, there's nothing quite like a Big Ride to reboot the system.
The road is a little soggy, but the rain is holding off, and at the 9km mark we crest the uphill drag and drop into a wide open valley, the Brindabella Range in the distance. Thanks to La Niña, the countryside is greener than I've ever seen it, but it has also left its mark on the roads with some pretty severe potholes to avoid. I'm glad we're on gravel bikes.
At around 17 kays in, I'm surprised to see the Telstra Tower at Black Mountain easily visible in the distance. We're much closer to Canberra than I realised. Soon after, the road drops away and we enjoy a huge view over the Murrumbidgee River and Lake Burrinjuck. It's a wonderfully impressive sight, but we peel our eyes away from the vista to focus on the sweeping bends quickly approaching, and within a couple of minutes we're down at the river and onto a bridge.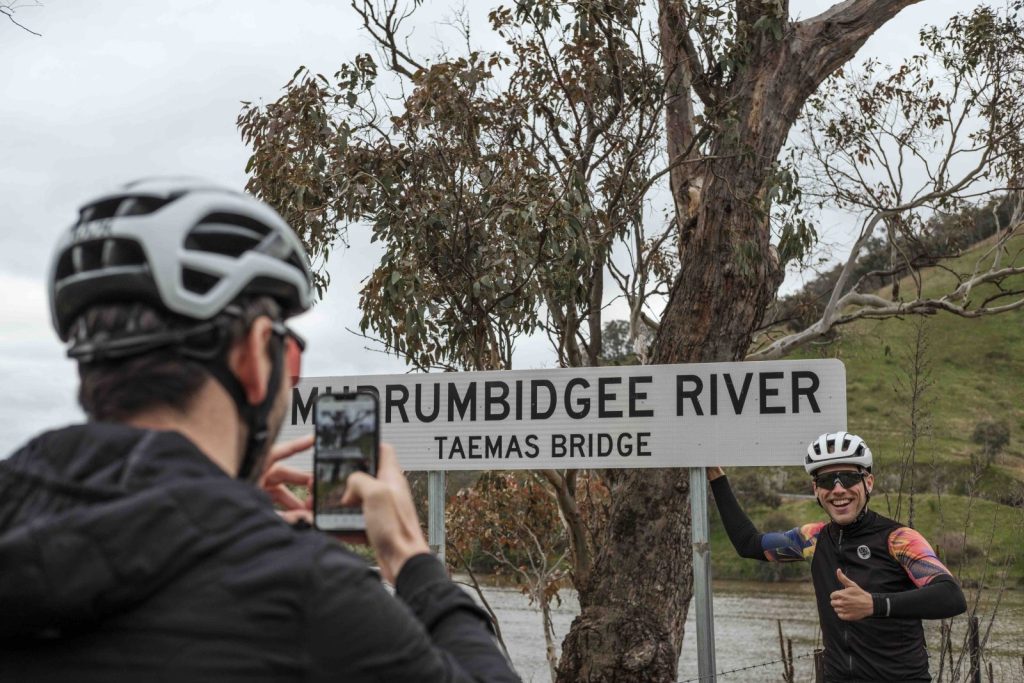 I'm amused to discover that the old but solidly built truss bridge and I more or less share the same name. The Taemas Bridge (for anyone confused, my full name is Tamas), which opened in 1931 and is now heritage listed, is a little older than me, but only one letter separates the two of us. Five metres below us, the river, which reaches a wide opening into Lake Burrinjuck at the bridge, has more than broken its banks, and the trees on the old shoreline are halfway underwater. Pulling up at the midpoint to admire the view, we wave hello to a fellow bike tourer, who is loaded up with luggage and somehow enduring the single-digit temperatures in thongs. Respect – I'm still in legwarmers.
We continue on, and a few minutes after leaving the river, we're reminded of the need to stay alert on even the most relaxed of rides when a ute with a massive bullbar and antennas comes speeding around a corner on the wrong side of the road, heading directly for us at 80kmh. Luckily we see each other and have time to avoid catastrophe with a few metres to spare, but it's a scary moment and we're glad to make it out unscathed.
Across Mountain Creek, we reach the first significantly uphill section of the day's route. At 4.4km at 4% it's hardly Alpe d'Huez, but it's still a nice climb, with some picturesque sweeping bends in the first kilometre. About halfway up, we play shepherd and usher a sheep and its baby lamb off the road. Unbeknownst to us, the edge drops off extremely steeply to the left, and we're very concerned for their welfare until we peer over the edge and see the pair safely making their way down the steep hillside, mountain goat-style.
At the top of the climb, we're warm enough to peel off a few layers. My Wahoo Elemnt Roam tells me that the temp has only just cracked 10 degrees, but for now the sun is peeking through and the rain clouds look a lot less threatening. We press on and at 37km make a left turn onto the gravel – where the real fun begins.

Gully gosh
Despite a few potholes and drainage ditches, the Strade Bianche-style gravel is largely in great condition, almost as if the rain has smoothed it out a bit – there are no corrugations at all. For the first few kays we roll along a wide-open, alpine-feeling road, the peaks in front of us presumably nudging 1,000 metres. It reminds me of the terrain near Jindabyne a couple of hours further south.
We drop down steeply into Sawyers Gully and gravel heaven. For the next five kays, we enjoy smooth-as-silk doubletrack and the serene sounds of a creek bubbling away to our left, surrounded on both sides by the steep gully walls. It's so green at the moment that it looks like New Zealand – so much so that Tobi decides to start whistling the theme from Lord of the Rings. Thanks for the brainworm, mate. The countryside really feels alive from all the rain, and despite all the moisture around, our shoes are still comfortably dry.
Looking at the elevation profile, I'm surprised to see what looks like a vertical wall (dark purple on the colour screen) coming up in a few kilometres. 'It's probably just a mapping error,' says Esjay, and after riding through a few paddocks teeming with sheep, we arrive on its lower slopes. He's right – it's a solid climb (1.5km at 9.8%) – but definitely not as bad as the profile suggests.
The climb takes us out of the pastureland and into the bush. For us, these are uncharted roads, so it's reassuring when a pair of fellow gravel riders roll past in the opposite direction. Not so reassuring are their parting words of 'good luck'. I hope we don't need it.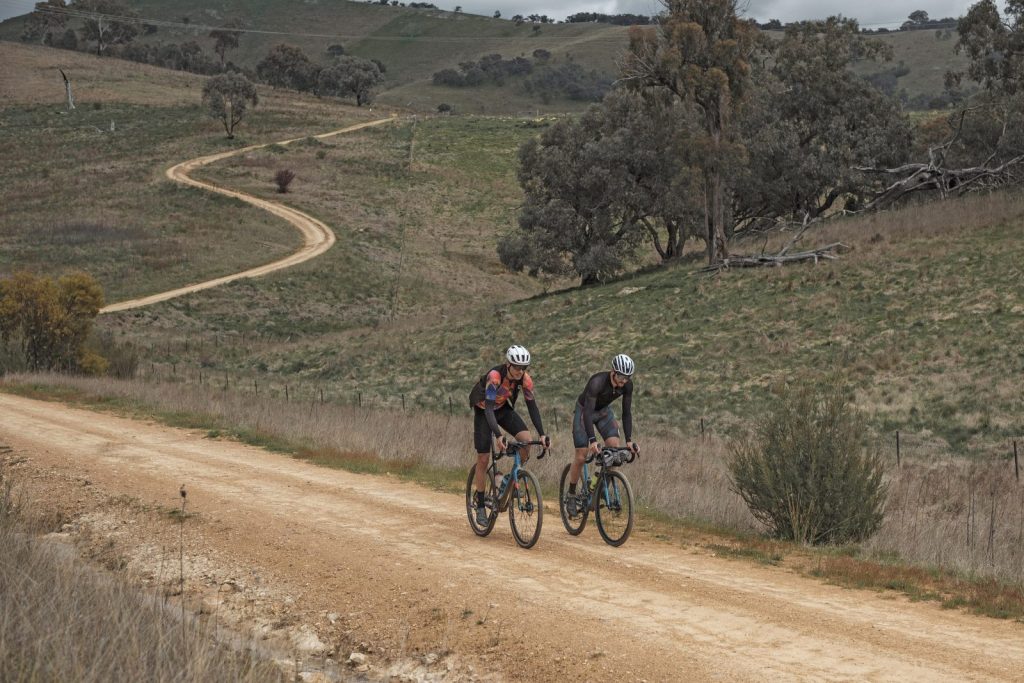 A couple of minutes later we crest the climb and drop down into another valley. This time the Telstra Tower is even closer; the suburbs of Canberra can't be further than 10km away as the crow flies. The long and straight descent takes us back to the sealed Mountain Creek Road, and we join it for a kilometre, hugging the shoulder to stay out of the way of some weekend 'traffic' before turning right and back onto the gravel.
It's not quite as pretty on the other side of Mountain Creek Road, but still very enjoyable pedalling. We encounter the sketchiest bit of road on our route so far at 58km, a rutted descent causing Esjay to nearly drop his camera after failing to stow it away in time, but we otherwise navigate it without incident. We're still somehow avoiding the rain, which is a blessing on this rougher and looser section of road, which at times resembles a creek bed.
So far we're ahead of schedule too, but our progress is brought to a halt when I slam into an exposed rock on the next downhill section. My rear tyre is flat within seconds, and I regret not getting my tubeless sorted before this ride – tubes don't stand a chance against an impact like that.
I get the tube changed relatively quickly, but unfortunately that's not the full extent of my mechanical issues. When I try to put the rear wheel back in, I notice that the brake pad is so worn down that the metal 'arm' that holds the pads together (sorry mechanics, not sure what else to call it) has somehow bent around onto the braking surface, causing an unnerving metallic noise when I spin the wheel. Unlike me, Tobi is a half-decent wrench and after 15 minutes of roadside jimmying, we're back in action – though I'm told to avoid using the rear brake unless I really have to.
We reach a T-intersection at the 63km mark and turn left in the direction of Yass. Our original plan had been to turn right here, dropping down to a natural bridge at Dog Trap Crossing over the Murrumbidgee, but with the recent record-breaking rainfall we didn't want to risk it being unpassable. There's always next time.
The left turn takes us through a muddy paddock filled with what must be 1,000 sheep – the woolly crowd disperses in front of us as
we roll on through – and over a creek crossing that is showing signs of some pretty major flooding. Today, it's easily passable, but there are trees down everywhere from the force of the water. We're soon back at the Murrumbidgee, and after an enjoyable section next to the river, rejoin Wee Jasper Road as the Wahoo ticks over 70km, all smiles from an enjoyable couple of hours on the gravel.
Across the Taemas Bridge and we're back on the sealed climb we descended a couple of hours earlier, which rises for 3.6km at 4.9%. In this direction, we have a bit more time to admire the expansive view over Lake Burrinjuck to our left. It's really nice scenery around here and as we make our way onwards and upwards, we're already making plans for an overnighter sometime in the future.

Retracing our steps
From the top of the climb, with the day's main challenges behind us, we reflect on what has been a super enjoyable ride.
The lollipop-shaped circuit, with the start and finish of the route out-and-back on the same road, means that we're in familiar territory for the remaining 20km back to Yass, and we agree that it would be the perfect route for someone just starting to expand their horizons in the world of gravel: adventurous but nothing too intimidating. One thing to note, potential rider: if attempting this route in summer, make sure to bring enough water – there are no real towns on the route, and while you could go knocking at a farmhouse or fill your bidons from the Murrumbidgee in a pinch, it's better to come prepared.
The magpies have been threatening all day, and we're finally swooped with around 20 minutes of the ride remaining, the clicking of beaks and talons behind Esjay's head injecting a bit of pace into our bunch of three until we're safely out of range. 'I'm surprised it took this long,' says Tobi, and we enjoy a few minutes of laughter at the expense of the European pros who infamously enjoyed their first encounters with the territorial species at the recent Road Worlds in Wollongong.
Rolling into town, I check my Roam and am impressed to see there is still 78% battery remaining, despite me constantly changing screens to test its new features. The map guides us onto the main road, and after freewheeling into town, we pull in at Subway (I know, but we're in a hurry!) with just over 93km covered for the day. Lunch consumed, all that's left to do is chuck the bikes on the rack and get back on the Hume.
Three hours later we're back in Sydney with time to spare, extremely satisfied from an enjoyable day's riding. Our only regret is the post-ride meal – we'll go to a cafe next time.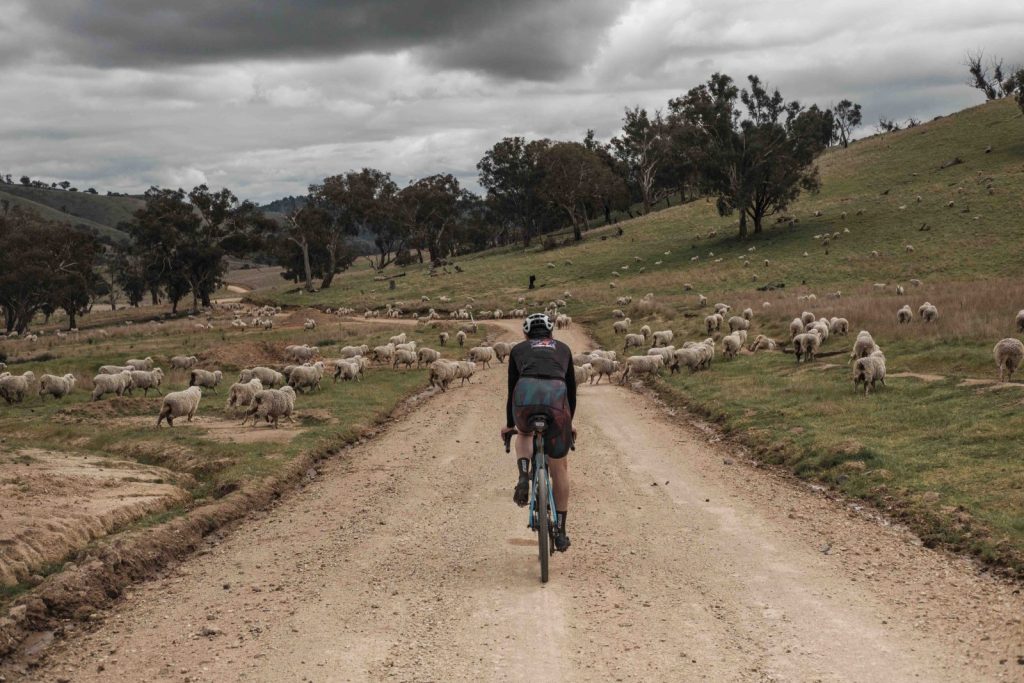 Follow in Cyclist's wheel tracks
To see our route on Strava, scan the QR code above. Starting in the middle of Yass (on Comur Street), ride about a kilometre south-east and take the right hand fork onto Warroo Road. At the roundabout, bear right onto Grand Junction Road which quickly becomes Wee Jasper Road. Stay on this for the next 35km, over hill and dale; at 19km you will descend to Taemas Bridge over the Murrumbidgee River, and enjoy a gentle climb afterwards, staying on Wee Jasper Road all the while. At 37km, turn left onto Sawyers Gully Road, where the gravel begins. Enjoy the lush scenery and literally count sheep until you reach Mountain Creek Road at 54km, which you will briefly join before diverting onto Glenrock Road. At just over 62km, you will reach a T-intersection at Cavan Road; turn left here and enjoy the views over the Murrumbidgee before arriving back at the Taemas Bridge at 71km. From here, retrace your steps along Wee Jasper Road back to Yass and make a beeline to whatever food or coffee option you can find!


The riderS' racks
Thule was kind enough to provide the boys with its OutWay Platform bike rack system for this trip. Esjay, whose car the rack was mounted to, was a big fan. 'The OutWay was super easy to put on,' he said. 'I just bought a new car and hadn't installed roof racks or a tow ball yet, so I was happy to see that no existing mounting points were needed to get it on. Getting the bikes on and off was really easy too, and doesn't require any clambering onto seats and whatnot to reach the roof, which is a plus for shorter riders. Once on, the bikes were really secure with no unnerving rattling or bouncing. And the rack's positioning means you can mount the bikes without blocking your number plate or tail lights. It also folds up nicely when not in use, which is a bonus for those with limited storage space.'

The writer's computer
The new Wahoo Elemnt Roam is everything you want in a bike computer. It's the brand's most powerful and accurate device yet, and thanks to excellent smart navigation is perfect for adventure riding. As a long-time user of Wahoo products (my Elemnt from 2018 is also still going strong) I was impressed by the colour screen, which shined brightly even in direct sunlight, as well as the extremely long battery life. Rolling back into Yass at the end of the day, it was still nearly 80% full. Button placement is intuitive, navigating between pages is super fast, and the massive 32GB memory means you're unlikely to have to delete anything off the device, ever. I also liked that the Roam came stock with an integrated out-front mount, which looked very sleek and was super easy to install.