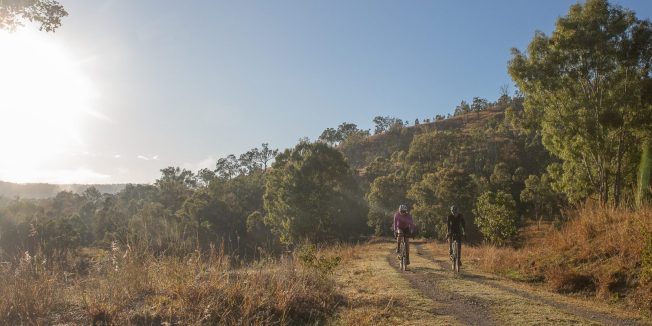 Ready, set, Nanango: Big Ride Queensland
From Linville's historic pub to the quaint town of Nanango, Cyclist embarks on a scenic loop through Queensland's picturesque Brisbane Valley with a mix of gravel trails, challenging climbs and river crossings – all rewarded with a well-deserved bakery stop
Words Imogen Smith Photography Mike Blewitt
Queensland actually gets pretty cold in winter, especially west of Brisbane, where howling, bitter sou'westers freeze dry grass paddocks crisp and white overnight.
Camping at Linville, two hours west of the capital, over the June solstice probably wasn't my brightest idea, especially when it turns out that my $8.50 Kmart blowup mattress has the thermal properties of a block of marble.
I'm here with my buddy Eve Conyers, a top MTB and gravel racer, as well as epic adventurer, to take on one of Southeast Queensland's most revered gravel routes – the Linville-Nanango loop – known for throwing a little bit of everything at riders with plenty of incentives along the way.
Having driven a couple of hours from Brisbane on Friday afternoon and had dinner at the historic Linville Pub, Eve and I wake up before our alarms, shivering in our tents, and quickly change into our kit, then layer up again – we'll probably have to take our trackies off to ride, but we'll worry about that later.
After two Aeropresses at the very least.
The Brisbane Valley Rail Trail
Linville is one of several towns along the old Brisbane Valley railway line – now the Brisbane Valley Rail Trail (or BVRT as it's affectionately known).
The trail starts at Ipswich, about 30 minutes' drive west of Brisbane, and heads north-west to Yarraman, 161km away.
At the turn of the last century, the timber business boomed beyond the Great Dividing Range, feeding valuable native logs into Brisbane and further afield for a fast-growing nation, hungry for raw materials.
The Brisbane Valley railway line opened up vast swathes of heavily wooded country like the Blackbutt range, where hoop pines and eucalypts 50 metres tall were felled, milled and transported by train.
Many were hammered into place as floorboards and VJ walls in Brisbane's iconic timber and tin Queenslanders.
Over the years, however, the timber industry faded, and in 1989 the last train chugged the downhill run between Yarraman and Ipswich. The land was split up among private owners, councils and other managers.
Quaint old station houses were sold off or removed. Tracks were ripped up, with rustic railway sleepers eventually finding their way into expensive landscaping projects in the gardens of renovated houses.
Queenslanders with hoop pine floorboards and VJ walls those sleepers once helped deliver.
Over the years, the seven or eight tiny towns along the old rail line survived with a few corner stores and ancient, rambling pubs that still attracted locals to their breezy, crooked verandahs on Friday and Saturday nights.
Grey nomads rumbled in and out, towing enormous caravans with tanks and pumps and solar panels to make up for the lack of facilities at the campgrounds, most of which only offered a toilet block and a tap.
But they were free. Twenty years ago now, a few visionaries and leaders in the local communities got some momentum up, dreaming of a multi-use recreational trail on the old Brisbane Valley line.
It took a lot of work, funding, and negotiations, but today, the Brisbane Valley Rail Trail is the longest and best-loved rail trail in Australia, and a hugely successful example of what great active tourism infrastructure can achieve for communities and visitors alike.
It now supports business up and down its full length, and the towns it passes are thriving.
Recreational riders, tourists, horse riders and, on the weekend we visited, insane ultra runners chug up and down the trails like the trains of 100 years ago in a non-stop procession of events, tours, and races. And everyone's having a good time.
For cyclists like us, it doesn't hurt that at the time the rail trail opened, in a galaxy far, far away from the Brisbane Valley, something else big was happening. Gravel. You can't talk about gravel in Southeast Queensland without talking about the BVRT.
Not because it's the best gravel ride in the universe – it definitely isn't.
The BVRT is special because it has a town with a bakery every 20km or so, plenty of spaces to camp for free with hot showers, and it's the best and greatest launchpad to those champagne, all-day gravel adventures to lush, interesting places like Bellthorpe National Park, Jimna, and Connondale.
Places that to Queensland graveleurs at least, only mean one thing: Freedom. Okay, two things: Freedom and adventure.
Clipping in cold
Starting at Linville, about 40km from the Yarraman end of the rail trail, we clipped in amid three-degree temperatures and scooted through the old station full of silent RVs, tents and caravans as quietly as we could, given the high quality of our rear hubs, and onto the old railway line.
When I first started riding the rail trail, the old Linville station only offered a cold tap and an ancient couple of toilets.
Today, camping is still free, but the old station boasts an accessible amenities block with coin-operated showers (local's tip though: the hot water's free as long as you shower while the sun is up – it's solar). It's a slow start in the freezing cold.
Working with Mike, our photographer, we stop again and again to capture the morning light and impressive views back over the Brisbane Valley, cloaked in mist.
We're awed by enormous, 200-plus-year-old grass trees and the golden light hitting golden paddocks. While the winter nights can be bitter, the beauty of cool season riding in Queensland is that as long as the sun is shining, the mercury is on the rise.
Eve and I wait while Mike pulls his camera out and packs it away again and again, warming our backs to the growing sunshine, the promise of a glorious Queensland winter's day at our fingertips.
Our route takes us straight up the rail trail to Benarkin, a tiny town that's one of the few places on the rail trail where timber's still a major industry.
By the time we get there we've been on the go for two hours and only travelled 13km. We strip off some layers, eat a muesli bar, and head off again, this time for Blackbutt, one of the larger towns on the route.
This section is all uphill, and while it's only, as rail trail, a 2%-gradient kind of hill, it's still up, and progress is slow.
We're relieved when we reach a summit of sorts outside Blackbutt and can enjoy a freewheeling break, watching as the Brisbane Valley folds and unfolds around us, making better time, and getting close to Yarraman.
Twenty-six crossings
About 2km before the end of the rail trail, on a smooth, open stretch of dirt, there's a small, inconspicuous track on the right that takes riders down to Noora Road.
Turning right on the road, so we're doubling back on the rail trail, we take the first left, Din Din Road. The way to Nanango. We dive in, and before too long the route takes us up and over some climbs with epic rural views then down further and further to a wide river crossing in cattle country.
Eve and I manage to ride through the river but have to drag our bikes up the mud slide on the far bank, before remounting and negotiating some of the more technical aspects of the loop, as tracks take us through twisting trails and rocky creek beds before spitting us out on some wide, well-used gravel roads that drain fast into Nanango.
Once it becomes clear that the technical riding is behind us and we're onto the Moët & Chandon gravel, Eve puts her head down and TTs the last 5km into town, desperate for espresso – it's been hours since our Aeropresses in the dark at Linville.
We stop in at the Twisted Whisk, a typical Aussie country bakery with a good selection of pies and a vanilla slice three inches tall, then take a few minutes to recover, refill our bottles, and talk about the route ahead.
While the rail trail climbing had been constant but gradual, we'll be heading into a section of rolling country gravel with pinchy, leg-sapping vert that will take us to our highest point of the day (admittedly only 530 metres above sea level).
From there, the fun really starts. An epic, swooping descent takes us down to the ancient bed of the Brisbane River where the old road draws a gently curving rout that crosses the river no fewer than 26 times.
Having done this route in the wet once, I'm glad to be riding it in a perfect Queensland winter weather window, where the causeways are almost completely dry, or only covered by a couple of inches of river.
We start the river crossings with about 37km to go. With each crossing signed and either numbered or named after a local resident, it's easy to pass the time, counting down to the last crossing where a bitumen climb boosts straight up and out of the valley's deepest cutting.
And now we're tired. And there's still 20km to go.
Most of it is bitumen, and most of it is pretty flat, but that doesn't seem to matter anymore. The caffeine has worn off.
The bags of lollies have worn off. The novelty has kinda worn off, although we keep each other cheered by pointing out wedge-tailed eagles soaring above us, each secretly hoping that one of them will pick us up in its talons and drop us at the pub.
We take long pulls at the front and long pulls on our bidons in an effort toget there faster, when finally, we sprint across an imaginary finish line at the top of one last, grinding rise and see it all spread out before us.
The RVs and caravans parked up at the old station, exactly where we'd left them in the half-light of dawn. The abandoned passenger carriages, the amenities block, the old sawmill, and lordy, the Linville Pub.
We roll right up to the door and collapse on the steps to the front bar, grateful that it's over, and that a couple of bowls of hot chips and garlic bread lie in our near, near future. If only we could get up and order them.
With 1,790m of climbing in 128km, it's a long way from some of the toughest Big Rides you'll see featured here – but the Linville-Nanango loop is deceptively hard.
While it might not stun riders who make the journey with epic alpine climbs or gorgeous coast roads, it offers wide vistas over a subtle and quintessentially Australian countryside.
And what it lacks in adrenaline, it makes up in grinding and tough terrain, hand-carved out of an important part of Queensland's history.
The writer's bike computer
Wahoo Elemnt Roam, $599.95, fesports.com.au
The Wahoo Elemnt Roam is everything you'd want in a bike computer. It's the brand's most powerful and accurate device yet, and thanks to its powerful smart navigation, is perfect for adventure riding.
The colour screen shines brightly even in direct sunlight, and has an extremely long battery life.
The button placement is intuitive, navigating between pages is super fast, and the massive 32GB memory means you're unlikely to have to delete anything off the device, ever.
We also love that the Roam comes stock with an integrated out-front mount, which looks very sleek and is super easy to install.
The route we took
Scan the QR code to see this ride on Strava. The route is straightforward, heading north-west along the Brisbane Valley Rail Trail out of Linville for 40km, just a couple of clicks outside Yarraman, where you have to have your wits about you to take a right-hand exit from the rail trail onto Noora Road.
After a couple of hundred metres you take the first left onto Din Din Road, where you'll start to see special cycling road signs to Nanango – keep following the signs to Nanango and you can't go wrong.
After a stop in the biggest town you'll see all day for bakery treats and some caffeine, head straight down the main Drayton Street until you see a turnoff marked 'NAN1' at Mt Stanley Road. NAN1, or the Nanango Route 1, is well signposted and will take you all the way to signs marked 'Linville'. Follow these all the way to the front door of the pub, just across the road from your starting point.
By the numbers
Because we all love stats
1,790 Metres climbing – each climb tracked and colour-coded by our trusty Wahoo Elemnt Roam
40 Kilometres of the Brisbane Valley Rail Trail ridden, which at 161km is the longest rail trail in Australia
30 Water crossings ( 26 in a row in the last 25km )
11 Cars seen in six hours of riding
3 Glorious old timber and tin pub buildings at Blackbutt, Nanango (no longer a pub) and Linville
3 Packets of Party Mix consumed
0 Flat tyres across four gravel bikes
-2 Lowest temperature; our highest was 20
The riders' gear
Eve and Imogen were kitted out in gorgeous Assos kit for the day, each wearing Dyora RS bib shorts and the Uma GT Winter Jacket during the cold morning hours, with an Uma GT jersey for Imogen and Dyora RS jersey for Eve underneath, plus Assos Monogram socks.
The Assos bibs were incredibly  comfortable for a long day in the saddle,and both appreciated the soft compression fabric and race-cut sharpness.
Their jackets were warm and breathable on a day when the temperature ranged between -2 and 20°C.
They topped off the outfits with Met Rivale and Trenta MIPS helmets, and tailed with Shimano S-Phyre shoes for Eve and RX6 gravel shoes for Imogen.
The writer's ride
Trek Checkpoint SL5, $4,499.99, trekbikes.com/au
I rode Trek's carbon gravel bike, the Checkpoint, in the mid-range SL5 model with Shimano GRX mechanical 2×11 componentry.
I ran my custom EIE carbon wheelset (1,380g) with 40mm Maxxis Ravagers, silk shield, set up with Tubolight gravel tyre liners front and rear, each weighing just 40g, plus sealant.
I kept most of the stock Bontrager parts on the Checkpoint, but swapped out the saddle for a Specialized Power Pro Expert Mimic, 3D printed for all-day comfort and weighing just 230 grams.
Overall bike weight was approximately 9.5kg with XTR pedals and ultralight Mt Zoom bottle cages.
How we did it
Travel and Accommodation
We drove the two hours from Brisbane on Friday after work and camped at the old Linville station – a free camping area with amenities and coin-operated hot showers – then headed off early in the morning for the loop.
At a moderate pace, the ride will take about six hours, but leaving early can get you back to Linville for a pub lunch and plenty of time to drive back to Brisbane.
Another option is to bikepack the route. Starting at the head of the Brisbane Valley Rail Trail at Wulkuraka or Fernvale, it's a day's ride to Linville, where you can complete the Nanango loop on day two before riding back to your car on the third, epic day of adventuring.
Weather
Winters in Queensland are usually dry and sunny, and while the nights are cold (as I found out), the days are gloriously sunny and make perfect riding weather.
On the other hand, between about October and May, the areas around the Brisbane Valley Rail Trail can be extremely hot, so plan with caution if riding in the middle of the day.
Thanks
Thanks to Andy Hadfield for coming along for moral support; Met helmets; and Assos for the amazing gear that kept us warm and cool on a hugely varied day.
Thanks to the lady at the Linville shops who gave me a hot tip about the Linville showers (you don't need coins if the sun's out) and especially to Eve Conyers who gave up her weekend for a big old ride in the Queensland country.