Cyclist pays its first ever visit to Korea and discovers a fascinating, extensive network of cycling routes – all tied together by an addictive stamp system and begging to be explored
Words IMOGEN SMITH  Photography NICK ESSER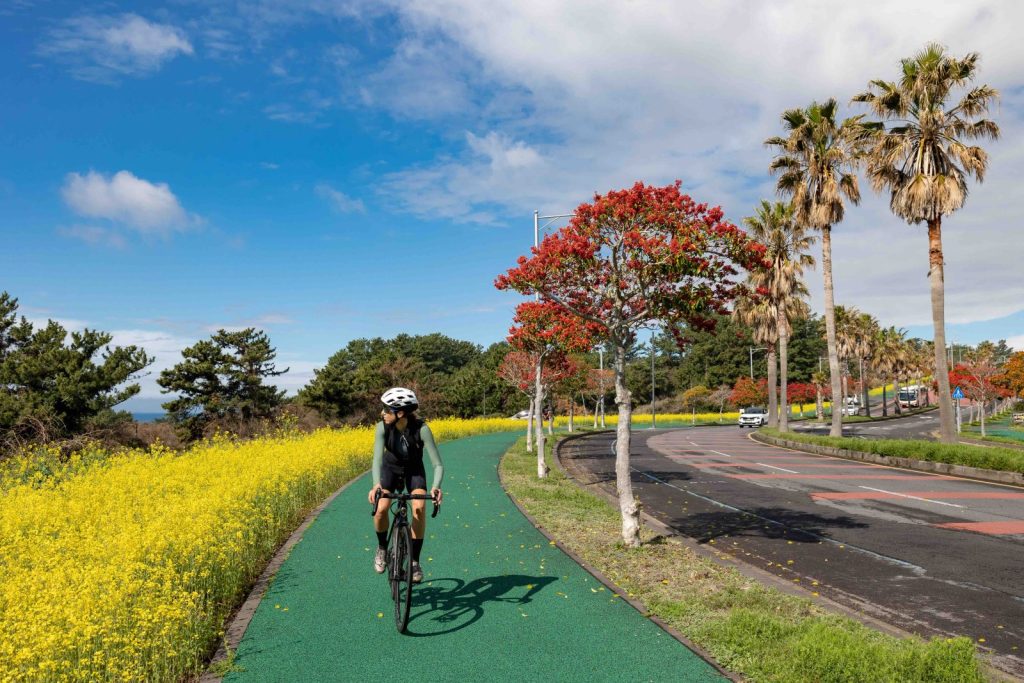 With 1,745km of dedicated, wide, and fast bike path in an area roughly the size of New Zealand's North Island, South Korea has some of the best, most accessible cycling infrastructure in the world. You can ride for days on end without ever meeting a motorist. You can camp in the centre of towns. Everything is clean and neat and you can walk off and leave your bike unattended while you go into a convenience store because the crime rate is zero. While Aussies and Kiwis looking for active holidays in east Asia might think first of Japan, Korea is coming hot on its neighbour's heels: it's cheap and easy to get to, serves up delicious and varied cuisine, plus it offers Westerners the chance to really get out of their comfort zone.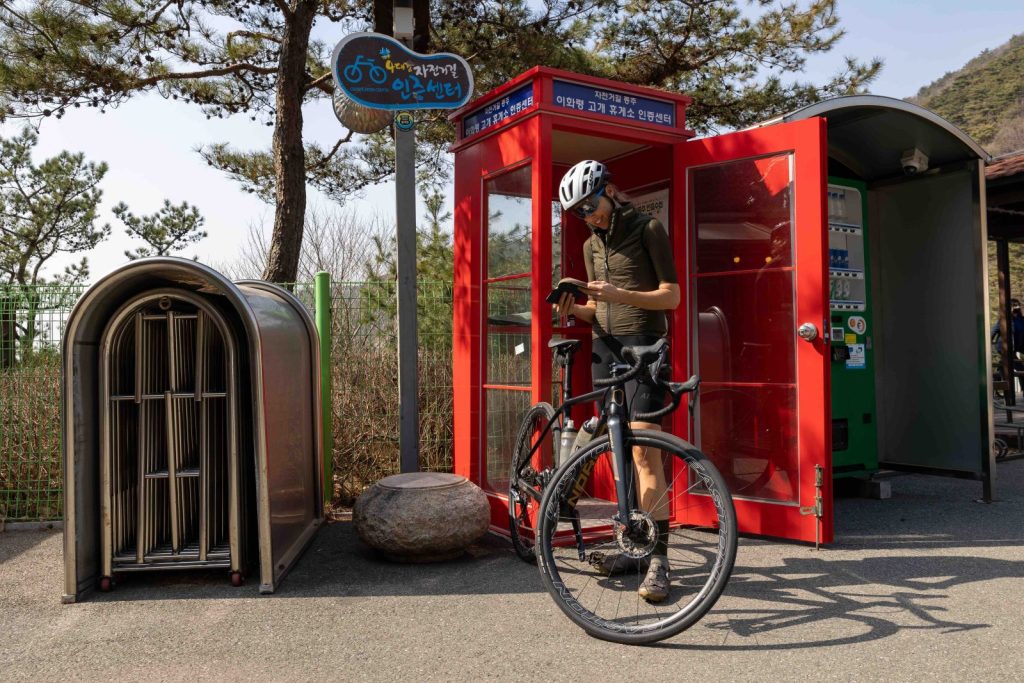 First things first
We arrive in Seoul to a blur of late-night neon and head straight to bed at our hotel. The next morning, the sun dawns on a new world, where thousands of high-rise apartment blocks merge and creep through valleys like glaciers, the toilets sing to you, and hotel receptions are staffed by robots. The next thing we notice is that we don't have jetlag. Depending on the time of year, there's only one hour's time difference between most of Australia and Seoul, so despite the 10-hour flight, we're fresh and ready to ride.
This being Korea, however, it's essential to perform a little bit of administration first, beginning with a visit to a tourism office at the massive Incheon port where we purchase (for a few dollars) our cycling passports. There, with a similar amount of bureaucratic paper-shuffling as you'd need to get a real passport, we're officially inducted into Korea's very serious, very rigorous, and very entertaining Bike Certification System.
The Bike Certification System is far more fun than the name sounds. From the dry desk at the tourism office, we're handed novelty passports with miniature maps of the 12 major bike routes in Korea (called, by the way, the 'Happy Routes'). Every 20km or so of these routes stands – wait for it – a red phone box (yes, the kind you'd expect to see in London) where riders find an unvandalised custom stamp and ink pad to mark the corresponding space in their passport. Collecting stamps along an entire route earns rewards such as shiny stickers, certificates and even 'Olympic-style medals' for completing difficult routes – like the whopping 633km Four Rivers path between Seoul and Busan. It's weird, it's fun and, it turns out, it's intensely satisfying, gamifying the ride and breaking the day into interesting chunks that take you from scenic spot, to parkland, to viewpoint while the kilometres fly by. We very quickly become very serious about getting our stamps, and don't miss a single red phone box on our entire trip.
Red phone booths, known officially as 'Certification Centres' dot the landscape adjacent to the main, celebrated bike paths. With our official Korea cycling passports in our jersey pockets, we're ready to hit the routes. We spend a day or two exploring parts of the famous Four Rivers trail and the epic Saejae mountain pass. However, while Korea's major routes could take you through the entire country, including along the rugged east coast to the infamous DMZ – or Demilitarised Zone – this story is really about the holiday island of Jeju, where Cyclist spent three days on the bike circumnavigating our way to a shiny silver passport sticker.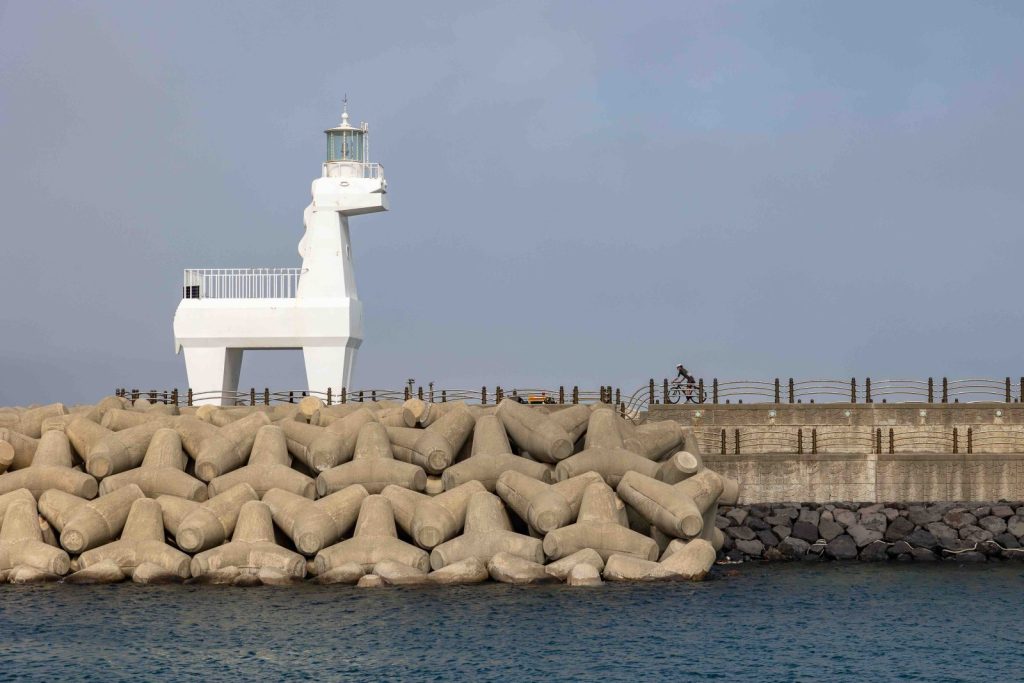 Jeju fantasy
Located about 80km off the south-eastern point of the mainland, Jeju is Korea's number one domestic tourist destination, and it's a bit like Tasmania meets the Gold Coast. It measures 260km in circumference in a roughly horizontal egg shape, and from the heart of this volcanic island rises Hallasan, a dormant volcano which, at 1,947 metres, is the highest mountain in Korea.
Jeju has known a lot in its long history. It has changed hands with the Japanese and been a penal island, and for centuries housed little more than poor fishing villages and subsistence farmers. Then the tourists started to come. Now, known for its seafood, gentle climate and beaches, it's every Korean's favourite place for holidays, corporate events and honeymooning, and is dotted all over with hotels, restaurants, photo spots and coffee shops. Perfect for cyclists.
The famous Jeju Fantasy Bike Trail traces the coast all the way around the island and measures about 240km. You can do it in a long, long day, or break it up like we did into two or three or even more days, making side trips towards the centre of the island and the majestic Hallasan or, if you take things slow, riding the ferry to explore smaller islands like U-Do (Cow Island), just off Jeju's own coast. Bikepacking is a great option, with roads criss-crossing the entire island, and plenty of places to eat and stay throughout, including excellent camping facilities. With an average of 80km a day we had time to stroll around coastal towns taking photos, stop for lunch, or drive to one of the local traditional gardens to catch the spring cherry blossoms.
Starting in Jeju-Si, or Jeju City, where Korea's second-busiest airport purrs along 24 hours a day with the endless passage of domestic visitors, we quickly find the coast and follow rainbow-painted bollards (witnessing the Korean love affair with the bollard alone is worth the trip), heading west over lumpy coastal cliff lines as the city gradually gives way behind us. We take in some of the most touristy coast of Jeju, with cafes and restaurants sporting English-language signs and plenty of photo stops overlooking the windswept Jeju Strait towards the mainland. We navigate through some twisty backways to a cement-clad jetty harangued by wind gusts to see two giant lighthouses shaped like ponies – the symbol, we're told, of Jeju island.
Koreans love the Jeju coastline and much of the island's attention is turned outwards to the sea, with every beach adorned with mosaics, sculptures, parklands and photo points, backed by strips of motels, seafood
joints and ubiquitous cafes serving the iced coffee Koreans can't go a day without. Our first red-phone-box stamp spot is on a high cliff overlooking the black water of the Jeju Strait. From here, our route alternates between the low-key coastal strip and stints on Jeju's ring road, where we move freely ahead of the cars. We're helped by an epic tailwind, although as is often the nature of tailwinds, we don't notice it until it's turned into a headwind. We just think we're fast.
The highlight of the day is the arrival in Sagye Beach, where Sanbangsan mountain heaves itself beyond the sea in a perfect dome shape, jutting 200 metres above the coastal settlement below and dwarfing everything from horizon to horizon. This is a revered and much-loved landmark to Koreans, eclipsed only by their love for social media. As we approach the hotel we stumble across a traffic jam and track the kerfuffle to a small, trampled canola field in front of the Sanbangsan view, now populated with dozens of day-tripping Koreans who've paid for the privilege to take selfies with the mountain foregrounded by yellow flowers.
With three stamps out of 10 already in our passports and the west coast of the island in our pockets, we join the crowds for selfies of the iconic view, oblivious to the gathering clouds and the hastening wind, both setting up for a big one tomorrow.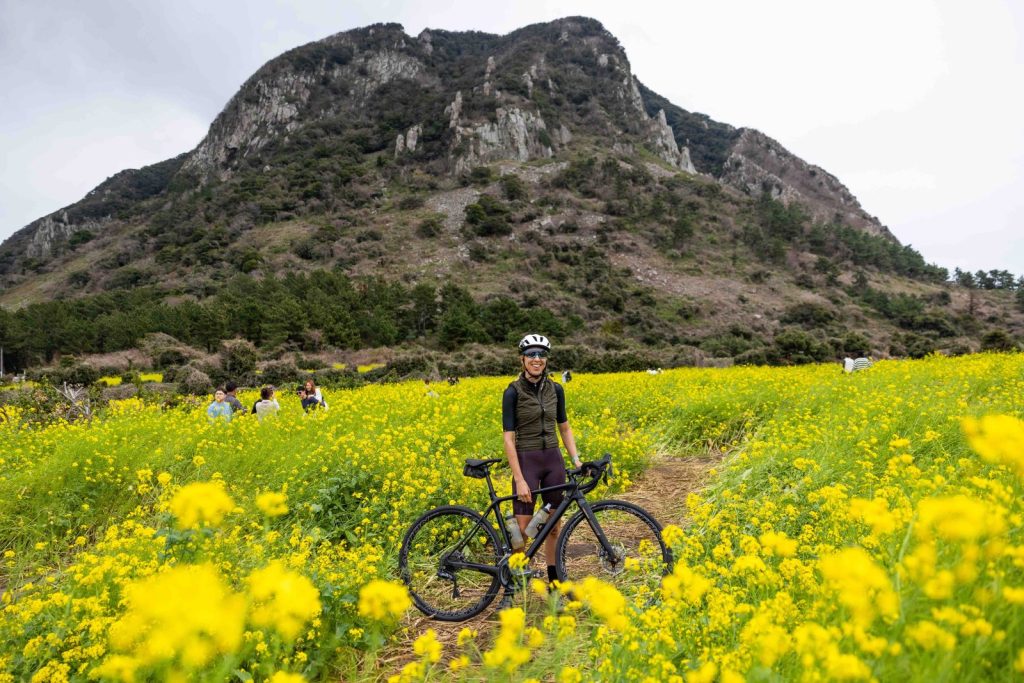 The three abundances
Day two, and the sun comes up brighter than it set, so the Cyclist team dress in all their summer finery, ready for the holiday weather for which Jeju, 'Korea's Hawaii', is known. Golden rays light up the canola fields so much that we almost understand what all the fuss is about. Light bounces off the ocean which (spoiler alert) shines turquoise for the first and only time during our visit. We congratulate one another for discovering such incredible weather in March.  It's going to be a great day.
We cruise along a wide, flowing bike path overlooking the sea until the hard, unavoidable truth of our geographic location catches up with us. The sky darkens. The temperature drops a solid 10 degrees in as many minutes. After an emergency trip to the van to change into full winter kit, we carry on under heaving clouds, the glorious coastline transformed to a desolate, shipwrecking blade of black rock, jutting into an angry sea. Jeju is famous for its sunshine, but the weather is the weather and for now we're in for a slog.
They say Jeju is the island of three abundances: wind, rocks and women, and it's time for the wind to introduce itself. Sitting off on its own in the Korea Strait, Jeju is buffeted by strong gusts year-round, so riding around the island means you'll meet with this famous adversary and get to know both its kind side and its cruel side intimately. Jeju dialect has names for the east wind, the west wind, the south wind, the north wind, but also names for the north-east wind, the south-west wind and… you get the idea. By the end of our second day cycling Jeju, we have names for the wind too, but none of them are printable. While that first day we'd soft pedalled at nearly 40kmh, the kilometres clicking over like the dials on a poker machine, today we battle and rage against an invisible wall of air, barely topping 20km an hour.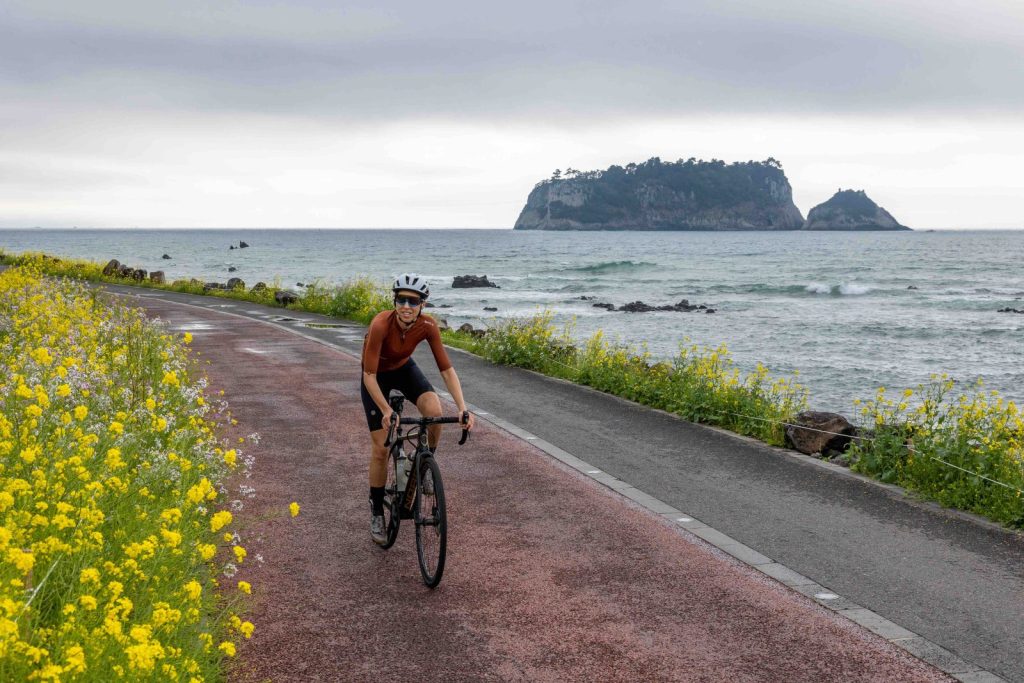 Jeju's second abundance, rock, imbues the island's culture, geography and landscape. Over millennia, the poor subsistence farmers and fishers of Jeju have pulled millions of rocks out of soil that was impossible to till and piled them up to divide their fields, to divide their homes, and to build. Now, we cycle through a warren of stone walls that divide tiny fields of canola, pak choi, and of course, cabbage, and fence off every yard, road and building. There's an estimated 36,000km of stone wall on Jeju, enough to go around the entire planet on an island that's only 260km in circumference itself.
And you're wondering about the women. Mid-way through the second day, our guide stops us and indicates that we should get off our bikes at the entry to a nondescript concrete building right on the sea wall. A rash-shirt and some swimmers flap in the wind, tied to a string out the front of the shut wooden door. Buoys and nets are piled against a dry-stone shelter. Our guide types something into Google translate: This is the home of the Haenyeo women. The third abundance of Jeju.
All the chief deities traditionally overseeing Jeju Island are women, and Jeju has a strongly matriarchal culture, embodied particularly by the fabled Haenyeo. The Haenyeo women are free-diving fishers for shellfish and other seafood who spend every day diving in Jeju's wild, sometimes freezing waters, holding their breath for 90 seconds or more as they collect their valuable catch. With girls as young as their teens and women as mature as their 90s working the sea, the Haenyeo have their own social structure, customs and lores, and are revered across the island for bringing up delicacies such as abalone and conche, devoured sashimi-style year-round in Jeju's seafood restaurants by enraptured Korean mainlanders.
We're ready with our cameras and our phones. Our guide types another message: They are out having lunch. We wait another few minutes, then hop back on our bikes and carry on. Before long we're cheered up by another red phone-box, and battle through the final few kilometres before pulling into one of Korea's nicest hotels for the evening. We walk into town and take photos of sculptures of the Haenyeo on the seashore, happy, in a way, that for us they'll always remain somewhat mythical.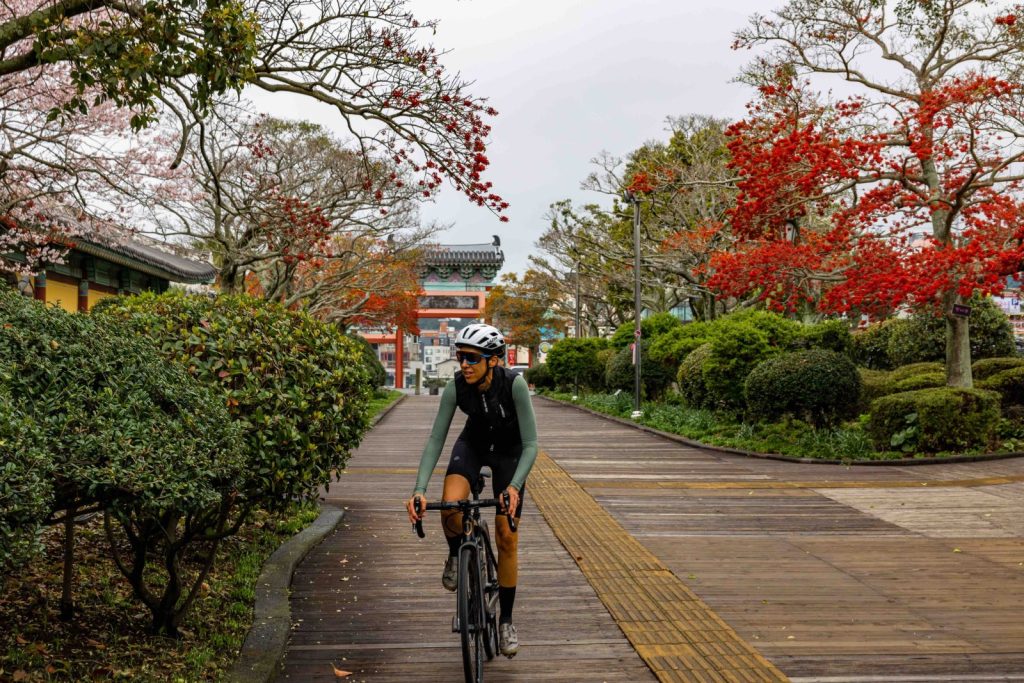 At the start of day three, we enjoy the gorgeous views out to Seongsan Ilchulbong, Jeju's famous sunrise mountain, where you can watch the glorious dawn light break over the sea. By the time we reach our first phone booth for the day, however, the rain has returned. Our guide, quite sensibly really, opts to throw his bike in the back of the van and trail us on four wheels. Follow the blue line and ride fast, he tells us.
We agree that's a sound strategy, and with every part of us soaked, we push on to our second stamp spot, where we huddle in one of Korea's excellent, ubiquitous convenience stores, entertained by a 'ramen machine' that produces hot, steaming noodles that, along with a couple of chocolate bars, just about warm us up for the final push.
Rounding the east coast of Jeju we admire the rugged and dramatic coastline, and we make our way to some of the least touristy areas, where small, family-run seafood restaurants with just two or three dishes on the menu serve local diners, and where the sea pounds into black stone shelters built centuries ago to protect the Haenyeo women divers between trips to the ocean floor.
It's quiet on the roads and as we edge towards the west the tailwind returns, ushering us back to Jeju-Si at a scary-fast clip until the last kilometres take us through fish markets, ports, jetties and a giant cruise ship terminal. A final climb through the city gardens lands us at the tourism office, perched on a high point overlooking the sea. Here, forms are filled out, our passports are processed and approved, and we're rewarded with our silver Jeju Fantasy Bike Trail star sticker. We put the bikes in the van, proud of our achievement, and head out for beer, bibimbap, and kimchi.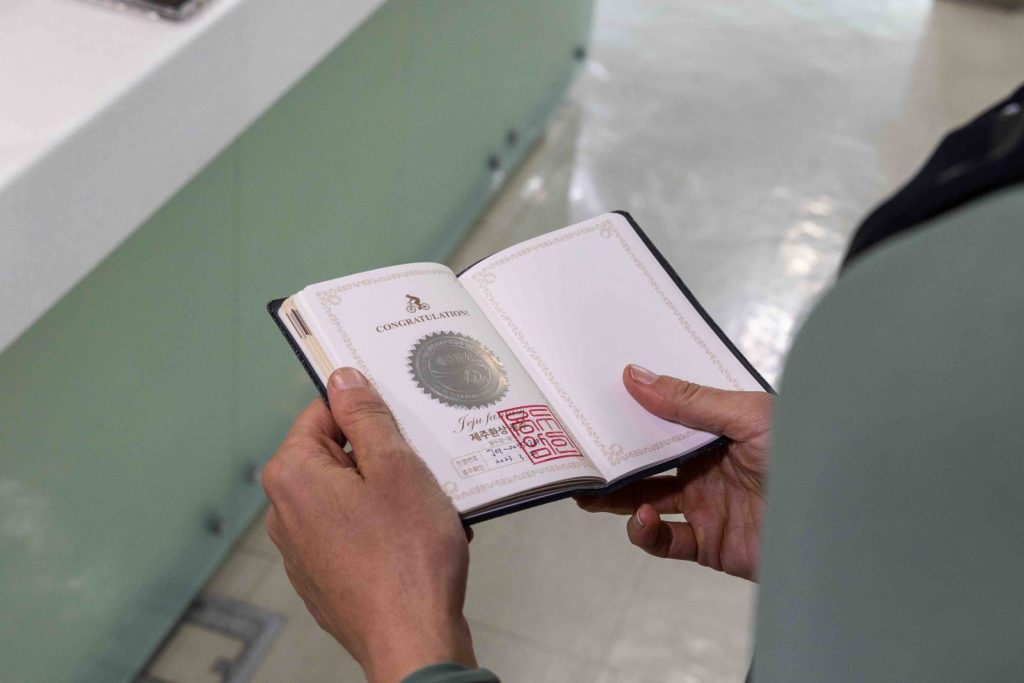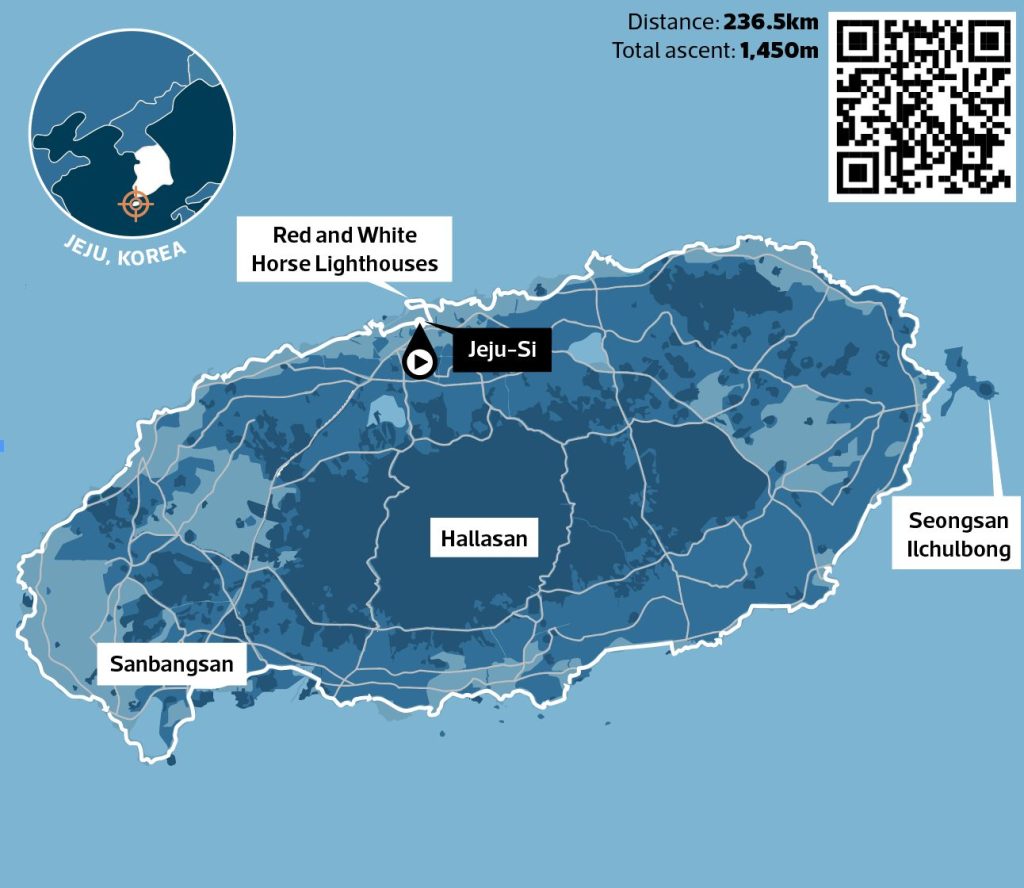 The route we took
Scan the QR code to discover this route on Strava. Starting at Jeju City, we rode anti-clockwise around the island, stopping at Sagye Beach, Pyoseon Beach, then returning to our start point in Jeju City. The route is precisely 234km and we divided this into three days of roughly 80km. Most of the riding is at around sea level, with plenty of pinch climbs and, of course, Jeju's famous wind to keep things tough. There are very few ways to get the route wrong, with a blue line painted along the way that alternates between quiet coast roads or bike path and stints along larger, busier roads (with options to ride on the slower bike path/shared path if you want a change of pace). Don't miss the red phone boxes every 20km or so to punch your hard-earned stamp and earn a big silver star for your passport.