Victoria's King Valley is the epitome of picturesque, remote Aussie gravel adventure – and best of all, much of it remains undiscovered.
Words Nick Squillari
Photography Ben Lehner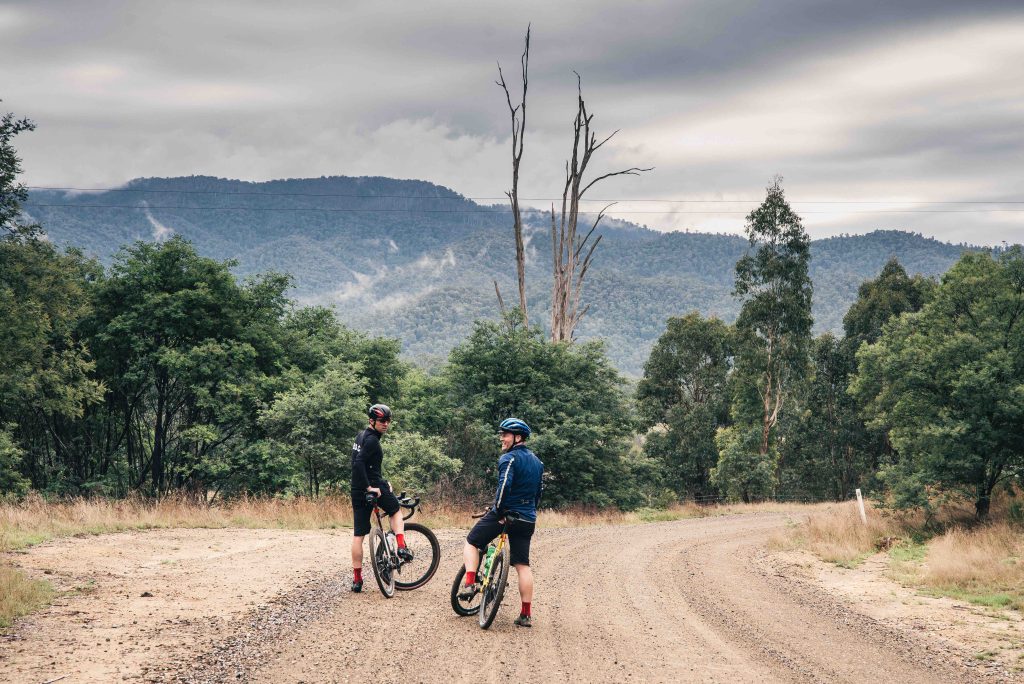 'We are going.' It wasn't a question.
I wasn't home yet. Hell, I hadn't even made it to the car. Somehow, through reception so patchy you'd think it was a regular day in the Melbourne CBD, my partner managed to squeeze a reply back to my sneak-peek mid-Big Ride Instagram story. I've been on some great trips around all parts of the world for these features over the years. This is the first time I have had a demand for a return laid out so explicitly.
If that is not the biggest affirmation you need to add the following adventure to your bucket list, well, I'm not sure what is.
So, from this point on, intrepid reader, I'm going to assume you're convinced this is 'must-do' gravel. Snaffle a few extra copies of the mag if you're reading this in the newsagent and start making plans with your riding buddies for what is a truly magical corner of Victoria.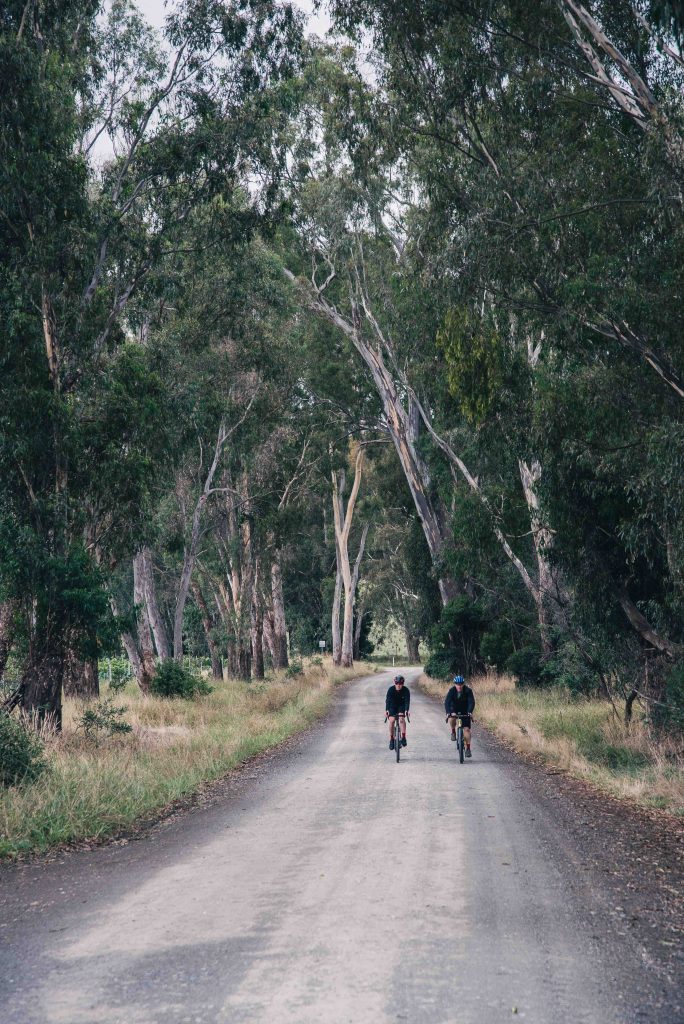 The Button Man
Did I say 'magical'? There does come a small caveat with this trip – of the dark magic variety. Part of what follows is in jest. Part of it is something of a public service announcement. And part of it just ticks that 'Straya' box where the rest of the world lives under the impression our bush just wants to kill you.
Aussies trying to scare each other with tales of the bush isn't anything new. At least in my family (thanks Dad / all of my North Queensland relatives). Martin Young – Gravel Mob founder and guide for the day – couldn't have crafted a better set. The ominous clouds, patchy fog and pockets of mist into which we set off remind me of the opening scene of a horror film. Just the crunch of gravel under our tyres on the way out of Whitfield. No birds singing. Maybe they knew what Marty was about to ask, in quite a chipper tone: 'I wonder if we'll see Button Man today?'
'Button Man?' I laugh. 'Any relation to the Muffin Man?' (Shrek diehards, know that I am here for you). Marty chuckles. 'No, really. Button Man is a real man.' I don't scare easily, but something in Marty's voice has me feeling a little freaked out. 'And we're heading towards him?'
'Well, not really that close,' my guide assures me. 'He lives down in the Wonnangatta Valley. People have disappeared in the valley. Never found. Police have located and spoken to him – he's very real – but they've confirmed he's not a suspect.' Whatever his legal standing, 'Button Man' or 'Buttons' (as he's almost affectionately also known) reads like a southern version of Crocodile Dundee. He lives in the bush, on a rocky outcropping that overlooks the one main (4WD only) entrance into the valley. His name derives from the buttons, shaped from deer antlers, that he wears on his clothes and, most strikingly, plugged into his ears like piercings. Not dissimilar to Dundee and the ring of croc teeth that encircled his Akubra.
By now, I'm feeling a little short of breath. And it's not from the gentle rise upon which we are riding. By all reports, 'Buttons' just likes the solitude of the bush. That and frightening the odd camper. The best story involves a wildlife photographer out on location in the Wonnangatta Valley. Alone, and shooting in the vicinity of Button Man's camp. On returning home, the photographer found a shot of Button Man in his collection. The photographer hadn't seen anyone else while camping. He never even heard another person. No one knows who took the photo. It only adds to the legend.
I know this is all a digression from your typical Big Ride, but I feel this tale encapsulates the terrain – and remoteness – of this ride. Victorians especially, but Australians broadly speaking, sometimes forget how big our state and country is. Victoria alone is 1.5x the size of Germany. The ability to leave civilisation far behind is gloriously real. That is one of the big appeals of gravel. But it should always be taken with a note of caution. I'm glad to have a guide like Marty with me. And without even intending (he just wants a laugh at my nervous sweating) this makes the ideal case for the value a gravel guide can provide. Speaking of which, by the time this story ends, our traverse through farmland – and away from any hints of town – has ended too. The transition is almost formal, a tunnel of eucalypts leading on and up the climb of Rose River Road. Into the bush proper. No more worries about a man and his buttons – it's time to ascend.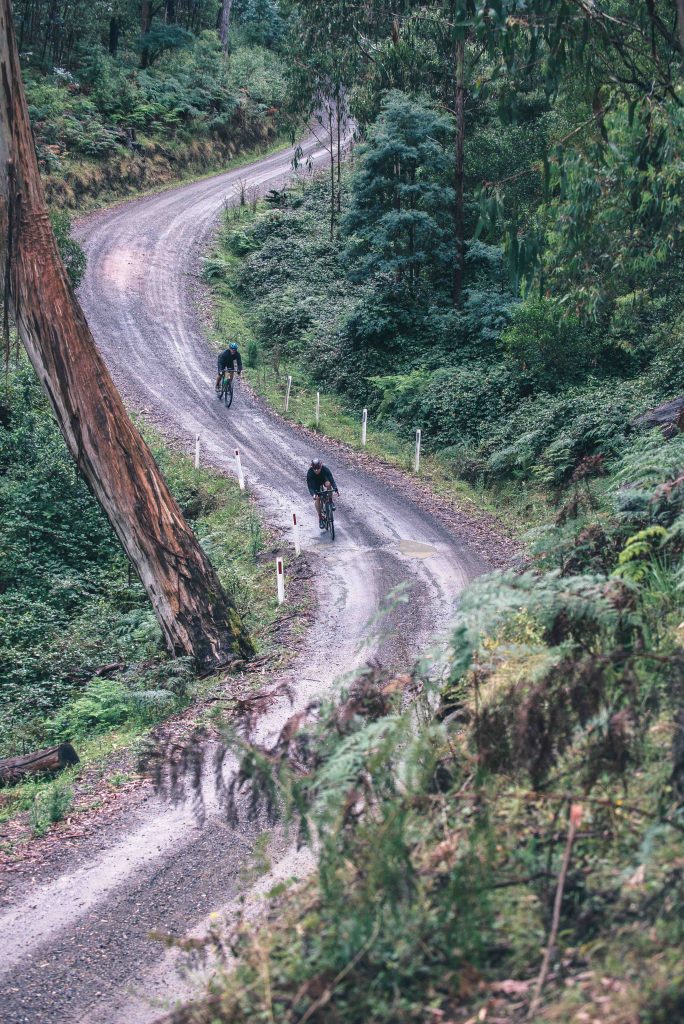 The gravel you see but never seem to get
Panoramic gravel shots now grace much of my online feeds. There is one thing, though, that constantly stands out to me: why is their gravel not littered with climb after climb resembling a wall? Sure, gravel roads are – by design – made with less formality than sealed roads. Keeping costs down is part of the equation. Why make the road longer, with a lower gradient, when you could go more directly up the mountain? I get it. There's rarely a ride where I don't thank my lucky stars for a gearing range greater than 1:1. So when I see that the first (of three) climbs in this route is under 6% – smooth, wide enough for a 4WD to make it past easily, and with no off-camber pinches – it's something of a delight. I would ride way more gravel climbs if they were like Rose River Road. And I famously don't love climbing. If you're a bit new to the scene – 'gravel curious' if you will – then this road is dedicated to you.
As is the descent. Oh, that descent. It's as fabulously laid as the climb. You breeze down the other side. No sneaky switchback or ruts to catch you out. Let go of the brakes and admire the views, as you're now under the watchful gaze of the Alpine range, Mount Buffalo, and their slowly approaching neighbouring peaks.
Now over the range that walls off the King Valley, I become acutely aware of the number of summits that orbit Mount Buffalo. As a road rider for so long I, like many others, never gave much thought to peaks without a sealed road. Now, gravel bike in hand, I pepper Marty with, 'Where does that road go?' questions. Some are 4WD tracks and simply not fit for riding (unless you're keen on some hike-a-bike). Some Marty is yet to explore. The rest are absolutely within reach. As quickly as routes are being discovered and mapped within the gravel scene, new possibilities multiply almost exponentially. Like drinking from a firehose. I'm cataloguing each signpost for later adventures and quickly running out of mental hard drive space with which to remember them all.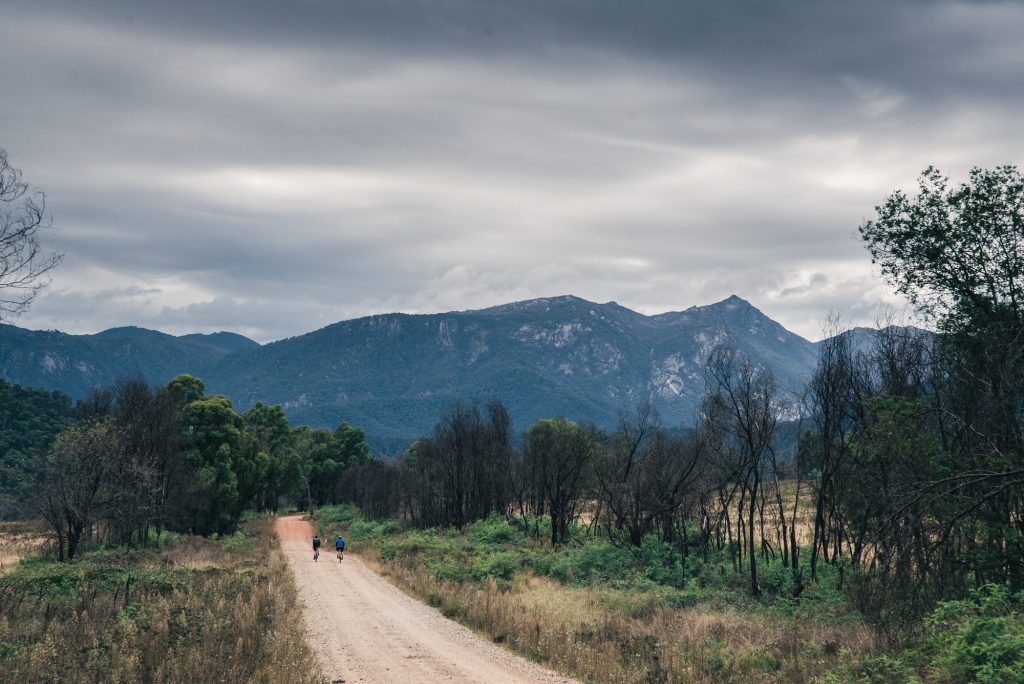 The valley around the road, after the descent, is still shrouded in fog. Not cold. Moody, in a Misty Mountains kind of way. The undulating road follows first the Rose River and later the Buffalo River. Patches of farmland appear here and there only to again give way to bush. Considering how green it all looks at the tail end of summer, it's easy to understand why it's attractive land to work for those who like solitude. It's not long, though, before there's a reminder of what can also come with living this far into the wild. Bushfire in January of 2020 ripped through the valley. The speed at which (some of) the trees and undergrowth have recovered in a mere 14 months is remarkable, and a little startling. It serves as yet another reminder of the dangers of the Aussie bush.
What poses no danger, however, is the road. Maintained to near perfection, the rises are just rollers. The downhills the same. We pass some hunters the second time around. Truthfully, keeping an eye out for deer had not crossed my mind, but add that alongside Button Man on the list of 'things to avoid' (they make a terrible dent if they jump into you, I've been assured). It's almost a shame once we hit the tarmac of Buffalo River Road. It's at this junction where you turn left (or north). Stay on sealed road, as south leads into the aforementioned Wonnangatta Valley. No thank you.
It's 8km until the next left turn. Nature brings its own elevator music, Lake Buffalo, to distract you along the least exciting little stretch. Funny how quickly sealed road becomes the 'enemy', avoided at all costs. And while not awe-inspiring, I have to admit to Marty that I'd driven past the signs pointing to 'Lake Buffalo' for years, but never bothered to turn off the main road (to and from Bright) to take a look. Curiosity satisfied.
There is, Marty adds, one point of interest: Golden Spur. My blank face speaks volumes. 'It's close to the back side of Falls, just on gravel,' he explains. Ah. Lovely. Just over 10km at an average of 8.5%. The road leading to it passes on the right as we plug along north. I've no desire to do it today. Or maybe ever. Or… it could be another Big Ride at some point down the line. Send Cyclist mag requests (and me your prayers) if you'd like to see someone tackle it.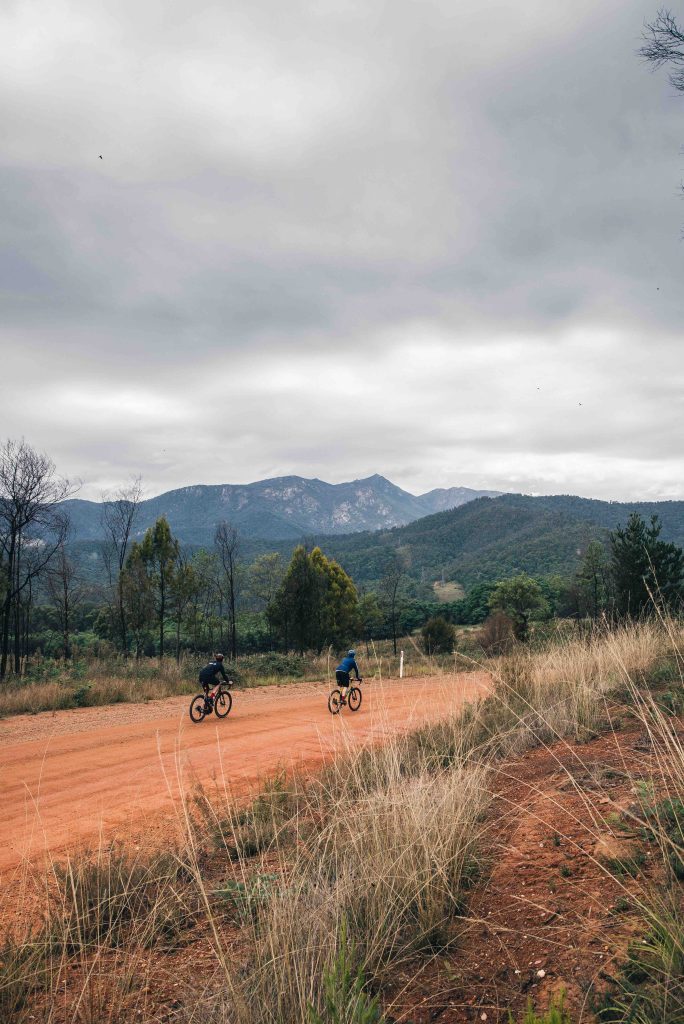 Does that look like rain?
We depart the sealed portion, and it's now left on to Lake Buffalo Road from Buffalo River Road (not confusing at all…). The uphill begins on what is really chunky groad. Up to this point you could have gotten away with 30mm road tyres; a little underbiked, but not by much. But pushing on with that set-up from here on would make for a rather testing experience. The logging trucks that use the road dictate the surface treatment. It's open and exposed. Middle of summer, it's going to be an unrelenting little stretch with no shade (slip, slop, slap please) before you reach the second climb of the day.
There's no official name for the climb (though it's part of the 'Black Range'), and it's everything the first isn't. Back to double-digit gradients and clawing for that bailout gear. Strava says 3.5km at 6.6%, but don't expect much under 8% after you're done with the first third of it. On occasion, I see 13% and 14%. It's tough, and made all the more enjoyable with the heavens opening at the precise moment we hit it.
The good news is both Marty and I can vouch for it being rideable, even in a downpour. Those clouds had a lot more 'mood' to them than anticipated, to the point where there was what looked like a small river running on the side of the road with the amount of water run-off coming down the peak. It wouldn't be gravel though without a classic stitch-up at some point. And at least the Endura gear we were in (summer spec – it was warm right up to the point the rain hit) dried quickly on escape off the seemingly aptly named Black Range.
This descent is also where wider, knobbed tyres came into their own. Slippery S-bends demand well-plotted navigation, and on my second time down a couple of motorbikes appear out of nowhere with little regard for anyone else possibly being on the track. I make it down safe both times, but I'm glad for my brakes and grip. Almost abruptly, we're popped out of the bush and back into the farmland of the King Valley. All signs of the storm from moments ago are already a distant climatological memory.
Winemakers often speak of the King Valley's microclimate. Many residents still don't own air con. Each evening, the Valley funnels cool air, and it's rare to have a summer night too hot to sleep. Even in the day, towns surrounding the valley can be warmer than those within it. It makes for some unpredictable weather patterns, as we discovered. Unless the day is free of any clouds, my recommendation is to not be like us. Stash a rain jacket.
The Black Range Road intersection signals the end of the descent and the last climb (read: punch) of the day. It's enough to hammer some tired legs, but at 1.5km in length it's over soon enough. However, a tip: don't back off the pedals too quickly on the way down. There's a local farmer with a bit of a dislike for cyclists. He doesn't express it with a close pass though (that we know of), but rather sits at his front gate on the days when a mass participation ride rolls by and holds his shotgun. 'He's grumpy, but harmless,' I'm promised by Marty. Still, I make sure to step on the pedals and roll past without any… encounters.
All told, it's a 71km or so loop, which is about the sweet spot for a gravel day out, given the surface always makes it feel like more. And that's before you have any encounters with the microclimates you're potentially going to pass through. I sure wasn't looking to tack on anything extra, and on my second outing hoovered down iced doughnuts at a speed I wish I could ride at.
That said, there's potential for a whole lot more in the region. Start with this route and expand from there. Guides are ideal, and I could not recommend Gravel Mob more highly. The serenity and remoteness need to be tempered with some degree of caution, but you can bet this is nowhere near my last trip to the Valley. The 'when are we going?' questions from my partner have already begun.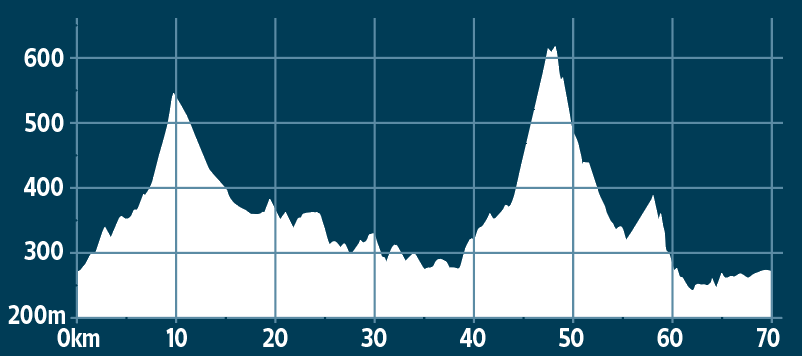 The route we took
Follow in Cyclist's wheel tracks
Follow our route at strava.com/routes/2850550715795095856. We started our loop in Whitfield, but it can also be done from Cheshunt or, if you happen to find yourself closer to Bright, even begun at the Buffalo River Road/Lake Buffalo Road intersection. Whatever the starting point, clockwise is the recommended direction of travel. Not that anything bad (per se) would be in store by taking the route counter-clockwise. It would just be a little less enjoyable, and certainly less picturesque. Instead of the early morning views and a descent heading towards the Alps – under the watchful gaze of Mount Cobbler, Mount Buggery and Mount Buffalo – you would spend that pushing through the bush. Which is okay for most rides. But just trust me on this one.
The route, for the most part, is quite intuitive and well signposted. While I suspect most folks now have a head unit for navigation, it could be done with offline maps or even a fold out map (kids won't remember those relics but they work well and never run out of battery). On that note of 'offline', unless you're with Telstra, do not expect to have coverage for the majority of the route.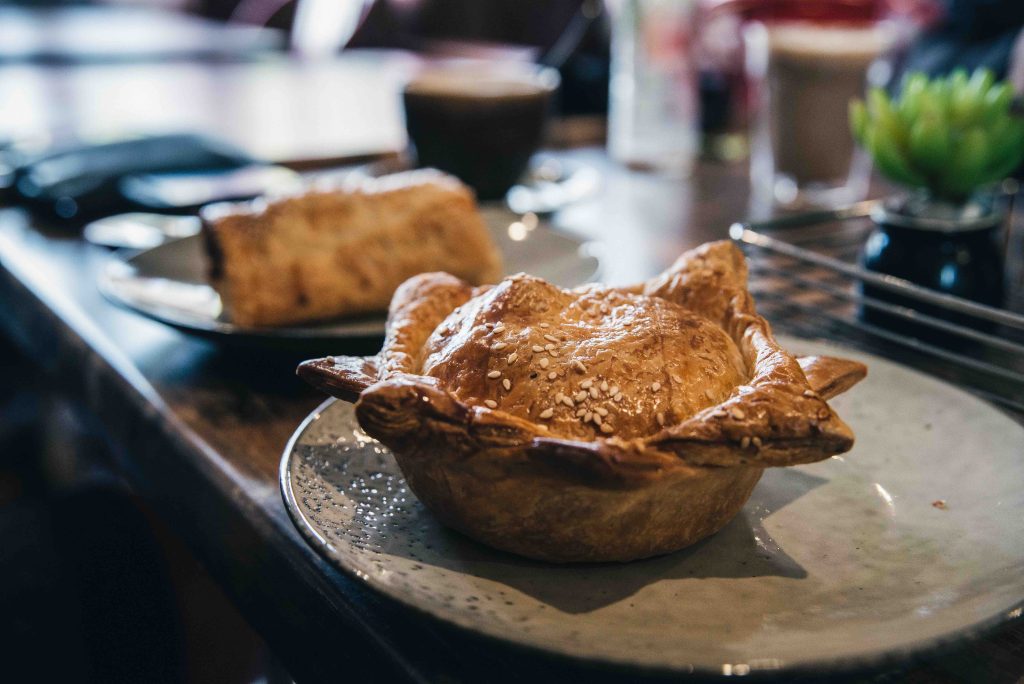 By the numbers
Let us count the ways
50
kilometres (return) to Myrtleford from the turn-off onto Lake Buffalo Road, should you need any sort of support by midpoint of the ride
40
millimetres – the tyre size we would recommend. Up to about 45 is fine. Over that, a little overkill (it's gravel, not singletrack); and less… well, if underbiking is your thing…
6
the box size of fresh doughnuts that the Cheshunt general store (unexpectedly) cooks up. It took the two of us about 5 minutes to polish them off
3
nights' stay, the minimum I would recommend. One for riding. One for a winery tour. One to recover and have another spin. Make a long weekend of it, we say
1
driver that we had buzz us. They had a stock trailer, and we spotted the peanut further on. Our guide, Marty, a long-time local, was ropeable. 'Road rage' on gravel in the region is not an issue he often sees
0
points along the route (short of the river) where you can refill water. Not an issue in the cooler months, but on a hot day it may be worth having a third bidon in the suicide cage or ride with a hydration pack
∞
magpies in the stretch of gravel between Whitfield and Cheshunt. They are everywhere. Avoid during swooping season if you're not a fan of being dive-bombed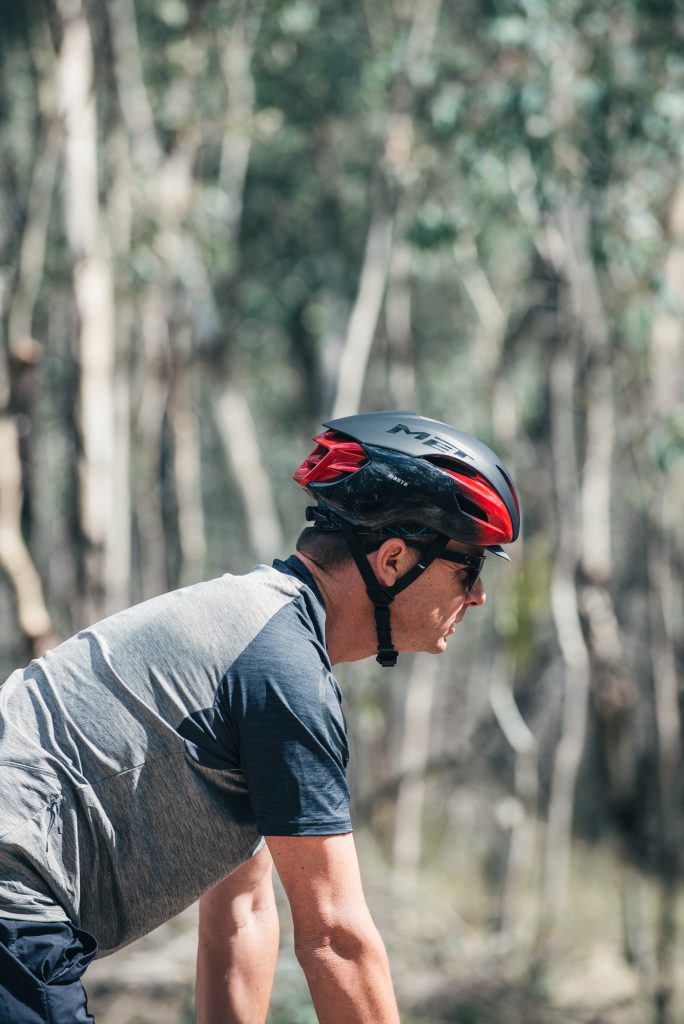 How we got there
Travel
Access is best via car. While there is a V/Line bus from Wangaratta to Beechworth, you still need to get into the King Valley (Whitfield or Cheshunt are the ideal towns). The best solution suggested by Maps was walking from Wangaratta. Silly when you have a bike. There's a bus service, but it's not frequent, and I can't comment on its capacity for bikes. You could, of course, ride from Wangaratta, or even the whole way from Melbourne. At roughly 230km it's a large day (would need to be with daylight savings). Otherwise, flash packing with an overnight in Yea and split over two days would allow for a little more enjoyment of the serenity. If you're coming from interstate, well, obviously this recommendation applies even more so. Ultimately, this trip is best done with a car – apologies to the folks who don't have one.
Accommodation
We stayed at the Beechworth Golden Heritage Inn. Comfortable. Breakfast options. Even a Tesla charging station should your eTap… I mean, electric car, need a top-up. The town is not short of accommodation options, but book early – if there's an event on that weekend, it can fill rather rapidly. If staying a little closer to the route is your jam, accommodation options within the King Valley (technically Beechworth is not in it) are also available. Ideal if your plans also include a winery tour or two alongside some gravel rides. I can confirm – after a subsequent trip to do precisely this – this itinerary is most certainly worth it.
Food
Will depend on where you stay. Beechworth has dining options that we laid out in the previous edition, issue #51. Within the Valley the options are slightly less, but still good enough to get my mouth watering just thinking about them. Chrismont winery for lunch – complete with the estate chocolate Labrador to greet you – is exceptional. Sadly, they don't do dinner. Cheshunt has The Oven, a quaint eatery serving homely meals and wood-oven pizza with a great selection of King Valley brewing to accompany. The owners love to chat and we were happy to oblige. Bright, airy and warm Whitfield Mountain View pub also came in with top marks, as did Ineeta Cafe as another lunch option.
Thanks
Big thanks to Ride High Country (ridehighcountry.com.au) and Gravel Mob (gravelmob.com.au) for being the best of hosts – it's finding routes like this that make guided tours worth every cent. Also, thank you to Endura apparel and MET helmets for the gravel fit-out. Sure, we may have underestimated on the weather front, but the gear was on point and up to the task.