Under the guidance of Ride High Country and Gravelmob,  Cyclist rolls up to the charming Victorian town of Beechworth for beers, pizzas and a decent dose of gravelly goodness.
Words Nick Squillari
Photography Ben Lehner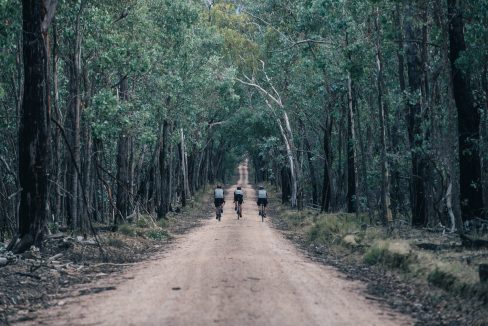 Settling down for pizza and a beer the night before our ride, there's a weird sense of 'home' at Beechworth's Bridge Road Brewers. At the time of writing I live in Richmond, Melbourne. About 200m from Bridge Road. The Richmond one. I had no idea why this brewery – whose name is familiar to many in Victoria, including myself – is named so. And while I did since discover that the company began brewing on Bridge Road (the Beechworth one) Ben Kraus, founder and owner, does admit, 'Yeah, you're not the first person from that part of town to wonder if that was where I started.'
Ben is many things (master brewer among them), but to me, what he really encapsulates is the bones of what Beechworth feels grounded in: cycling and gastronomic delights. Passionate about riding, no matter what it is. Equally enamoured with food and drink, and not at all picky on how any are enjoyed.
Road cycling. Gravel riding. Singletrack mountain bike. Beer and pizza. Gin in the afternoon sun. Wine and fish tacos at the music festival. Mix and match in whatever way you like. In Beechworth, the only rules seem to be good times, great food on two wheels. You don't even need to 'drink' to enjoy pizza and beer. Bridge Road Brewers now has a non-alcoholic beer on offer, crafted with the help of one of the best home-made de-alcoholisation units you'll ever see. Kraus didn't have the money for a unit of a size big enough to cope with his production runs. So, he made his own. Fully certified, at 20% of the cost.
Funnily, that too feels an apt metaphor. My ride hosts – Beechworth locals – regaled me of the time two new residents to town (Dutchmen) rolled up for the Monday gravel ride astride some home-modified urban flat bar bikes. Commuter-style, the same that whizz along my Bridge Road throughout the week, but with a few home mods. They did the job with supreme efficiency, proceeding to drop everyone on the ride.
The vibe was quickly becoming clear. You don't need to have the most expensive equipment. Or the latest. Or flashy branding. In Beechworth, if it does the job and you enjoy it, then those are the only boxes that need to be ticked.

Unironic flannel
Straight up: I am new to gravel. At least on a gravel bike. Underbiking with a road bike was my whole world until late 2020. And while buttock-clenching street-racer drift through corners is fun for a ride or three, even an adrenaline junkie hits their limit. Time to bite the bullet. Or brake pad, more to the point. Disc brakes. Big rubber. Bar bags. In the words of Harry Hogge, Days of Thunder, 'now your tyres are twice as wide'. A pertinent (if a little obscure) reminder, bouncing around my head every time I'd throw my leg over to ride a machine with PSI low enough to deceive me that my tyres were flat for at least the first half-an-hour of each ride.
Of all my (many) conundrums on a gravel weekend with actual gravel tour guides, appropriately named Gravelmob, I genuinely pondered, 'Do I need flannel?' The eclectic @bikepackingsucks (find it on Instagram, if you don't know it) had me sure it was all worn ironically. Now, though, I was one of them, an inductee to the church of unsealed roads. Was flannel the part of the holy trinity of dusty rides and beer in bar bags? Or was there an actual use case around it? The latter prevailed in completely non-secular fashion. Fresh mornings, too crisp for just one layer, are where these garments live. Gravelmob even has its own branded offerings (colour me impressed with that).
What it amounts to shoehorning in a piece of clothing is not all that ventilated, gets a little sweaty but (because of these factors) is also warm and can be left to flap around. All this isn't great for road riding. But it's also cheap. And with gravel being – at least so far for me (and by no means is this any complaint) – a whole lot more relaxed, you can flip the clothing script. It also has an unanticipated fringe benefit of permitting owners to stroll into a cafe and not assault the eyes of Joe Public with figure-hugging road kit. And when you consider most gravel riding is outside of city limits, the subset of the community sympathetic to the donning of flannel is typically proportionately higher. Basically, how to go riding without looking like you're going riding. That mate who wears their helmet into the bakery notwithstanding (there's always one).

Three gates
Tell me you're from Australia without telling me you're from Australia: Beechworth has two routes called 'three gates'. The only way this could be more stereotypically Aussie would be if there were four gates you actually passed through. It's the westbound three (farm) gates that kick off our gravel adventure. The criminally underrated Mount Buffalo tans itself over our left shoulder in the sunny, sharp morning. An early – or very late night – wedge-tail circles as we bounce over the paddock track. With the smaller relatives of Buffalo looking over us, I'd have signed up for a whole day of riding through paddocks in these surrounds. There are some stunning corners of our country. This is one.
Trees, though, take over and into the groad (one of the better cycling portmanteaus out there) we embark. The route to Eldorado has the Tour de Beechworth, Audax and other gravel events run across it. Knowing this always
gives me confidence that there isn't going to be too many stitch-ups. As it was, there was just one part of the descent that was a little 'whoa!'. Roughly 30% of that I'm also willing to attribute to my lack of grav skills. The rest is tight road, a little over a car wide. Like a generous, grav singletrack. Enough happening on the road to keep your attention on it. Not smooth, like fire road, to get too boring. Ideal, really.
Gravelmob – literally a mob of mates who got together to start gravel-inclined cycling tours – were exceptional guides from the get-go. It's a (relatively) well-travelled stretch of road, but when riding it without any locals you miss the hidden Easter eggs along the way. For example, just under 3km from Eldorado there's a secluded campground, tucked up against Reedy Creek. Word is not even many 4WD campers know of it. Perfectly distanced from town (read: the pub) should you be flashpacking through and want only a small pedal back to camp after dinner.
And while this is a site recommended more so in the warmer months, the Mob also has a winter solstice campsite for which they partake in an annual pilgrimage. The Reedy Creek gravel road turns uphill, crucially above the frost line. Dinner at the pub the night before is followed by a morning above the clouds and frost. I'm assured it's worth braving the chill for. Bucket list it.

Victoria's smallest pub
Eldorado – the town small enough it could almost pass as a myth – is the first on the route. And in the same way Google Home is programmed to detect keywords, I'm equally programmed to respond to critical mentions of 'pizza','pub' and 'woodfire'. For a place the size of a postage stamp, Eldorado manages to trigger a mention for all the above via the McEvoy Tavern, aka 'Victoria's smallest pub'. There is even a pool table, which I suppose gives rise to the risk that another contender arises with a pub sans pool room and steals the crown. Not that anyone in Eldorado would care. Hell, with the pace of town it might take a decade for news to even reach them. So relaxed are the residents that the planned visit to the (allegedly quite old) wood oven pizza didn't eventuate on account of the owners simply not showing up. All amusing, in an Italian-pinecone-hands-gesturing manner. I can name at least half a dozen towns with populations 100 time more than Eldorado that cannot boast a wood oven pizza establishment. I'll assume the owners don't quite see the novelty of having one on hand. So, we roll out of town without a visit, my dreams of a morning tea Nutella calzone dashed.
Pushing on from our pizza anticlimax, what did not fail to deliver was the town's dredge. Decommissioned in 1954, it's a testament to how well it was made that nearly 60 years later it's still primarily intact. Coming in as one of the largest in the Southern Hemisphere and draining the third highest amount of power from the state grid (only Melbourne and Geelong pull more), it was used for gold and tin production and could be heard up to 20km away. It's now a brooding monster for locals to swim and fish at the feet of. I ride a steel bike. I'm a bit of a retrogrouch. Sights like this are cool.
It's premium groad heading north to Chiltern; the kind of surface on which you could get away with a road bike and 28c tyres. But why would you when a bit wider makes for optimal grip and the most plush of rides? The rolling 'farm meets bush' hills of the north-east. They're the shots you see on social media with 'day for it' slapped across. Crossing the Hume, it's a hair over 5km into town, where I'd highly recommend stopping for lunch. From here there's no water or food on the full trip home. And with sustenance coming from a converted Masonic Hall, how could you resist?
It's called Posh Plonk on Main, and it functions something like a Swiss army knife of cellar doors. A cafe. A restaurant. And the cellar door for their winery, Posh Plonk. Owners Matt and Karen moved north after Matt expressed a desire for a tree change; Karen countered that the 'only way I'll move to the country is if you buy me a winery.' If it was a bluff, Matt didn't call it. The shopfront is a COVID expansion, taking over the lease of what was previously an Alice in Wonderland-themed cafe. Cheshire Cat moved on, but the quirks of the original Freemason owners remained. It's a delightful location, and I heartily recommend a walk through what is a freshly minted new hidden gem of the north-east.
ground control to mount pilot
Not that the second half of this ride rivals anything like the second half of Peaks Challenge, but I inhaled a pizza all the same. Like Man vs. Wild, the support car is just out of shot on these trips. But I prefer to ride them like our intrepid readers will. Energy replenished, it's time to turn south and head towards the Pilots. Not as in Stone Temple, but still made of stone: Mount Little Pilot and Mount Pilot. The smaller of the two you skip past first on primarily farm road gravel. It's a little rutted and corrugated. If you're tackling this on a road bike, I'd have moderate levels of concern related to rattling any fillings out on this stretch. 
Passing Little Pilot, the road smooths and it's easy runnings to Mount Pilot. It's a peak that actually sits at a lower ultimate elevation than Beechworth itself, but still somehow commands a view that's very much worth the hike to the lookout. The real shame was (on account of the walking) not being able to get a glimpse of the Yeddonba Indigenous artwork at the base of Mount Pilot. Rock paintings dating back roughly 40,000 years and depicting – among other animals – a thylacine. It's a sacred reminder that, while modern Australia may be relatively young, our land and its owners stretch back to the dawn of humankind. 
I'd love to say it's all downhill from Mount Pilot. Not quite. Or even really at all. But there's a strawberry farm – Beechworth Berries – that's unquestionably worthy of a stop before the climb back up to town. Superb berries, jam and ice cream (we sampled all of them). Our guides also admitted to having a further weakness for the farm: one of them bought the house the berry farmer built. A sweet (see what I did there) small-town story.
Both locals also informed us of another little gem just down the road – Barking Owl Distilling Co, small batch distilling out of the owner's (rather large) shed. We were just a little too late to drop by. Maybe for the best; the ride back up into town could have been a little more challenging if it was involved. Really though – what a town. I cannot think of another location where there's such a concentration of boutique cuisine coupled with a vibrant cycling scene, all wrapped in a community that embraces festivals of every type. Any opportunity, really, to showcase the local offerings. As someone whose visits to Beechworth stretch back nearly two decades, I still feel I've only scratched the surface. Bright might shine as the star of the north-east, but don't miss the rapidly rising neighbour that is Beechworth.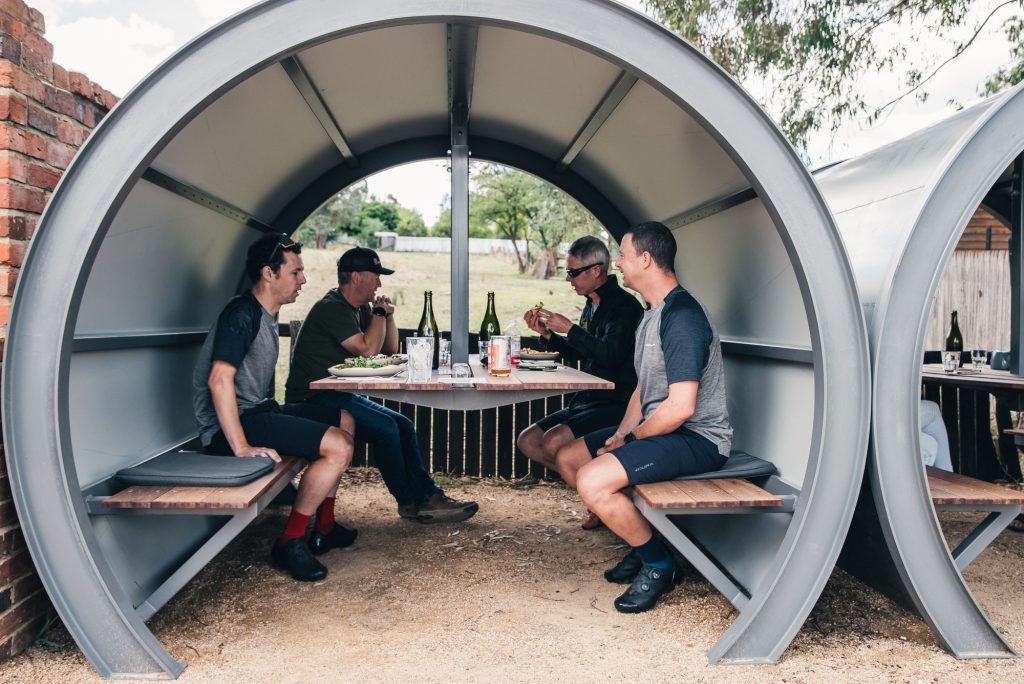 The route we took
Follow our route at ridewithgps.com/routes/35298714 or scan the QR code. It's a big old loop west out of town then clockwise around (turning north) up to Chiltern. Head east past Mount Little Pilot then tucking back west, south west down (and up) Mount Pilot. After admiring that view it's south again and back to town, either via road if the legs are feeling a little cooked or along some fun gravel-bike capable singletrack if the legs want a final workout. While anything approaching – or over – 100km for a gravel ride is a rather large day out, there's enough sealed road throughout the route that pushes average speed up and won't tax the legs as much as a century on primarily unsealed surfaces. To that end, 'Could this be done on a road bike?' Yes, it could; 28-30c would be okay. 25c… maybe. Bring a few spare tubes, as pinch flats are a risk. But no gravel – slope or gradient – gets to a point where 40mm are required. They make the ride more enjoyable, but are not mandatory. There are also a few stops but not a whole lot of opportunity for water. If this were summer, I would recommend starting early. Have a suicide cage fitted for some extra water or perhaps consider a hydration pack. Cooler weather, two 750ml bidons coupled with some solid rehydration at lunch time saw even me – notorious for a lot of salty sweat – through.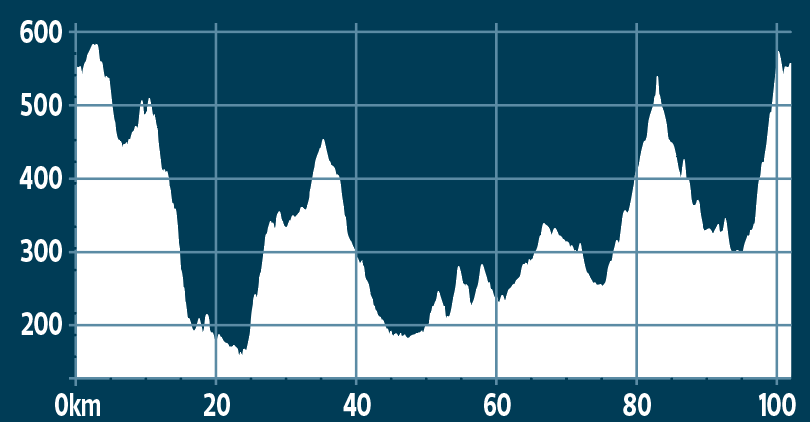 The rider'S GEAR
A massive thanks to Advance Traders for decking us out with Endura apparel and MET helmets.
Baggies are the name of the game in this terrain, and it came as a pleasant surprise that Endura has options – good options – in the gravel apparel space. I've admired their cutting-edge skinsuits for years; basically the polar opposite of this type of riding, so hats off to the brand for pivoting to off-road with gear that's not only functional, but actually looks like normal casualwear. I wore the SingleTrack shorts again (sans chamois, that press studs out to be easily washed – genius) later that weekend. Looked completely fine. Big tick also to the BaaBaa Merino socks. I have poor circulation; my feet hate cold mornings. These socks were warm without feeling like you had three pairs on. More than a few brands make their socks 'winter' by adding bulk, so feet stay warm but you have hot spots in your shoes from socks that push you up a shoe size due to the added volume. Not these.
Life hack: aero helmets are great for cool-weather riding. And while I agree the latest generation of aero lids breathe a whole lot better than those we had five years ago, there's still some heat retention. On a 30+ degree day, not so fun. But Victoria in the middle of autumn? Lovely. Magnetic chin fastening, MIPS and great adjustable retention at the rear; I've always felt MET is a very underrated Italian company. And while Pogačar and his team have put this lid on the radar of more people, it's still not getting the recognition it deserves.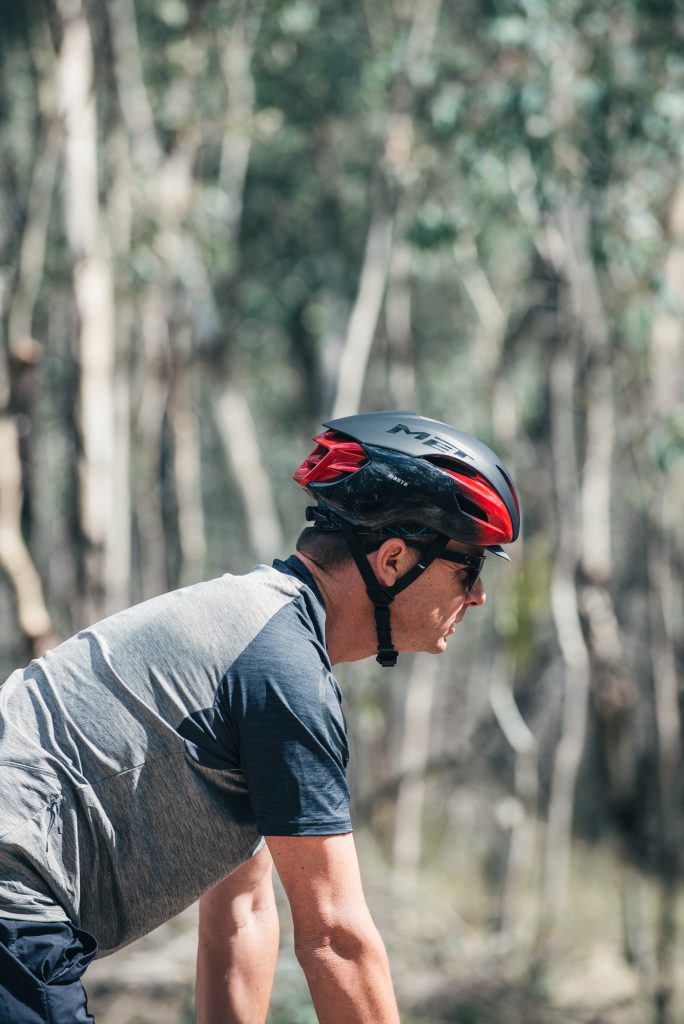 How we did it
Travel
Access to Beechworth from Melbourne is best via car. While there's a V/Line bus from Wangaratta, we could not speak to capacity for bikes. Of course, you could always ride up. It's a massive day to pull off (ideally you'd do it in summer, with more sunshine). Otherwise, flashpacking (overnight in Alexandra would be my tip) over two days is probably the most kudos-worthy way to arrive.
Accommodation
We stayed at Beechworth Golden Heritage Inn. Comfortable. Brekky options. Even a Tesla charging station should your eTap… I mean, electric car, need a top-up. The town, though, is not short of accommodation options. Just book early if there's an event on that weekend, as it can fill rather rapidly. As much as the grav might be a bit of a revelation, word is out and the wider public know it's a happening place.
Food
You don't have to imbibe to enjoy the dining options. But it does add to the experience. The locally produced alcoholic options are extensive and impressive. Gin, beer, wine, fortifieds, spirits. The climate, soil and water are first-class, leading to some exceptional local produce. I'm yet to have a poor dining experience at any of the local establishments. If I'm being picky, the only let-down was, ironically, one brand for which the town is well-known: the Beechworth Bakery. From my first experience at the bakery (back in 2001) to now, I cannot help but feel either it has lost a bit of its magic, or the other bakeries and cafes have caught up? Perhaps a bit of both. Either way, not the carbohydrate heaven it once was.
Thanks
Big thanks to Ride High Country (ridehighcountry.com.au) and Gravelmob (gravelmob.com.au) for being exceptionally graceful hosts, and particularly to Sue Couttie and Marty Young for planning one hell of a trip. Cheers also to Bridge Road Brewery for a tour through the facility and being all-round quality humans. And big thanks to Endura and MET helmets for fitting us out for gravel. We felt especially right in baggies and a riding tee for the day.