Tougher than Alpe d'Huez, higher than the Tourmalet and more stunning than the two combined – the climb of Col du Portet is but a fledgling in Tour de France folklore, but two years ago this gruelling ascent helped shape a historic edition of cycling's biggest race
This isn't part of the climb. It doesn't have a name,' JeanPhilippe, our guide for this short but mighty ride out of Saint-LarySoulan, explains to Zoë and me. The road from our hotel in town to the base of the Col du Portet, in other parts of the world (like back at home in Sydney), would demand some kind of ranking. A name, at least. A little reassurance that yeah, it's meant to be hard, this climbing thing. But here, in the Pyrenean heart of the Tour de France, the new giant of le Tour gifts its challenger with nothing but a steady 9% gradient – until they have proven their worth.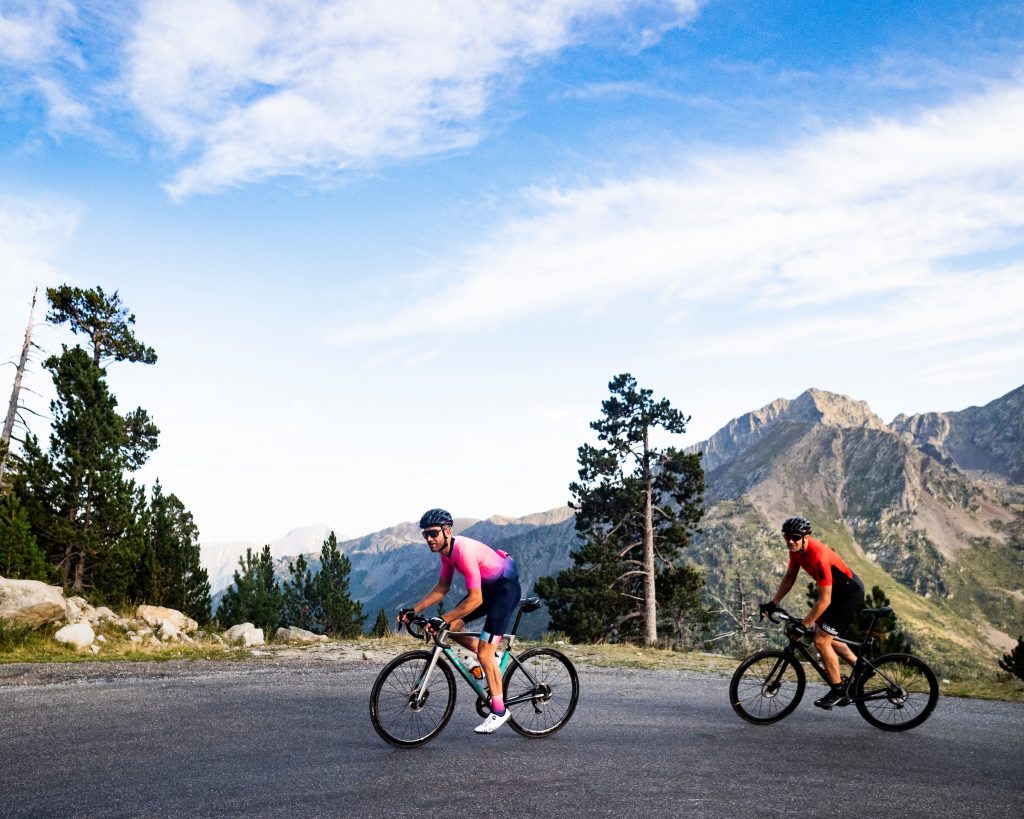 Our final duel today will be with the Col du Portet. 'A giant – a Tourmalet and then some,' boasted Tour de France race director Christian Prudhomme back when he presented the 2018 race's high point. So it shouldn't be a surprise that after nearly an hour of climbing we're only just getting to the start proper. It's here, at the junction in Soulan, that Nairo Quintana put in his winning move on Stage 17 with less than eight kilometres remaining. When the Colombian went, no one could follow. The climb killed the general classification hopes of Romain Bardet and then-defending champion Chris Froome. I'm not surprised. The hors d'oeuvres that knows no real name would be enough to crack all but the world's best climbers. I'm far from being one of them. 
I'm doing my best to push the memories of watching the favourites crack on the short yet gruelling TDF stage to the back of my mind. Philosophical in defeat post-stage, Bardet's Ag2r team manager's words push me on towards the finish. 'It's easier to turn a rouleur into a good climber than to transform a climber into a good rouleur. That's the reality.' 
That piece of Vincent Lavenu wisdom provides me with a little extra motivation as we commence the final section of hairpins. Geraint Thomas had already demonstrated that it was possible, so despite my mere mortal physiology and less-than-spectacular natural talent, this climb won't break me. Probably.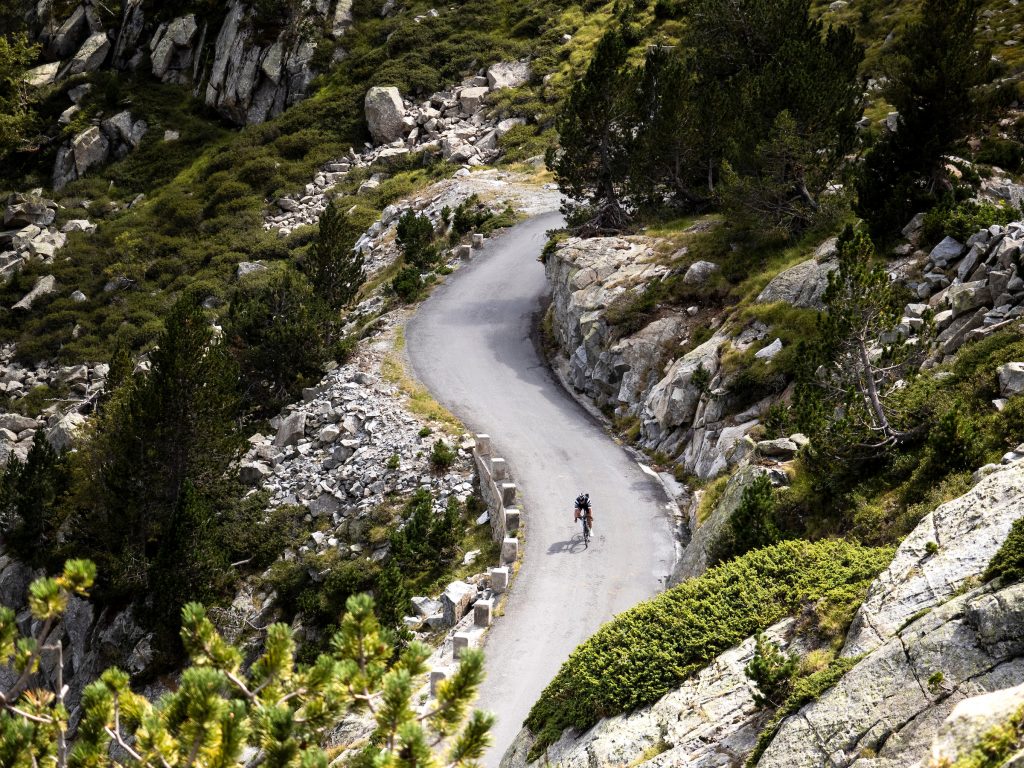 The hors'doeuvres that knows no real name would be enough to crack all but the world's best climbers; I'm far from one of them
History lessons
Under any other circumstance, an introduction to cycling within the French Pyrenees without tackling a true classic could be considered an insult. Giants of le Tour have filled our screens and infiltrated our cycling dreams for years, the epic battles of the late 90s and early 2000s are the ones I remember most. Lance's victories atop Sestriere, Hautacam or the legendary l'Alpe; Joseba Beloki's famous crash en route to Gap; and pretty much any one of Laurent Jalabert's mythical mountain escapes despite winning the green jersey on two occasions. Peter Sagan is a categoric 'phenom' as media like to call him, but even the three-time world champion couldn't match Jalabert's wild Pyrenean escapes. Here, the brutally steep slopes and oxygen-starved summits seal the non-climbers to a fate spent in the grupetto. 
We're seeing a side of the area the pros never get  to see – well, not with a number pinned on, anyway
Today, however, we're not here to play out the stage of the Tour – not entirely, anyway. Instead, Jean-Philippe from VeloTopo cycling tours is showing us a side of the area the professionals will never get to see. Well, not with a number pinned on, anyway.
First up is a trip to the lakes region and its highest sealed road to the Lac de Cap-de-Long, which has an altitude of 2,160 metres above sea level. It's easterly positioned pals,  Lac d'Orédon and Lac d'Aumar, are slightly higher. 
While this area is more than worthy of a Tour visit, we're unlikely to see it happen. Given its position within a national park – not to mention there's simply not enough space for the race's grandeur – this one remains just for the amateurs. Later in the day, with some in reserve, we'll do our best rendition of the final climb of the 2018 Tour stage that finished on top of the Col du Portet. I just hope my legs haven't drawn the Chris Froome straw.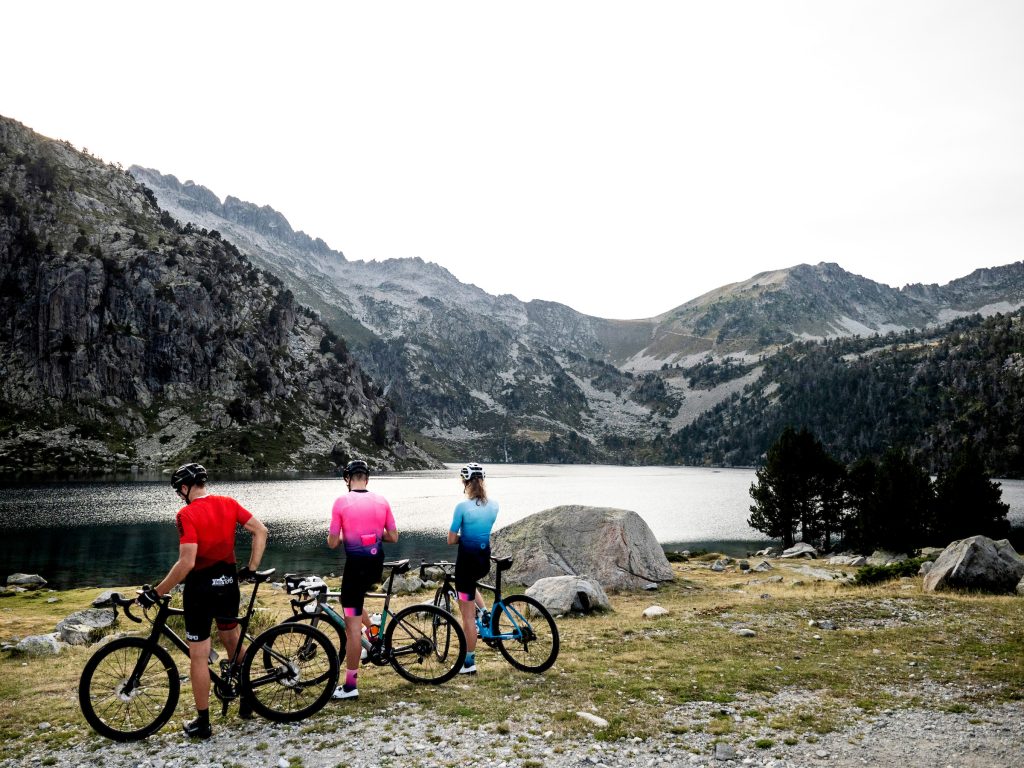 Lac it up 
The breakfast room won't see another soul for at least a couple of hours, but with only 30 minutes to inhale four cups of coffee, three croissants – with local cheese stuffed inside of course – and a bowl of cereal, we leave the Mercure Sensoria de Saint-Lary-Soulan confident we've already made our mark on the day. 
When Jean-Philippe (JP) and Yumi Soulé from VeloTopo meet us in the lobby, the French and Japanese duo are 'fresh' off their monumental pairs team victory in the enduring 7,400km NorthCape to Tarifa race and seemingly still chomping at the bit, despite a few lingering ailments from their epic win. I had started following Jean-Philippe on Strava a week prior to arrival and nearly rebooted the app when it noted his 84-hour riding week. Passionate is an understatement when talking cycling with these two. 
This isn't your usual coffee ride, but the promise of Oranginas at over 2,000 metres seems reason enough to head skyward 
The road to Portet sits just off our left shoulder and could be accessed just a few kilometres down the road, but we turn right out of the hotel car park and begin the steady upward trajectory towards the lake region. We'll be back. 
The gradient along the Vallée d'Aure comes as a bit of a shock first thing in the morning. My computer is ticking between 3% and 5%, and there's a headwind that feels strange so early in the day. According to our route profile, we're 10km from making the turn towards Lac de Cap-de-Long, where we'll find a cafe awaiting our arrival at the top.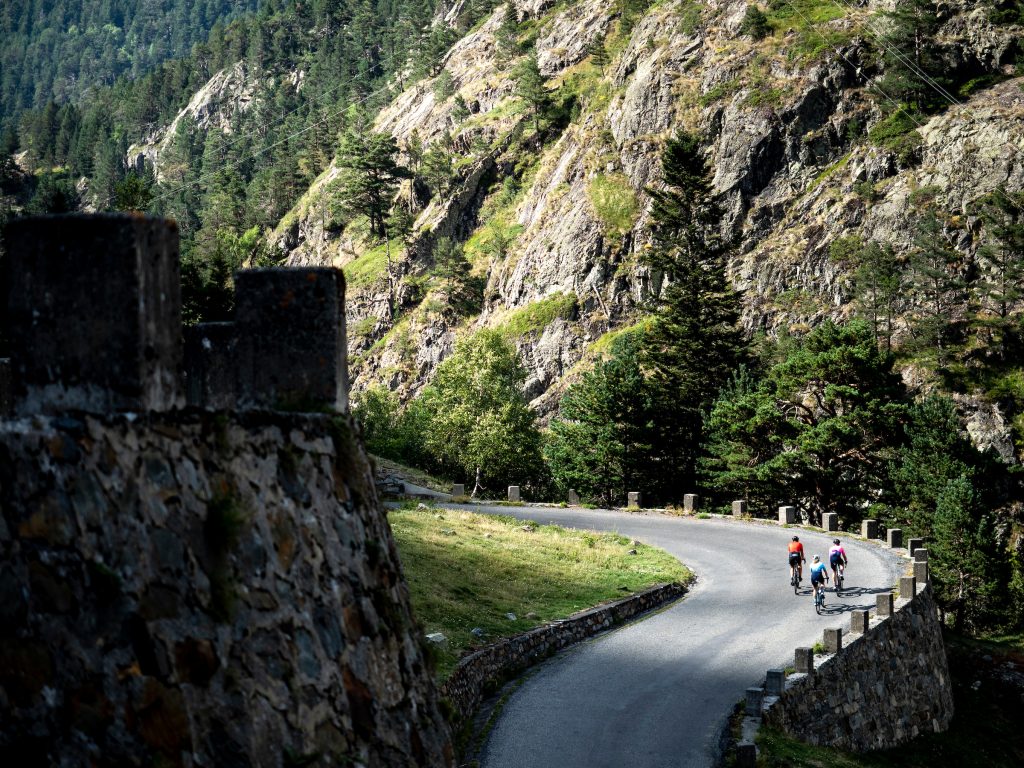 Don't get it twisted – this isn't your usual coffee ride, but the promise of Oranginas at over 2,000 metres seems reason enough to head skyward for the next two or so hours. That headwind is awfully persistent as we follow the flow of the Neste – which we'll cross over a few times on the way to our first checkpoint at Fabian. 'That's thermic mountain wind,' JP explains, which – for someone who dresses for the conditions based around the 'feels like' weather app reading – equates to headwind up the valley in the morning, headwind down the valley in the afternoon. I shouldn't have asked. 
We've ticked off one-tenth of our altitude for the day by the time we reach the turn-off for Route des Lacs. The road instantly shrinks to half width. Stone walls line the upper side of the mountain as the sound of water rushing down the river fills our ears. Tall valley trees and scrub line the lush banks as we cut through the surrounding hillside. The gradient remains fairly steady and, despite the earlier grumblings, that constant need to push just a little harder than normal starts to feel a little more natural. 
The road slowly starts to shift towards the west with the help of the first of what soon becomes many switchbacks, and after just 19km I've lost count of how many. The last breathtaking set of Lacets des Edelweiss rises over 50 metres in height in what feels like hardly any distance at all. You'll feel the pinch here, and despite ascending beyond the measly heights of Victoria's Mount Hotham – with still some ways to go – the view down below doesn't do justice to how high we've climbed.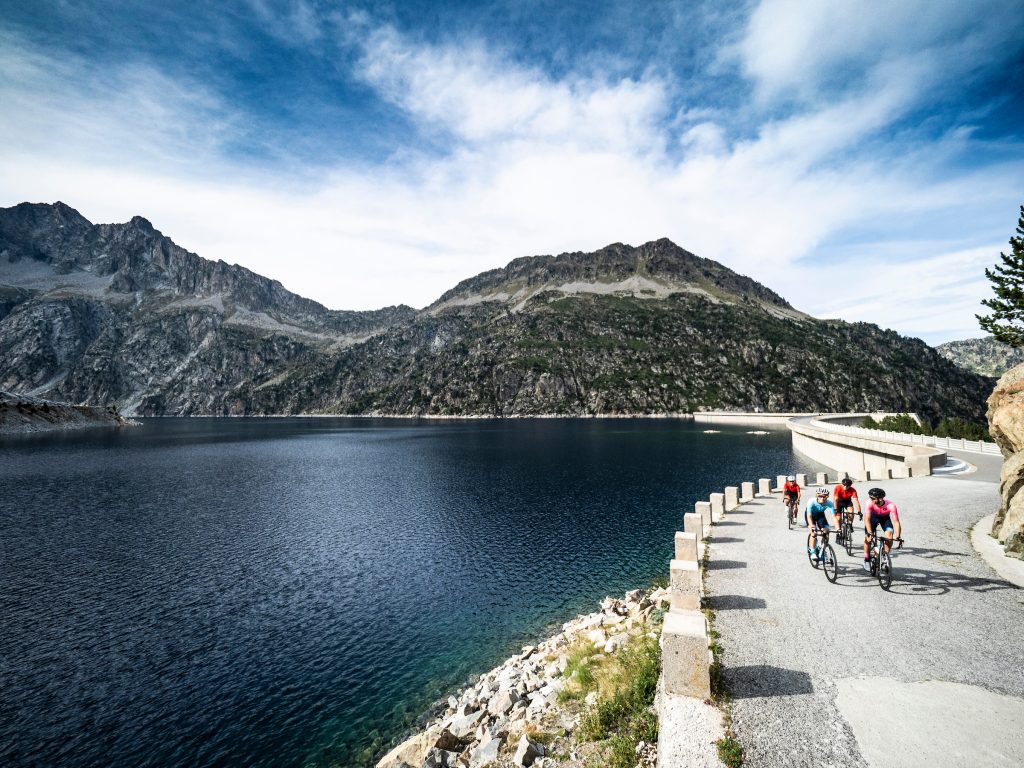 Around the next bend, it all comes into view. There's a sign pointing to the cafe, and straight ahead is the huge dam wall of the man-made Lac de Cap-de-Long. Oranginas await just a few kilometres further up the mountain, but with the valley really opening up and showing off the brilliant colours of d'Orédon around 100 metres down to our right, those beverages are going to be needed. 
The last push to our first peak of the day takes longer than expected, and while there's a little goat traffic to contend with along the way, I should probably be grateful we haven't encountered a traffic light for close to two hours. Back home, you don't get uninterrupted riding like this too often. It's like a toddler has designed the final bit of road up to the reservoir, such are the twists and turns. After a final section of switchbacks, we reach the peak. Wow. JP beams with delight as we rack our bikes against his conveniently sponsored bike rack at Le Garlitz cafe. After just 24km of riding uphill, we take a seat and admire the views from the outdoor dining area. We're going to need a minute or two before heading back down.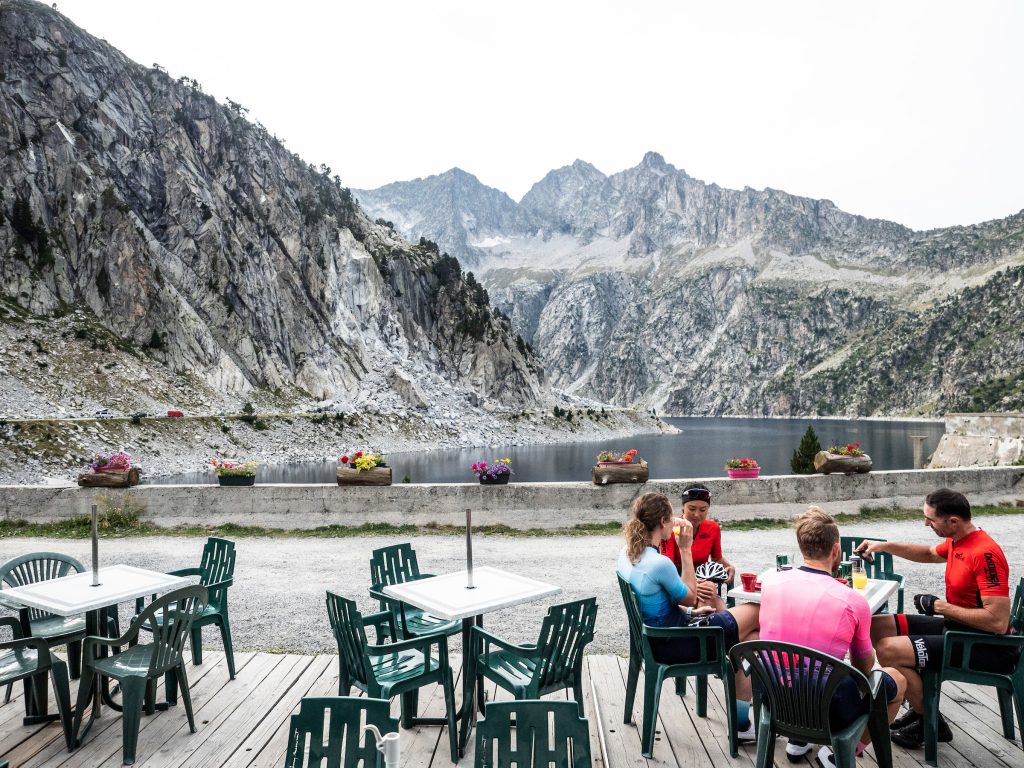 Amuse-bouche
It's a comfortable 20 degrees in the sun, but the air  coming off the surrounding peaks is chilly enough to warrant a vest for the way down, even if it's just a few kilometres back to where we first spotted the cafe sign. 
The descent off the de Cap-de-Long is, to put it  lightly, engaging. The combination of narrow and  bumpy asphalt and 7% average gradient demands our attention. Australian guardrails might be very much intended to stop cars from veering off cliffs, but there's also comfort in knowing they'll at least slow you down.  Up here, a few concrete blocks are all that separates us from the drop below – but thankfully a few tight switchbacks help to keep our speed in check.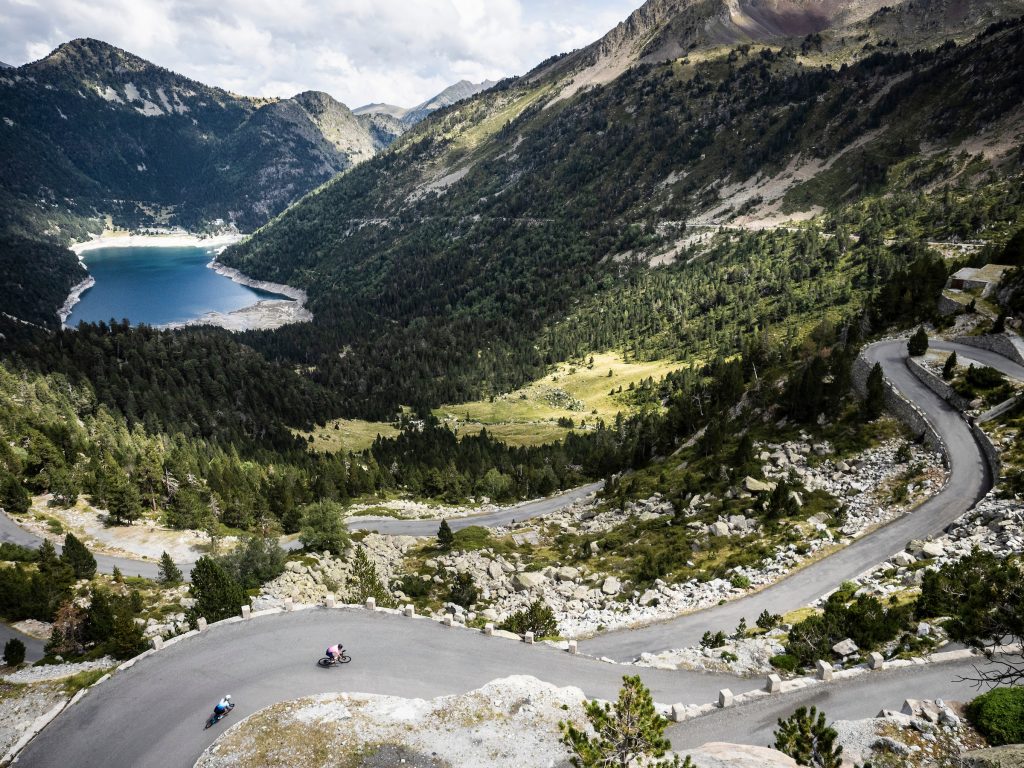 Up here, a few concrete blocks are all that separates us from the drop below – but thankfully a few tight switchbacks help to keep our speed in check.
I'm not the biggest fan of out-and-back routes, but the view down to d'Orédon offers an entirely differently perspective to what we encountered on the way up. Before we know it, the sharp left-hander approaches and Zoë, mesmerised by the 360-degree views, nearly misses it. We make the turn and plummet down again, crossing a small causeway before the road tilts up to 9%… for the next 20 minutes. 
Scoping the extra climb, I admit to wondering if we really need to visit the pairing of d'Aumar and d'Aubert, but with the sun now high in the sky and our only deadline coming at 7:30pm for dinner at La Grange, my argument has little ground. 'This isn't even the high point of the lake region,' Zoë says in an 'I'll go on my own if I have to,' sort of way. After a solid 20 minutes of climbing we're treated to some flatter terrain as we ride alongside d'Aumar and d'Aubert with another 50 metres of elevation above  Cap-de-Long. I guess that makes it worth it.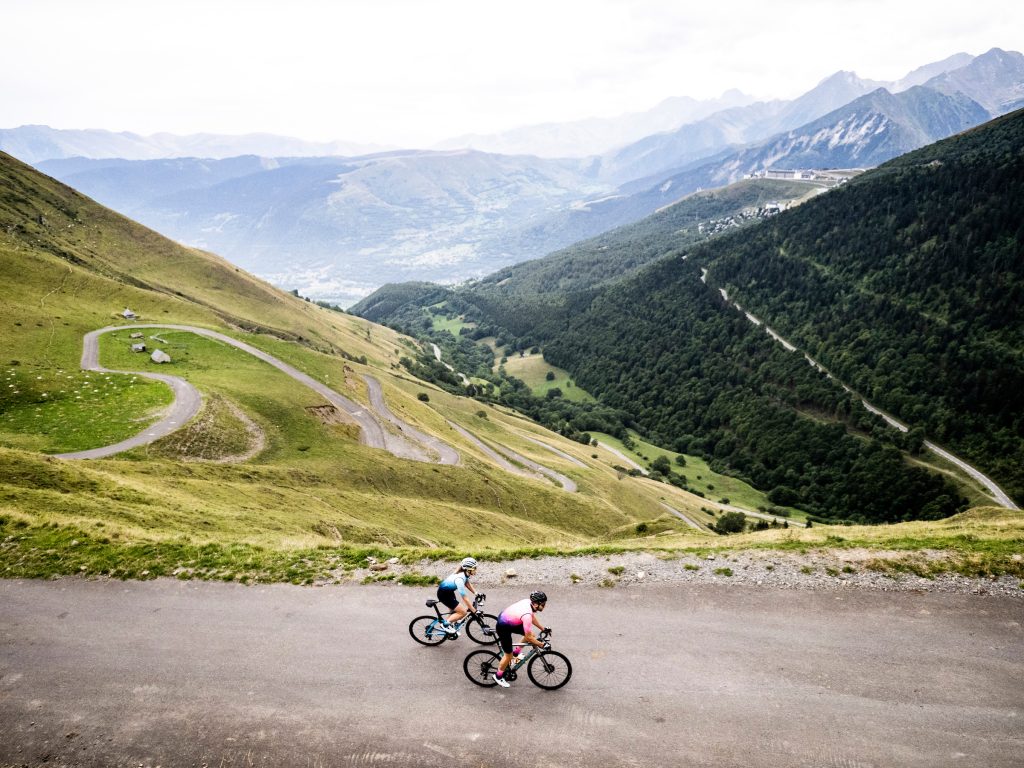 'You can hike across to Col du Portet from here, but you can't do it on a mountain bike or CX bike,' JP explains. 'Remember, it's national park, so come back one day and I can take you across. It's only around 10km and we can do it in less time than it would take to descend from here and climb up Portet by bike.' He then begins to tell us about the time he was stuck in a freak snowstorm high above the nearby valley's Pont d'Espagne – but you'll have to pick up a future edition of the magazine to get the rest of that story. 
Either way, it sounds like JP and Yumi were born for this sort of thing, and I'm starting to wonder if the NorthCape to Tarifa would be a suitable trip for Zoë and I to take on – before giving myself a slap to the right-side cheek. JP and Yumi aren't your regular couple. Don't be fooled by their relaxed approach to life; they have a level of stoicism that most of us could never truly imagine. 
Back down to d'Orédon, up the short ascent and then it's almost 25km of brilliant descending to our hotel in SaintLary-Soulan. After a quick regroup at the D929 junction, I rip open four mango-flavoured Cemoi jellies, and with nearly 40 grams of pure sugar coursing through my veins I'm already thinking about taking on that hike tomorrow. It's my first time to the Pyrenees, and being more of a downhill specialist, I figured this would be my time to shine. Wrong. Just like the first few pedal strokes down from Cap-de-Long, the next 15km require absolute focus. Jelly fuelled, I'm ready. 
The gradient feels awfully more uneven, and I'm grateful for the choice to rid all rim brake bikes from my fleet
The gradient on the way down feels awfully more uneven than it did on the way up, and I'm #grateful for the choice to rid all rim brake bikes from my fleet. Safely through the turns of Lacets des Écureuils (squirrels' hairpin), the road starts to straighten up. While it's easier to navigate, there are plenty of blind corners to keep us on our toes, and after hearing tales of far too many cycling 'journos' falling victim while on the job, I do my utmost to keep things rubber side up.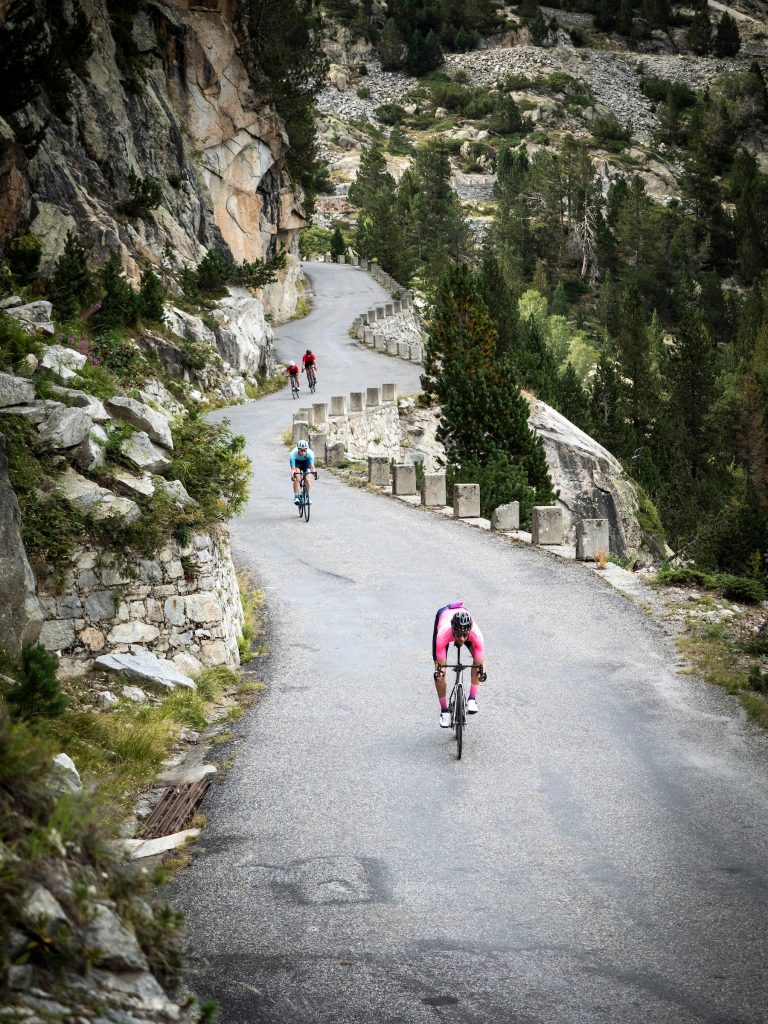 Portet of call
By this stage of the ride, back in town with a fulfilling 60km in our legs, it would be easy to park it up in the warming late summer sun and simply let the afternoon wash away. JP does his best to push us into sitting down for a foot-long baguette and local ale, but I insist we keep it on the regular, opting for some less-than-outstanding doughnuts and black coffee. Next time, trust the local. 
Nonetheless, Bar du Téléphérique serves its purpose, and with a belly full of all the things needed to keep a cyclist ticking along, we head past our hotel and turn left onto the D123. My Pyrenean dreams shift towards nightmares as we turn right towards Soulan and the road immediately tilts to over 10%. It's like WTF corner at Falls. I'm not kidding.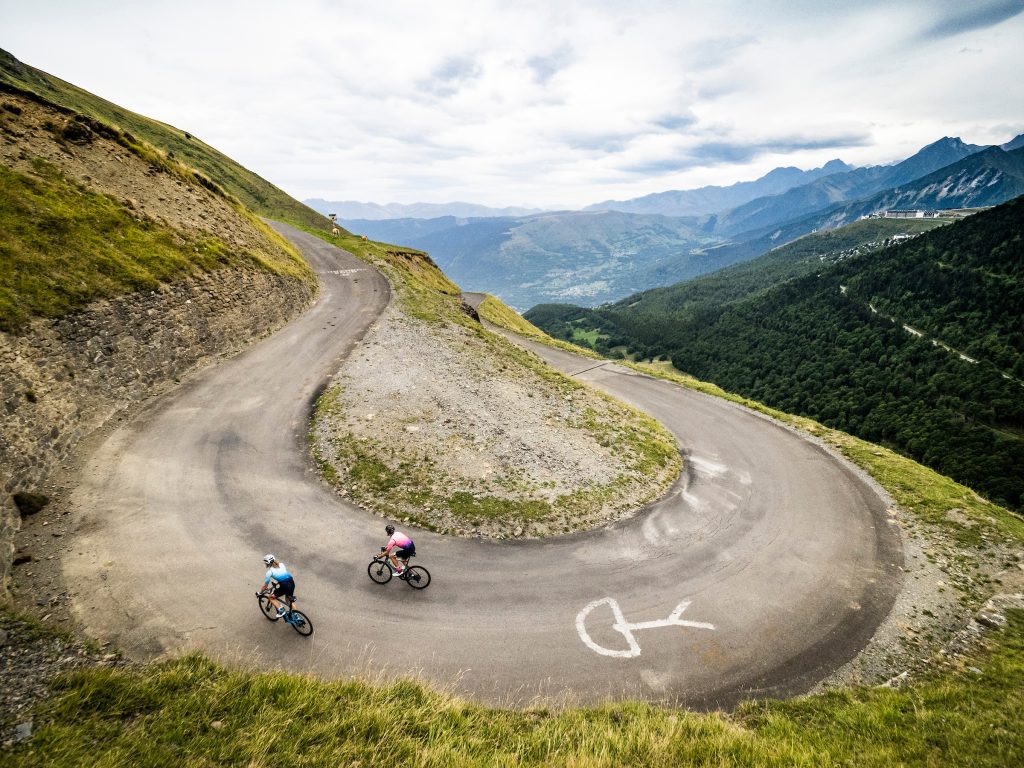 In stark contrast to the lakes, the road to Portet is wide and smooth thanks to it being a winter playground during the cooler months. If the start of this climb looks familiar, it's because the Tour has ventured through on 10 occasions. Before Portet turned right at Espiaude some 8km in, the Tour trucked on towards the neighbouring Pla d'Adet. In 2014, Rafal Majka gave the TV camera – and us back home – a cheeky wink as he rode to victory in the polka dot jersey. As we grind up the climb with no real name, the only winks happening are those used to steer the sweat out of our eyes. Right now, as the gradient teeters between single and double digits, the Route des Lacs is looking like a walk in the park.
Including the time spent in our chamois during breakfast, we enter the mythical seventh hour of riding. On a Big (long) Ride, all you've done till this point matters. Hydration, nutrition, saving energy when it matters – this is where Tour stages are won and lost. But for us, as the sun pierces down on the exposed roads above Soulan, victory will be measured simply by reaching the top before expiring.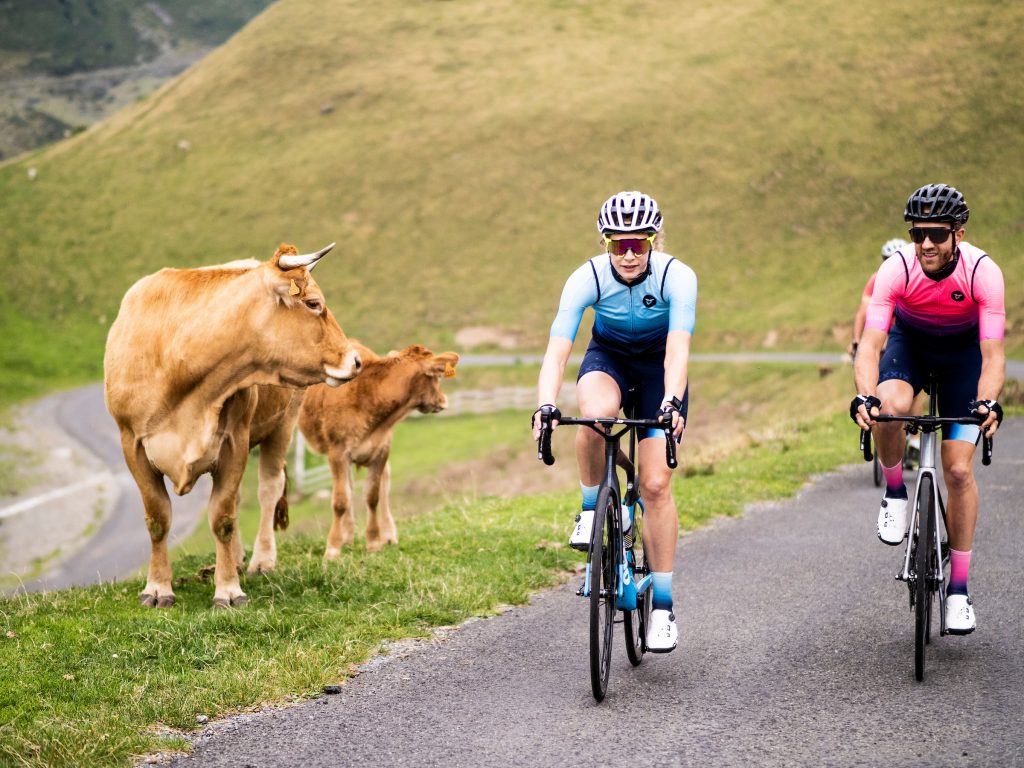 Finally, after a huge day in the saddle, JP and Yumi show signs that maybe they do need a little time off the bike, and leave the two of us to travel up the final car-free section of Portet on our own. We've had the VeloTopo van as support all day, but in the summer you'll need to be up early if you wish to reach the summit via car. From July 12 to August 25 (this year at least) the final 10km climb is reserved for cyclists between the hours of 10am and 4pm. It's just as well – the road is hardly wide enough for cyclists to pass each other, and while just as steep as the previous 8km, knowing we're that much closer to the end makes it feel a bit easier. 
If it weren't for the cow and sheep bells, it would almost be whisper quiet
Gradient aside, there's more than enough eye candy to keep our minds from counting down the 19 corners. If it weren't for the cow and sheep bells, plus the 'whooska' of two other riders coming down, it would be almost whisper quiet. The road to Portet is chalk and cheese from earlier climbs, and with every switchback conquered, the view across to the other side of the valley gets better. You can see why this would be a popular local spot during the winter months as the best scenes are those facing downward. Thankfully, today's weather is absolutely brilliant and we're able to easily see the ski resort of Pla d'Adet, which looks almost within touching distance. Better still, the two of us have agreed to ride tranquille all the way to the top. 
The final few kilometres tick away, and with each one done, the mystery of what to expect next is promptly revealed. 'Ooh, this one is going to be easy. It's only 6.7% average,' Zoë exclaims after the more constant 9% further below. Through the world's darkest tunnel, thankfully it's very short and the top is in sight. 
We hit the final left-hander, and that's it; we've summited the highest point le Tour has visited in the French Pyrenees. From here, it's a similar scenario to Cap-de-Long – a few Cemoi jellies to boost concentration on the way down and I can almost taste the local La Nestoise ale JP has on ice for us back in the van. 
Back in Saint-Lary-Soulan and deep into the recovery hydration station, I start to wonder if all those Giants of le Tour are worth the hype. The memories of watching some of the sport's best battle it up the Tourmalet, Aspen or Peyresourde are what pulled me across to the Pyrenees, but seeing the huge smiles of JP and Yumi as we race back to the hotel are what will keep me coming back.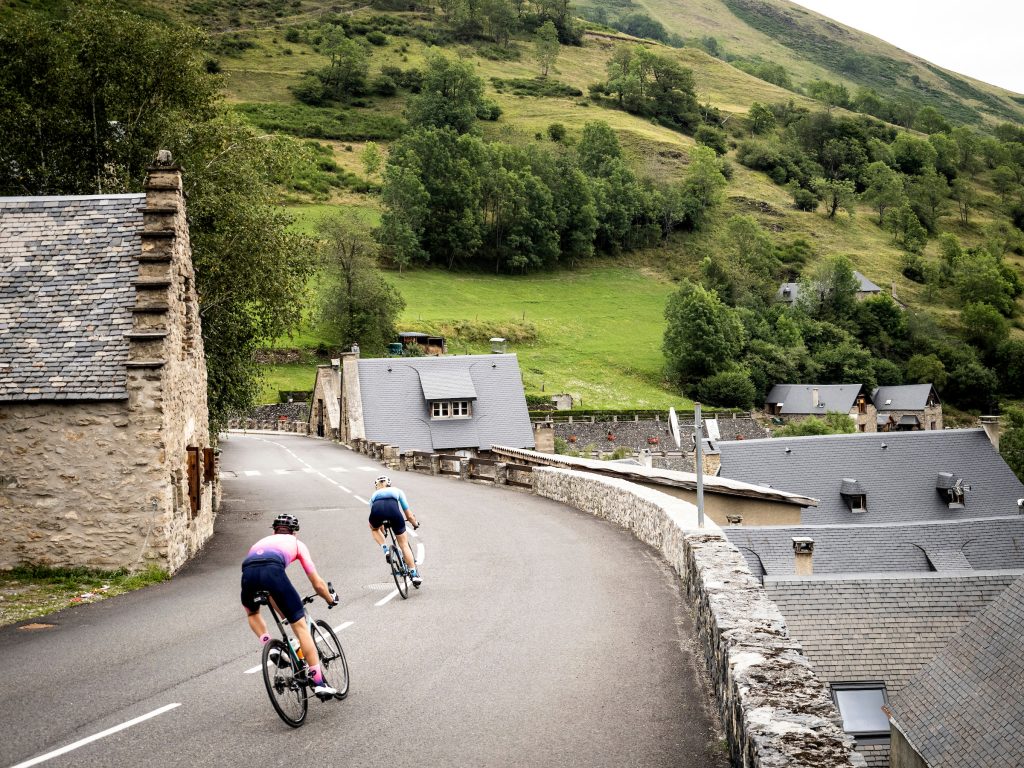 Alex Malone is Cyclist's commercial manager and was jelly-fuelled when writing this feature
This Big Ride was featured in issue 42 of Cyclist.
The writer's ride 
Focus Izalco Max Disc 9.9, $10,999 approx. (focus-bikes.com) 
The former Izalco Max was a proven winner with the rim brake version taking multiple TDF stage victories and no doubt helping to thrust Bardet to an overall podium. A disc brake model came along shortly afterwards and offered an extremely lightweight package – for the time. Nowadays, aero is always on, even when tackling the mountains of the Pyrenees.
The 2020 Izalco Max isn't touted as a full-blown aero bike, but it's reportedly much faster than its predecessor – even if a touch heavier. Fitted with a full Dura-Ace groupset and paired with Pro Bike controls, this particular bike remains in the permanent possession of its rider who, while gravity challenged, will take any advantage he can get – uphill or down.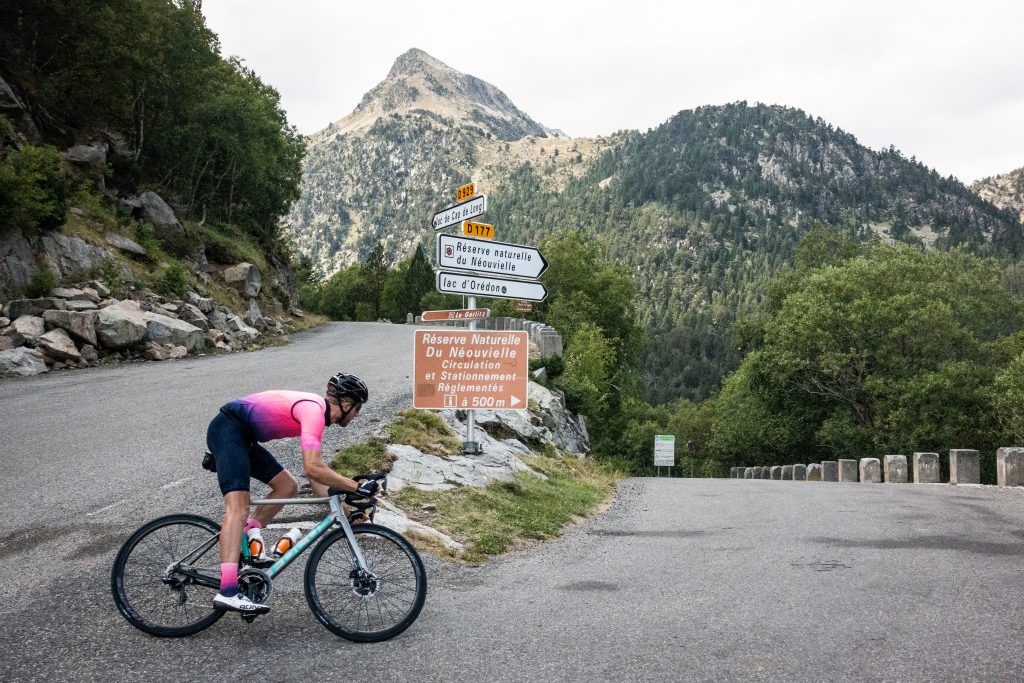 By the numbers
Peer at these  Pyrenees stats
6 Hours to ride Portet car-free during summer, each day
12 Cemoi jellies devoured
19 Corners before reaching the top of Portet
45 Minutes at the cafe atop the road to Lac de Cap-de-Long
130 Depth (in metres) of the  Lac de Cap-de-Long
2,207 Number of failed selfies at the Col du Portet summit (oh, also its height in metres)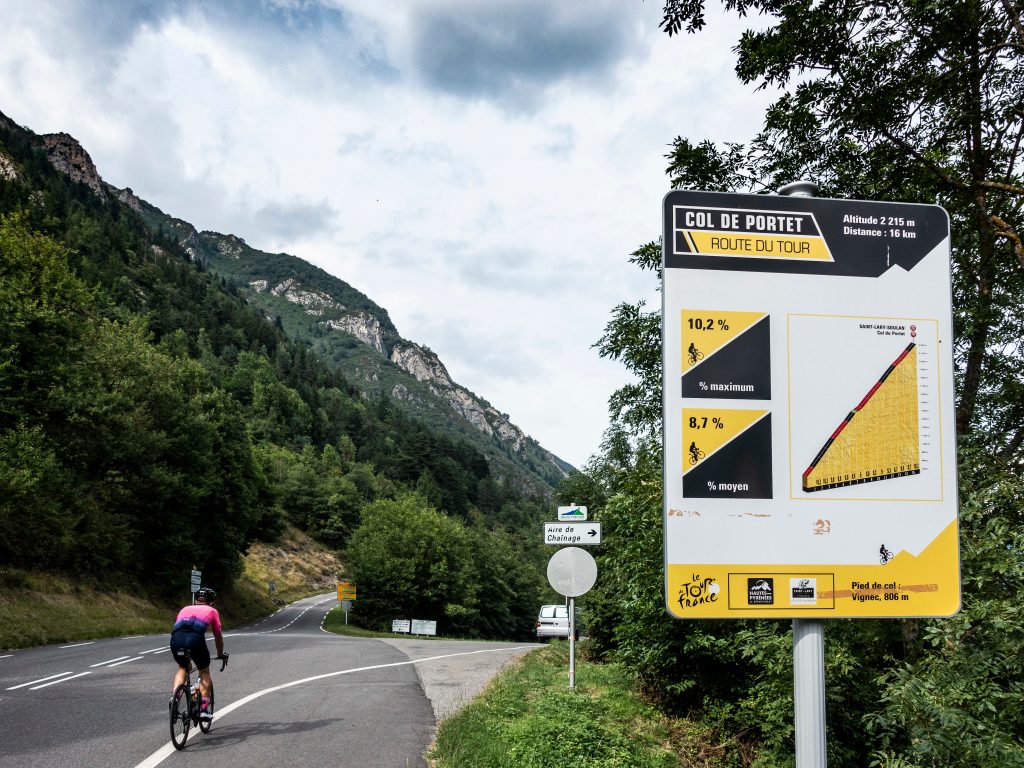 The route we took 
Follow in Cyclist's wheel tracks
Starting and finishing in Saint-Lary-Soulan, this is a ride of two parts. Head south-west on the D929, keep an eye out at kilometre 10 and turn right at the fruit shop in Fabian. Stay on the D929 for another 13km to reach the summit. Take a breather, soak in the view and head back down for a touch under 4km. Brake, take a sharp left, drop down to d'Orédon and climb up to d'Aumar. At the top, flip around and head down to Saint-Lary. Turn left onto the D123, cross the river and follow the road towards Soulan. Turn right after 8km, keep right at the fork, ride past the chalet and take the first right-hander for the final push to Portet. This route could be done with just a few simple cue sheets but you're better off loading the route to a GPS. On a ride like this, having a rolling route and elevation profile makes pacing that much easier so, where possible, we suggest downloading the GPX and loading it into your unit.
Download the route at strava.com/routes/22432866.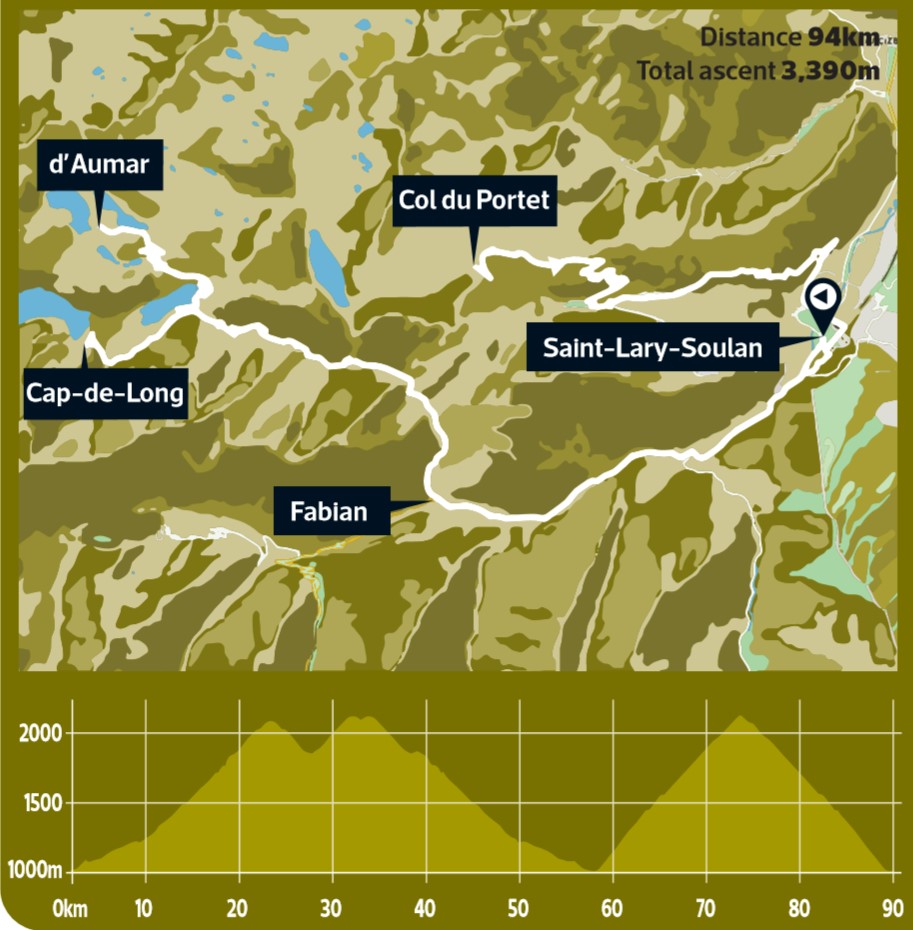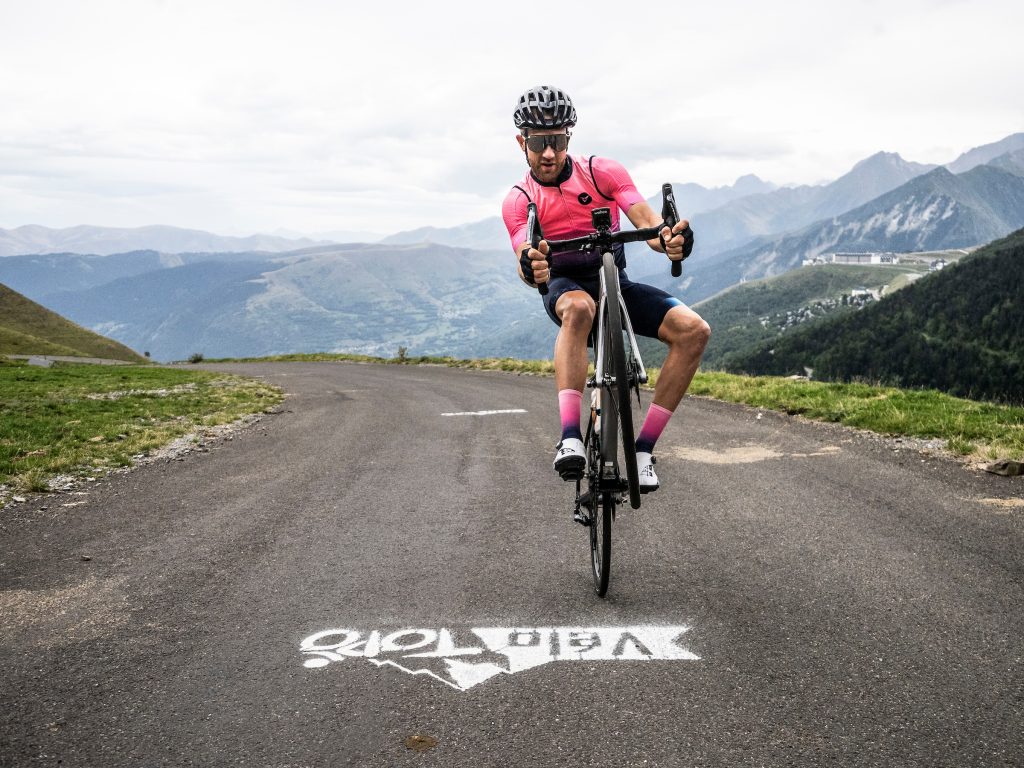 How we did it 
TRAVEL
We flew Etihad via Abu Dhabi and then Manchester before taking a Flybe connection to Toulouse. From Toulouse, it's around an hour and a half to  St Lary where you have access to countless Pyrenean climbs.
ACCOMMODATION
We stayed at the Mercure Sensoria de Saint-Lary-Soulan where a comfortable room and the most ridiculous breakfast buffet I've ever seen will set you back around €100. The hotel will also happily accommodate your cycling needs with secure storage facilities where you can store your bike and additional luggage.
FOOD
Le Garlitz is situated at the top of the lac de Cap-de-Long, and with the closest alternative some 20km back down the road, this is the place to stop.  If the weather treats you like  it did us, it's a tough place to leave. The view over the lake  is reason enough to order another round of crepes and Orangina. Back in Saint-LarySoulan, head to La Grange for  an outstanding dinner.
THANKS
VeloTopo invited Cyclist to experience some of the  lesser-known attractions of  the Pyrenees and hosted us during our visit. A huge thanks to Jean-Philippe and Yumi who helped craft a superb mix of riding that offered a taste of le Tour along with some of their favourite climbs. Head to velotopo.com and indulge in a trip to the Pyrenees, Alps, Corsica or even a bespoke creation of your design.