Wheel Test: Lightweight Pfadfinder EVO Disc
Cyclist tests the German carbon masters' new disc brake wheelset, which can accommodate tyres up to 40mm
Words Mike Blewitt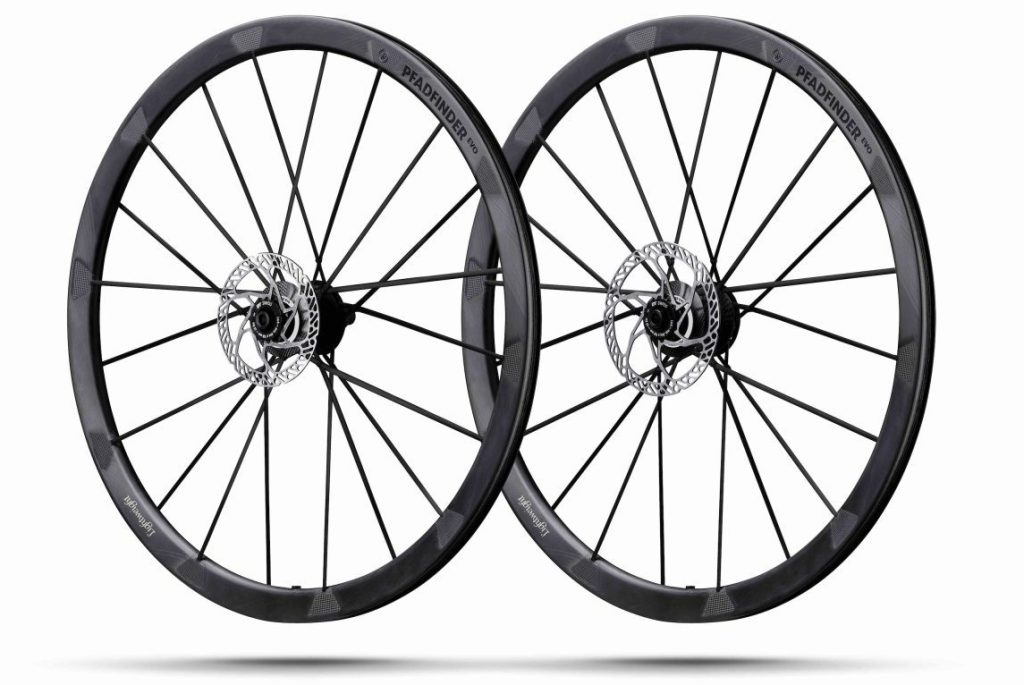 Have you been welcomed into the warm, often bearded embrace of gravel? By now you've no doubt felt the joy of getting into the great outdoors. From feeling the warm sun on your back to hearing the crunch of dirt under your tyres, finding solitude or bonding with mates, riding gravel can offer a wholly different experience to road. If only the bikes weren't so sluggish and slow rolling!
Here at Cyclist we have reviewed numerous wheelsets across our issues, and you'll be familiar with the fact that a wheelset upgrade is a key change to add some spring to the step on your steed. And this holds just as true for a gravel bike as it does for a road bike. Lightweight has been the master of incredibly light, responsive and stiff wheels for decades, and its Pfadfinder EVO wheelset has arrived to add some serious cache to your gravel bike.
As you'd expect from Lightweight, these wheels have one-piece carbon spokes to tall hub flanges, spinning on high-quality bearings. The rim profile has been optimised for tyres up to 40mm wide, with a tubeless-ready hooked rim. The internal width is a hair under 19mm, with an outer width of 24mm. Our test set weighed 672g for the front wheel and 755g for the rear – that's 1,427g total. With Pirelli Cinturato M tyres in 40mm fitted up it was time to tackle some winter gravel rides.
On the dirt
While a set of Lightweight wheels will add kudos to any ride, the Pfadfinder EVO (path finder) wheels will almost certainly drop weight and add stiffness compared to a stock gravel wheelset. The rolling speed of the high-quality bearings was immediately noticeable, along with the precision into corners thanks to the incredible lateral stiffness.
Their rapid acceleration was evident whether scything through some riverside multi-use trails or burning up dirt road climbs. And when hitting smooth descents the wheels absolutely sung.
That said, it's worth noting that their performance window is specific. Mastering gravel is about mastering traction and your comfort at the limits
of it. This means tread patterns, casings, rim widths, rim heights and tyre pressure all need to be tuned to suit what you ride, and how.
Given the Lightweight Pfadfinder EVOs have a rim width to suit all-road and gravel, 40mm is the max tyre size. This is perfect for champagne gravel, however using a rim insert like the Tubolight Gravel insert (less than 40g) is a good insurance policy to allow low pressures without rim strikes. On the smoother paths and dirt roads the Pfadfinders were a magic addition to a gravel bike.
But what is gravel to you? If your soul-searching sojourns tackle the rutted, steep back tracks of forests, flirting with trespass in the boondocks while finding the limits of what is viable, these may not be the wheels you're after. They won't support the wider tyres you'll prefer, and the one-piece spokes may leave you in trouble when you're out of 5, 4 and 3G service.
But if you're after a fast, light and aero gravel wheelset for graded gravel roads, and setting some fast times in gravel events – the German carbon masters have delivered exactly what you need.
Lightweight Pfadfinder EVO pricing:
$6,999 (Standard edition)
$7,799 (Schwarz edition)
Features:
Gravel-specific disc wheelset

Extended tyre width of up to 40mm make for increased riding comfort on gravel bikes

Optimised layup for significantly increased robustness
Use of special high-modulus CFRP fibres
Tubeless technology
Outstanding stiffness to weight ratio
Manufactured with extreme precision and small tolerances
Low sensitivity to side winds

Precise braking performance despite high temperatures, thanks to Pentagon hub

Unique rolling characteristics
Compatible with all current groupsets (Campag, Sram, Shimano, etc.)
Perfectly suitable for gravel, all-round, training, competition and endurance
For more information visit fesports.com.au.