Let's get one thing straight: I'm a huge Vittoria fan. Over the years, I've trained on Rubino Pros and raced on the famous Corsa tubulars.
In 2023, Vittoria celebrates 70 years, most of them dedicated to high-performance tyres. It has nailed the formula with the Corsa concoction, and the brand is a regular in the pro peloton because of it. However, in the shop I worked at we used to say that Corsa must be Italian for paper, and Rubino for rock, because even though Corsa was the quickest rubber you could buy, it was notoriously fast-wearing. And although the Rubinos were incredibly durable, they were a little weighty.
Vittoria has addressed each of these issues with the new Vittoria Corsa N.ext (which you'll usually see branded as N.EXT). Glenn Lee, managing director at Vittoria Industries North America (who's also an Aussie), calls it 'arguably Vittoria's most important release in quite a few years,' because it fills the gap between the pro-level Corsa and the weekend-warrior Rubino. Corsa N.ext is for riders who like to go fast, but can't be changing their tyres every couple of weeks.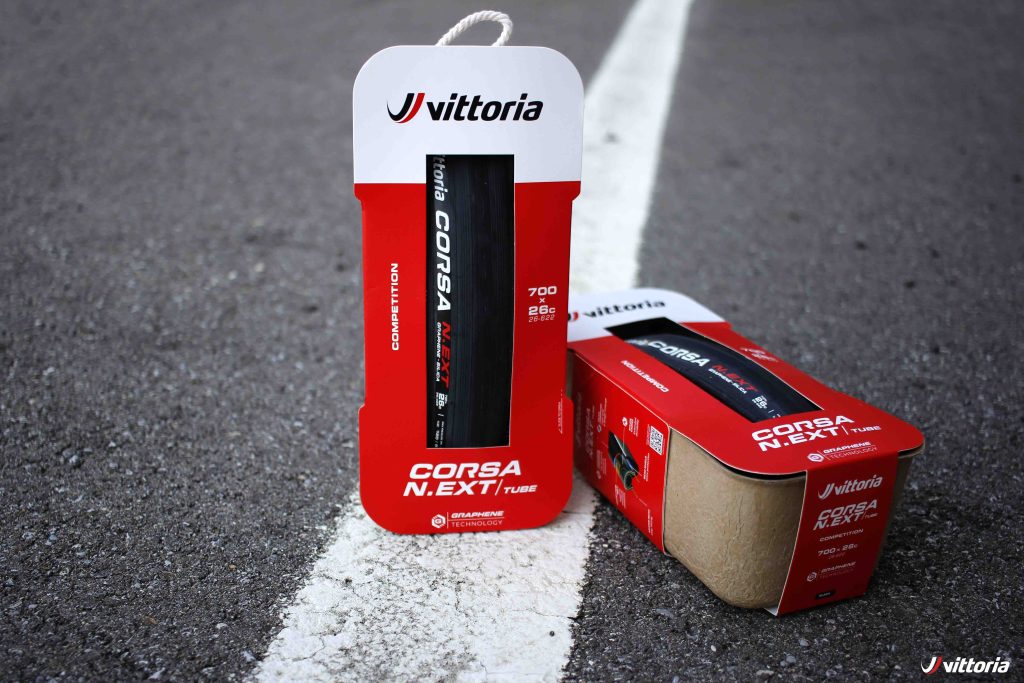 Initial thoughts
I had the luxury of receiving these tyres long before their release, so there was no marketing collateral to influence my thinking, which was great. Out of the box, my 28mm tyres had Corsa's familiar straight tread, but they were thicker than ones I'd seen in the past. Still light, they struck a healthy balance between durability and weight.
Later, I learned that the tyres include a compound that's new for Vittoria – a mix of graphene and silica to specifically improve mileage and grip. Underneath that is a puncture protection belt, and underneath that are three nylon layers. This won't save you from glass and other sharp debris, but it should wear longer than the pro-level Corsa models, Corsa Speed and Corsa Control.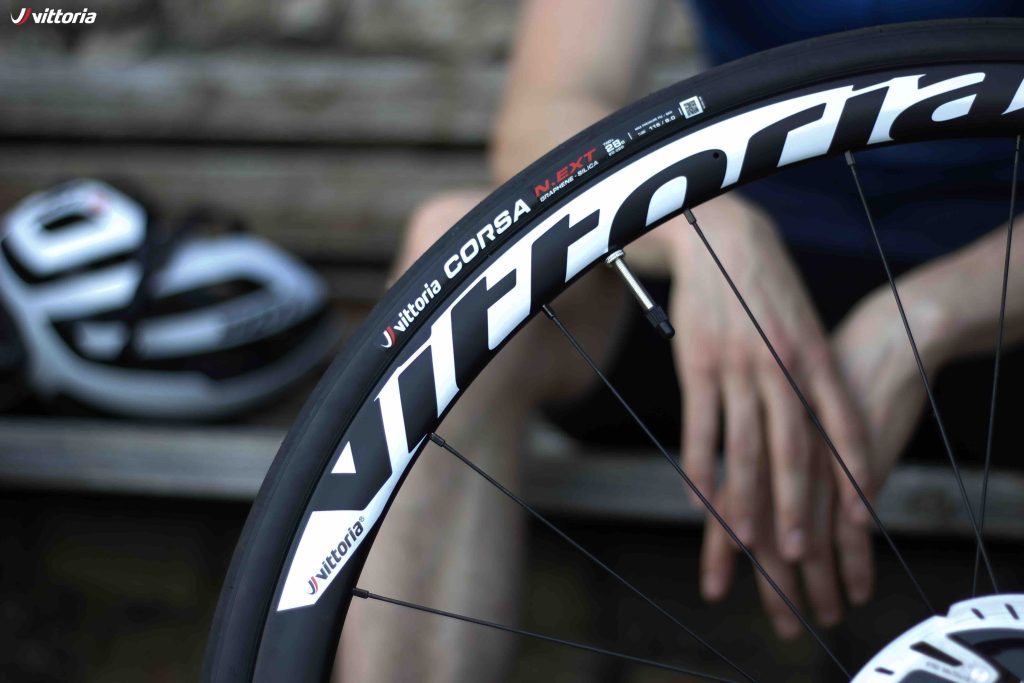 Set-up and riding
Vittoria sent Cyclist two sets of tyres – one tubed and one tubeless – along with the requisite tubes (latex), or valves and sealant. Lucky for us, Vittoria also sent its Air Liner inserts, which fit inside tubeless tyres and allow you to keep riding if you get a flat. I could write pages on the benefits of these, but will spare you this time – all you need to know is they're a game-changer.
The tubeless tyres fit hookless (for 28c TLRs and up) or hooked rims and, although tight, I managed to fit them reasonably quickly. The bead snapped into place beautifully and I only needed a track pump to inflate, rather than a CO2 canister or air compressor.
On the road, the tyres were magnificent. All fresh rubber spins up quickly, but these ones were unmissably Corsa-like and had the added bonus of being really grippy. 
I had equal amounts of confidence on the N.ext as I do on my usual go-to tyres (Schwalbe One), except with Vittoria's I enjoyed some added speed and comfort. I didn't get a puncture, and there weren't any out-of-the-ordinary scuff marks on the tread.
Tyres can make a massive difference to your ride experience. Too light and they can leave you roadside fixing flats; too robust and they slow you down and leave you wanting for extra speed. The Vittoria Corsa N.ext have done what so many tyres claim: they've found the ideal balance performance-oriented riders crave. I thoroughly enjoyed getting the Vittoria logo back on my bike and will keep it on there as long as I can. 
Vittoria Corsa N.ext road tyres

Price: $98.95 (TLR); $86.95 (folding)
Words: Jack Lynch